As the year comes to a close, I am taking a moment to look back at 2017 and all the wonderful travel experiences I've had. Here are my top five travel experiences from 2017:
African Safari in Kenya
My year started off with an incredible adventure to Africa and a safari in Kenya. I visited Angama Mara, a luxury safari camp which sits on an escarpment 1,000 feet above the Masai Mara floor. They have 30 luxury villa-like tents and provide a truly bespoke experience, with an itinerary totally based on what you want to see and do.  Each morning, we would set out in one of the camp's custom LandCruisers, and spend the day in search of all the area's amazing animals. From the zebras that were on the dirt runway as we landed in the Masai Mara, to eating breakfast at the Mara River as hippos strolled by, it was just awesome.
Luxury Escape to Milan and Rome
Only a few days after the African adventure, I headed to Italy to explore both Rome and Milan. It was my first time in Milan and although I had visited Rome before, it had only been for a day or two. In Milan, I stayed at the fabulous Principe di Savoia, a part of the Dorchester Collection. It was wonderful to experience Italy's business city, in contrast to the tourist-filled Rome. Highlights of the Milan trip included a visit to Leonardo's Last Supper and attending a Wagner opera in the legendary La Scala theater.
After Milan, I took the train down to Rome to experience the newly reopened Hotel Eden, also a part of the Dorchester Collection. Highlights there for me were spending an entire, un-rushed afternoon exploring both the Roman Forum and the Colosseum and a very cool walking tour from Walks of Italy. Their Rome as a Local: Hidden Gems & Ancient Wonders tour started at the Theater of Marcellus (like a mini-colosseum) and took us throughout the city to more obscure, hidden monuments and areas. We even went to the suburbs to walk the Appian Way and drove out to visit the Aqua Claudia, one of the city's best preserved ancient aqueducts. The trip was enhanced by the amazing Business Class experience I had on Alitalia (like flying in a fine Italian restaurant) and the visit I did to their Customer Excellence Training Academy (for cabin crew and ground staff) in Rome.
Foodie Adventure Throughout Japan
Early in 2017 I took my first-ever trip to Japan. More than just a Tokyo visit, I spent a week deep, deep, deep in the Japanese countryside, exploring areas of the country recently certified as Savor Japan. The government initiative recognizes the areas' unique food, food culture and food products. I visited Ichinoseki in Iwate, Tsuruoka in Yamagata and Tokachi on the island of Hokkaido. I then spent a long weekend exploring the luxurious side of Tokyo, with the Shangri-La Tokyo as my base.
The Japan adventure was followed by a few days in Hong Kong where I continued the foodie theme by dining at all six of the city's three-Michelin-starred restaurants: Bo Innovation, Lung King Heen, Otto e Mezzo Bombana, L'Atelier de Joel Robuchon, T'ang Court and Sushi Saiko.
Golfing in Scotland
In August, I had a chance to visit Edinburgh, Scotland for the first time and stay at the city's most iconic hotel, the Waldorf Astoria Edinburgh – The Caledonian. I played golf at the historic Braid Hills course overlooking the city then took a beautiful drive through the country to Dundonald to watch some of world's top golfers play in the Scottish Open. After a day at the Open, I spent a few days exploring the history, culture and food of Edinburgh.
Meeting the President of Costa Rica
While many travelers are familiar with the beautiful natural side of Costa Rica, its volcanoes, rainforests and beaches, I visited and stayed just in San Jose, the capital city. I attended a large convention called SAHIC (South American Hotel Investment Conference) and had the opportunity to meet the country's president, who delivered the closing remarks. More than just meeting the president, I had a chance to interview him about visiting Costa Rica. It was my first time meeting and interviewing an active head of state. After the convention, I spent some time exploring San Jose, including a visit to the National Theater.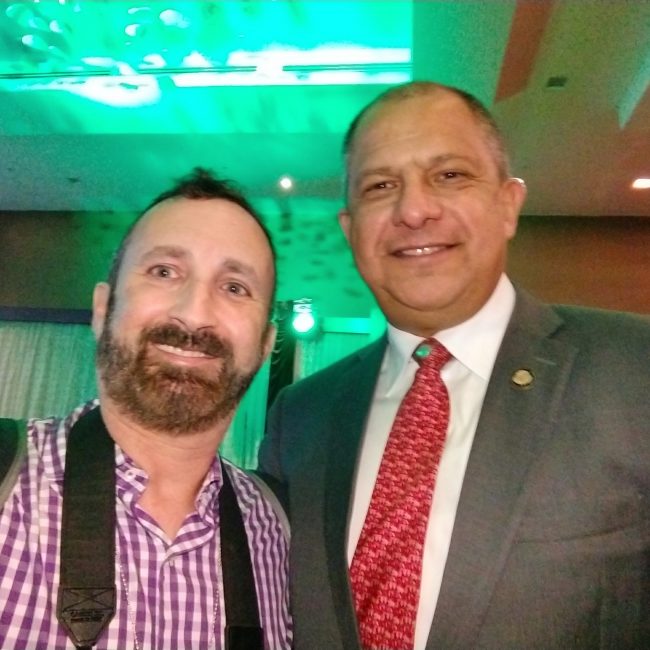 Read more of Freddy Sherman's take on travel on his Go World Travel Blog. You can also follow more of his adventures at luxuryfred.com, on his luxuryfred Instagram feed and on his YouTube channel.
Latest posts by Freddy Sherman
(see all)