Winchester's St. Cross
St. Swithun, who died more than one thousand years ago, in A.D. 862, was the Bishop of Winchester. When his remains were moved, against his dying wishes, from their final resting place in a simple tomb in the cathedral grounds to a splendid shrine in the inner sanctum, it proceeded to rain heavily for 40 days, which was seen as a sign of his displeasure.
Planning a last-minute trip to England?
Top Experiences and Tours in England:
Where to stay in England:
Find accommodation with Booking.com
Get a rail pass through Rail Europe
Find Bus, Train, and Flight tickets with one search through Omio
Now, if it rains on the saint's day — 15 July — legend has it that this will herald another 39 days of wet weather.
There wasn't a raindrop to be seen, only clear-blue, cloudless skies, when I visited Winchester.
Accompanied by a cacophony of birdsong, I walked alongside the River Itchen through meadows to the medieval almshouse, Hospital of St. Cross, which rather quaintly offers travelers the "Wayfarers' Dole" — a small beaker of beer and morsel of bread — as it has done for more than eight centuries.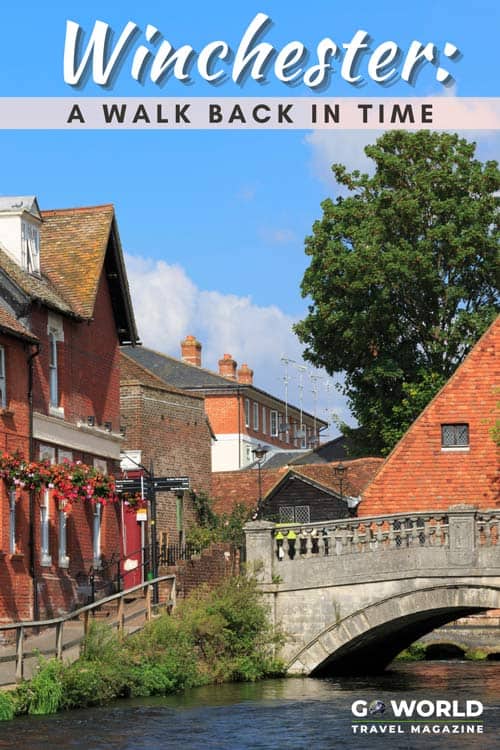 The hospital was founded to support 13 poor, frail men who were unable to work, and to feed 100 men at the gates each day. The 13 men became the Brothers of St. Cross. Then, as now, they were not monks.
Medieval St. Cross was endowed with land, mills and farms, providing food and drink for a large number of people — but in those days the water was unfit for drinking, so copious amounts of ale and beer were needed.
Best Tips & Tools to Plan Your Trip
The hospital has continued to provide sheltered accommodation for older gentlemen since its foundation in 1136, and one of them was happy to explain how England's ancient capital is steeped in history, offering rich pickings for visitors looking to uncover Britain's past. This treasure trove of English heritage is packed with historic buildings, monuments and museums all waiting to be explored.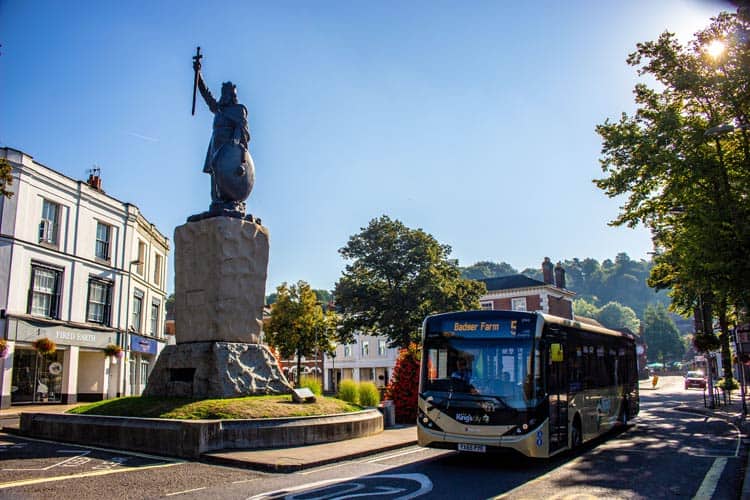 City Character
Winchester's character and layout have been dominated by the church, state, law and military throughout history. As visitors walk around the compact city center, they move from one quarter to another, each influenced by the impressive buildings that still embody these institutions.
For first-time visitors, it makes sense to get your bearings by going on one of the local walks. Keats' Walk provided the poet with inspiration and who knows, may do the same for you, while the Winchester Walk allows you to explore some of the many attractions in King Alfred's city.
(King Alfred the Great, 849-899, fought against the invasion of Vikings in southern England, and eventually signed a peace treaty with them.)
Another excellent way to become acquainted with Winchester is to join a guided tour with the Blue Badge Tourist Guides. Their love of history, sense of humor and passion for their city is contagious, encouraging visitors to return time after time. Tours take place throughout the year.
The Cathedral Refectory
First on my must-see list was that place of worship for more than 900 years, Winchester's world-famous cathedral, where entry is by donation. This building is as remarkable for its hidden treasures as it is for its spectacular architecture.
Here, in the longest medieval nave in Europe, outstanding works of art vie for attention alongside the tombs of Jane Austen, Izaak Walton and the early English kings.
The Winchester Bible is recognized as the finest of all the great 12th-century bibles, due to its size and sumptuous illumination. The Sound II statue by Antony Gormley, installed in 1986, stands in the evocative setting of the crypt.
The carved, black-marble 12th-century font was probably used to baptize the future King Henry III, in 1207. Romanesque in style, two sides portray scenes from the life of St. Nicholas of Myra, better known as Santa Claus.
The Cathedral Refectory is in the walled garden opposite the west window. This tranquil setting is a great place to enjoy simple meals. Themed events often take place here too, including Scottish evenings with plenty of tartan and rousing pipe tunes. The food here is made from local ingredients.
In fact, an increasing number of Winchester eateries cook with local produce. The rivers are famed for their trout, which thrive in the clear, fast-running waters, while acres of watercress flourish in the Itchen and Meon valleys.
The Wykeham Arms, on Kingsgate Street, near Winchester College, is a fabulous old pub just bursting with history. The tables are ancient desks from the college, complete with old-fashioned inkwells.
Here you can eat hearty ale stew made with locally brewed beer, spicy Hampshire pumpkin soup or their signature dish, the savory Wyke Pie, made from a secret recipe.
Winchester is also home to the original Hotel du Vin & Bistro, housed in one of the city's most important Georgian buildings, dating back to 1715. Here on sunny days you can enjoy simple, classic food made with the freshest local produce while relaxing in a pretty walled garden.
Folklore and Fun in Winchester
Winchester features a tempting array of independent shops, boutiques and antiquarian bookshops. The pedestrian High Street, once the Romans' east-to-west route through the city, is home to bow-fronted Regency and Elizabethan shops.
The Lloyds Bank building, formerly the Guildhall, is where the 8 p.m. nightly curfew — when all good burghers were supposed to be indoors — still rings out, as it has done for hundreds of years.
Tucked away behind the cathedral, on College Street, is Winchester's oldest bookshop, Wells Bookshop, a mere stone's throw from the house where Jane Austen spent her last days.
Stroll through tranquil streets and leafy courtyards alongside the sparkling waters of the River Itchen and you will come to the 13th-century Great Hall, with its richly stained-glass windows, the only part of Winchester Castle that still survives today. 
It is reached across an open courtyard from the scanty remains of the castle foundations. Little of the castle can be seen above ground, but you can descend a steep, narrow, dark stairwell that leads into the castle cellar.
The castle was once home to the Domesday Book — a record of a survey of English settlements that was commissioned by William the Conqueror in December 1085. In its day, this castle was where the movers and shakers of court and government life met, mingled and made merry.
The Round Table, associated with legendary King Arthur and his Knights, has been situated here for more than 600 years. The myth tells us that the wizard Merlin made this table … though ssh! this one is actually a stylish Tudor forgery. A few feet from the exposed foundation is Westgate Museum, which depicts medieval Winchester and life in the Middle Ages.
Before returning home, I paid a visit to the oldest continuously running school in the country, the bewitchingly grand Winchester College. A guided tour took us around the medieval buildings, including the 14th-century gothic chapel with its wooden vaulted roof and the red brick schoolroom designed by the famed 17th-century English architect Sir Christopher Wren.
College Hall is the original scholars' dining room. Its 16th-century paneling, high timber ceiling, and fixed benches and tables make it an atmospheric setting for dinners and theme events.
Winchester is surely the heartbeat of England, with sights that will fill your senses … but a word of warning, one visit won't be enough. You'll want to come back.
If You Go
City of Winchester – www.visitwinchester.co.uk
English Tourist Board – www.enjoyengland.com
Inspire your next adventure with our articles below:
Author Bio: Gilly Pickup