Umbria, Italy long was considered a poor stepsister to its better-known neighbor Tuscany. Recently, though, an ever-growing phalanx of admirers is giving that region the attention, and affection, it deserves.
Tuscany's reputation as a world-class travel destination soared with the 1996 publication of a best-selling book titled Under the Tuscan Sun. It recounted the trials and tribulations, along with the delights and diversions that Frances Mayes, an American author, experienced as she restored an abandoned villa.
As tourism to Tuscany exploded, some who were in search of similar charms without the crowds cast their eye on Umbria (pronounced Oom-brea), right next door.They discovered that the often-overlooked area encompasses many similar scenic, artistic and other treasures that reward those who seek them out.
For starters, it boasts a setting of magnificent landscapes. The jagged Apennine Mountains lead to rolling hillsides that flatten into lush valleys blanketed by wild flowers. Many slopes are covered by vineyards and olive tree groves.
Similarly, many a hill is capped by a village of stone buildings and winding cobblestone streets that has looked out over the setting for centuries. Most of these ancient enclaves share similarities, including a central square and churches adorned with architectural touches outside and art treasures within. In addition, there are enticing differences, and each hamlet has its own unique claims to fame.
Towns and Villages Have Much to Attract Visitors
The two best-known towns are Assisi and Spoleto, and for very different reasons.  St. Francis, who was born in Assisi in 1182, went on to found several religious orders. His birthplace retains much of its Medieval character. The town's basilica houses frescoes that depict chapters of his life, and they're are among the most important works of art in Italy.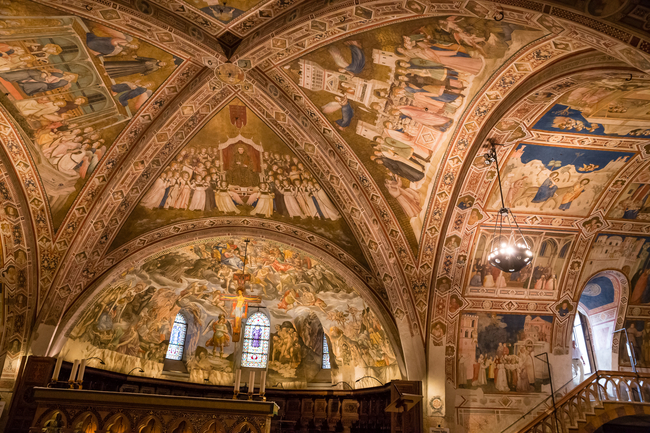 Spoleto tells a very different story. Each summer, its jumble of narrow streets is overwhelmed by people from Italy and the globe during the annual Festival of Two Worlds. This multi-faceted cultural buffet includes opera and jazz, ballet and modern dance, theater, visual arts and more.
Other less well-known villages also have attractions that warrant a look-see. The approach to Orvieto alone is worth a visit. It rises up from the almost vertical faces of volcanic cliffs, and the ornate façade of its 13th-century cathedral is one of the most elaborate in the country.
Perugia, the capital of Umbria, has its feet firmly planted over a span of centuries.  It's home to several institutions of higher learning, including the University of Perugia which was founded in 1308. It also hosts a variety of annual festivals and other events.
Somewhat ironically, one of my favorites turned out to be a tiny enclave hidden at the end of a gravel road. Poreta was a 13th-century village of a few dozen dwellings surrounding a modest sized castle. The fortress was abandoned after an earthquake damaged it and the houses that were huddled nearby. The townspeople built new homes, using stones from their destroyed properties.
Today the brooding castle ruins look out over the surrounding valley.  About 150 people live in the reconstructed houses whose walls crowd the single narrow lane so tightly that if two cars meet, one has to back up so the other can pass. This nondescript hamlet transported my imagination back in time and atmosphere at least as much as soaring cathedrals and bustling village squares.
The Past is Always Present in Umbria
While petite Poreta is frozen in time, most of Umbria reveals intriguing tangible evidence of Etruscan, Roman and Medieval influences – often in the same locale.   The Etruscan civilization lasted from about the 8th century BC until its assimilation into the Roman Republic beginning four centuries later.
Major indications of Etruscan influence are found in Orvieto and Perugia. In Todi, walls construed successively during the Etruscan, Roman and Medieval eras serve as evidence of their arrival.
Spoleto offers a treasure trove of Roman reminders including a house with a lovely mosaic pavement and a restored first-century amphitheater. Remnants of one of the largest amphitheaters built by the Romans stand just outside of the village of Gubbio.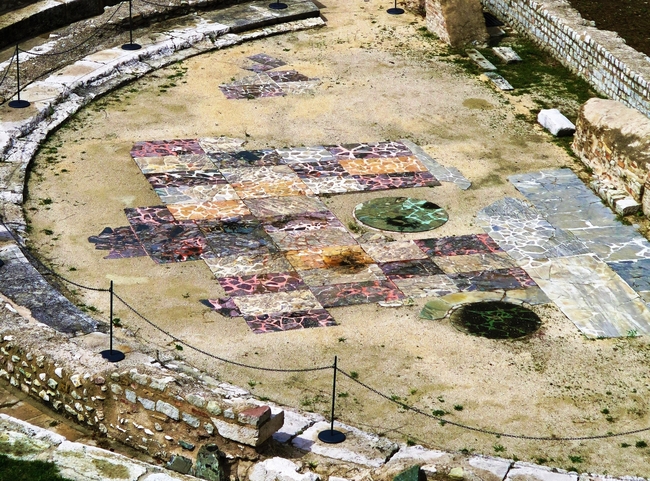 A memorable Medieval setting is encountered in Trevi, whose ancient center of alleyways, porticos and vaulted passages is partly surrounded by the original 13th-century defensive walls. Its hilltop position offers commanding views over the surrounding plains, and groves of trees which surround the village yield some of the best olive oil in a country famous for producing that product.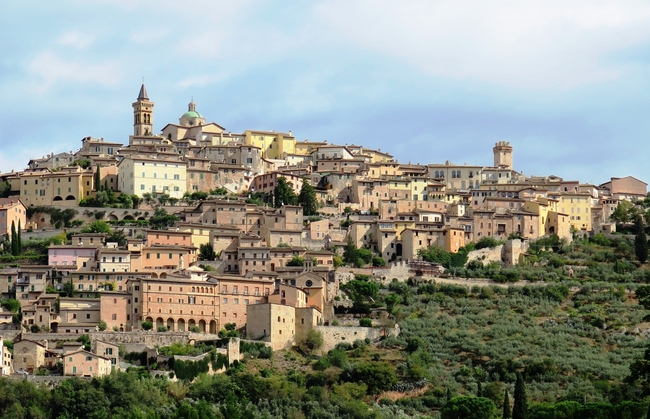 Italy's Gourmet Reputation is Alive and Well in Umbria
Because Umbria is part of Italy it's no surprise that the region has a well-deserved reputation for culinary excellence. That's why it's referred to as Italy's cuore verde ("green heart").
Food typically consists of hearty country cuisine simply prepared to enhance the flavors of its fresh ingredients. Meat and pastas are staples. Prized locally grown truffles, more of the black than white variety, are added to a variety of dishes.
Of the locally produced wines that I felt obligated to sample as part of my research, Montefalco was my favorite. It's named for the delightful hill town which is surrounded by lush vineyards.
The hard-to-resist temptations of the table add to the sensory onslaught that envelops visitors to Umbria. Together, they're part – but just a part – of what makes a visit there as memorable as it is enjoyable.
If you go
My wife Fyllis and I visited Umbria with Untours, which offers "Independent travel with support" to a number of European countries. That support included an avalanche of pre-trip material which helped us, as the company promises, to "live like the locals." Along with voluminous basic details it offered insider tips about everything from Umbrian culture and outstanding restaurants to food shopping and recipes.
The fact that we were put up in a comfortable apartment at a farm added to the feeling of immersion in the setting. Our accommodations were much larger than at a hotel, had an inviting kitchen in which we prepared some meals and provided the opportunity to meet several farm workers who lived in the apartment next to ours.
For more information about Untours call (888) 868-6871 or log onto untours.com  For information about Umbria, log onto umbriatourism.it
Authors: Fyllis Hockman and Victor Block are a husband-wife team of experienced travel journalists who have gallivanted throughout the United States, and to nearly 80 countries around the world, and written about what they have seen, done and learned. Their articles have appeared in newspapers across the country and on websites across the Internet, and they each have won numerous writing awards. They love to explore new destinations and cultures and uncover off-the-beaten-path attractions. Read more of their work at The Rambling Writers