From my window seat, I watch as green pastures and small towns roll by. I'm on a train traveling northwest from London, and the rush of the city has slowly melded into stretches of quiet countryside.
Like most who travel to England, I've visited London many times. But this time, my friend, Melanie, and I want to see more of the country and its history. We're following the Thinkers & Writers Route, one of several England Original itineraries suggested by England's Historic Cities. It will take us to four different English towns, each with its own rich heritage.
Train Travel in England

One of the easiest ways to get around in England is by train. For just $230, we've purchased a BritRail pass which includes eight days of unlimited train travel within a 30-day period.
From Heathrow Airport, we simply hopped onto the Heathrow Express train to London Paddington station. From there, it was a quick train to our first destination – Oxford.
Oxford Spires and Academic Tradition

Just 51 miles from London, the town of Oxford is a world apart. Known for its storied academic tradition, Oxford University is made up of 38 individual colleges. It has produced some of the world's top scholars and leaders, including 27 British prime ministers.
Walking through town on a sunny afternoon, we pass groups of university students, as well as younger school groups from around the globe. It's obvious that this university town has an international appeal.
Wanting to see as much of the city as we can, Melanie and I buy tickets for the City Sightseeing Hop On Hop Off bus. The bus allows us to explore Oxford at will.
Our first stop is Oxford University Museum of Natural History. Happily, Oxford museums are free. We spend an hour perusing the well-done exhibits, including a large collection of dinosaurs and fossils.
When we board the bus again, the driver offers his own suggestion: "My favorite museum here is the Ashmolean Museum of Art and Archeology. It's quirky and like no other museum you've ever seen."
Claiming to be the world's oldest museum, the Ashmolean, which was founded in 1683, has some of the strangest exhibits I've ever seen, from shrunken heads to an exhibit on the Last Supper in Pompei.
That evening, we join a different kind of tour, Bill Spectre's Ghost Trails. Part magician, part tour guide and part storyteller, Mr. Spectre gives an entertaining tour of Oxford's back streets and famous buildings.
Macdonald Randolph Hotel
After a full day of sightseeing, we're ready for a nice meal and good night's rest. We're staying at the Macdonald Randolph Hotel, a stately gothic building built in 1864. Refurbished many times, the luxury hotel has large comfortable rooms, and an expansive dining room where we enjoy breakfast the next morning. Its central location makes it easy to walk or take the bus to everything we need.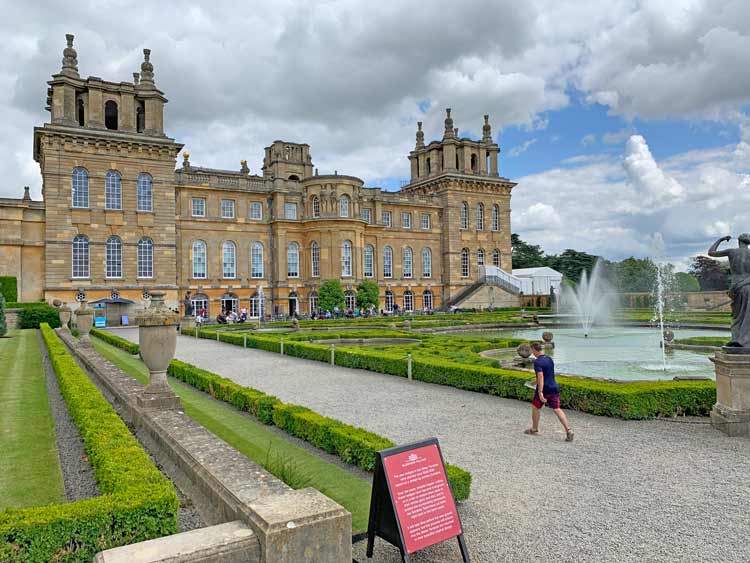 Blenheim Palace
One of Oxford's top attractions is Blenheim Palace and its 2,000 acres of landscaped park, so we start off the next day there. Once home to the 12th Duke of Marlborough, it was the birthplace of Winston Churchill. Today, it's a UNESCO World Heritage site. We could easily spend all day perusing its palatial rooms and English gardens, but we've got more to see.
Oxford Castle & Prison
Oxford Castle & Prison was built in in 1071 by the Normans and then used as a prison until 1996, when it was developed as a tourism attraction. The castle is a partial ruin of a Norman medieval castle, and its original moat and bailey castle has been replaced with stone. Guided tours in various language help bring the historic location to life.
Boat Tour on the River Thames
It's almost evening when we walk to the River Thames to join a relaxing boat tour. Our guide at Oxford River Cruises hands us a glass of wine, and then slowly drives along the river. The weather is almost perfect, and many others are out enjoying the river too. Local rowing teams pass us with ease as we watch the sun slowly set.
Mallory Court Country House Hotel & Spa
From Oxford, it's just a 35-minute train ride to Leamington Spa rail station, and then a quick taxi to Mallory Court Country House, our home for the next few days.
Mallory Court looks like something from a movie set. It is the quintessential English country manor, with 10 acres of extensive English gardens and a grand Lutyens style main house. The luxury hotel and spa has 43 guest rooms, two restaurants and even space for an occasional helicopter to land.
Mallory Court is so pleasant that we spend the whole afternoon there, walking through the rose gardens and having tea on the flower-covered patio. Dinner in The Dining Room at Mallory Court is a delicious 7-course tasting menu (£75.00 per person), each course carefully prepared with the freshest ingredients. It's easy to feel pampered in such a refined, yet relaxing setting.
Shakespeare Country: Stratford-upon-Avon
That next morning, it's just a short taxi ride to Stratford-upon-Avon, where we follow the footsteps of England's greatest playwright, William Shakespeare.
Shakespeare was born in this small town on the River Avon in 1564. Eager to learn more about the world's most famous writer, we visit Shakespeare's Birthplace, the home where he was born and grew up.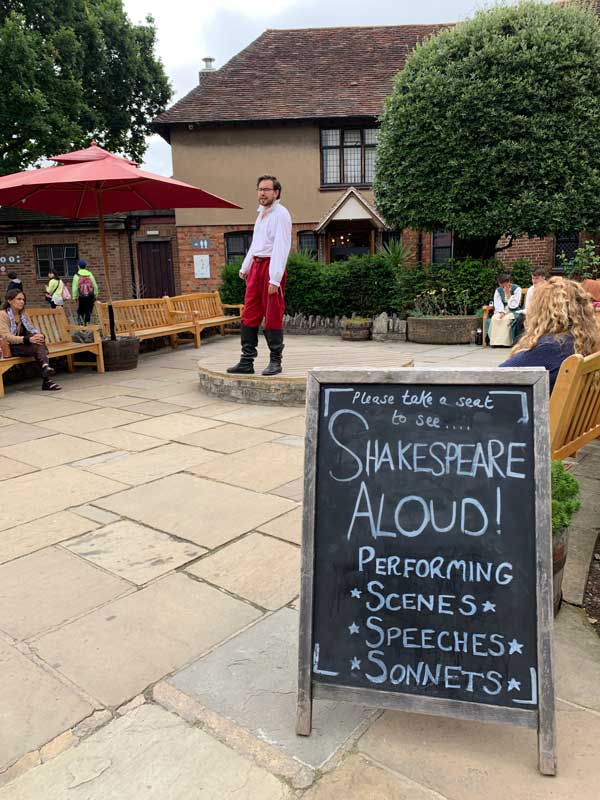 Walking through the rooms where young Shakespeare once lived, I'm awed by his legacy. I wonder if he could have imagined the power his words would have.
In the courtyard behind the home, we watch actors recite pieces from Shakespeare. They take requests from the audience, and their knowledge of the great master's work is impressive.
From his birthplace, it's just a few minutes' walk to Shakespeare's New Place, the land and gardens where Shakespeare and his family lived for some 19 years.
Visitors come from all over the world to learn more about Shakespeare, and Stratford-upon-Avon has preserved his legacy well. You can visit Anne Hathaway's Cottage, where Shakespeare's wife lived, or Hall's Croft, the home of his daughter, Susanna. Mary Arden's Tudor Farm is where Shakespeare's mother, Mary Arden, lived and worked. All have extensive exhibits and insight into the world's most famous author.
One must-see location is Shakespeare's Schoolroom & Guildhall. Completed in 1420, Shakespeare attended school here in the 1570's, and it was here that he first experienced theater.
Shakespaws Cat Café
After being on our feet all morning, it's time for some tea. The Shakespaws Cat Café on Union Street seems like a fun option. True to its name, the café offers tea and refreshments along with the chance to interact with some friendly kitties.
Walking inside, we see a gray and white Persian lounging on a fluffy bed near our table, while a small tabby walk through the tables, demanding oohs and aahs from the visitors.
If you'd like to visit, reservations are a must. You can reserve a table on their website. General admission is £5.00 per person for a 90-minute visit. The café has a full menu of teas and cakes.
Royal Shakespeare Company

Many visitors come to Stratford-upon-Avon to see performances at the Royal Shakespeare Company. Unfortunately, we don't have time to see a performance, so we settle on a Behind the Scenes Tour. The knowledgeable guide shows us the inner workings of a production, from wardrobe to lighting to audio.
Warwick Castle: Medieval Family Adventure
From Shakespeare Country, we step even further back in time at our next stop in Warwick. Warwick Castle is the main attraction, and it's especially popular with families. That's because Merlin Entertainment now operates the historic castle, which was built by William the Conqueror in 1068. The castle's fascinating history, along with many tales of greed, power grabs, battles and sordid dungeons, have been brought to life by Merlin Entertainment.
The result is a family-friendly experience which is good for all ages. There are live shows, multi-media presentations, and kid-friendly history exhibits. One of our favorite shows is Falconer's Quest, an exciting falconry show that includes more than 50 different birds of prey.
Warwick Castle Knights Village
Best of all, we get to spend the night at Knights Village, a medieval resort next to Warwick Castle. Guests stay in cottages or yurts; there's even a Knights Dining Hall which offers breakfast or dinner.
Melanie and I share a rustic, two-room cabin with comfortable modern touches inside. One of the rooms has two bunk beds, while the other has a queen, making it a good fit for small families.
Worcester: Cathedrals and Small-Town Charm
Worcester is our last stop, and it's one of the oldest cities in the country. Many Americans will recognize it as the home of the famous culinary sauce with a name we struggle to pronounce.
When we check in at Worcester Whitehouse Hotel, a classic hotel built in the 16th century and located adjacent to the Foregate Street train station, I ask the front desk clerk how to pronounce the town's name properly.
"We pronounce it like wu-stah," the woman at the front desk advises. "In American English, you might say Wooster." That sorted out, we set out to explore Worcester.
Paul Harding of Discover History
One of the best ways to see a new destination is with a local, and happily, we have a guided tour with Paul Harding of Discover History. His jovial manner compliments his extensive knowledge of the town's history, which reaches back to 700 BC.
Like many towns with such a long history, the past is filled with battles, grudges, victories and successes. We learn about the Romans and Viking raids, then about the bloody 1651 Battle of Worcester, where King Charles II hid in a local building to escape death. Today, that building is home to The King Charles House, a favorite pub.
Worcester Cathedral

Later, Melanie and I visit Worcester's impressive Cathedral, where England's most hated king, King John, is buried. The grand cathedral, which sits on the banks of the River Servern, was built between 1084 and 1504. It's is an interesting mix of many different styles of English architecture, from Norman to Perpendicular Gothic.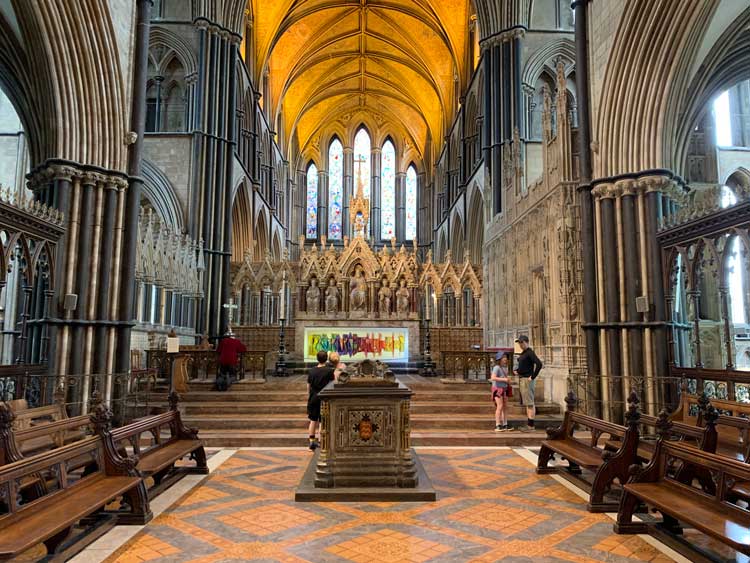 The King Charles House
Hungry from our adventures, we head back to The King Charles House to sample the pub's famous pies – not the sweet pies we love to have for dessert, but hearty meat creations topped by a flaky crust.
I choose a pie with free-range chicken and field and chestnut mushrooms, laid on a bed of horseradish mashed potatoes.
"The pie also comes with peas," the waiter tells us. "You can choose garden peas or 'mushy minted' peas."
The mushy peas are new for us, but the waiter encourages us to give it a try. Sure enough, it's satisfying meal.
It's our last day in England, and this has been a perfect end to our adventure. As we get up to leave, one of the bar staff asks where we're from.
Our accents – and obvious lack of experience with meat pies – have given us away again. We end up chatting about our journey and all we've seen along the way.
Travel enriches your life in so many ways, from meeting new people to trying novel experiences and broadening your way of thinking. This trip has introduced us to a new side of England, and we can't wait to come back.
"Next time, though," Melanie says with a grin. "I'm skipping the mushy peas."
If You Go
England Originals
https://englandoriginals.co.uk/itineraries/
Author Bio: Janna Graber fell in love with Europe as an exchange student and has been traveling ever since. She's the author/edit of three travel anthologies, including A Pink Suitcase: 22 Tales of Women's Travel, and is the managing editor at Go World Travel Magazine.