Emerging from the edge of the Mondego River, the heart of historic Coimbra Portugal is a collection of old red-tile-roofed buildings climbing a mountainside.
The postcard-picture image of layers and layers of apartment buildings, stores, and churches, crowned by the bell tower of one of Europe's oldest universities, practically says "I am Portugal."
Our flat, JR Studios and Suites, was just a stone's throw from the river on the south side. From our balcony, we had a wonderful view of old Coimbra to enjoy with our morning coffee.
Birthplace of six kings, Coimbra has a similar charm to Lisbon's Alfama (and similar slopes up and down the cobblestone streets). But Coimbra, Portugal feels more compact, smaller and less crowded with tourists. There are more students than tourists in Coimbra, giving it an authentic feel.
From our suite, we crossed the Santa Clara bridge and walked right into Largo da Portagem. This little square features a statue of Jaquim Antonio de Aguiar, prime minister of Portugal from 1808 to 1817.
He holds a quill in one hand and a ledger in the other, taking note of all who enter Coimbra from the river. This is fitting since Largo da Portagem loosely translates to "toll gateway. Perhaps the prime minister was making a note of all the tolls due.
At the prime minister's feet was a pleasant green with flowers and topiary spelling out "Coimbra." People sat at benches eating sandwiches and pigeons attempted to take their share. Across from the square, cafes, stores and pastry shops await.
We veered right to the popular pedestrian street that slices through the lower town and upper town.
Santa Cruz and Coffee
Toward the end of this pedestrian street, lined with more shops, cafes and restaurants, we came to the Santa Cruz church and monastery. Founded in 1131, the building is decorated with early 16th-century sculptures. Portugal's first two kings were buried here in the 1500s.
Butted against the church is a little café where we enjoyed sandwiches, coffee and pastries. All with a nice view of the little square, pedestrians passing to and fro.
An older man darted from table to table, offering smiles and enthusiastic gestures. He came to our table and took our order.
"He reminds me of Coach from Cheers," I said after he darted away. Somehow, he understood our order despite the language barrier.
"Only maybe a little happier," Nataliya said as the man stood behind the wooden bar, operating the espresso machine, looking from table to table with smiles and gestures.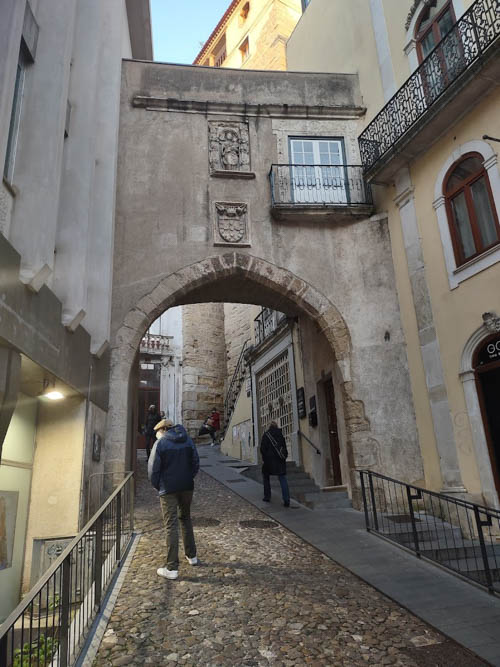 From New to Old Coimbra, Portugal
Back on the pedestrian street, we returned to the center, where we veered off to the east to begin our climb into the upper, older part of town.
"You mean this part of town isn't old?" Alex asked.
"It's relative," I said, climbing the sloped cobblestone and passing under the Arco de Almedina, the arched gateway into the old city. As we walked up the steps, we got a nice view of the Torre de Anto, a stone tower with renaissance windows and medallions from the 16th century.
The twisted corridors beyond the tower gave the feeling of being in a time long past—except for the souvenir shops and some of the more modern cafes.
Far more common were old houses and "republicas." These are student dwellings that have stood here as homes to university students since medieval times.
It was easy to get lost in the twisting streets that rise from the river to the hilltop. But we knew that as long as we were headed up, we were headed in the right direction.
City of Two Cathedrals in Coimbra, Portugal
Coimbra is a city blessed with both an old and a new cathedral.
Ascending the hillside city, the first cathedral we came to was Se Velha, or Old Cathedral. Perhaps the best example of Romanesque architecture in Portugal, this fortress-style cathedral was built to commemorate the victory over the Moors in 1064. Portugal's first king made Coimbra the capitol and his son was crowned here in 1185.
Flemish carvings, a 16th-century altarpiece and a font decorate the cathedral, as does tile which is currently being restored. The decorative tiles—or azulejos—adorned the walls of Se Velha as well as the cloisters around the courtyard.
As we walked the courtyard, admiring the tile, we also noticed etchings on the stones paving the walkway. They appeared to be numbers, but a historian at the cathedral set us straight.
"These are not numbers. They are signatures. The stones are marked by the masons who created them."
The historian was not only on a mission to answer questions but to ask for help. In an effort to restore the deteriorating decorative tile throughout the cathedral, he offered us replica tile.
This was so that we could take a memory of the visit with us while leaving a memory of our visit—in the form of a contribution toward restoration—with the cathedral. We took the bait and some decorative tile. 
Eating Like a Local in Coimbra, Portugal
Across a little square from the cathedral, we stopped in at a family-owned café in the corner of a building. It was not the sort of restaurant most people would write home about. It was a gritty little hole in the wall with three tables inside and a few outside.
However, these are the sorts of places that are a joy to visit and support. Perhaps we were feeling altruistic after our purchase of tile to support the cathedral. Nevertheless, the mom and pop operating the shop seemed happy to have us, and we enjoyed a small snack.
After visiting a cathedral from the 1000s, we were ready for something newer. We continued up the hillside and stepped into Se Nova, or New Cathedral, which dates to the 1500s.
Just minutes from the University campus, this Jesuit cathedral is decorated by Jesuit saints. Its interior features a Manueline-style font, Italian paintings and an enormous dome. It actually does feel like a newer cathedral in style, old as it may be.
Old School in Coimbra, Portugal
The crown (literally) of Coimbra is the University, which was founded in 1290 in Lisbon and moved to Coimbra in 1537. At more than 700 years old, this is one of Europe's oldest universities.
We strolled the campus, crossed the university's enormous courtyard, saw the bell and clock tower and toured some of the buildings. However, the main attraction that lured us here was the historic Biblioteca Joanina.
This 18th-century library, rich with gilded rooms and exotic wood, was filled with antique books, some of them as old as the library itself. By some accounts, there are more than 300,000 books on the shelves of the library. To visit, we needed tickets.
The campus felt both like a historic city center and like a university campus. Students, locals and tourists intermingled along the streets and in the walkways before the different faculty buildings. Also, in the massive courtyard surrounded by university halls.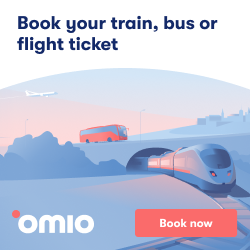 When we were there, construction workers were sprinkled in too, as renovations were being done within the campus walls. Perhaps it was this construction that caused the confusion that figuratively rained on our otherwise sunny day.
After several encounters with workers in different buildings on campus, our impression was that Coimbra University staff's attitude was: "You're welcome to enjoy what we have to offer, but you're going to have to work for it. And we're not going to help you."
We spent a good amount of time wandering the campus from building to building, looking for where we could purchase tickets.
Having failed to find them at the places designated in guide books and online references. We asked several workers and were given half-hearted, lackluster responses with vague pointing and verbal clues.
"I don't think they know where to buy tickets," Alex said. "They just work here."
Signage, in the few places we could find it, did not help. We could easily locate the library and the sites. But the signs did not show a path to the ticket office.
No Lunch…
Finally, we found what we thought was the ticket office, since there was a gathering of people walking in and out. We proceeded to enter but were pushed out by a middle-aged man. Apparently, the building was closing for lunch and would reopen in one hour.
Rather than wait around, we figured it was a good time to have lunch ourselves. As we often do, we wanted to live like the locals, so we went to a campus cafeteria.
We've been to European university cafeterias before and have enjoyed the casual, collective dining with locals. On the menu for this day: cod cakes, beef, potatoes, and rice, along with a yellow vegetable soup.
We stood in line for about 30 minutes. Workers handed us silverware and trays. They gave us drinking glasses, but the drink dispensers were empty. When we arrived at the food service section, the old woman behind the counter waved her arms at us, shook her head and mumbled.
"What?" Nataliya asked. "What are our options?"
She said something, this time loudly, as though annoyed. She threw open the metal lids covering the cafeteria vats to reveal empty trays, a few boiled potatoes, and the burnt streak from food that used to be here.
"Is there going to be more?" I asked.
She seemed angry now, waving her hands and shaking her head as she walked into the kitchen where workers were cleaning instead of cooking.
We wondered why they had allowed us to wait in line, why they had given us trays and plates and utensils, only to tell us there was nothing to serve.
No Library…
But this was no time for a lunch break. The ticket office's hour break was coming to an end and our time in Coimbra was limited. So, we returned to the ticket office—only to learn that this was not the ticket office. This was the functional student library.
"So, we got to see the library," Alex said. "Just not the right one."
We continued looking, passing through different faculty buildings, tall with art-deco figures etched on the exterior walls. Finally, we discovered the location of the ticket office, several blocks away and in an area that did not even seem to be part of the campus.
However, the next timed entry was not until 4, and our train was scheduled to leave Coimbra at 5. Time was not on our side.
Instead, we visited the nearby Bishop's Palace, home to Museu Nacional Machado de Castro. This museum featured some of Portugal's finest sculptures, a collection of medieval pieces and furnishings and paintings from the 12th to 20th centuries. In addition, there were underground passages from Roman times.
There were even areas where restorations—paintings and sculptures—were in progress and available to watch. The museum was certainly worth a visit so we're glad we stumbled upon it in our wandering around the campus area.
Heading Back Down
After a final stroll through the university's campus, we descended the high town. We passed by the familiar cathedrals, churches, cafes, Fado theater, shops and dwellings. We crossed back through the Arc—the gateway from old to new town—and strolled back onto the pedestrian street.
Besides the university and churches, one thing Coimbra Portugal is famous for is its unique ceramics. Coincidentally, although this was our first visit to Coimbra, Nataliya already had a collection of Coimbra ceramics.
Some of it purchased in Lisbon during an earlier visit, some gifted from friends and some purchased stateside and even in Spain. Many shops in Coimbra (and Lisbon and Porto for that matter) sell Coimbra's unique brand of ceramics, painted with birds, deer, dogs, and decorations.
"I want a dog," Nataliya said, as though on a mission.
"This is dog," a shopkeeper said.
"It looks like a cat," Alex said. The ceramic ears were shorter and the face was flat.
"Wait a moment," a second shopkeeper said, and she darted out of the store. Moments later, she came back, appearing scalded from the sun.
"From coffee," she explained. "I run, waiter spill coffee all over."
She had a red mark on her face and neck from where the hot coffee had hit her. Fortunately, Nataliya happened to have just the right cream for it tucked away in her mobile pharmacy.
Despite her injury, her mission was accomplished. She had brought with her a ceramic figurine—Coimbra style—of a dog, a calm expression on its blue-painted face.
Given the pains the shopkeepers went to for this prize, we purchased the figurine along with a couple of other pieces. They now sit on display in our home. When we see the pieces, we remember to securely hold our coffee.
A Perfect Ending
Ceramics in tow, we crossed the pedestrian street and ended up in another popular square. Praca do Comercio (Commerce Plaza) is Coimbra's largest square, alive with restaurants and the yellow-umbrellaed tables that come with the territory.
Once the city's main market square, it was now lined with stores, shops, cafes, restaurants and churches. It was also a great place for people-watching, as we learned while sitting at an outdoor restaurant.
Off to one corner of the square towers Sao Tiago. It's a 12th-century church that is plain on the outside but boasts a beautiful Rococo altarpiece inside.
At the other end of the square stands Igreja de Sao Bartholomeu. This church dates back to the 10th century, but only its foundation. The church was rebuilt several times since.
We ended our time in Coimbra doing one of our favorite things: lounging in an outdoor restaurant at the center of a cobblestoned square.
Here we enjoyed something very close to homemade food from a mom-and-pop kitchen, sipped on local beer and took in the view of locals and visitors, churches and buildings, storefronts and vendors.
People greeted one another as they passed. People talked and laughed and said goodbye to one another after a friendly encounter.
It was time for us to say goodbye to Coimbra after a brief and beautiful encounter.
If You Go To Coimbra, Portugal
If you're traveling from America, you're most likely visiting Coimbra from Lisbon. High-speed trains from Lisbon to Coimbra are inexpensive—we paid less than $50 per ticket each way.
The trip takes about an hour and a half. An internet search for Lisbon-Coimbra train tickets will give you a variety of options. You can also brave the station and buy your tickets there easily enough.
Coimbra's old town and the surrounding area is compact and walkable. The best way to discover not only the tourist sights but also the everyday life in a place like Coimbra is to walk from place to place. Having GPS on your phone helps, but old-fashioned maps still come in handy.
We stayed at JR Studios and Suites, just across the river from where all the action is. You can find accommodations on sites like AirBnb or Booking.com.
Author Bio: Eric D. Goodman is author of six books, the latest being Wrecks and Ruins, set in Baltimore and Lithuania. His thriller, The Color of Jadeite is set in China. Learn more about Eric and his writing at www.EricDGoodman.com