When Christian Strobel, founder of Basecamp Hotel, sees a 50s-era motel—you know the kind: a long string of one-story rooms with parking spots in front of the doors—he sees opportunity where other hotel developers see demolition. 
"Mid-century motels are part of a forgotten era of simplicity in travel," Strobel said. "They have a certain nostalgic quality about them."
So building upon simplicity and nostalgia, Strobel converted an old motel on North Lake Boulevard in Tahoe City into a cool hip hotel that ordinary people can afford. The bones are still mid-century, but the clever decor by Elaine Cotter and outdoorsy amenities speak to campers, hikers and adventurous travelers. He aptly calls it "Basecamp." It offers upscale comfort with a downsized price in a gorgeous mountain setting—the perfect home base for mountain escapades.
Rooms at Basecamp Hotel
The layout of my room is typical motel style—room, closet and smallish bathroom. But foxed up with Basecamp's personality and super comfortable bed, it's worlds away from Motel 6 and an absolute delight to stay here. The 24 rooms in the complex offer a variety of sleeping arrangements, including one with a tent and pretend campfire. With the tall pines surrounding the building, it's like real camping (great for kids)!
All rooms have clever camping-themed furnishings in addition to a TV, desk, chairs, iron/ironing board, and a blackout shade for sleeping in. A decorative canvas tarp hangs on the wall behind the bed.
The bathroom is completely updated and carries out the rustic theme (note  industrial pipe for the towel rack). An all-tile shower is opposite the sink. You'll be rewarded with a free drink if you re-use your towels.
Common Areas at Basecamp Hotel
Whether fishing, horseback riding or skiing, everyone loves to share stories of the day's adventure. Basecamp encourages this with a couple of firepit areas for nighttime gatherings where you can roast marshmallows (ingredients for s'mores are sold in the lobby).
Complimentary continental breakfast is served buffet-style in the lobby from 7:30 to 10 a.m. I met several vacationing families at the community table over coffee and waffles. Happy hour convenes at 4 by the grouping of comfy leather couches at the two-sided fireplace. During ski season, there might be hot chili and Raclette on Friday and Saturday nights. A nice window-framed Sun Room off the upper deck is perfect for a meeting, private party or just hanging out to share stories, and a grassy area soon will be the site for movies, live music, and other summertime shenanigans. Can a hot tub be far behind?
Most importantly, there's an indoor place to store your bike, skis or snowboard so you don't have to leave them on your car or in the room. And if you are traveling with your furry friend, he's welcome in certain rooms for a one-time fee of $40.
Don't make the mistake of calling Basecamp a motel just because you can park free close to your room. It is a hotel, through and through. "We call it a hotel because motels in America still have a bad reputation, and motel has the connotation of being somehow inferior to a hotel," Strobel said. "We have everything that a hotel has." He's got that right!
What To Do Around Basecamp Hotel
Just like any basecamp, the information you need before setting out is all there.  Lake Tahoe and the surrounding mountains are within walking distance of the hotel, and the front desk people can help you find anything. At check-in, they'll give you a pocket guide with basic information on mountain-bike and hiking trails; ski areas; parks, beaches and streams; water and snowsports rentals; best restaurants; events and activities; even the kinds of animals and trees you'll see in the Tahoe Basin and more. For more information on what to do, visit gotahoenorth.com.
Tahoe City is one of 12 communities of North Lake Tahoe, which, along with South Lake Tahoe, borders crystal-clear Lake Tahoe, the largest alpine lake in North America. It lies in the Sierra Nevada mountain range and straddles the state line between California and Nevada. Other Basecamp Hotels are in South Lake Tahoe and Boulder, Colorado.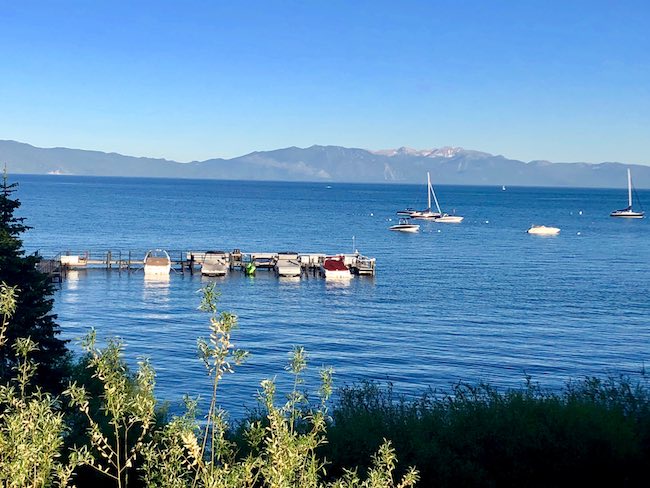 Basecamp Hotel Tahoe City, 955 North Lake Boulevard, Tahoe City, California 96145; 530-580-8430; basecamptahoecity.com
Claudia Carbone is an award-winning travel writer based in Denver. Read about other hotels she's visited in Sleepin' Around.