The aroma of lavender filled one of the specialty restaurants on Discovery Princess at 360: An Extraordinary Experience as images of fields of pale purple flowers swaying in the breeze surrounded us on circular LED walls.
I was attending a Conference at Sea for food writers, sailing from Vancouver to Los Angeles. The high-end, high-tech dining extravaganza dazzled my colleagues and me.
Dining on Discovery Princess—or any cruise ship—often depends on the chef, time of year, and ports of call. For me, the secret lies in the specialty restaurants.
Large dining rooms accommodate several hundred people, but specialty restaurants offer an intimate setting. While I hit the buffet and omelet station every morning for breakfast and the salad bar at lunch, I chose the specialty restaurants for dinner.
Read More: Cruising with Discovery Princess on the Mexican Riviera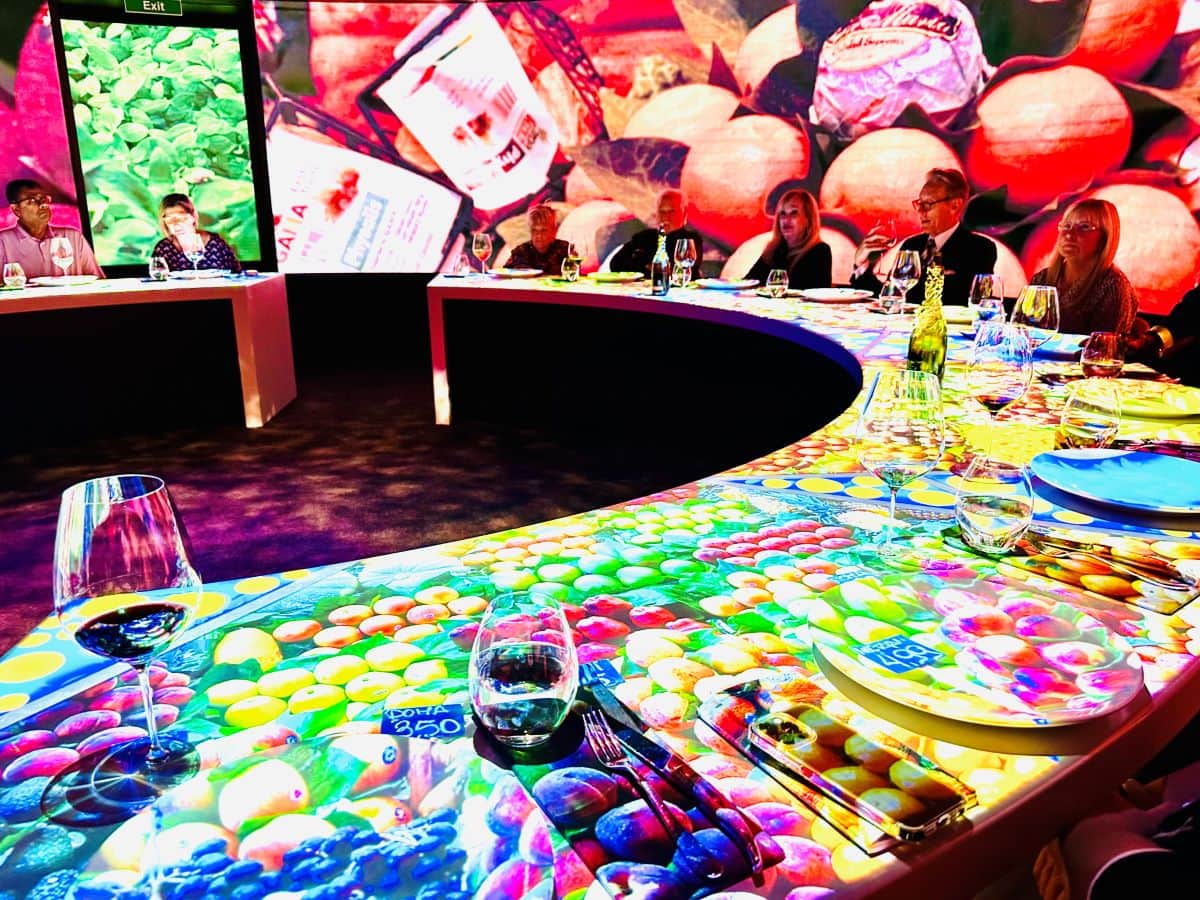 360: An Extraordinary Experience
The name says it all. The evening 19 of my colleagues and I dined at 360: An Extraordinary Experience, we savored exquisite cuisine as we traveled virtually through Greece, Italy, Spain, and France. Dishes included octopus, lemon pasta, and lavender honey mousse (yes, with lavender aromas pumped into the room).
For foodies, this was paradise.
The evening was luxurious and fun, as patterns on tables and dinnerware changed depending on where our virtual journey took us, and images of a country's people and scenery flashed on LED walls. At one point, the pattern on our tables showed blue checks, and it would become vibrant flowers for the next course.
Johannes, our emcee for the evening, entertained with flair and style.
He would explain each course and then, with great exuberance, proclaim, "Bon appétit!"
The lemon pasta was so authentic it made me think an Italian grandmother was in the kitchen. My friends and I declared this our favorite dish.
When I arrived home, I tried to recreate the pasta, but mine wasn't close. I posted my failure on Instagram, and a friend I sat beside at dinner that evening replied, "Butter, cream, more cream, pasta, lemon. Then add more butter and cream."
Book your Discovery Princess Cruise here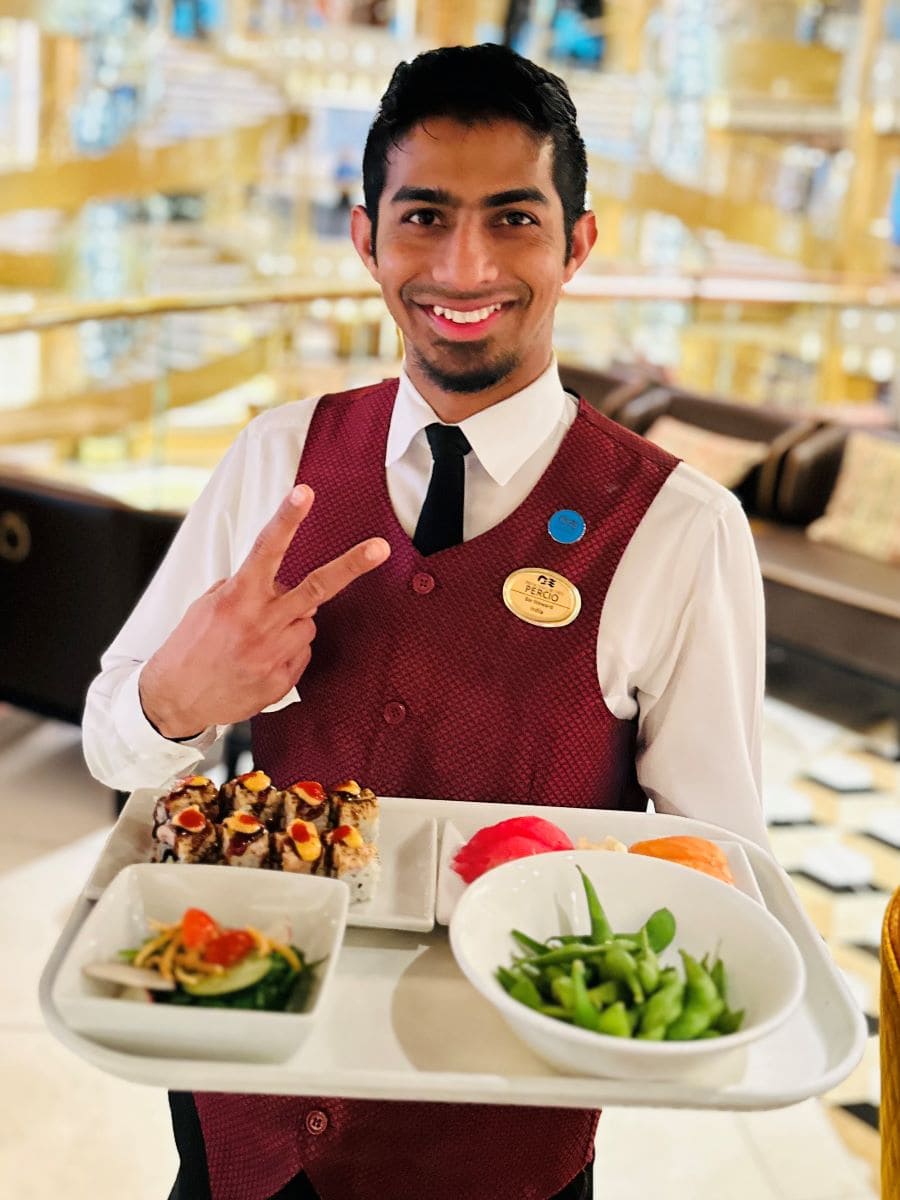 Oceanfront Terrace
On our free evening, I opted for an early dinner and arrived at Oceanfront Terrance the minute it opened. The restaurant doesn't take reservations, so there was still a line even though I arrived at 5. I took this as a good sign.
I sat at the bar—my preference when I'm dining solo—ordered a glass of chardonnay and listened as a musician crooned Smokey Robinson's words, "I love it when we're cruisin' together."
The $14.99 set menu included steamed, chilled edamame, seaweed salad, Nigiri salmon, tuna, shrimp, and one roll of Aburi of spicy tuna.
As I savored the wine and setting, my server, Percio, delivered a smile and a tray of beautifully arranged sushi. The dinner was prepared with perfection and easy to digest.
Sabatini's Italian Trattoria, Specialty Restaurant on Discovery Princess
As a colleague and I dined in Sabatini's Italian Trattoria, a server wearing a crisp white shirt and black tie grated fresh parmesan on the plate of seafood linguine before me.
We had just finished an appetizer of Sicilian fried rice balls scented with black truffle and filled with mozzarella, served with a tomato and marinara.
With candles on the linen-covered tables and hushed conversations, Sabatini's has a formal yet chic feel. I observed one couple–a woman wearing a cocktail dress and a man wearing a dark suit—follow the host to their table.
Princess Cruises has a long history of Italian chefs who have created menus and recipes from their homeland. The result is a restaurant that serves authentic, lovely Italian cuisine.
Sabatini's menu offers five courses: antipasti, soup and salad, fresh pasta, main course, and dessert. (Naturally, tiramisu!)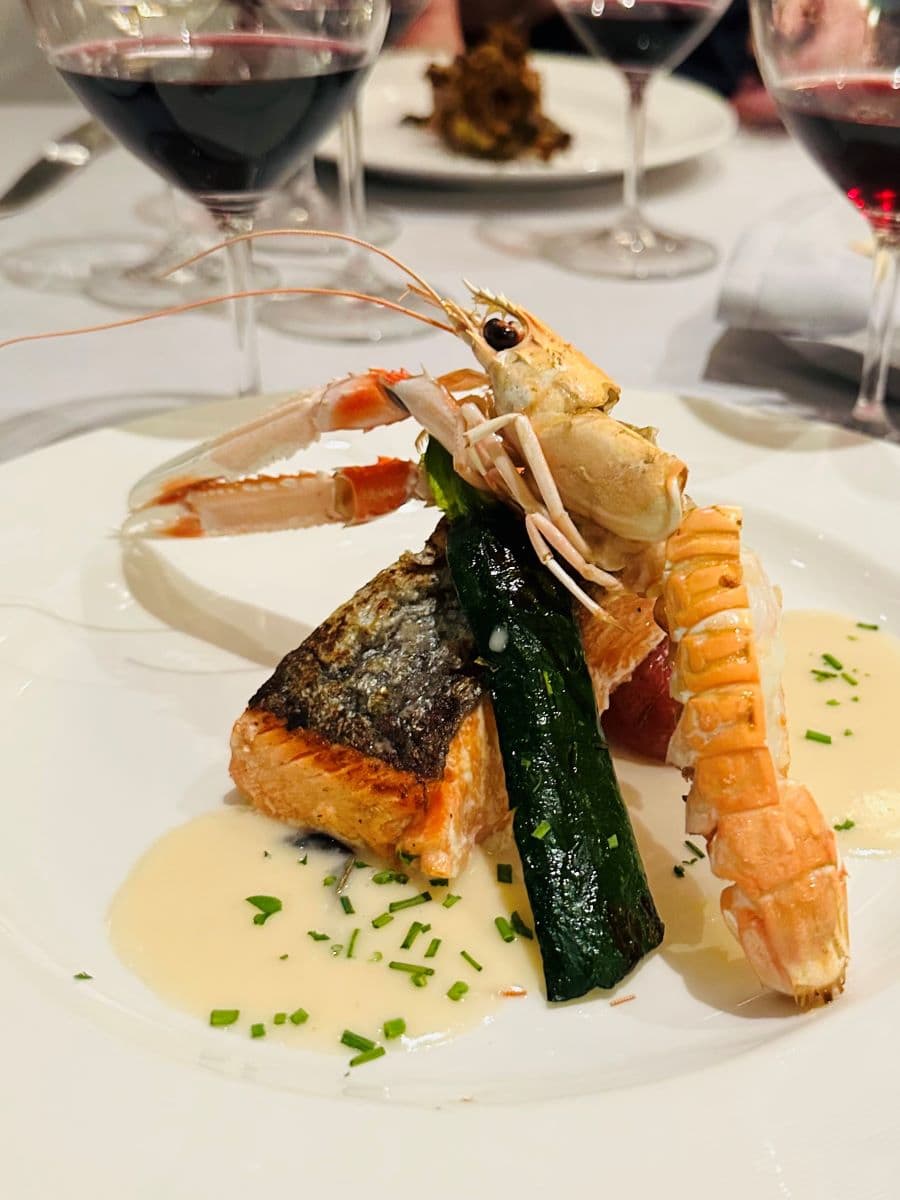 Crown Grill, Specialty Restaurant on Discovery Princess
Before I even walked into the Crown Grill, I knew I was in for a special treat. At the bar outside the restaurant, bartenders mixed a classic gin and tonic for me and then cheerfully smiled for a photo.
Crown Grill's décor entails soft lighting, wood furnishings, and the ambiance of an elegant establishment.
Diners can observe as chefs in an open kitchen work their magic. The restaurant features aged beef and fresh seafood.
Diners may select Hawaiian black salt or Himalayan Mountain pink salt to complement their steak. These are the touches that scream this restaurant cares about details.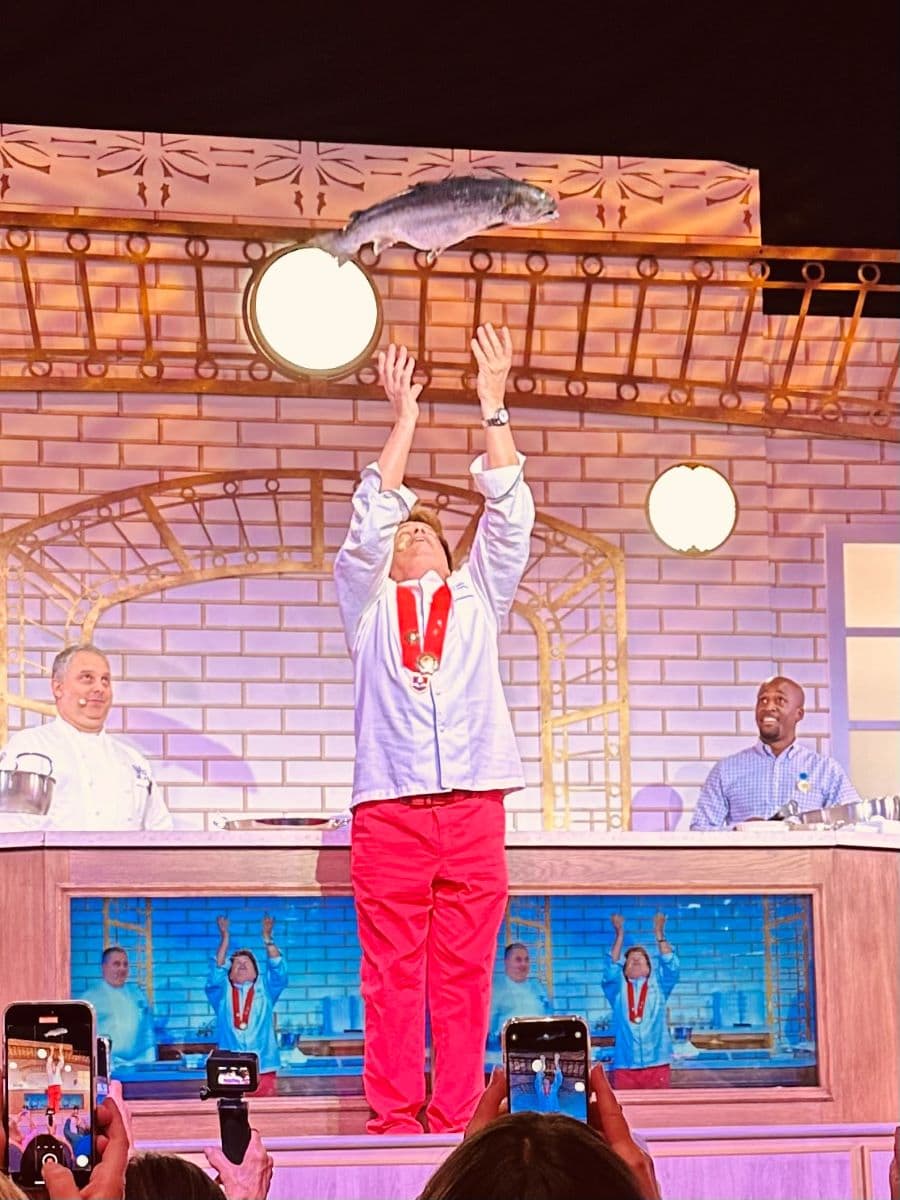 Chef Rudi Sodamin tosses a fish in the air at a cooking demonstration on Discovery Princess. Photo by Sherry Spitsnaugle
The Catch by Rudi
Chef Rudi Sodamin, head of culinary arts for Princess, is not only the most celebrated chef at sea, but he could also be a stand-up comedian.
"What's cookin', good lookin'?" The chef frequently asks anyone within earshot.
The renowned chef even has his own bobblehead doll. He has also penned over a dozen cookbooks and Food Faces, The Delightful Art and Cuisine of Chef Rudi Sodamin. The book shares his illustrations of edible foods he shaped into playful faces.
Chef Rudi's specialty restaurant was days from opening when my group traveled on Discovery Princess, but it has debuted on the Majestic Princess and Sky Princess.
In an event all passengers could attend, Chef Rudi demonstrated the art of making a soufflé.
He invited four audience members to join him on stage, gave each of them a chef's hat, and proceeded to show them how to create a soufflé.
"If it doesn't turn out, hey, you make an omelet," he joked.
He checked one person's work, made a questionable face, and deadpanned, "Omelet."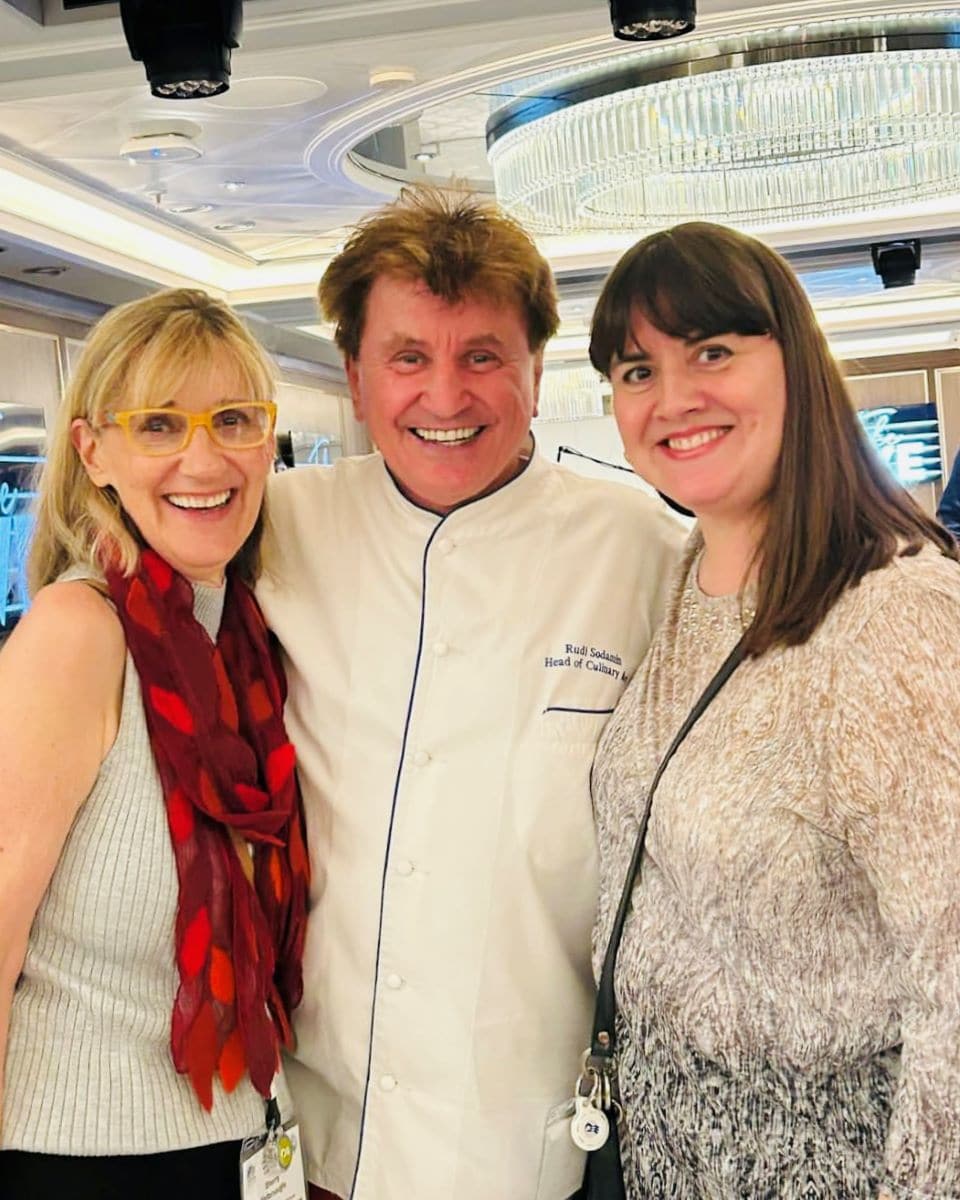 Chef Rudi Sodamin Takes Time to Meet Guests
Meeting Chef Rudi and listening to him express his unrestrained passion for food convinced me that The Catch by Rudi will be an unquestionable success. The Catch by Rudi menu reflects his sense of whimsy with items such as Whole Shebang 12-ounce Lobster and Sherry Baby Salad.
Each of the specialty restaurants on Discovery Princess offers its own charm. Their décor and distinct cuisine steal the show.
"Bon appétit!"
If You Go
What's it like to sail on Discovery Princess? My favorite feature of the ship was not the massive closet in my cabin or the ship's new feel (her maiden voyage was March 2022). It was Princess' Medallion service.
The quarter-sized trinket could help me find a restaurant, identify my location, and unlock my cabin as I approached. One evening, I ordered a glass of wine from a bartender, and the server at the other end of the bar asked, "Sherry?" The system had read my information from 10 feet away.
Discovery Princess sails from Los Angeles, Seattle, and Vancouver to the Mexican Riviera, Alaska, and Hawaii.
Two ships in the Princess fleet offer the 360 Experience: Discovery Princess and Enchanted Princess. Additional charges apply for each specialty restaurant, ranging from $15 per person to $150.
Visit Princess Cruises for more information.
Read More: