Yikes, it's a Yurt!
These tent-like dwellings used for centuries by nomads in Central Asia have gone mainstream. Now part of the lodging options at Snow Mountain Ranch near Granby, Colorado, yurts add a different level of  camping in the mountains—comfort. For people like me who don't want to be bothered pitching a tent, building a fire, and sleeping on the cold, hard ground, glamping (glamor + camping) is the new camping. And yurts provide just enough rustic for bragging rights.
The first yurt I slept in was my son's in Crestone, Colorado about 15 years ago. That's when people would ask, "You slept in a what?"
Now these latticework wood structures framed by insulated fabric are more well known. When I learned Snow Mountain Ranch built a whole village of them, I was eager to sign up.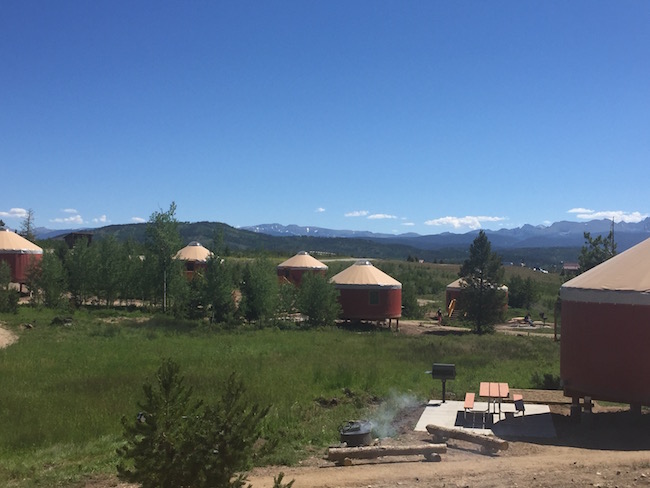 Inside Snow Mountain Ranch Yurt
Our yurt—a 20-foot foot circular room—is as comfy as Little House on the Prairie. Built on a wooden platform, it has a sturdy front door, three windows with screens and a plexiglass dome propped open for air above a whirring ceiling fan.
A queen bed and two bunk beds are more than my family of four need. We even could have brought the dog for $15 a night. A microwave, mini fridge, table/chairs and (spotty) free Wifi add to the comforts of home. However, the bed linens they provide are barely adequate for the unheated space, with nighttime temps in July getting into the 20s and 30s in the Rocky Mountains. I was glad I had my fleece jammies and could have used an extra blanket. During winter months, they advise bringing winter-rated sleeping bags for the below-zero temperatures as they do not provide any bedding or towels. Now that's roughing it.
Bathhouse at Snow Mountain Ranch Yurt Village
Where's the bathroom, you might be wondering? Well, down the path and to the right of the parking lot stands a bathhouse, like the one you may have used in Scout camp, only nicer. This one has flush toilets, hot showers, hair dryers and outdoor sinks for washing up before dinner and refilling water bottles. Bring your own soap, shampoo, conditioner, and flip flops for the shower.
Now I know why the reservation checklist includes a flashlight. It gets pitch dark in the mountains, and the walkways are not well lit, which is a good thing. Who wants to be at a campsite that shines like a city street? We're trying to be campers here!
What is camping without a campfire? Each yurt "yard" has a campfire, charcoal grill, picnic table and two-person tent pad for those who like sleeping under the stars. BYO firewood or buy it at the Buckboard Grill and Grocery at the main complex. A covered pavilion for all yurt campers sits just below the village. Here there are gas grills, picnic tables and a large gas fireplace. Even though there's no crackling of wood, the flame is hot enough for roasting marshmallows for S'mores. Bench seating is great for guitar pickin' and singin' camp songs well into the dark of night.
Activities at Snow Mountain Ranch
Snow Mountain Ranch is a YMCA of the Rockies facility. A quintessential family getaway, it offers enough activities—summer and winter, indoor and outdoor—to suit every age and stage. On this July trip we choose the popular summer tubing hill (a blast), horseback riding (I rode the horse Johnny Depp rode in the movie Lone Ranger), zip line, archery, hay ride, and a visit to a 1919 homestead. Other outdoor summer activities include canoeing, fishing, mini golf, tennis, disc golf, hiking, biking and llama trekking. Year-round indoor facilities include a roller-skating rink, climbing wall, swimming pool and huge craft shop (perfect for a rainy day). Winter brings about ice skating, Nordic skiing, snowshoeing, dog sledding, tubing, snowmobiling, and sleigh rides. There also are programs designed for groups like yoga and family movie night.
Three meals a day are offered in the cafeteria at Schlessman Commons.
For more information on pricing and other lodging options, visit the website below.
Snow Mountain Ranch 1101 County Road 53, Granby, CO 80446; 970-887-2152 www.snowmountainranch.org
Claudia Carbone is an award-winning travel writer based in Denver. Read about other hotels she's visited in Sleepin' Around.
Latest posts by Claudia Carbone
(see all)