My 14-year-old great-niece, Sammy, broke into fits of giggles as she made snow angels just steps from our Beaver Creek rented chalet.
"I'm stuck, Auntie!" she called out as she lay on her back, laughing, and stretching her arms toward the sky.
My niece, Kelly; her daughter, Sammy, and I had just finished a snowshoe trek on a sunny, 36-degree day. Sammy's dad, Chad, chose to ski the world-class slopes of Beaver Creek with its 1,815 skiable acres.
We were in Beaver Creek, Colorado, for a weekend of snow, exploring, and kicking back.
Best of all, we would kick back in an exquisite mountain home, the beautiful Chalet Bello.
Moving Mountains
Moving Mountains, a company that manages every detail of a catered vacation, organized our stay at Chalet Bello. It was a contemporary, 3,500-square-foot home within walking distance from Beaver Creek Village.
Planning a last-minute trip to Colorado?
Top Experiences and Tours in Colorado:
Where to stay and transportation in Colorado:
We parked our cars in the garage and gladly left them throughout our stay.
We loved that we could walk two minutes from the front door, strap on snowshoes, and set off. Kelly, Sammy, and I were so excited to enjoy the elaborate house, we cut our snowshoe adventure short after less than an hour.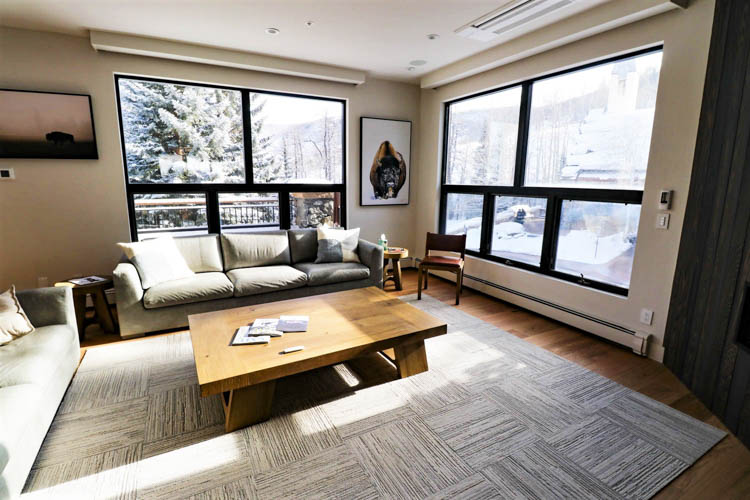 Ski-In/Ski-Out Chalet
With five bedrooms and bathrooms, the lavish home was expansive. So expansive that we each had not only our own bedroom but our own floor.
When we arrived, Sammy raced through the high-end retreat, checking out the 75-inch flat-screen TVs, electric blinds, touch lights and mountain views. She chose the upper-level loft with a king bed and twin beds.
But the state-of-the-art kitchen, with an induction range, built-in refrigerator with French doors and quartz countertops was the highlight.
"Auntie, come look! Three coffee makers!" Sammy called from the kitchen as Kelly and I explored the living area. Knowing how much I love my morning caffeine, Sammy couldn't wait to share her discovery. There were two Nespresso machines and a drip coffeemaker. The count went up to four when we found a French press.
Beaver Creek Vacation Rentals
My niece, her family, and I all live in Colorado. But with their busy school and work schedules, we can rarely find a weekend to spend together. We chose a vacation home to give us the space to spread out, and the option to cook, lounge and be close to the slopes and village.
Moving Mountains will manage everything from lift tickets and ski school to organizing activities for a non-skiing day. They will even arrange for grocery delivery and personal chef service.
Moving Mountains Story
Robin and Heather Craigen dreamed up the idea to offer fully catered ski vacation experiences more than two decades ago. At the time they were chartering yachts in the British Virgin Islands before relocating to Steamboat Springs, Colorado, to begin their family.
Today, Moving Mountains, which "moves mountains every day for guests" has expanded from one property to 250 in Steamboat Springs, Vail, Beaver Creek and Breckenridge.
As co-founders, Robin and his wife Heather are committed to their guests' satisfaction.
I chatted with Robin on a video call recently and asked what he loves most about what their company does.
"It makes our day when we read a guest survey that says, 'That was the best vacation we've ever had!'" he said. "That is special for us."
Robin consistently credits his team for the success of Moving Mountains and happy guests.
"Our team is passionate about giving guests the best vacation experience," he said. "It takes every person doing their job well. We like to take care of the details and eliminate hassles."
"Every minute we save you," Robin added, "is another minute you can enjoy your vacation."
Personal Family Chef
We could have chosen to have a chef come to the home to prepare dinner. But, Kelly and Chad both love to cook. Especially on a 36-inch professional induction range in a beautifully-stocked kitchen.
The aroma and sizzle of bacon frying filled the kitchen as they prepped bacon-wrapped fresh wild-caught scallops, linguine and an arugula salad.
The four of us sat at the massive wooden dining table with glasses of Pinot Noir for the adults and sparkling seltzer for Sammy. We made a toast to our family vacation and to our swanky weekend home.
Best Tips & Tools to Plan Your Trip
As we dined, we were so close to the mountain we watched snowcats grooming the slopes for the next day.
After dinner, we strolled across the street to the village and watched as a group of eight boarded a snowcat-pulled sleigh on their way to dinner at Beano's Cabin. The fine-dining log cabin restaurant sits within the White River National Forest and serves a five-course gourmet meal.
Under a full moon, we walked around the village with its jewelry boutiques, cafes and outdoor equipment stores. We also stopped to watch skaters glide across the ice rink in the center of the village.
Beaver Creek Resort
As part of the Vail Valley, Beaver Creek was founded in the early 80s. Since then is has grown into a world-class destination. It is known mostly for its spectacular ski slopes and charming village.
The resort also boasts the exceptional Vilar Performing Arts Center, a 530-seat venue that offers world-class performances of ballet, opera, comedy, jazz and more. The Center hosts such names as Norah Jones, the Colorado Symphony and the Brandon Marsalis Quartet.
A crowd favorite happens every Thursday, mid-December through March. This is when fireworks light the skies over the Centennial Express Lift for Thursday Night Lights.
What Time is Cookie Time?
Beaver Creek also caters to families. At 3 p.m., every day during ski season, servers dressed in chef's whites dole out fresh-baked chocolate chip cookies from a silver platter.
The tradition to pass out cookies first started in 1985 and has grown into a community event.
Every year, the Beaver Creek Resort Company hosts a competition for the best cookie recipe. After a first-round tasting, judges select finalists who then bake cookies for the masses on the Opening Day of ski season. People vote for their favorite cookie and bakers use the winning recipe until the next contest.
It was a joyful madhouse the day we were there. Kids and adults surrounded the chef-clad staff and stretched out their hands waiting for their treat.
As we waited, one woman with a young girl said to me, "This is the only way I can get my kid off the mountain!"
We scored cookies and then settled in at the nearby Vail Mountain Coffee and Tea Company with cups of hot chocolate. The Beaver Creek location is new. However, the company has been part of the community for decades and has earned a reputation for serving premier coffee.
The afternoon fun happens at the base of the Centennial Express Lift. Visitors gobble up some half-million cookies every year.
Vacation Memories
Looking back, it's not the high-thread-count linens or the crystal wine goblets I remember. It's huddling under a fleece blanket on the sofa with Sammy near the fireplace; strolling through the village under a full moon; and the four of us drinking hot tea and chatting before bedtime.
When it came time to tuck in, I couldn't figure out my room's state-of-the-art thermometer with its touch screen and menu. As any kid can, Sammy adjusted it in seconds.
She hugged me and bounded up the three flights to her room, bellowing, "Goodnight, Auntie."
I smiled to myself and called back, "Goodnight, my little snow angel."
If You Go To Beaver Creek
Moving Mountains takes care of all details for a five-star vacation in the mountains, any season. The professional team works with only the most unique vacation rental properties available to plan a catered chalet experience.
Ski & Snowboard equipment
Ski Butlers and Venture Sports rent everything you need for a day of skiing or snowboarding. Beaver Creek Nordic Center has a complete rental shop and is located near the Strawberry Park express lift. You can purchase a lift ticket to McCoy Park, which has snowshoe and Nordic trails.
For travelers who also want to visit Vail, a 20-minute drive from Beaver Creek, Vail Nordic Center is an excellent option to rent Nordic skis or snowshoes. The center offers group or private lessons for beginners and alpine touring ski clinics. Vail Nordic Center is located on Vail Golf Club, ideal for Nordic skiing with 17 kilometers of classic and skate ski track.
Author Bio: Award-winning travel writer and photographer Sherry Spitsnaugle believes she has the best job in the world. Based in Denver, Colorado, Sherry is the author of four editions of Quick Escapes Denver – Weekend Getaway Trips in and around the Mile-High City. Sherry is a member of the Society of American Travel Writers, the North American Travel Journalists Association, and the International Food Wine and Travel Writers Association. Check out her stories at www.sherryspitsnaugle.com and follow Sherry on Facebook, Instagram, and LinkedIn.