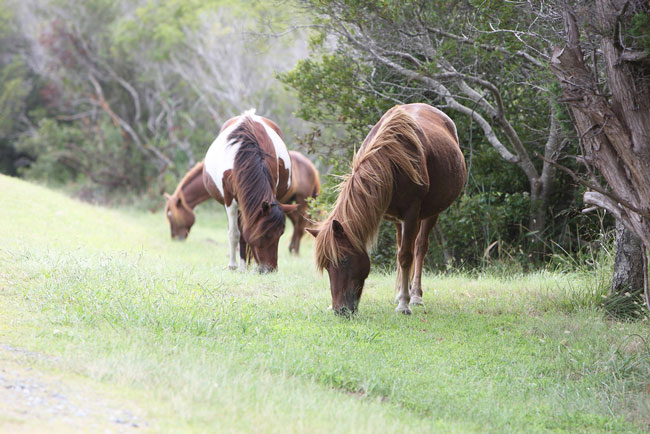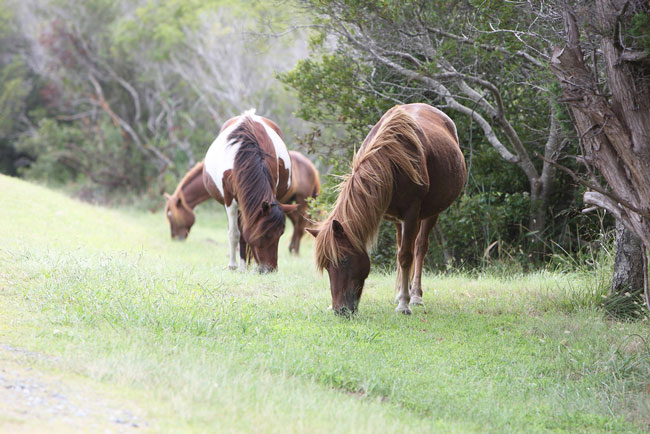 Imagine lying in your sleeping bag, listening to the sound of waves, knowing the ocean is a few hundred yards from your "bedroom." Wild ponies walk by your campsite at breakfast while seagulls cry out for your leftovers.
Assateague Island
After eating, you leave your beach-side kitchen, take your beach chair, gather up the kids and walk the short distance to sit by the ocean. This is beach camping at Assateague Island, Maryland. But as idyllic as this sounds, beach camping can be a challenge.
Located 10 miles (16 km) south of Ocean City, Maryland, Assateague Island has been part of the American National Park System since 1965. A barrier island, it rests between the Atlantic Ocean and Sinepuxent Bay in Worcester County, Maryland. Assateague Island straddles two American states — Maryland and Virginia.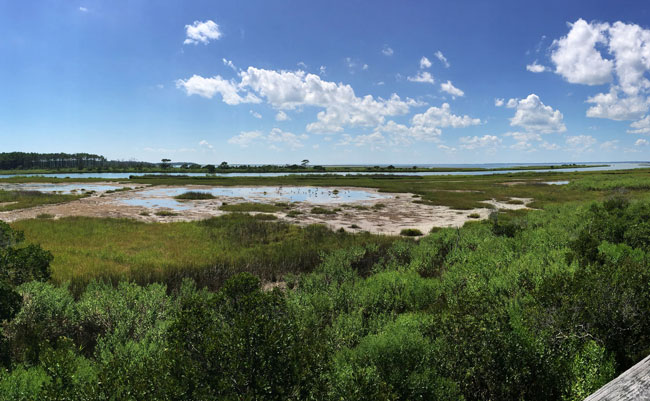 Assateague State Park
The island is divided into three areas: Assateague Island National Seashore, run by the National Park Service; Assateague State Park, managed by Maryland's Department of Natural Resources; and Chincoteague National Wildlife Refuge on the far southern end of the island in Virginia and operated by the U.S. Fish and Wildlife Service.
There are no accommodations on Assateague Island — camping is the only way to go. The island has two campgrounds: one owned and operated by the state of Maryland; the other a national campground.
Both include ocean-side and bay-side campgrounds. The visitor centers, bathhouses, and exhibits are wheelchair accessible along with two campsites that can be reserved.
For those who just want a brief beach experience, there is a day beach, which is perfect for vacationers staying at Ocean City who prefer a less-crowded beach.
Wild Ponies on Assateague Island and Chincoteague
Assateague Island and its even better-known sister island, Chincoteague, are famous for their wild pony herds. On the final Wednesday of each July, thousands of visitors gather on both shores to watch the herds of wild ponies as they are gathered and herded across three-quarters of a mile (1.2 km) of shallows that separate Assateague and Chincoteague.
On the Thursday of that week, the ponies are counted and some are auctioned off, with proceeds going to the Chincoteague Volunteer Fire Department. On the Friday of that week, the remaining ponies are herded back to Assateague.
Campers know, however, that while the ponies are fun to watch, they can be a nuisance. People aren't allowed to feed them, but that doesn't stop the ponies from trying to get into your food and trash. One night, I had to chase ponies away from our dining tent, and they were in no hurry to leave!
The state campground offers many popular camp sites. Reservations are encouraged, as there are waiting lists. You must have reservations for the annual pony round-up. Many campers choose to "chance it," especially during the week.
The bathhouses have hot showers and flush toilets. The park also has a dump station for trailers and motor homes, but no hookups. There are paved areas for vehicles and sand areas where campers may pitch tents. The paved areas are large enough for motor homes and trailers as well. Pets are not allowed at the state campground.
National Park Campground
The National Park Campground is much more rustic with ocean-side and bay-side camping. There are chemical toilets, drinking water and cold, rinse-off showers. Several ocean-side "walk-in" sites are beautiful, if you don't mind hauling your gear 50 feet (15 m) or so. Pets are allowed in this area.
Here's a wimp warning — there is absolutely no shade on the island. The sun can be brutal during the summer, especially when reflected off the water and white sand, so a dining tent or shelter of some sort for your cooking and dining hours is a necessity.
It is conceivable that you could spend your whole time in a regular tent without an additional dining tent, but it would get pretty hot and stuffy. You will need sunscreen, waterproof if you plan to swim. Since bugs can also be bothersome, definitely take insect repellent.
I have camped on Assateague many times during the last 20 years and in addition to the sun and bugs, you can always count on at least one storm. It's a flat island and the winds can be severe. Tent campers should have especially long tent pegs.
Family Vacation on Assateague Island
Warnings aside, Assateague Island is a great family vacation site. The National Parks Visitors Center, at the crossing point to the island, has outstanding displays, various programs, souvenirs and a helpful staff. The center hosts nature activities every day — where else can you pet a horseshoe crab? — and the children can follow a booklet to complete the requirements for a Junior Ranger Patch.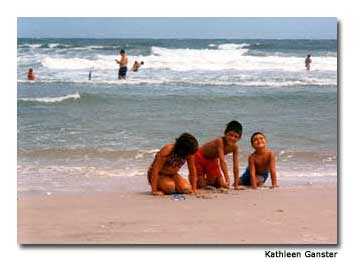 Prior to a visit with your children, you may want to read the Misty of Chincoteague series by Marguerite Henry. The books about the pony Misty are set in Chincoteague and make many references to both islands. Children will enjoy reading them and discovering their own "Misty" on the island.
The Maryland State Visitors Center, located on the island, is smaller. It has many activities for the children and nature displays. There is also a bait and tackle shop, a camp store and a small restaurant/snack bar area. Church services are held on the beach every Sunday.
Bikers will find four miles (6.4 km) of flat, paved roads with adjacent bike trails perfect for long bike rides. Hikers have a choice of trails that are easy for children to traverse. It is also a favorite of bird-watchers as it is home to more than 300 species of birds.
Other activities include swimming, fishing, surf fishing, surf boarding, boating in the bay, clamming, crabbing, and of course, people and pony watching.
If You Go to Assateague State Park
Most campsites can be reserved from April to October yearly.
Camping at Assateague State Park
Latest posts by Janna Graber
(see all)