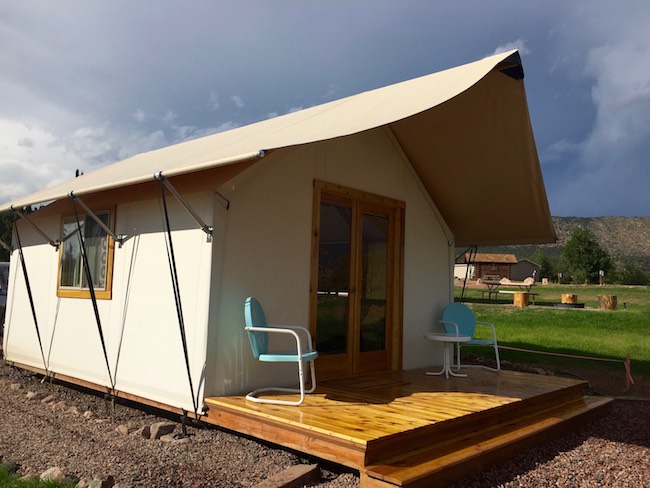 When you want to sleep under the stars, but you don't own a tent. When you want a camping experience, but you want a comfortable bed more. When you don't want to mess with the mess of setting up and taking down a tent. Go Glamping! Glamor + camping—it's the fashionable way to camp that's trending now.
We glamped (I'm not sure it's a verb yet) at Echo Canyon Campground near Canon City, Colorado. It's across the road from Echo Canyon River Expeditions, which made it easy to check in on time for our rafting adventure. Both are owned by Andy Neinas, who built the campground this year with glamping tents, luxury cabins and RV and camping sites as a destination for his customers and anyone else enjoying the area. For all the reasons above, we chose this glamping tent and here's what we found.
Step inside. . .
Inside the Glamping Tent
Double French doors open to a light-filled tent made of sturdy canvas fitted over a wooden structure. The floor is solid wood and extends out the front door to form a small deck. An inviting queen bed made me want to sprawl across it to test it out like kids do at camp. It did not disappoint! A decorative rug adds a bit of color, and bedside lamps bring light for nighttime reading. Two screened double-paned windows allow air to circulate. This is not your grandfather's tent!
Overhead, a decorative antler chandelier creates sexy lighting for a resort-like atmosphere. Several outlets for electrical plugins are strategically placed; and, if you must, there is Wifi. It's free.
Besides the bed and nightstands, there's a camp-chic table/desk with two metal chairs. . .
. . .and fluffy towels, a makeup washcloth and shower amenities from C.O. Bigelow, but no running water or bathroom. A large clean bath house for all tent dwellers is 142 steps away. Do bring a flashlight for nighttime visits as it gets very dark. We were given one bag of ice when we checked in that we added to our cooler of water and beer.
On the opposite side is a nice sleeper sofa perfect for two kids.
Outside the Glamping Tent
The bath house has showers, toilets, sinks and mirrors. . .
. . .and laundry facilities.
The best part of camping is the campfire. Each tent site has a large metal fire pit with a grate for cooking. If you don't bring your own wood, you can buy a small bundle at the check-in cabin. They sell matches too, as well as flashlights, pocketknives and other camping necessities.
The tents are for rent from April though October at $149 a night Sunday through Thursday and $159 on weekends during peak season and $149 during shoulder seasons. Shoulder season should be a great time as the region is known as Colorado's "Banana Belt"—mild temps and lots of sunshine. Sunsets over the Sangre de Cristo Mountain Range are spectacular, and the stars and Milky Way are clearly visible.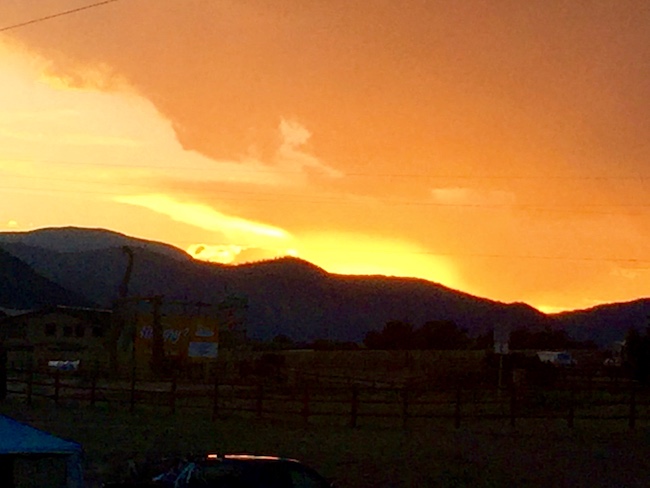 It doesn't get as quiet and peaceful as you'd like until well into the late night. We could hear people talking outside other tents, partying at the bar across the street and highway noise. And just to remind us we were in the Rocky Mountains, we heard some kind of animal howling in the distance.
Dining at the Glamping Tents
If you don't want to cook campside, go across the road to 8 Mile Bar & Grill, also part of Andy Neinas' tourism empire. There are 16 Colorado craft beers on tap and classic American dishes like burgers, salads, steaks and seafood for adults and kids. Umbrella tables provide seating on the patio, and there's sand volleyball, bean bag toss and a nice big fire pit to warm you on a chilly night. The restaurant is open only for lunch and dinner, so be sure to bring breakfast for the tent.
Rafting at the Glamping Tents
Echo Canyon River Expeditions is celebrating 40 years in business, and it shows in their slick operation. Our guide knew every rock and roll of the river, and we were completely comfortable on our adventure that brought more whitewater than we expected. The company offers everything from family float trips to class V rapids for experienced rafters.
Fishing also is exceptional all year long. "We are blessed to have some of the best rafting in the world when mountain snowmelt is strong, but we are equally fortunate that at 102 miles long the Arkansas River features the longest contiguous section of gold-medal fishing in Colorado," said Neinas.
Other activities in Royal Gorge region
Steeped in western history and home to the wondrous Gorge cut by the mighty Arkansas River, the Royal Gorge region is a year-round outdoor playground with fishing, rock climbing, golf, jeep touring, biking and hiking.
Attractions
Royal Gorge Bridge spans 938 feet (286 meters) across the gorge 955 feet (291 meters) above the Arkansas River. Built in 1929, it was the world's highest until China opened a higher one in 2001.
Walk across the bridge; "fly" over the gorge on the Skycoaster, Zip Line or gondola; and watch a video on the construction of the bridge. There's also dining, summer entertainment, and a children's playground.
Riding the train through the gorge along the river is a way to see the magnificent scenery up close. You can view it from an open-air car or seated at a dining table or both. Board in Canon City.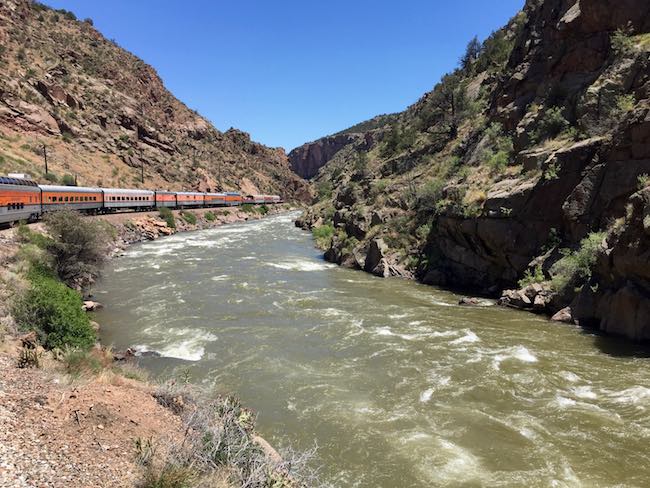 Sample wines from the Winery at Holy Cross Abbey; visit the Dinosaur Experience, an indoor/outdoor fun educational adventure into Colorado's paleontological history; or shop for antiques in nearby town of Florence where you can stop for a cold one at Florence Brewing Company.
Glamping tents and Echo Canyon River Expeditions are about two hours from Denver and one hour from Colorado Springs at 45000 West U.S. Highway 50, Canon City, CO 81212; 800-755-3246; www.raftecho.com.
Claudia Carbone is an award-winning travel writer based in Denver. Read about other hotels she's visited in Sleepin' Around.
Latest posts by Claudia Carbone
(see all)