Editor's Note: We're all dreaming of travel ahead. Here's some inspiration for future adventures. We share places, products and activities we recommend. If you make a purchase using a link on our site, we may earn a commission.
Siem Reap, Cambodia, has just about everything, including the famous Angkor Wat temple site. With more than 1,000 temples in a 400-square-kilometer (98,842 ares) radius, most visitors to Cambodia will spend one to two days walking around the area. However, being under the sun all day can wear you down.
That's why I wanted to make sure I always travel with a good head covering to keep me cool. But with everyone telling me that "less is more" when traveling to Southeast Asia, I couldn't take just any hat. In fact, bringing along the right travel accessories, like a good hat, can make your travel go smoothly.
What to pack had a lot to do with it. Every time I travel, I get anxious about how much I'm packing in my suitcase. Trimming down on clothes is one thing, trimming down on sun protection is another.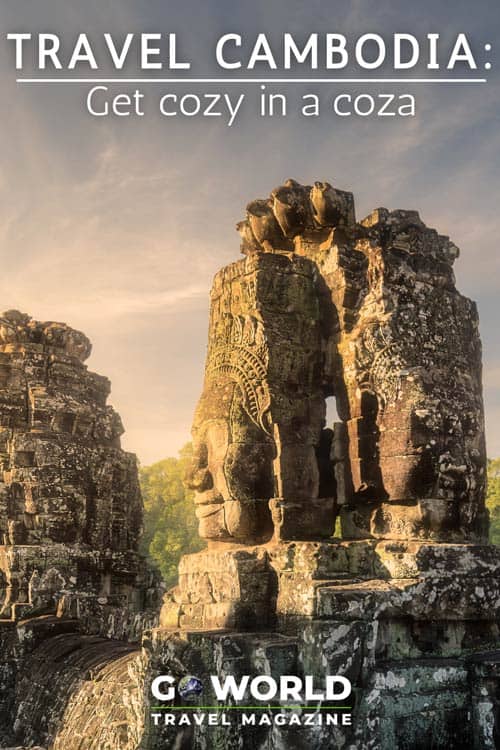 Coza by Tenth Street Hats Fits the bill
The go-to hat for this trip had to be something that was light and breathed, provided good sun protection, and worked well while either lounging around or while trekking up and down ancient temples in 90 degrees with 90 percent humidity. A twisted Panama straw outback hat, the coza by Tenth Street hats, fit the bill. 
This hat is not only easy to wear, but I also got compliments on it every day of our trip. The hat kept my head nice and cool while riding a trishaw through the tiny streets in Koh Oknha Tey, Cambodia. It felt as though I could have been an extra in the next Indiana Jones movie.
Cambodia is a hot and humid country with so much to see. We love to visit with the locals and walk through towns as much as possible. I never had a problem pairing my hat with an outfit for the day, be it active or something more casual. The coza really appealed to me for this reason. It looks good no matter what you wear it with.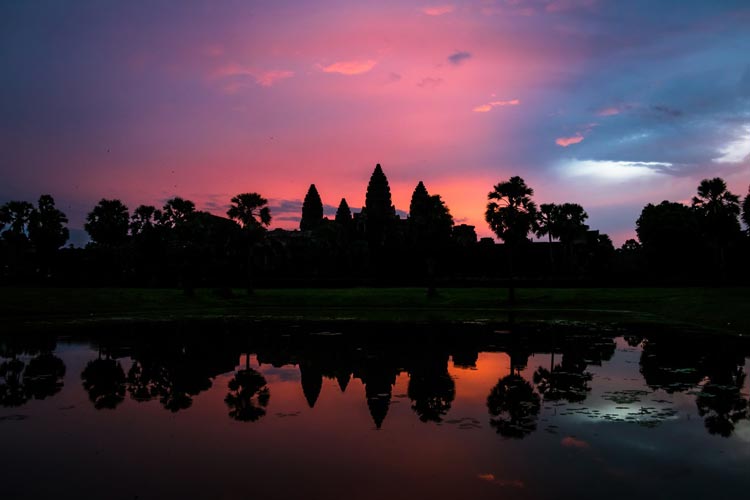 Watching the Sunrise over Angkor Wat
On our second day in Siem Reap, we made the homage to Angkor Wat to watch the sunrise over the temple before exploring and seeing many other temples. Angkor Wat was surreal, so much history happened here, it's literally engraved on the walls of the temple.
After the morning, we visited Angkor Thom, known for its profusion of smiling Buddha faces throughout. Interestingly, the faces were originally Hindu before the national religion changed to Buddhism and the king at the time had their foreheads changed to look like the Buddha.
Finally, in the afternoon, we arrived at Ta Prohm, the ancient temple known most for its use as a backdrop in the movie "Lara Croft, Tomb Raider." By this time, the midday heat had settled in. I was doing A-OK, though, with the breathability of the straw Coza hat. My wife Janna and I decided to settle down on a rock by the wall of the temple and survey the beauty of nature overtaking the centuries-old temple.
"So, where do you want to go on our next adventure?" Janna asked. I looked down, took a step toward her, and looked up under my wide-brimmed hat. "Always wanted to see the Great Barrier Reef in Australia," I said. "And I've already got the perfect hat for that one!"
Book This Trip
Ready to enjoy the sunshine and historic sites of Cambodia? Find the best flight deals and ground transportation packages here through Kiwi. Next, you can find everything else you need to know like hotel or VRBO options and where to eat nearby on Travelocity and TripAdvisor.
Author Bio: Benjamin Rader is the video director at Go World Travel Magazine.