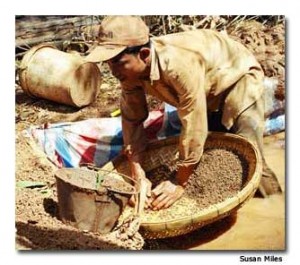 The kick off point for most international visitors to Cambodia is the neighboring country of Thailand. Here in the capital of Bangkok, tourists make the most of the discounted travel gear, clothing and variety of tour providers to organize their adventure into this ancient and fascinating land.
While it's possible to find good deals, one can't help but notice the warnings posted in guidebooks and brochures, advising them to be weary of the "gemstone scam."
Unsuspecting tourists who are herded into jewelry stores by pushy tuk tuk taxi drivers are sold so-called bargain stones. They are then persuaded to avoid the "import duties" by having them conveniently mailed to their home countries. If they turn up at all, the stones usually turn out to be well short of the value quoted.
No one likes to be taken for a sucker, but there is a way to avoid these unscrupulous middlemen by going directly to the source.
In the red, dust-coated province of Ratanakiri, in the northeast of Cambodia, the locals are hard at work cultivating a range of produce, from cashews to bananas, sugar cane to glorious blue onyx gemstones. From the main township of Ratanakiri, it's a short 18 mile (30 km) two-hour drive over roads so rough they are nicknamed "dancing roads" to the mining town of Chum Rom Bei Srak.
Here, we found sorters busy at work shifting through freshly-mined stones.
As they expertly work their way through the pile, stopping occasionally to trim the stones with wire cutters, they check for cracks and flows that will determine whether the stone ends up a precious five carat jewel or less expensive one to two carat stones.
This town with its modest, wood slab stores and stilt homes is no more than a cluster of buildings along the main road at the entrance to the mine. In contrast to the rest of Cambodia, it has a barely lived in feel, which is hardly surprising, as the mine was only discovered four years earlier.
No fancy equipment or structures are in sight, just a rough field of simple, square holes with foot holds cut into the inside of the mine. Some are more elaborate, connected by shafts, but most look no more sophisticated than an oversized rabbit hole.
The miners work in teams of close friends and immediate family. Implicit trust and honesty are required to work the mines successfully, as a good stone could be the equivalent of a month's salary in this heavily impoverished country.
The work is hard, with only simple tools at hand, a bucket and a hand turned wrench to dig out the minimum eight feet (2.4 m) deep mines. The stones don't show themselves until at least this depth below the surface.
The day we visited, Chinese New Year celebrations saw most of the miners enjoying rice wine parties rather than working their mines. However, Mr. Yuen, a 24-year-old, four-year veteran of gemstone mining, was hard at work with his cane-woven sieve in a water-filled slush pit. He paused long enough to show us some of his earlier finds. In our hands, they were rather uninteresting looking cola-colored pebbles.
While we took in the hard labor and patience it took to extract these stones, our ex-commodities trader tour guide could not help himself, and out of old habits, he started negotiating a price. When we realized that in town we could have these expertly cut to reveal the blue jewels, the US$5 price tag for three stones was a worthwhile investment to see the end result.
Upon our return to the township of Ratanakiri, we dropped by one of the three gemstone stores. These simple, tiny rooms open directly onto the street without even a wall, door or window: Tiffany's they are not!
Instead, just a glass-cased counter in front displays the cut stones with a workbench behind. The lack of furnishings allowed us to view the skilled cutter at his craft, working the rotating wheel in the style of a potter's wheel to turn the brown stones to blue gems.
Our chosen cutter took some convincing to take on our three-stone commission. Normally dealing in lots of 50-100 stones at a time, he couldn't work out why we crazy tourists would pay more to have our stones cut than what we would spend to get ones already processed.
But with some fast-talking by our local guide named "Lucky," our request was met, with a deal struck at a US$ 1 a carat.
Because the heating and cutting process takes two hours and it was near day's end, we were going to have to wait until the next day to see the finished product.
But the following day, our freshly cut, freshly polished "babies" arrived. Like any new parents, we fussed over and photographed our new arrivals at every angle. Our "eldest," biggest stone came in at a whopping four-carat, our middle two-carat, and the runt of the litter, the one we were told would turn to dust under the cutters tools, a respectable one-carat. Total investment, including cutting — US$ 12!
Had we beat the scammers and made a good investment? Who cared?  For 12 bucks we got to take the journey from mine, to gem cutter, to finished stone. It was an added bonus when a visiting geologist, on the hunt for Asian Rubies and Sapphires, declared our modest investment for our three blue Ratanakiri Onyxes gemstones a savvy buy, worth at least US$ 100! Definitely the most satisfying jewelry shopping I've ever done!!
IF YOU GO
Should your visit to Cambodia not provide you with the time or opportunity to buy your blue Onyxes gemstones direct from the mines, no need to panic. These can be readily bought either loose or set in jewelry for between US$ 20-50, depending upon the carat and quality.
While you won't find rubies, diamonds or sapphires on offer, I wouldn't trade my gemstones from the Chum Rom Bei Srak mine for all the Tiffany filled display cases!
GETTING THERE
The township of Ratanakiri is a one-hour flight from the Cambodian capital of Phnom Penh. Accommodation at the Yaklom Hill Lodge (15 minutes by car from town) ranges from US$ 8 for singles to US$ 18 for a family cottage. Email: [email protected] website: www.yaklom.com.
From the Lodge, visitors can conveniently arrange 4WD hire with driver for US$ 35-40 per day, and an English-speaking tour guide for US$ 15 a day to visit the Chum Rom Bei Srak town and mine.