When planning my trip to Cambodia, visiting Angkor Wat, the most prominent religious site in the world, almost seemed inevitable.
On most travel websites, this Buddhist temple complex was listed as the number one location to experience on a bucket list when exploring Southeast Asia. After a few minutes of research, I already fell in love with Angkor Wat.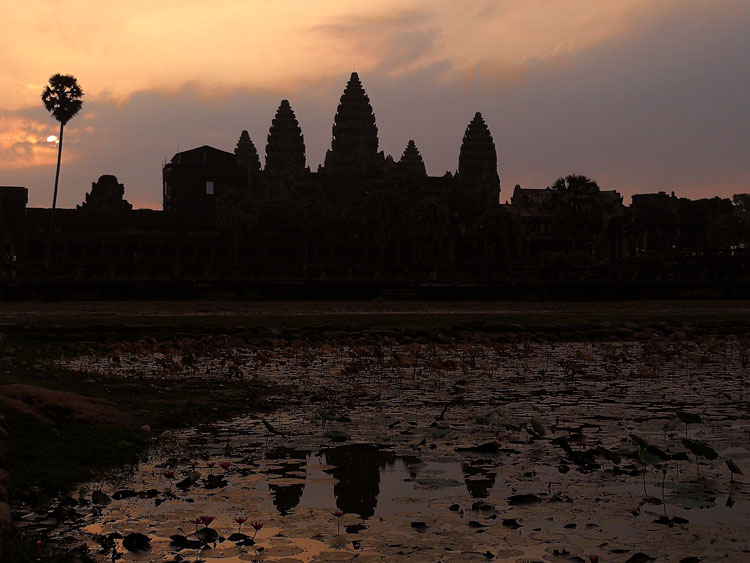 Visiting Angkor Wat
The pictures looked absolutely stunning, so it didn't really take much to convince me to plan a visit. As always, I was thinking about what pictures I could take and the best locations to do so.
Usually, visiting a destination extremely early or late in the day helps in avoiding huge crowds, so I decided to book a so-called "sunrise tour."
Booking the Sunrise Tour
This would give me early entrance access to the temple to catch the first light beams of the morning sun rising behind the ancient architectural masterpiece. Following most of the advice I could find online, I did not pre-book the trip from home and chose to use my local hotel to help contact a suitable guide instead.
Although I was a bit scared over last-minute guide availability, it was the easiest thing ever. I showed up at my hotel, checked in, mentioned my desire to visit Angkor Wat, and before I finished with the check-in process, a friend of the receptionist greeted me in the hotel lobby to discuss details.
We scheduled for the next morning and it cost me about 25 US$.
Best Tips & Tools to Plan Your Trip
Getting Up Early
Let me talk about the most obvious thing first. In order to get to Angkor Wat in time, I was told that I had to get up early. Really early. I usually don't mind sacrificing my sleep for an outstanding adventure. Still, after backpacking through Thailand and Laos two weeks before my arrival in Cambodia, I was quite exhausted and had difficulty getting up in the morning.
My alarm went off at 3:45 a.m. and I pressed snooze. The alarm went off again at 4:00 a.m. I crawled out of bed in an ungraceful way that most likely resembled a sloth on sleeping pills.
My pick-up was scheduled for 4:15 a.m. and it was already waiting for me outside when I walked through the main entrance door at 4:10 a.m. The driver was in a slight hurry and told me he had to stop at the gas station to refill gas before heading to the temple.
While explaining his intended stop, he nicely pointed me to the backseat of his Tuk-Tuk and placed my backpack in the little storage area at the back of his vehicle. Off we went!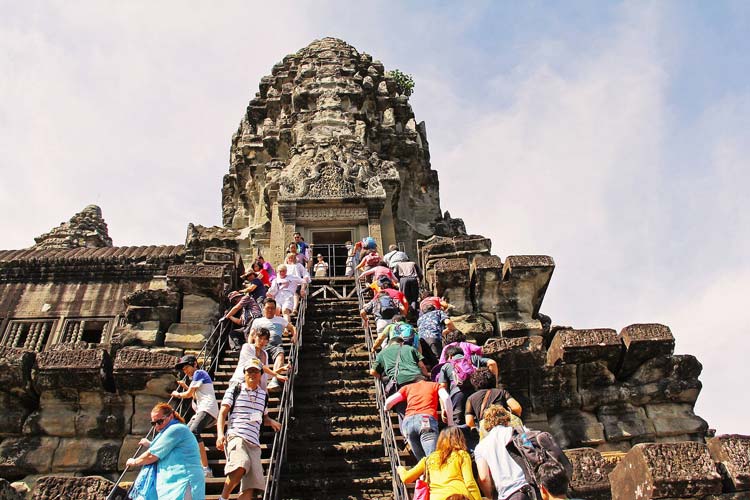 Crowded Streets Early in the Morning
We reached the gas station about 5 minutes later. My driver greeted another guide, who was also refilling gas while two passengers sat on his Tuk-Tuk.
Overall, a lot was going on during these early hours. I was already thinking, "what other reason than watching the sunrise could all these people be out for right now?" A question that I would painfully get answered a little later.
After the quick gas stop, followed a bumpy 20-minute ride followed towards the main entrance of Angkor Wat. I realized that the closer we got to the temple, the more people there were on the street.
"I really hope they are not all going to the same place," was running through my head over and over again. But where else would they go? I had a really bad feeling.
Sobering Arrival at the Temple Site
As soon as we got close to the temple entrance, I couldn't believe my eyes. I knew that the sunrise is considered something special and that I surely wouldn't have been the only person around. But what I witnessed was absurd.
Not only was there an insane number of people, but how they acted was unbelievable. People would jump off their Tuk-Tuk and run towards one of many ticket-selling counters. At first, I didn't even understand what was going on but was then told by my driver that I had to pay an entrance fee for the temple, which turned out to be another 37 US$, more than I paid for the actual trip itself.
"Whatever," I thought and started making my way toward the counter section while being bumped into every 30 seconds or so. "We have to hurry" and "we will miss the sunrise" were constant phrases I overheard while waiting patiently in line to get my ticket (calm down, people).
Once I had my ticket, my driver pointed me in the right direction and told me when we would meet again. I grabbed my backpack and started walking.
Floating Along in a Sea of People
After starting my walk toward the infamous picture spot, I didn't even have to think about the orientation and layout of this place anymore. I was fully submerged in a massive crowd of slowly moving people. At this point, nobody seemed stressed anymore.
I guess the "lucky ones" who finally made it inside the Angkor Wat temple knew they wouldn't miss the sunrise anymore. The only thing I knew from my research was that the picture-taking spot was in front of a little pond, which ideally reflected the beautiful orange sunrise and created a mirrored effect of the temple.
After just a few minutes of walking, I noticed that the crowd started moving more and more hectic. People started branching out and some of them began to run again. Why? I found out a few seconds later. After turning a corner, I saw an unimaginable crowd gathering around a specific place.
A place that I couldn't really see or identify at first. Only a few steps later, I would recognize the pond, which I had researched during my journey on the internet back home in Germany. The pond itself was barely visible.
When I got closer, I slowly walked around people to the outermost point and finally reached the water's edge. What followed was a once-in-a-lifetime experience, but not in a good way.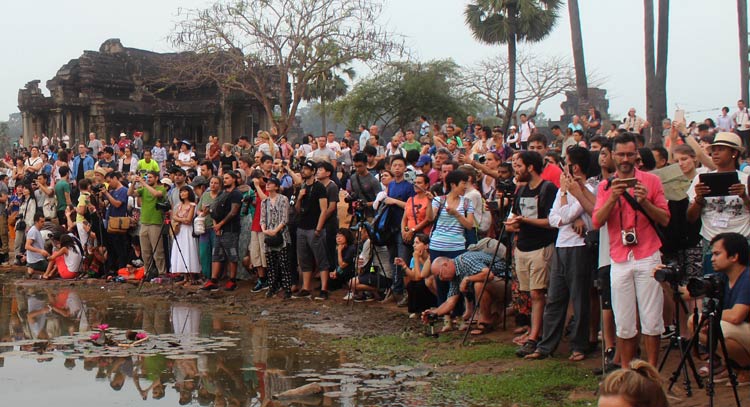 Human Behavior at its Worst
The best spots to see the ideal reflections of the sunrise were located at the side of the pond, from which people could see the temple straight ahead of them. I was off to the side and totally fine with it. After all, I would hopefully still get a good picture.
Not the best, but good enough. Unlike me, other people were not good with being on the side. There was yelling, cursing, and pushing other people aside. I have, in all seriousness, never seen so many tourists acting out of line in my entire life.
This is still an actively used religious site, so show some respect. Whenever there were people walking in front of the temple, on the other side of the pond, the crowd would start shouting, "get out of the picture" or "go away."
People peacefully strolling around the temple suddenly became a collective enemy of the "pond crowd." Interestingly, most people surrounding the water weren't even professional photographers. I would say that probably 10% of them had a proper camera setup and the other 40% had only a cell phone in their hands. The other half didn't even bother taking pictures at all.
Don't get me wrong, I sometimes miss the times when people would just take in the surrounding nature and stop being obsessed about documenting everything. My point here is that those people would have been perfectly fine standing on the side of the pond or stretching out a bit.
As I witnessed the spectacular demonstration of human behavior at its worst, I almost missed the sunrise at around 5:30 am.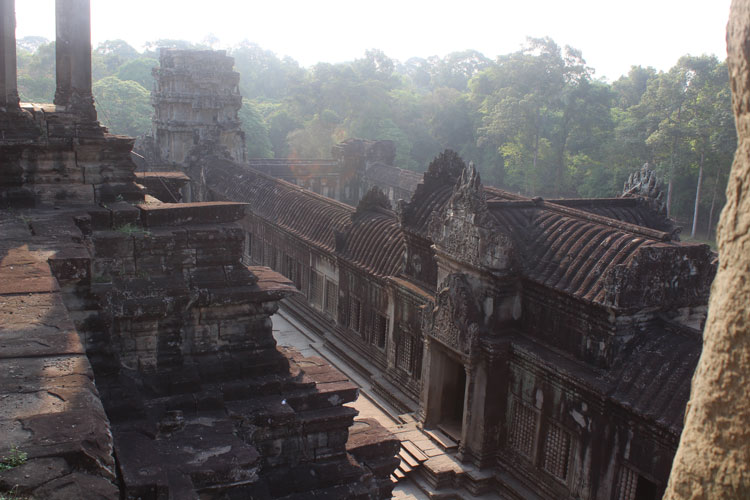 The Wait Wasn't Worth It
Unfortunately, the colors were not as good as in some of the pictures I found online, but I still enjoyed the moment.
The very second the sun started appearing behind the temple, the shouting and pushing each other ways suddenly stopped and was replaced by the sound of camera shutters and occasional "uhhh, it's so beautiful" expressions.
As one of the first people from the pond, I decided to move on. There was nothing left for me. The sunrise wasn't as expected and the negative energy around the water was unbearable. After making my way into the temple, my mood started to change.
Exploring the Inside of the Temple Instead
As I started walking towards and through the temple area, I got a feeling for how huge this place actually was. The main advantage at this point: No matter how many people gathered at the pond just a few minutes before, they all spread out and walked in different directions.
Before the main "day crowd" got in between 9:00 and 10:00 a.m., the place was fairly empty in most parts. I happily explored every corner of every building and got in my obsessive picture-taking mood, reaching about 1000 at the end of the day.
Even after the dramatic experience at the sunrise spot, I would still highly recommend visiting this place. It was simply beautiful with the architecture, the views, the feeling. Sitting down in a small corner outside the northernmost part of the temple, I imagined how it must have been to live here hundreds of years ago. Soon after my entrance to the main temple area, I also noticed an intense temperature increase.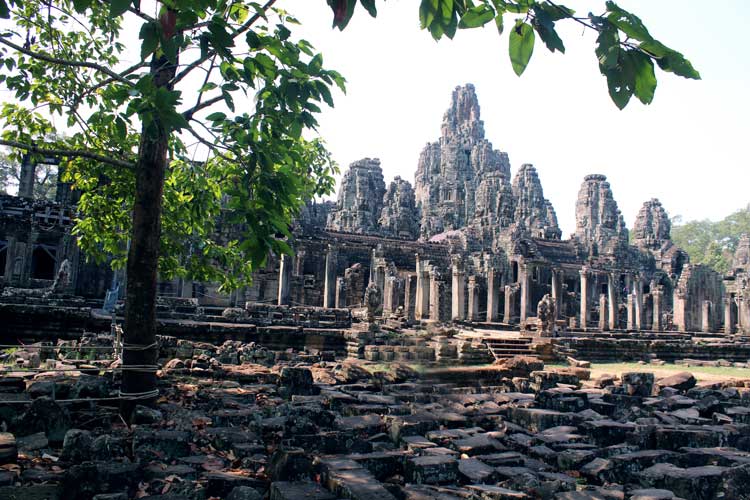 Seeking Shelter From the Heat
The sun was up for less than an hour and I could barely walk more than 5 minutes without stopping to seek shelter in the shade of some trees. Luckily, I only wore a shirt and shorts, by the way, follow the dress code and cover your shoulders and knees.
Although I was dressed well enough for the weather, I soon realized that I still needed to bring water. As I made my way back outside, I discovered a small kiosk selling a few essentials, including drinks. I rehydrated and made my way back inside the temple for some more exploring before I met my driver again at 1:00 p.m. to visit some other parts of the temple area.
One of the following stops was "Bayon Temple," which I eked more than Angkor Wat. Would I do the sunrise tour ever again? No way. But visiting the great temple complex will always remain an unforgettable experience that I can undoubtedly recommend.
Ready to Explore Angkor Wat?
If you want to visit the Angkor Wat temple complex, please do yourself a favor and skip the sunrise tour. It is overcrowded, super stressful, and sometimes doesn't even look nice, when clouds interfere with the visibility, for example.
What is indeed amazing is the temple itself, which you explore the best when the sun is already up. Although I highly advise against the sunrise tour, I do recommend not getting there too late either. From my experience, 9:00 a.m. is a good time if you are up for an entire day of walking through the temple.
It's not too crowded yet and the temperature is still bearable for a few hours. Siem Reap, the closest city to the temple, is rather small and quite cheap overall.
If you want to be closer to the temple, look for accommodations at the northern part of the city. Just be aware that prices generally increase as you get closer to Angkor Wat and that you probably don't save more than 5 or 10 minutes anyways.
If you don't want to wait or feel uncomfortable booking a trip locally last minute, you should definitely check out Tours by Locals or Get your Guide. These websites not only give you an overview of all possible trip types (biking, VIP tours, etc.) but also links you directly to local guides.
Regardless of your trip to Angkor Wat, go out and meet local people in the city of Siem Reap. This place truly offers a unique experience and is a perfect example of the typical hospitality and friendliness of Cambodia.
Author Bio: Thomas Später is an experienced backpacking traveler that specializes in adventurous trips around the globe. He has traveled to remote and exotic places, such as Namibia or Mongolia and focuses on landscape and wildlife photography to share the beauty of our planet with others. In 2021, Thomas published a (German) book about Overpopulation and overconsumption (Die Überbevölkerung). With his awareness of current global issues, he uses his travels to support particularly local hotels and restaurants to raise awareness for the nature and culture of his destinations.