Editor's Note: While some events have been cancelled in 2021, this 86-year-old tradition will still take place this year in Anchorage, Alaska. We share places, products and activities we recommend. If you make a purchase using a link on our site, we may earn a commission.
Burrrr! Furrrr!
These two words sum up Fur Rondy, as this festival has become known—a celebration of life in Alaska.
What began as a three-day sports tournament to kick the winter blues in the early days of Anchorage has morphed into Alaska's largest winter festival that includes the start of the Iditarod.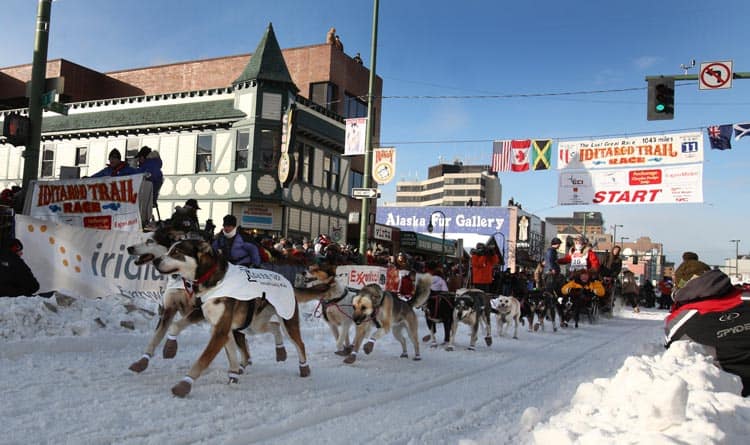 History of Fur Rendezvous
In the mid-30s, Anchorage was a small town of about 3000 people.
Winter was brutal up there in Chugach country. The first Fur Rendezvous got the residents outside participating in sporting events, bonfires and torchlight parades, and they welcomed trappers coming home with their winter's bounty.
Hence, the name that honors the country's fur trade heritage.
For centuries, Native Alaskans have braced against the cold by wearing animal fur to stay warm. They wear the skin side on the outside and the fur side closest to their bodies, insulating them from the coldest of temperatures.
Big game hunting and trapping is still a way of life for many natives and also hugely popular with adventure-seeking tourists. Stiff rules regulate hunting for sport, and residents take priority over "alien hunters" for licenses.
Fur Rendezvous Festival Events
No one needs a license or even a ticket to attend most of the outdoor events of The Fur Rendezvous. Adventure in Alaska is readily available.
For 10 days, Anchorage is jumping with street festivities, such as Frostbite Footrace & Costume Fun Race, Outhouse Races, Outdoor Hockey, Snowshoe Softball and many more fun and traditional ways that Alaskans enjoy the wintry outdoors.
More activities take place indoors, like ice shows, a melodrama and unique native culture and art shows. For visitors, it's a good way to learn about the customs of our neighbors up north.
The Rondy Fur Auction has been one of the main events since the beginning, honoring Alaska's third most valuable industry in those days.
Skins of animals like fox, lynx, beaver and ermine are sold at auction to buyers who themselves often are dressed in animal fur, some with the animal heads still attached.
Rondy World Championship Sled Dog Race
The Rondy World Championship Sled Dog Race was added to the agenda in 1946. Not to be confused with the Iditarod, the Rondy race runs on a snow-packed course around downtown Anchorage on three consecutive days.
Watching the dogs and their handlers up close gives one a better understanding of the physical and mental stamina these canine athletes must possess to compete in these races.
Organizers hope both these popular events will be back for the 2022 Rondy. 
Iditarod—The Last Great Race®
Coinciding with Rondy is the ceremonial start of the Iditarod Sled Dog Race—the most famous dog-sled race of all—that begins with an 11-mile parade through the city's streets.
With no special concessions for the gender of the mushers, the playing field is equal in this grueling race over 1,150 miles of jagged mountain ranges, frozen rivers and fields—the most desolate, harshest terrain between Anchorage and Nome, the trail's end.
Temperatures dip way below zero, winds can interfere with visibility, and there are long hours of darkness. The actual race (Restart) begins the next day in Willow, Alaska, about 50 miles north of Anchorage.
The Iditarod Sled Dog Race race lasts from 10 to 17 days, depending on the speed of the dog team and its musher.
Note: In 2021, mushers will start the race in Willow, bypassing the spectator-heavy ceremonial start in Anchorage on the last day of Rondy.
Sled Dogs are Royalty
"The dogs are the stars, the mushers are their coaches," said Carolyn Muegge-Vaughan who ran her first race more than 30 years ago, when few women entered.

She later mushed with her husband, legendary explorer Norman Vaughan who had finished the race four times by age 88.
Strict rules protect the dogs. "They are treated like royalty," Muegge-Vaughan said, "and you are totally dependent on them. You must feed them 10,000 calories a day.
On the trail, you bed them down on straw, check each paw for soreness or redness. If they get tired or sick, you drop them at checkpoint, and they are flown back to Anchorage."
Iditarod Trail
The Iditarod Trail started as a mail and supply route from the coast to the interior mining camps.
In 1925, part of the trail was used for bringing life-saving serum to Nome where diphtheria had become epidemic.
The Fur Rondy Serum 25 Run
A commemorative expedition, The Serum 25 Run from Nenana to Nome, is held each year with participants stopping in remote villages to talk about the importance of getting inoculations.
The expedition is named after Norman Vaughan who died in 2005, four days after turning 100.
If You Go
Fur Rondy is always the last weekend of February and first weekend of March (furrondy.net). The ceremonial start of the Iditarod is always the first Saturday in March (iditarod.com).
Find a spot to stay, from a condo in the middle of town to a more private winter cabin, with VRBO. You can check out rental options here and have a place to feel completely at home while visiting Anchorage.
For more information, visit anchorage.net.
Author Bio: Claudia Carbone is an award-winning travel writer and member of the Society of American Travel Writers, North American Travel Journalists Assoc. and Denver Woman's Press Club. Currently, her work is published in The Denver Post, Colorado Expression Magazine, London Sunday Telegraph's Hotelegraph, GoWorldTravel.com, RealFoodTraveler.com, MtnTown Magazine and The Villager Newspaper. Her blog Sleepin' Around covers any place you can sleep on vacation.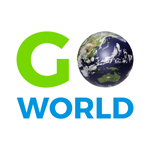 Latest posts by Go World Travel Magazine
(see all)