Editor's Note: Travel is complicated right now. Please check local regulations and location openings before you go. We share places, products and activities we recommend. If you make a purchase using a link on our site, we may earn a commission.
Travelers who come to Anchorage during the summer tourism season experience both the beauty of Alaska's wilderness and the uniqueness of its towns and people, but they miss out on something essentially Alaskan: winter.
With a population of over 260,000, the largest city in Alaska is sizable enough to offer a dose of anonymity, but small enough to offer an intimacy absent from most big cities in the "Lower 48" states.
Residents are quick to point out that, while it may not have been their reason for coming to Anchorage, it is their reason for staying. That, and winter.
"It's big and small at the same time," says Chris McLain, a lifelong Alaskan. "It's a big metro area but it's spaced out. Different parts of Anchorage are secluded and pristine, like the rest of Alaska."
Amanda Powell, who is going on her fourth winter in Anchorage, agrees. "People act like they're in a town, not a big city," she says. "They take the time to say hi or a kind word; they're not too busy."
City of Lights
Dubbed the City of Lights, Anchorage tries its hardest during winter to beat the stereotype of a dark northern city. Homes and businesses string lights along eaves and through bushes and trees, giving Anchorage a festive air that lasts well beyond the holiday season. "I love the way it looks in deep snow when the city's all lit up," says John King, a three-year resident of the city.
Some say the hours of darkness take their toll, however, and point to a few of the city's strange annual events as proof. One, February's Fur Rendezvous festival — "Fur Rondy" for short, this year happening from February 18 until March 6 — takes place outdoors during the coldest month of the year. It features such events as a snow sculpture competition, carnival rides, and games like snowshoe softball and the Eskimo blanket toss.
Another of these quirky events is the annual Duct Tape Ball each February, in which elegant table settings and décor, and even ball gowns are all made from the sticky stuff.
The event benefits local charities, and residents say it is just one example of the unusual mind-set that defines Anchorage life. You don't have to get dressed up to go to dinner — you could go to a nice restaurant in your Carhartts working clothes if you wanted. In Anchorage, people aren't about pretenses.
Join the locals and grab your own Carhartt gear during their Holiday Sale – Carhartt Gifts Under $50 here
.
Anchorage Snow Sports
One thing Alaska is known for is snow, but Anchorage denizens have found their own ways of dealing with that, too, and those also tend toward the uncommon. With over 300 miles (483 km) of trails, Anchorage offers ample opportunity for cross-country skiing, snowshoeing and even running during the long winter months.
The jewel of the city's trail system is Kincaid Park, where the trails are lighted and groomed for cross-country skiing. Nicole Winters, a three-year resident of Anchorage is one of those Anchorage-ites who straps on her skis and heads outside when the snow starts to fly. "Kincaid's got sweet cross-country trails, even for someone who falls down every two seconds," she says.
Anchorage plays host to some of the major ski events held in the state, and in the country. The annual Tour of Anchorage (March), a 15, 25 or 31-mile (25, 40 or 50-km) ski race around and through the city, is one of the longest-running ski marathons in North America and is part of the American Ski Marathon Series.
The Ski for Women, held every Super Bowl Sunday, is a fundraiser for Abused Women's Aid in Crisis, a local women's shelter. Racers wear costumes and ski in two-person teams around a short course through Kincaid Park.
Anchorage residents are an extreme bunch, however, and they don't stick to the resorts when deep, untouched powder can be found in the Chugach State Park to the east and Hatcher Pass to the north.
Folks head to these hills for backcountry downhill, telemark, snowboarding and cross-country skiing, and local businesses often host seminars and classes that deal with issues like deep powder techniques, avalanche safety and gear preparation.
Extreme Winter Sports
Another of those extreme winter sports events that Alaskans love is the Susitna 100. The race includes mountain bike, cross-country ski, snowshoe and running divisions along 100 miles (161 kilometers) of the Iditarod trail. The race, while drawing mostly extreme athletes, includes rather stringent requirements, like carrying a mandatory 15 pounds (6.8 kg) of cold-weather gear throughout the race.
The Iditarod trail is one of the most well-known images in recent Alaskan history. The event that made the trail famous was a diphtheria outbreak in the gold rush town of Nome. Serum to fight the disease was shipped into the port of Seward and run by dogsled relay to Nome.
Learn more of the cold weather sports and everything else there is to see with this guide to Alaska written be the trusted Fodor's team. All the information included is written by locals and experts on the best sights, trails, restaurants and insider secrets. Grab your guide here.
Today, mushers race 1,049 miles (1,688 km) along the frozen lakes, rivers and backcountry of Interior Alaska from Wasilla, near Anchorage, to Nome. The race is held the first weekend in March (March 5, 2005), with the ceremonial start in Anchorage coinciding with the end of the Fur Rondy festival.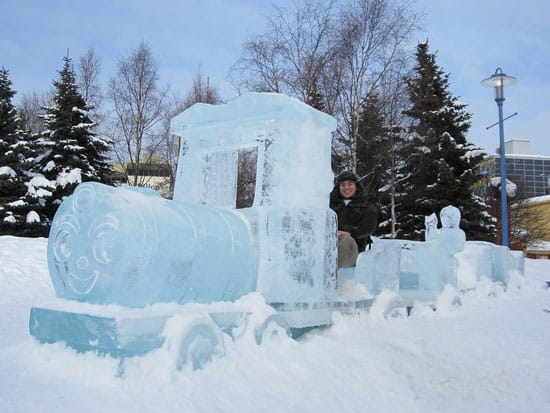 Anchorage Family Fun
Anchorage maintains an ice-skating rink on frozen Westchester Lagoon in the heart of the city and many Anchorage families create their own hockey rinks on the lakes behind their houses. An ideal family outing, local business often sponsor ice-skating events at Westchester once the lagoon has frozen over
Though Anchorage-ites stress that winter is not a reason to stay inside, they never forget that the winter months are their opportunity to rest from the endless hours of daylight and activity in the summer. The first snow brings with it a hush and an intimacy that contributes to the familiar and informal attitude Anchorage is known for.
In the winter, says John King, "Everyone's in it together."
Book a winter vacation off-the-beaten path in Anchorage here: Dream up your adventure and save 30% on hotels with Tripadvisor
If You Go
Anchorage Convention and Visitors Bureau – www.anchorage.net
Alaska State Parks – www.dnr.state.ak.us/parks
The Nordic Skiing Association of Anchorage grooms most of the trails around the city and has links to current skiing conditions and an updated events page. – www.anchoragenordicski.com