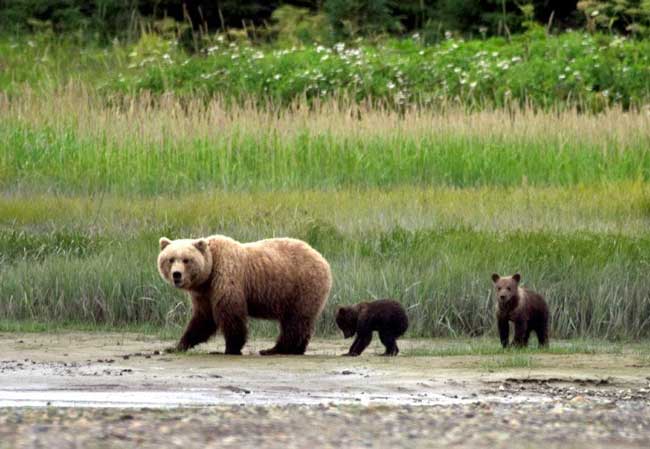 Planning a Trip to Alaska
When I began planning a vacation in Alaska, three words came to mind – big (which many things in the 49th state are), scenery and wildlife, which the state has in abundance.
It didn't take long for me to experience all three of those observations. Alaska is big. It's twice as large as Texas, with a coastline longer than all of the other states combined.
Mount McKinley is the tallest peak in North America, Denali National Park is larger than Massachusetts.
The state contains more than two-thirds of the country's total national park acreage. Travel in Alaska means landscapes on a whole new scale.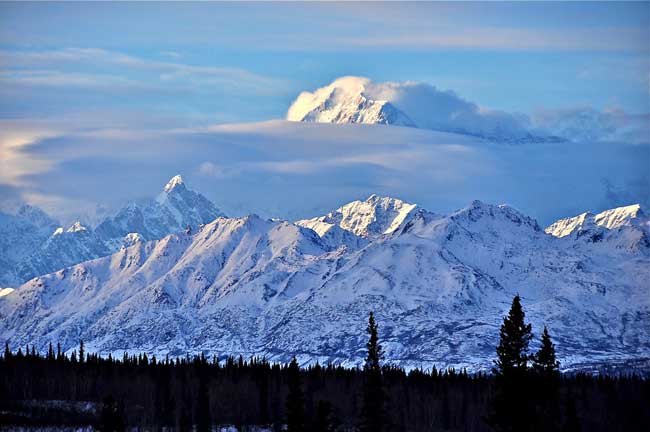 Alaska Travel
Not surprisingly, it was the breathtaking scenery that first caught my eye.
Row after row of snow-covered mountain peaks stretches to the horizon, including 17 of the 20 highest peaks in the county.
Rivers meander through deep valleys that were gouged out eons ago by advancing glaciers.
I discovered a number of ways to enjoy one of Mother Nature's most splendid settings.
Whether flying over, driving through, walking in or viewing from the deck of a ship, I found it challenging to find words that adequately describe the sheer drama of the scenery.
Opportunities to observe wildlife in its natural setting, often close at hand, are everywhere.
Exploring Denali National Park
My itinerary included exploration of Denali National Park and Preserve, a world of Arctic tundra and soaring mountains.
While keeping my eyes peeled for sightings of the "Big Five" Alaska mammals – grizzly bear, caribou, moose, wolves and Dall sheep – this vast wilderness also is home to a menagerie of other creatures.
Those who don't make it to Denali need not despair. Towns in Alaska are never far from the wilderness, and in many places, they overlap.
Parks often begin within city limits and extend to nearby backcountry landscapes. Moose, bear and other critters looking for food sometimes wander into urban settings, eliciting little surprise from two-legged residents who are used to such intrusions.
North Bicentennial Park
For example, the Far North Bicentennial Park at the eastern edge of Anchorage provides an inviting habitat for bears and moose. I joined several people along a riverbank there to watch the spring-to-summer spawning run of salmon.
As they uncannily return to their birthplace after spending several years at sea, the fish battle their way up rushing water, leaping over low falls along the way.
Another obstacle is a phalanx of hungry bears that congregated to gorge on their favorite food.
Unique Alaska Travel
A stop at the Alaska Native Heritage Center in Anchorage provided an opportunity to delve into life of another kind, the indigenous cultures which comprise an important part of the state's culture.
The customs and traditions of the 11 major Native groups are presented through dance, music, art and storytelling at this living history museum.
Outside, encircling a pond, stand authentic Native dwellings representing six indigenous groups which are staffed by people from villages around Alaska.
The history, fables and other information they impart is as interesting as it is edifying.
Equally as intriguing are towns in Alaska, each with its unique history and stories.
Gold was responsible for the birth of Juneau, the state capital when it was discovered there in 1880, about 15 years before the famous Klondike Gold Rush began in Canada's Yukon region.
I relived those heady days during visits to several mining sites, and by trying my hand at panning which, while fun, did not do much to fill my wallet.
Mendenhall Glacier
Another claim to fame is the proximity to Juneau of the most readily accessible of the 10,000 or so glaciers in Alaska, the Mendenhall.
Looming above the suburbs of the town, bearing the typical bluish-white glacial hue, it flows about 12 miles from the ice field where it originates.
At the lake where the glacier ends, large chunks dramatically break off to become icebergs.
I was fortunate enough to observe a "calving," as that process is called, but was saddened to hear how far the glacier has retreated in recent years.
The town of Ketchikan occupies the site where Tlingit natives once set up summer fishing camps near salmon-rich waters.
The Salmon Capital of the World
Today, Ketchikan lays claim to the title "Salmon Capital of the World." The Alaskan town also boasts the largest display anywhere of standing totem poles, in three formal collections as well as in front of private homes.
The setting I encountered along Creek Street is very different. A wooden boardwalk follows the stream that runs through the heart of town.
For about three decades beginning in the Prohibition era, some buildings perched above the water served as brothels. That time is recalled by a sign welcoming visitors to Creek Street, "Where fish and fishermen go up the creek to spawn."
Those structures now house restaurants, galleries and gift shops.
The major attraction in Sitka is evidence of Russia's effort to colonize present-day Alaska, which ended in 1867 with the sale of the territory to the United States.
The Russian Bishop's House (built 1842-43), onion-shaped domes of St. Michael's Cathedral and a replica of a Russian fort blockhouse are among reminders of that chapter of history.
Natural Beauty in Alaska
Along with Alaska's breathtaking natural beauty, colorful history and constant opportunities to interact with wildlife, its people also left an indelible impression.
One reason for that is the respect accorded the cultures of the Native people and the extent to which they have been woven into the fabric of life.
Many Alaskans continue to use the word Denali, Athabascan Indian for "The Great One," as their name for Mount McKinley.
A number of locals wear T-shirts bearing representations of totem poles and other traditional images.
And I was moved by the pride with which an Aleut guide at the Alaska Native Heritage Center described how men from his village still hunt for whales from kayaks, and claimed that the baskets woven by women are among the finest in the world.
Non-Native residents manifest pride and independence in their own ways.
This is evident in the motto on state license plates, "Alaska – The Last Frontier," and on a sign in a small town that proclaimed, "Where the road ends and life begins."
It was voiced by Elizabeth Arnett, a 40-something nurse who said she came to Alaska 15 years ago, then added, "It takes an independent spirit to live this far from family and friends."
This spirit was expressed more succinctly by a shopkeeper in Ketchikan who, when I inquired why she had moved to the state, replied "Adventure."
For information about visiting Alaska, see travelalaska.com. ­­­
Author Bio: After gallivanting throughout the United States and to more than 75 other countries around the world, and writing about what he sees, does and learns, Victor Block retains the travel bug. He firmly believes that travel is the best possible education, and claims he still has a lot to learn. He loves to explore new destinations and cultures, and his stories about them have won a number of writing awards.