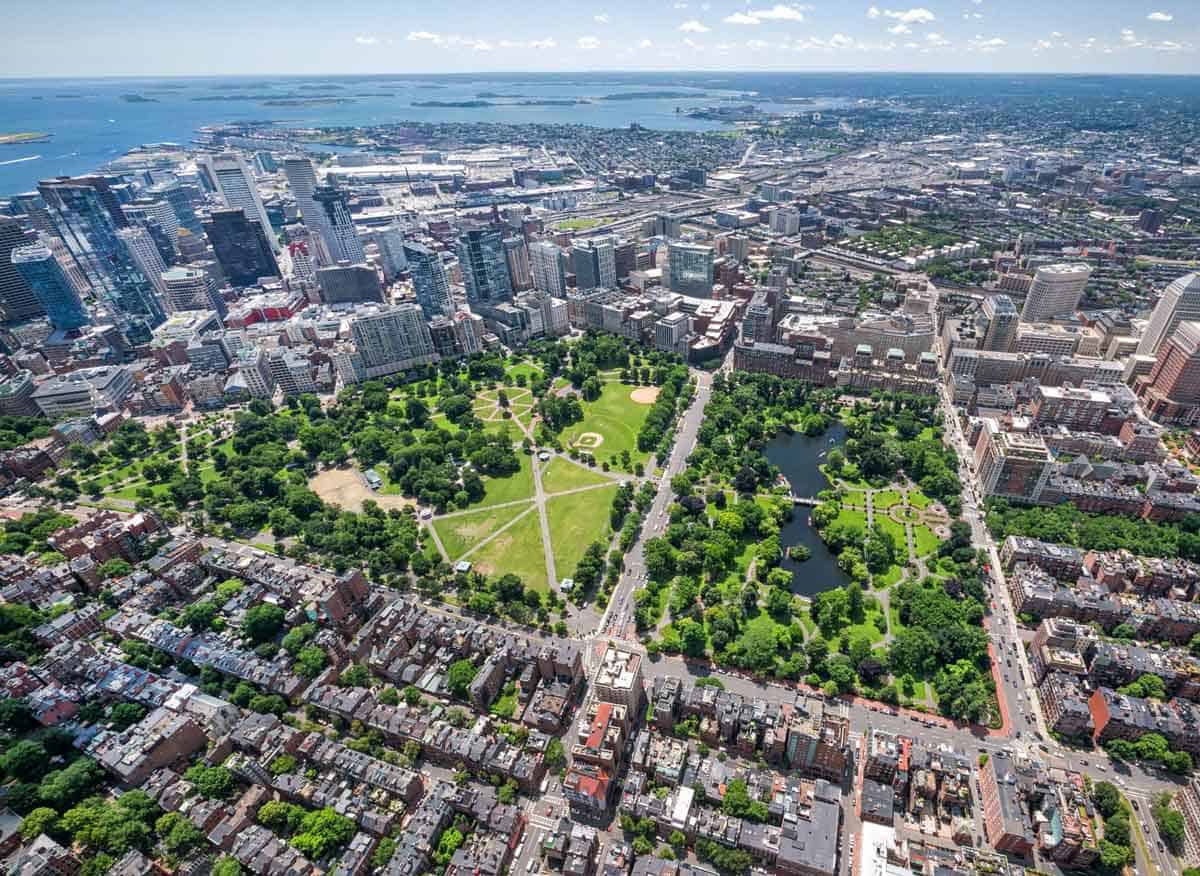 No one wants to think of their next vacation as an educational one, but with so much culture and history concentrated in one attractive location, Boston offers an appealing blend of relaxation and learning.
One of the original 13 American colonies, Boston has an aura of 18th-century that's more of a gloss than a patina. Boston's history is meant to be revisited no matter how many times you've met it before. And no matter how old you are.
Boston is also a pretty city. With architecture that's close to what you'd find in London or Bath, it's mostly low-rise and very walkable with photographic turns at every corner.
Art, as well as non-art museums, add to its all-family allure, not to mention the possibility for frequent oyster and coffee stops. Don't bring a car – just a great pair of shoes and get ready to explore the charms that make Boston, Massachusetts a vacation-worthy city on two feet.
A City of Neighborhoods
Back Bay and Beacon Hill are made of tortuous alleys and steep hills, with architecture that's often mind-boggling with panes of lead glass turned purple with age and bowed windows mimicking those from England.
If you're a photographer, this is a paradise and you'll be fascinated with the details that sometimes appear out of nowhere.
Your photo stops here include the historic Boston City Hall, Boston Common, Boston Public Garden and the former site of the Bull and Finch Bar, the so-called "Cheers" Bar. And don't forget to look down, the narrow cobblestoned streets and mews are the makings of digital memories.
Bustling Faneuil Hall Marketplace, Quincy Market and Haymarket fall along Boston's Freedom Trail, a walkable path through history marked by red stones on the sidewalk.
At this market triangle, you'll see stands hawking every kind of Boston, Massachusetts souvenir from lobster key chains to Red Sox T-s with illustrations of the Green Monster (it's not an animal, it's a "monstah").
There's also another oyster stop that you shouldn't miss, The Union Oyster House. The tavern is a lesson in culinary history as well – it's America's oldest restaurant.
Behind the marketplaces, a short walk through Boston's Little Italy, the North End, will take you to a variety of Italian eateries, all overflowing with conviviality and life. Hanover Street's two charming bakeries, Mike's and The Modern, each embody the Italian traditions of pastry and espresso.
Order a perugina, a rum-filled, sugar-dusted confection that only Boston shops seem to have. Continue to North Square where Paul Revere's house is located. Take the brief tour for a sense of life in Colonial Boston. If you walk a little further, you'll hit the water and the start of a beautiful stroll along the art-filled Rose Kennedy Greenway to the very happening Fort Point area.
Walk through this somewhat gritty, somewhat industrial, and newly vibrant residential and dining area for a taste of old Boston gone trendy. The kitschy, pseudo-historic Boston Tea Party Museum sits at the entrance to this popular neighborhood. Do the tour and throw some tea into the harbor to re-affirm your loyalty to the Colonies.
Then forge ahead to take advantage of the hip restaurants that have popped up throughout. Row 34 has some of the best oysters in town, set in a brick building from 1907 with original wood beams.
You'll need to choose one of the restaurant's many brews to wash the mollusks down like the popular White Allagash from Maine or a fruit-flavored sour beer. If the weather's nice, Row 34's outdoor deck is a marvel.
Nearby, the Barking Crab is a seafood shanty set on a boat where you can spend time with locals as well as visitors from around the world, whiling away the afternoon over a draft and a lobster roll.
For a choice of traditional Boston seafood with an upscale feel, Legal Seafoods Harborside has three floors overlooking Boston Harbor. The fried clams are out of this world and a worthy meal to have before you begin your cultural exploration of Boston's many museums and galleries.
They have oysters, too, if you're starting to experience a sense of raw shellfish withdrawal.
Get out on the ocean and see the fishing in action while you learn about the rest of the city on the Boston Historic Sightseeing Cruise. Find more information and reserve your dates ahead here.
Museums and More to Do in Boston, Massachusetts
Boston has a plethora of museums to give you a heady dose of culture.
The ICA Boston (Institute of Contemporary Art) is an impressive building designed by architects Diller Scofidio+Renfro. The cantilevered building overlooks Boston Harbor and also has an education center and outdoor patio, perfect for a break.
The Museum of Fine Arts is one of the country's finest art institutions with major collections of Japanese art, impressionist art and more, spanning antiquity to the present.
The Isabella Stewart Gardner Museum on the Fens is a jewel box of a museum, providing an intimate art experience in a Venetian-style palazzo. The private collection of art visionary Isabella Gardner sits in a Frederick Law Olmsted-designed setting and includes manicured gardens inside and out.
If your kids are whining that they're tired of museums, take them to a game at Fenway Park. A different kind of museum, the beloved baseball stadium is the country's oldest with originality that you won't find at any other MLB Stadium (except, perhaps Wrigley Field).
Buy a Fenway Frank and some kettle corn, note the Green Monster (now the t-shirts make sense!), and soak up the classic baseball experience. If they're amenable, you can also book a tour of the hallowed stadium which takes you through more than 100 years of Red Sox history as well as the various nooks of the legendary ballpark.
Tours are also offered post-season.
Get the best experience at Fenway on the one-hour Fenway Walking Tour. Book your spot here.
Where to Stay in Boston, Massachusetts
With a TsuruTonTan udon and noodle restaurant right off the lobby and the hotel's central location near Fenway Park and many trolley lines, the Hotel Commonwealth is a great choice. Go for broke and stay in the Fenway Executive Suite, as close as you can be to the action of a game without leaving your hotel room.
The Lenox Hotel offers gracious accommodations, a welcoming environment, and a newly renovated bar, all in the center of popular Copley Square. The Lenox makes a great starting point for exploring four of Boston's most beautiful streets, Commonwealth Avenue, Beacon Street, Marlborough Street, and Newbury Street where you'll find Boston's best boutique shopping.
Also well-located, the new Four Seasons One Dalton Street offers five-star service and well-appointed rooms and public areas in the heart of Back Bay.
For somewhere a bit funkier, the Liberty Hotel near the Museum of Science was built in an old jail dating from 1851 and has a bar called Alibi with cells doubling as private dining nooks.
If you prefer a waterfront location, check out the new hotels in Fort Point. Hilton Honors members now have two hotels perfect for families and couples alike in a beautiful setting for walking the promenade.
Located at the gateway to the Raymond L. Flynn Marine Park, the new Hampton Inn and Homewood Suites by Hilton Boston Seaport sit in the same building and share facilities.
Closer to the Barking Crab and Fort Point Channel, The Envoy is a funky boutique with dramatic art and a rooftop with expansive harbor views.
Include a Day Trip (or Longer)
Add a beach dimension to your city stay by visiting the beautiful Cape Cod. Just an hour from the city, the Cape is an easy day trip or overnight. Book a stay at AutoCamp in Falmouth.
The cool camp has 108 Airstreams to book as well as tents, all appointed with luxury, social distancing and comfort in mind. A two-night minimum is required but you might want to extend your Boston holiday just to stay at this one-of-a-kind "resort."
While on the Cape, drive to the tip of the peninsula to Provincetown, returning to Boston, Massachusetts after stopping at the various seaside towns and oyster bars along the way.
Book This Trip
Ready to explore the exciting city of Boston, Massachusetts? Be prepared with more hotel and VRBO options, insider tips on what to see, local restaurant reviews and more with TripAdvisor and Travelocity.
Get the most out of your stay by booking some tours, skip-the-line tickets and other Boston activities on GetYourGuide. Browse and book here.
Latest posts by Meryl Pearlstein
(see all)