Paris stands out as one of Europe's most visited tourist destinations in the way that the Eiffel Tower stands out on the Parisian skyline.
Fittingly, the City of Lights was the first European city to get streetlamps. When its streetlights come on today, Paris turns into a romantic destination that everyone should experience at least once in their lifetime.
If you're planning a trip to Paris, it helps to know the best time to visit. While Paris is a year-round destination,  you should select the time that best fits your interests. Check out these exciting trips and tours in France.
For example,  winter in Paris is magical for museum lovers. But, if you like long walks along the Seine, you should visit the French capital in warmer months. So, what is the best time to visit Paris for you?
When Is the Best Weather in Paris?
Paris has a continental climate with all four seasons. In general, the most popular time of the year to visit Paris is summer. The average temperature from June to August is in the 70s and long sunny days are perfect for exploring the city and enjoying everything it has to offer.
However, the spring and autumn months are also gorgeous, with different colors spreading throughout the city. These are the best months for those who don't like high temperatures and who love to wear layers while having an opportunity to show off their fashion style.
Winter in Paris means cold, rain and sometimes snow. It could be a good time for long walks, but most of the activities will be done indoors. However, if you love Christmas markets, shopping and museums then winter is ideal for you. You can shop at winter sales in boutiques along Champs-Elysées, enjoy Christmas lights in December and celebrate New Year's Eve Paris style.
What Is the Cheapest Time of Year to Go to Paris?
Winter, specifically the months of December, January and February, is the cheapest time of the year to visit France. It is the low season and fewer crowds are visiting the country, including Paris. It is still a great time if you want to enjoy winter wonders like ice skating, or shop at world-famous department stores.
Planning a last-minute trip to France?
Top Experiences and Tours in France:
Where to stay in France:
Find accommodation with Booking.com
Get a rail pass through Rail Europe
Find Bus, Train, and Flight tickets with one search through Omio
Visiting Musée du Orsay, the Louvre, Arc de Triomphe, Notre Dame, Versailles, and other fantastic landmarks off-season is especially enjoyable. These museums and attractions are never empty, but there are fewer people in the low season. Therefore, you can enjoy your time without worrying about waiting in line.
Monthly Guide for Your Paris Visit
You probably already have an idea which season is the best for your visit to Paris. But, having a breakdown month by month is especially useful when planning your trip.
Paris in January
Rain and snow are common in Paris during January. This means it's not a popular season for tourists to visit which leaves the city is in pristine condition.
Furthermore, because winter has reached its midpoint, January is an excellent time to go ice skating. January is also best spent in cozy cafes, which is a must when visiting Paris. Finally, in January, Paris hosts events such as Paris Winter Sales and Cirque d'Hiver Bouglione.
Paris in February
February is still a cold winter month with snow days. If you're willing to withstand the elements, February might be a pleasant time to visit the city. Aside from flight savings and shopping discounts, February in Paris is an excellent time to visit museums.
In February, the typically crowded tourist areas are mainly deserted. Take advantage of the opportunity to climb the Eiffel Tower without crowds for a breathtaking view. In addition, Paris features fantastic concerts and art displays in February. Plus, if you have a partner, you might enjoy spending Valentine's Day in the city of love.
Paris in March
Winter is ending and spring is arriving. In general, the weather in Paris in March is cool and it's best to wear layers. March is the perfect time to visit Paris if you want to avoid crowds and bad weather.
Mardi Gras celebrations are held in March, which is a unique experience for tourists. You should also keep an eye out for the several live concerts that take place throughout the month.
Paris in April
April heralds the arrival of Spring in Paris. Colors have returned to the streets, as have the tourists. Visiting Paris in April can be ideal as the weather is good and the crowds are still manageable. Also, hotel and airfares are still affordable.
Take a walk along charming Montmartre or visit the Montparnasse Tower for a panoramic view of Paris in blossom. Easter in Paris is also special, while runners come to Paris in April for a Paris marathon.
Paris in May
May is a spectacular month to visit Paris. Pleasant weather allows you to walk around the city and enjoy the landscape. While queues begin to form in some areas, it is still not the high season. Attending the French Open is a must for tennis lovers. Also, the legendary Jazz Festival in Paris takes place every May.
Paris in June
The main tourist season in Paris officially begins in June, which is also the beginning of summer. Nice weather brings back the sidewalk cafes which are iconic of Paris. You will see many people walking by the river and having picnics in city parks. Although the skies are typically sunny, there are a few rainy days in June, but Paris makes them charming as well.
Paris in July
In July, Paris is in the high season and tourists flock to the streets in big numbers. Because the temperatures are at their hottest in July, there will be a lot of pop-up beaches by the river. This is also the time of several free cultural activities in Paris.
Plus, it is a great time for day trips to nearby cities and palaces with fewer crowds. The 14th of July is a famous Bastille Day and you may see parades and celebrations throughout the city. July is also the month of the famous Tour de France.
Paris in August
The number of tourists in Paris reaches an all-time high. It is time to avoid the world's most famous landmarks, which are typically too busy to appreciate. To avoid the crowds, visit charming cafes and restaurants, or take day trips outside of the city. In August, there are additional celebrations commemorating the Liberation of Paris.
Paris in September
It is still warm in September, but you can see signs of fall already. There are shorter lines at the museums and attractions, making it a much better time to visit than during the summer months.
Also, September is classical music month in Paris, with numerous events taking place throughout the city. You won't want to miss European Heritage Days and Paris Design Week. The end of September is also the beginning of shoulder season in Paris.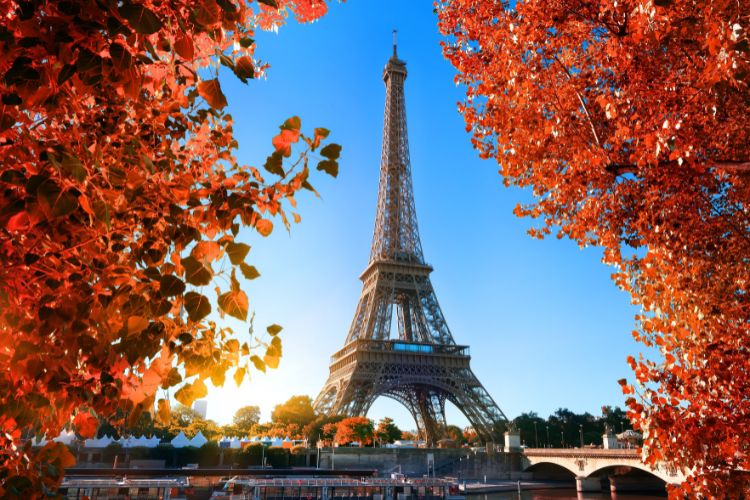 Paris in October
In October, Paris is awash in autumnal hues. The streets of Paris become filled with warm colors, and it is breathtaking to see them. As the temperature drops, residents begin to reclaim control of their city.
October is an excellent time of year to take a cruise down the Seine or go for a walk in the parks. During Nuit Blanche, you will see fantastic light installations throughout the city that illuminate the sky in the evening. October is the month of Paris Fashion Week as well.
Best Tips & Tools to Plan Your Trip
Paris in November
In November, Paris welcomes the arrival of winter. With fewer tourists, the city is regaining its own identity. In November, Armistice Day is a huge celebration. Also, Disneyland Paris puts on a spectacular fireworks display that you should not miss.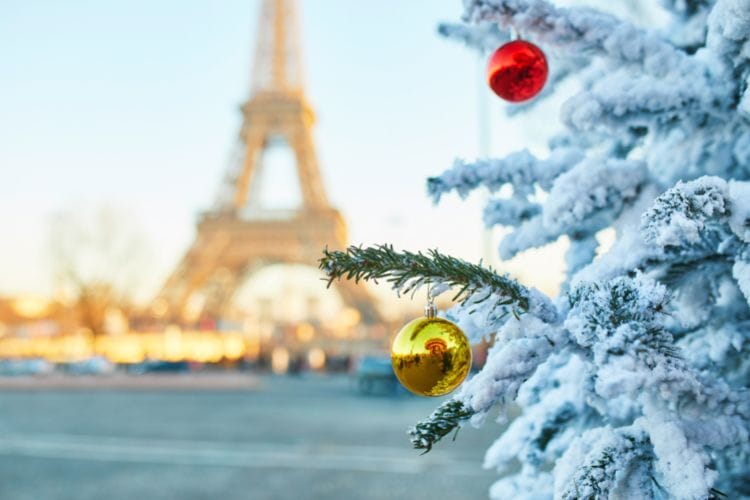 Paris in December
Given the cold weather, visiting Paris in December is an unusual decision. It's that time of year when snow is unavoidable, but if you like a snowy landscape then this is your month.
Discover the heart of Paris during the holiday season, as the city prepares for Christmas and New Year's Eve. You can even try skating in ice rinks to fulfill your winter fantasy.
Paris, as Audrey Hepburn famously said, is always a good idea. Choose the best month of the year for your visit and start planning your trip ahead of time to get the best fares and hotels in the arrondissement you want to stay in so that your journey is extra magical. Keep in mind that the best time to go to Paris is year-round without a doubt.
Author Bio: Danijela Horvat is a travel writer with a passion for discovering new destinations. With a background in journalism and photography, she is trying to translate her own experience into articles.
Read More: Top Things to Do in Paris
Read More: France Travel Guide and September in Paris