Here in the Caribbean, our driver meanders through the tropical Tobago Plantations Estate dotted with luxury villas, lush mangrove forest and manicured golf course. The jewel of this gated community on 750 acres (304 hectares) in The Lowlands of Tobago is the exquisite Magdalena Grand Beach & Golf Resort at the end of the road.
Before I take you into the hotel, I want to tell you a little about Tobago.
About Tobago
Tobago is a small island, 26 miles (42km) by 7 ½ miles (10km) off the coast of Trinidad, which is 7 miles (11km) from Venezuela. Tobago's population is approximately 62,000. With the same republic government (after independence from Great Britain in 1962), together the two islands are known as T&T. A 15-minute flight separates them; cost for a roundtrip is US$50 (TT$300).
Though they share a rich Carib culture (think Carnival and Calypso) and make up the region's wealthiest nation, the islands themselves are vastly different. Besides being much larger, Trinidad, the Caribbean's leading producer of petroleum, is a cosmopolitan business hub known for its vibrant nightlife and dining scene.
Though it has beautiful beaches, the government prefers to "save" them for residents. Trinidad is an immersion in local culture, not a sun-sand-sea experience. Whereas, laid-back Tobago is the "capital of Paradise"—clean, green, safe and serene.
Magdalena Grand Beach & Golf Resort
It thrives on tourism and welcomes tourists to enjoy its pristine beaches and sparkling waters. To that end, there are numerous hotels, guest houses, apartments, cottages and villas that serve vacationers. All-inclusive Magdalena Grand Beach & Golf Resort is the largest.
As I enter the lobby of the former sugar plantation, that "tropical feeling" washes over me like a cool rain shower. A native of landlocked Colorado, I am quick to notice the island décor that oozes sultry charm. Large potted palms reach toward the vaulted ceiling, white lattice railings accent pale yellow walls, and a shiny white tile floor invites me to throw off my shoes. I'm on an island vacation!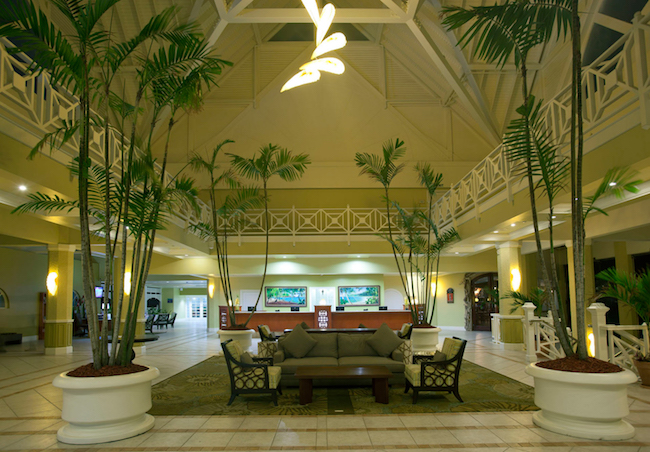 Rooms at Magdalena Grand
All 178 rooms in separate two-story wings face the ocean, and each has a private balcony with table and chairs. Island décor repeats in fabrics of pastel yellow, green and blue, and a ceiling fan whirls above the room, which is air-conditioned too. My king room has a desk, two bedside tables and a lounge chair in traditional style. Like every room, it includes TV, WiFi, phone; safe, robe and iron/ironing board in the large closet with shelves and drawers. A mini fridge is tucked under a counter with coffee/tea service. The bathroom is good-sized with separate shower, soaking tub, hair dryer and vanity mirror.
Dining at Magdalena Grand
Eight dining options range from a swim-up bar at Li'l Nylon Pool to fine dining at Kali'na Restaurant specializing in gourmet Caribbean cuisine. With the British influence still around, Robinson Crusoe Pub in a pirate motif offers live entertainment on Friday nights and karaoke fun on Saturdays. The main dining room is Pembois serving huge buffet spreads for breakfast, lunch and dinner. Friday buffet features Tobagonian dishes followed by cultural entertainment, usually Calypso music and dance and maybe the Limbo. Calypso was born in Trinidad and Tobago during the early 20th century, with the steelpan the definitive instrument. Calypso words are political or social satire, so you have to listen carefully while dancing to the catchy beat!
Activities at Magdalena Grand
On-property activities include 18-hole golf course, driving range and putting green; day and night tennis; biking; hiking; a dive center with training pool; spa and beauty salon; fitness center; three swimming pools (one adult only); and a kids club and playground. As beautiful as its long shoreline is, alas, swimming is not allowed. But the concierge can arrange a free shuttle to Pigeon Point, the most desirable beach on the island for swimming, surfing and other water sports. A few other off-property attractions are snorkeling/diving, glass-bottom boats, and Tobago Cocoa Estate, which I recommend if you ever wanted to know how cocoa is sourced.
A tour around the island is a must to learn the history of T&T and to get to know these gracious people. One local sums up Tobago like this:
T is for tranquil (no hurricanes, calm people)
O is for oriented (easy to find, can't get lost)
B is for beautiful people in manner and appearance
A is for ability to move quickly and easily
G is for gorgeous, unspoiled beauty
O is for outstanding of all Caribbean islands
Magdalena Grand Beach & Golf Resort, Tobago Plantations Estate, Lowlands, Tobago, W.I.; 1-868-660-8500; www.magdalenagrand.com
Claudia Carbone is an award-winning travel writer based in Denver. Read about other hotels she's visited in Sleepin' Around.
Latest posts by Claudia Carbone
(see all)