One island in ways resembles a city in the United States with teeming streets and sidewalks and shops galore. Another is a tiny dot of land which consists mostly of unspoiled wilderness. The third bridges the gap, with a something-for-everyone variety of ambiance and activities.   
Anyone who visits the U.S. Virgin Islands and doesn't find something – or many things – to like may not be trying. The three atolls are so different from each other that they could be oceans apart. Instead they're perched in the Caribbean Sea close enough to be easily combined into a single visit.  
Along with their differences, St. Thomas, St. John and St. Croix also share inviting attributes. Year-round tropical climate? Check. Enough choices of land and water activities to fill many a day. No challenge.   
Sun worshipers, snorkelers and those in search of picture postcard beautiful beaches find a welcome selection. The heart-shape stretch of white sand at Magens Bay on St. Thomas is included on many a "most beautiful beaches" list.  
The Cinnamon, Haulover and Francis Bays beaches on St. John are favorites among island residents. Many snorkelers head for Trunk Bay, to follow the underwater trail marked by signs that identify finned native inhabitants. 
Not to be outdone, the choices on St. Croix include Reef Beach, whose gentle incline appeals to families, and Sandy Point, which is one of the longest stretches of sand in the Caribbean.  
The islands also tempt visitors with a lengthy and eclectic menu of other enticing activities.  If classes in making baskets, dinnerware and other items out of local materials doesn't appeal, how about lectures on growing orchids.  If discussions of on-going archaeological research sound too serious you might prefer to check out the popular crab and donkey races.
Yet another appeal is that as United States territories, the USVI, as they're known, are easy to get to and around in. U.S. citizens don't need a passport, the dollar is the currency and English is the local language.
One difference is that people drive on the left side of roads. That practice was inherited from Denmark, which controlled the islands for nearly 200 years at a time when driving on the left was Danish law.  
Before the Danes showed up, Christopher Columbus came upon the islands during his second voyage to the New World in 1493. He called them Las Once Mil Virgines in honor of St. Ursula, a 4th century Christian martyr.
The Sugar-Rich History of the U.S. Virgin Islands
While Columbus claimed the islands for Spain, that country had little interest in colonizing them and over time control changed hands among the Dutch, British and French. Denmark ultimately achieved ownership and in 1917 sold the islands to the United States for $25 million in gold coin.  
By that time the sugar industry, which had brought prosperity to the Virgins them for two centuries, had waned. The sugar era had reached its peak at the end of the 18th century, at a time when plantations and mills covered much of the land. 
Abolition of slavery by the Danish Crown in 1803 was the first of several events which started the decline of the sugar economy. Others included drought, natural disasters and increasing competition. Today the brooding stone skeletons of once thriving sugar mills dot the landscape of all three islands, and serve as reminders of those once heady days of the past.
Great Beaches and Good Buys on St. Thomas, U.S. Virgin Islands
Let's begin our trip at the most developed island where the majority of visitors begin theirs. St. Thomas is the transportation hub and more commercialized of the Virgins.  Large resorts overlook beaches and cruise ships disgorge throngs of passengers, most of whom head for shops in Charlotte Amalie (uh-MAHL-yuh).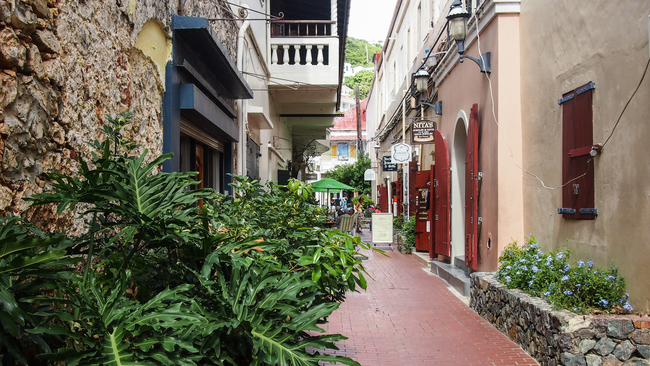 The big draws are the variety of items and reasonable, in some cases bargain, prices. U.S. citizens also benefit by being able to bring home up to $1,600 worth of purchases duty free, double the limit from most destinations around the world.
Many stores sell jewelry, diamonds, watches and other upscale merchandise, while others offer goods ranging from sunglasses to linen tablecloths to cigars. Some specialize in items endemic to the location. 
For example, S.O.S. Antiques sells swords, coins and other artifacts recovered from historic shipwrecks. Eden South offers island-made syrups, jams and other edibles along with local art, crafts and textiles.
On St. Thomas, even Mother Nature takes a back seat to shopping. The popular tourist destination called Mountain Top, perched on the highest point of the island, offers stunning panoramic views of St. John and other nearby Islands. But most visitors spend much of their time wandering though "the Caribbean's largest duty-free gift shop" and sampling the highly touted banana daiquiris which are served at the bar.  
Yet St. Thomas is more than just a shopper's paradise. As the largest historical town in the United States, Charlotte Amalie boasts its share of interesting sites. Red-roofed buildings line streets which still are identified by Danish language signs. 
According to legend, a watch tower built by the Danes in 1679 was used by the infamous pirate Edward Teach, known as Blackbeard, to spot ships entering the harbor. He also is reputed to have used a Danish fortress, now called Blackbeard's Castle, to confine his beautiful wife while he was away at sea.
A small Jewish community that developed in Charlotte Amalie constructed a synagogue in 1803, which is the oldest in continuous use in the Unites States and its territories. 
The Frenchtown neighborhood is home to descendants of people who immigrated from the French island of St. Barthelemy in the mid-19th century. Tiny brightly painted houses line winding streets, and fishermen display their daily catch along the waterfront from equally colorful fishing boats. 
St. John, U.S. Virgin Islands touts what it does NOT have
The main appeal of St. John is what it does not have. That includes an airport, cruise ship dock and fast-food restaurants. A current topic of conversation and some controversy among locals is whether to install the island's first traffic light.
What the tiny island does offer is a tranquil atmosphere and natural beauty.  Hiking trails wind through the forest-clad hills and in places donkeys and goats meander freely.
Granted the town of Cruz Bay, which not very long ago had only a single restaurant, now is a mini-metropolis with more than a dozen eateries and a multi-tiered shopping center. But about two-thirds of the island's 20 square miles are protected from development as a National Park, so the outlook for dramatic growth is limited.
St. Croix, U.S. Virgin Islands, Where Variety is the Attraction
The third major island in the archipelago offers a compromise between the other two.  St. Croix (rhymes with "boy"), the largest of the trio, provides a comfortable middle ground between the frenzy of shopping, commercialism and noisy night life on St. Thomas and the laid-back quiet of St. John. It combines just enough attributes of its sister islands to satisfy most travelers, then adds its own unique flavor.
That includes red-roofed pastel-color buildings in the picture-book harbor town of Christiansted, the old Danish capital, and the meticulously restored waterfront area. It's home to an early 18th-century Danish fort; the elegant Government House, which served both as the residence of Danish governors and seat of the colonial government, and a former warehouse where slave auctions once were held.
Frederiksted, the only other major town, seems sleepy by comparison. Broad tree-shaded streets are lined by an eclectic mix of architecture. Some Victorian-style buildings, many adorned by fanciful trim, were constructed after the town was destroyed by fire in 1879. Fort Frederik, built 1752-1760, hovers over the harbor.  
Almost two-thirds of the gentle St. Croix landscape once was covered by sugar cane fields, and the remains of more than 155 mills still dot the island. The Whim estate offers an immersion in life as it was on a sugar plantation. Its sprawling Great House, built in the 1760s, is surrounded by a sugar factory, windmill, cookhouse, rum still and other structures that transport visitors back in time.
Brooding ruins of once-thriving sugar plantations are but one reminder among many of the enticing history that awaits visitors to the U.S. Virgin Islands. Add a long list of other attributes and activities and the result is an inviting destination which combines a familiar setting with Caribbean charm. 
If you go Call (800) 372-8784 or log onto visitusvi.com 
Authors: Fyllis Hockman and Victor Block are a husband-wife team of experienced travel journalists who have gallivanted throughout the United States, and to nearly 80 countries around the world, and written about what they have seen, done and learned. Their articles have appeared in newspapers across the country and on websites across the Internet, and they each have won numerous writing awards. They love to explore new destinations and cultures and uncover off-the-beaten-path attractions. Read more of their work at The Rambling Writers