The Turks and Caicos Islands (TCI) are the last of the Caribbean islands that somehow still elude most travelers. If you feel like you need to relax from your hectic lifestyle, this is the right place to go.
White sand beaches, turquoise waters and colorful coral reefs are just some of the things you can enjoy on this string of low sand cays. In addition, Turks and Caicos also have a reputation as a secluded and luxury getaway. The majority of luxury hotels and all-inclusive resorts can be found in Providenciales or "Provo," the largest and the most popular island.
The state consists of about 40 islands, divided into two larger groups: Turks and Caicos. However, only eight are populated, with about 30,000 inhabitants. Turks Island Passage separates the Turks from the Caicos Islands. The only inhabited Turks islands are Salt Cay and Grand Turk. The capital city, Cockburn Town, is located on the Grand Turk island.
The islands that belong to the Caicos archipelago are East Caicos, Middle Caicos, North Caicos, South Caicos, West Caicos and Providenciales. From the capital, Cockburn Town on the east, to the largest city and main island Providenciales on the west, the distance is about 125 kilometers (about 78 miles).
The security of the islands is the responsibility of the United Kingdom since the Turks and Caicos is a British overseas territory. Also, the legal system is based on English common law. Of course, the official language of the TCI is English, but the main currency is the U.S. dollar. Still, if you decide to rent a car while on the islands, keep in mind that you have to drive on the left side of the road.
Turks & Caicos
The Turks & Caicos Islands have the third-largest coral system in the world, and many islands feature beautiful and clean beaches. In fact, Grace Bay Beach, with one of the world's most beautiful shorelines, is described by travelers as the best beach in the world.
Because of the breathtaking marine environment, many fun activities revolve around the ocean. It is an ideal destination for water sports as well as for scuba diving, snorkeling and other exciting activities.
However, there are remarkable activities you can do out of the water, too. Thanks to the relatively flat terrain, the Turks and Caicos Islands are an excellent place for sightseeing as well as bike-riding in beautiful surroundings.
If you want to know more about these Caribbean islands that feature probably the best beaches in the world, keep reading.
Here's our travel guide to the Turks and Caicos Islands.
10 Things to do in Turks and Caicos
This incredible tropical destination offers a fantastic variety of activities, from water sports and boat tours to uninhabited cays, to sightseeing, birdwatching, horseback riding, or just enjoying a game of golf.
There are many tour operators with exciting adventures for tourists who want to explore the islands. You can discover the natural coast in an island buggy, do waterskiing, scuba diving, wake-surfing, wake-boarding, fishing and snorkeling.
One of the most exciting activities on the Islands is a kayak tour, where you can admire the fascinating view of the water below. But, if you want to enjoy the beautiful underwater world and marine life of the Turks and Caicos Islands, book boat charters with a local captain and guide and get ready to be blown away.
Here's our list of top 10 things you can do in Turks & Caicos.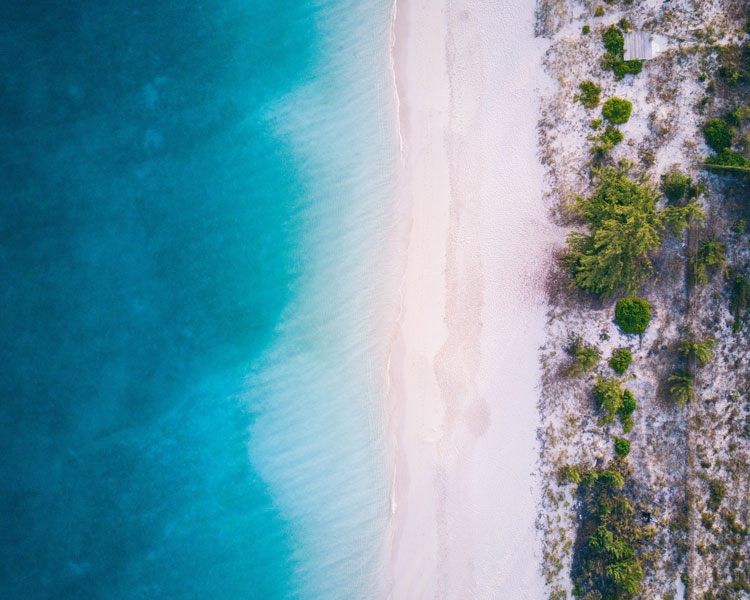 1. Enjoy the best beaches
Some of the most beautiful Caribbean beaches are located on the Turks & Caicos. Grace Bay beach is certainly one of them. On this beach, located on the north coast of Providenciales, you can find many luxury resorts. Grace Bay beach is also part of Princess Alexandra National Park. Crystal-clear waters and white-sand are its trademarks. It's even an excellent place for scuba diving enthusiasts.
Leeward Beach, known for its turquoise waters, continues east, where Grace Bay beach ends. There are no large resorts here, but visitors can enjoy kayaking and wakeboarding. It's possible to walk an uninterrupted stretch of more than 11 kilometers (6.8 miles), from Leeward Beach, across Grace Bay beach to Turtle Cove and Smith's Reef.
There are more great beaches on these islands where you can relax, such as Bight Beach, Pine Cay Beach, Cedar Point Beach, Sapodilla Bay Beach and amazing Half Moon Bay.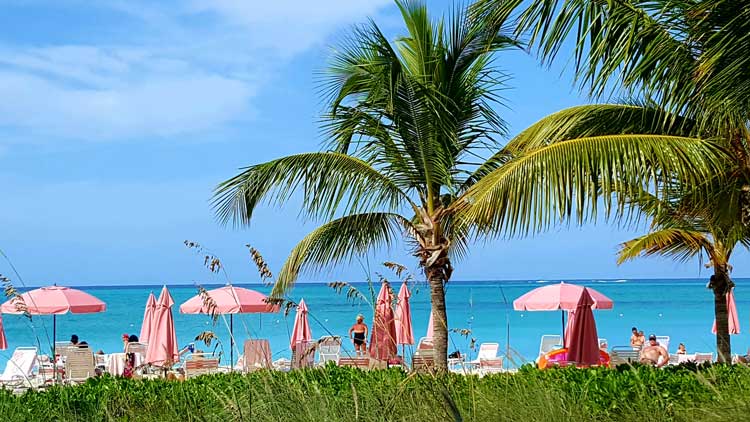 2. Day trip to Middle Caicos
Middle Caicos is only a ferry ride away from the Providenciales. The largest attraction of this island with only 300 inhabitants is Mudjin Harbour, where breathtaking limestone cliffs overhang lagoons and beaches. You can also explore this beautiful landscape by Crossing Place Trail, a historical path that used to connect communities on this island.
There is also Dragon Cay, a small limestone island that lies offshore, and a centerpiece you can often see in most Mujin Harbor photos. This island has another big attraction – Conch Bar Caves. It is the largest cave system above ground in the Bahamas-Turks and Caicos Islands archipelago.
3. Go Snorkeling
Incredible marine life and colorful coral reefs are amazing for snorkeling. This is probably one of the most popular activities on the TCI.
Two main snorkeling sites accessible from shore are the Smith's Reef and the Bight Reef. You can also go on a snorkeling cruise because you'll have a better chance to see some of the larger sea animals. The west coast of West Caicos features some of the clearest waters for unforgettable coastal snorkeling.
4. Visit the National Museum and Heritage Site
If you want to learn more about the history of the island, this is the right place. It's housed in one of the oldest buildings on the islands, in Cockburn Town on Grand Turk Island. Although it's small, you can enjoy the exhibits that range from the island's natural history to displaying messages in the bottles that washed ashore.
While on this island, you can also visit a Botanical garden and Grand Turk Lighthouse.
5. Go on a Boat Cruise or Kayaking Tour
Going on tours is one of the most popular things to do around here. Various excursions often include a visit to Little Water Cay, a nature reserve also known as Iguana Island. It is home to endangered rock iguanas.
You can also visit Pine Cay, a gorgeous private island. It's famous for a 4-kilometer (2.4-mile) stretch of white-sand beach that rivals Grace Bay Beach. However, if you want to stay here, you can do that only if you purchase a day pass from the island's all-inclusive Meridian Club resort.
Another option is to go on a kayaking tour to Mangrove Cay. There are many shallow channels throughout the cay where you can see juvenile sharks, starfish, small turtles, conch and stingrays.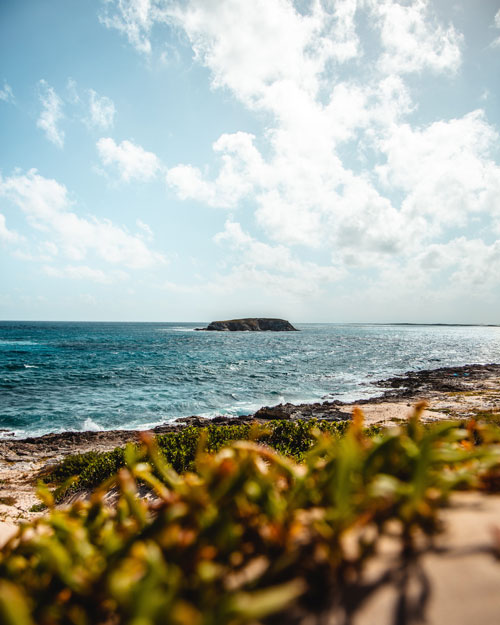 6. Check Out the Chalk Sound National Park
There are several national parks and nature reserves on TCI. Besides Princess Alexandra National Park, there's also Northwest Point National Park where you can explore small coves. But when it comes to Chalk Sound National Park, you can find hundreds of small rocky islands.
It's a turquoise lagoon of stunning beauty. This area features shallow waters, and it can be a delightful place to kayak or paddleboard. However, it's not easy to access it.
7. Visit Salt Cay
Salt Cay was once the largest producer of salt in the world until the early 20th century. Visitors can explore salinas and see the White House, the property of the owner of the island's most salinas.
North of Deane's Dock in Balfour Town is Little Bluff Lookout where you can enjoy incredible panoramic views. At the lookout, there's also a canon that overlooks the Columbus Passage.
Dazzling North Bay Beach is nearby. There aren't many visitors, so you can enjoy its beauty on your own. The island is also great for whale watching and diving.
8. Go Scuba Diving
In the West Caicos Marine National Park, you can find many excellent diving sites. This site offers some of the clearest waters in the TCI and unique coral formations. But this isn't the only great diving location. Incredible dive site Sandbore Channel, between Providenciales and West Caicos, is a place where you can see sponges and soft corals.
Another one, French Cay, to the southwest of West Caicos, is a location where you will almost certainly see sharks. While diving you can also see amazing tropical fish and sea turtles. You can also take lessons and learn to scuba dive, as it can be a rewarding experience.
9. Have a Game of Golf
Provo Golf Club is the only 18-hole course in Turks and Caicos. It is set among the natural flora and fauna of the Providenciales island, which also includes the water. This course is among the top 10 in the Caribbean.
The wind changes its difficulty each day. However, you don't have to play; you can also take lessons from trained professionals.
10. Try Horseback Riding
You can complete your vacation in Turks and Caicos with horseback riding. Provo Ponies is the oldest stable in the TCI. It's usually done on the beach or in the shallow waters, and the most popular place for this activity is Long Bay beach. You'll love it.
Long Bay Beach is also worth visiting because of the favorable winds that create the ideal conditions for kiting. It's a great kite spot also because of the soft ocean floor.
Where to Stay in Turks and Caicos
Unlike Jamaica or the Dominican Republic, other popular Caribbean destinations, Turks and Caicos have just a few all-inclusive resorts. However, you can find a lot of condo-style properties, villas and hotels.
Don't be surprised if you end up paying a lot for a beachfront view. A price tag for some of these properties matches their elegant interior and impeccable service. While it's not necessary to stay at an all-inclusive, have in mind that dining and other activities can be very pricy. That can really be a deal-breaker if you choose a typical vacation.
Here's our suggestion on where to stay.
All-Inclusive Resorts in Turks & Caicos
Beaches Turks and Caicos
Beaches Turks and Caicos is a family-friendly, all-inclusive resort on Grace Bay. It is part of the Sandals Resorts and offers numerous fun activities for kids and their parents, from beach volleyball to windsurfing.
Kids definitely won't be bored, since there is 45,000-square-foot Pirates Island Waterpark where they can have fun in the sun. There is also Kids Camp, as well as the Xbox Play Lounge for grumpier teenagers. When you get hungry, you can choose from 21 restaurants that serve almost everything you can think of. When it comes to accommodation, options consist of several villages, including the Key West, Italian and French village.
Club Med
Club Med is the oldest all-inclusive resort in the TCI. This is an adult-only resort at one of the calmest sections of Grace Bay Beach. Although rooms are modest, the prices of the majority of dining, entertainment and other activities are included in the package.
You can go kayaking, sailing, windsurfing, snorkeling or play a game of tennis. There are three restaurants where you can enjoy your meals and one bar. Club Med Turquoise is a 15-minute van ride from the Providenciales International Airport.
COMO Parrot Cay
This boutique retreat located on a private island, Parrot Cay, should definitely be considered as an all-inclusive resort option. Although the possibilities for water sports are a bit limited, there's a full-service spa, infinity pool and a yoga retreat. And, consider that almost the entire north coast is a gorgeous white-sand beach.
The resort offers rooms, suites and beach villas, some with private pools. In addition, there are several beachfront celebrity properties on the island. If you want to reach COMO Parrot Cay, the resort provides a complimentary transfer from Providenciales International Airport by a private boat.
Retreats and Hotels in Turks and Caicos
Grace Bay Club
Grace Bay Club is one of the oldest luxury resorts. The complex is located on eastern Providenciales and consists of the adult-only hotel, family-friendly villas and the Estate that features units with additional privacy. There are great dining choices and cuisines, as well as two bars.
Grace Bay Club offers couples' spa treatments, snorkeling excursions and a wide array of activities for kids, including swimming lessons and craft sessions.
Wymara Resort & Villas
This chic luxury resort is located on a dazzling section of the Bight Beach, in central Providenciales, between Grace Bay and Turtle Cove. It's often described as a hidden paradise. With its infinity pool, gourmet restaurants with delicious food, and the bar where you can drink quality wines overlooking the Atlantic Ocean, that may very well be true.
If a hotel room is not big enough for you, Wymara offers a range of private luxury villas. The resort also offers many modern amenities such as electronically controlled blinds, as well as a range of water sport activities.
The Tuscany
With spa treatments, golf course, tennis court and extensive garden, this hotel is one of the highest-rated travelers' choices on the Turks and Caicos.
The retreat's sun terrace, with its balconies as well as the swimming pool, offers stunning Grace Bay views. Hotel staff can arrange your activities like horseback riding, fishing, diving or snorkeling. Providenciales International Airport is just 12 kilometers (7.4 miles) away, and the Caicos Conch Farm is located nearby.
If You GoTo learn more about this region, visit Turks and Caicos Tourism Official Website.
Getting to Turks and Caicos
For visiting the Turks and Caicos Islands, you must have a valid passport, and you are allowed to stay for a maximum of 30 days. Turks and Caicos, some of the safest Caribbean islands, are in the Atlantic Ocean, just 1,000 kilometers (621 miles) southeast of Miami, Florida. They are located north of the Dominican Republic and Haiti, and east of Cuba.
Around 1.5 million tourists visit the TCI Islands every year, and the majority of visitors are cruise ship tourists. Most tourists come from the United States.
Main International Airport at Providenciales can be reached by Air Canada, American Airlines, British Airways, JetBlue and other airlines. When you land on the Turks and Caicos Islands, everything is easily accessible by local flights, taxis, car rentals or boats.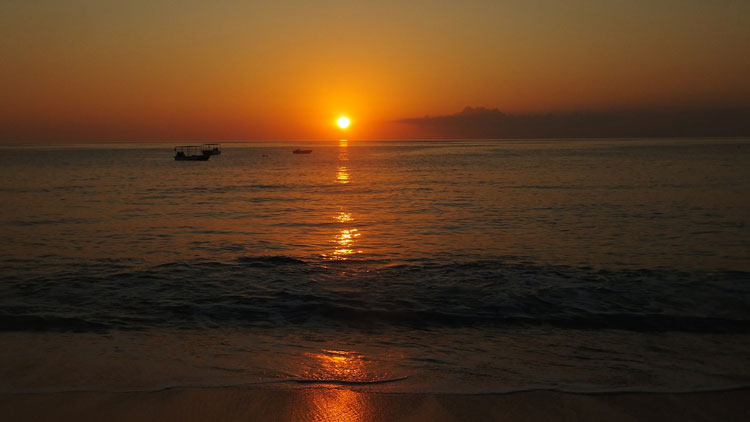 Turks and Caicos Weather
The climate is perfect. There are as many as 350 sunny days a year and very little precipitation, and the temperatures range from 20 to 32 degrees Celsius (68 to 89 Farenheight) throughout the year.
The best time of year to visit these islands is from November to March. During these winter months, there are the most activities for tourists, and the climate is the most favorable. You can also visit Turks and Caicos in April or May because that period of the year features lower prices, and it's less crowded.
Hurricanes are possible between June and November, and that is not a good time for visiting the Turks and Caicos Islands.
Author Bio: Based in Serbia in Europe, Marija Stojanovic Petkovski worked as a journalist but realized writing about the most beautiful places in the world is something that inspires her. She is sure that a pint of good craft beer perfectly accompanies a tasty homemade lasagna. In her spare time, she enjoys playing with her children and spending time outdoors with her family.