You are in for a huge treat when you stay at Kimpton Hotel Born in downtown Denver. Not only is the service exceptional, a remarkable collection of artwork distinguishes it from other hotels in the area. More than 700 original pieces commissioned from 32 local artists grace the walls and shelves in the common areas and guest rooms. Adam Lerner, director of Denver's Museum of Contemporary Art, curated the body of work specifically for the Born.
Enter from the porte cochere where an art installation playing on the word "there" greets you—a hint of the fabulous art that's inside.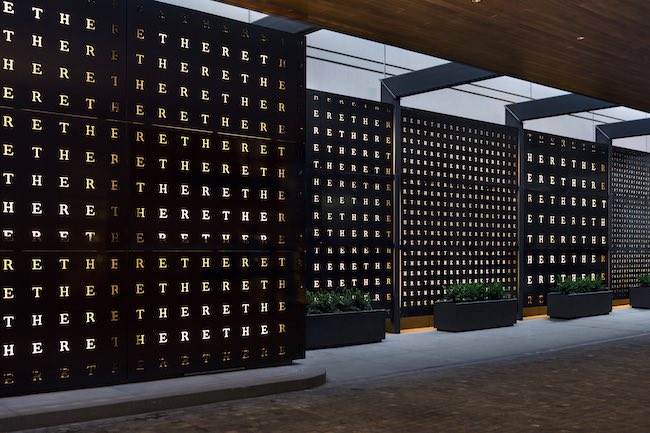 Inside Kimpton Hotel Born
The lobby is at once welcoming, with contemporary design mixed with warm walnut herringbone flooring topped with traditional hand-woven rugs. One striking aspect is the grey cement wall resembling the side of an old weathered barn. That was my first clue to the urban-farm decor I was to find throughout the hotel.
Several inviting groupings in the lobby encourage people to gather and mingle. To that end, they offer a complimentary wine happy hour every evening and coffee and tea service in the morning. Over glasses of wine we met a couple from Kansas City vacationing with their two big dogs. They were Kimpton Karma Rewards members and had nothing but praise for the Kimpton brand.
Here's another gathering place with bookshelves that introduce knotty-pine walls, further emphasizing the farmhouse-chic motif. The hotel designers call it alpine as a nod to the pine forests of the Rocky Mountains, but to me it calls to mind the farming communities on the plains of Colorado and their modest homes built of knotty pine.
Even cozier with the fireplace going. Note the historic figures of early 20th century Denver by Stephen Batura on the wall shelf—"photographs reimagined with a painterly style," explained Nelleke Mack, project manager at Museum of Contemporary Art. More about artwork below.
Artwork at Kimpton Hotel Born
Unlike most commercial buildings that fill large spaces with huge paintings, there's nothing large or garish here. Most of the pieces are small and displayed either in groups of three or more where they relate to each other. They beg you to step up for a closer look. This one is behind the front desk. Ask them for a tour map of the art in public spaces. It is truly fascinating.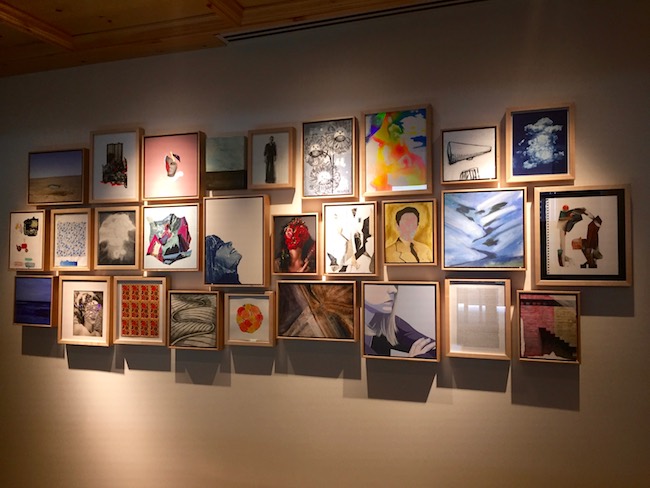 My favorite is this charming wall by the elevator where David Zimmer's five digital birds flutter inside glass canisters.
The knotty-pine walls and doors in the hallways really bring you onto the farm! Again, more art in threes.
Rooms at Kimpton Hotel Born
Wood paneling on the wall around a leather headboard extends over the bed, bringing warmth and coziness to our king room. Floor-to-ceiling windows add light and give glimpses of the mountains beyond the buildings. A lounge chair, padded bench, desk and TV are in all the standard rooms. In a wood chest we find a safe, mini bar and fridge. The closet holds an iron/ironing board, robes, umbrella, yoga mat and even another piece of art. There's no coffee service in the room; they'd like you to take coffee with other guests in the lobby. I draw the line here. I prefer reading with my coffee, not socializing. For people like me, they will bring coffee and coffee maker to the room. All you have to do is ask. And if you forget to pack something, like a cell phone charger or curling iron, they'll loan you that, too.
Our bathroom is fabulous, one of the nicest I've seen in a new hotel. A deep soaking tub, makeup mirror, a separate rain shower and a private room with glazed glass door for the toilet are thoughtful features. A piece of art and little green plant add a touch of color to the pale bathroom.
Services and amenities at Kimpton Hotel Born
WiFi is complimentary if you are a Karma Rewards member. Otherwise, it's $14.99 per day. It costs nothing to join, so why wouldn't you?
There's a nice bright fitness center, but no pool. A $20 daily amenity fee allows access to nearby Colorado Athletic Club and Museum of Contemporary Art as well as free bikes for a spin around downtown. And you can ask for a free shuttle to take you anywhere within two miles. If you drive, valet parking is $48 per day.
Massages and facials can be arranged in your room from 9 to 9 any day.
The Born has one of the best dog policies I've seen. No charge, no limit on size or number, plus they'll give you dog beds, food, water bowls and doggie bags for walking.
Large and small meeting spaces are available for conventions and events, some with terraces for outdoor breaks. This one has a homey feel with plaid carpeting and wood paneling.
Dining at Kimpton Hotel Born
Light reflecting off colored liquor bottles dances above the bar at Citizen Rail, adding a festive atmosphere.
The restaurant's name, Citizen Rail, comes from its proximity to the train station, and the decor loosely revolves around a train theme. For example, mirrors above the open kitchen look like windows of a train car, sort of (right top corner).
A blazing wood fire anchors the open kitchen where chefs grill anything that can be cooked on open flame. Wood-grilled oysters with cilantro garlic butter were "great," my companion says. Though there are plenty of steak and chop choices on the "Butcher Shop" menu (with various sauces and sides for two), he decided on grilled Hamachi collars, the shoulders of the fish. It was a lot of bone and he had to work to shave off the flesh. I choose a vegetarian dish, a chickpea cake with farm veggies that was tasty. My organic butter lettuce salad was an entire head of lettuce—outstanding.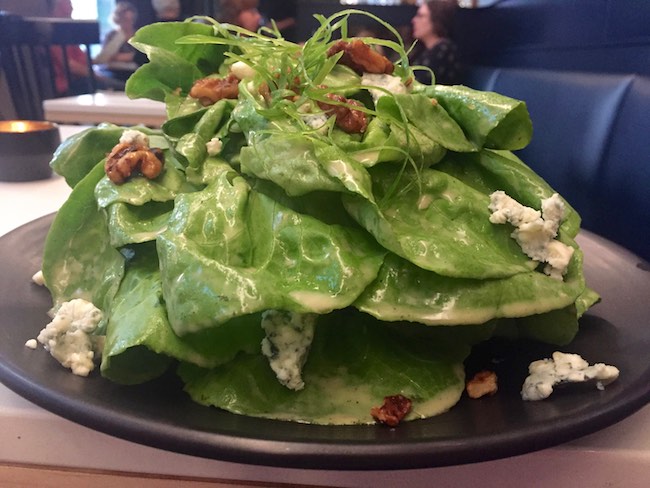 The breakfast menu is deliciously inventive with fresh pressed juices and homemade baked goodies. I devoured two poached eggs with avocado toast on a side of sherry-dressed greens. My companion toyed with ordering the caramelized apple pecan waffle, but ended up with standard two eggs with potatoes, sausage and a generous bowl of fruit.
What To Do in Denver
Downtown Denver is a delightfully walkable city, with restaurants, museums, attractions, theatres, shops, sports venues, convention center and state capitol all within a short walk or free shuttle ride from the hotel. Click here for a complete list.
Kimpton Hotel Born sits smack in the heart of Union Station neighborhood, steps from the train to Denver International Airport and a few more to the light rail station for access to the 'burbs, Broncos stadium and Pepsi Center. It's also right at the end of the 16th Street Mall where you can hop on a free shuttle to the Convention Center and entertainment district or walk to Coors Field and the bars and restaurants of the gentrified warehouse district of LoDo.
Kimpton Hotel Born, 1600 Wewatta Street, Denver, CO 80202; 303-323-0024; www.hotelborndenver.com
Claudia Carbone is an award-winning travel writer based in Denver. Read about other hotels she's visited in Sleepin' Around.