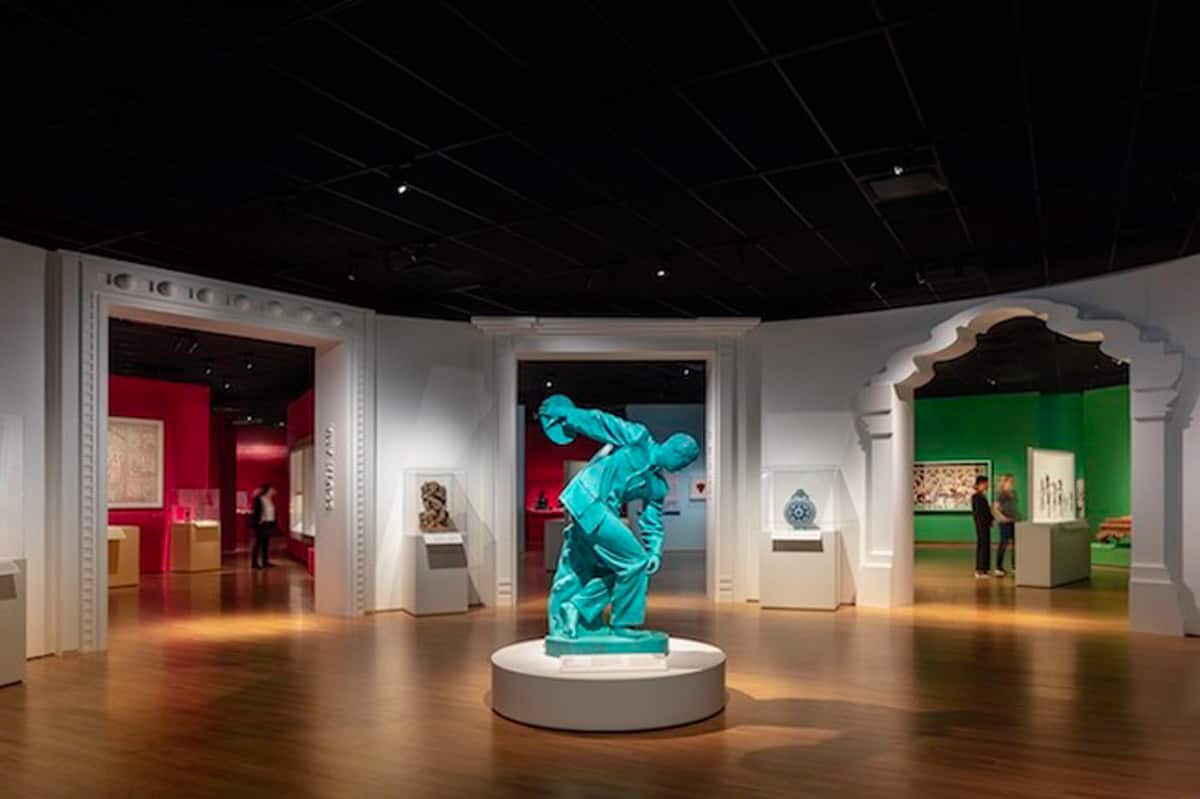 When the Denver Art Museum opened in 1971, the castle-like building with tiled walls and slit windows designed by Italian architect Gio Ponti was considered too avant-garde for many Denverites.
Now 50 years to the month later, the interior of the North Building, as it was known, has been reimagined, replaced and re-loved. The footprint and the fantastic views remain the same.
"For more than three years, the north side of our campus has been undergoing a bold transformation to improve the visitor experience while honoring and preserving the building's historic architecture," said the DAM's director Christoph Heinrich.
"We kept nothing from the old building layout, not even a display case. Everything is new. It's not just a renovation—it's a re-imagining of the spaces," he said.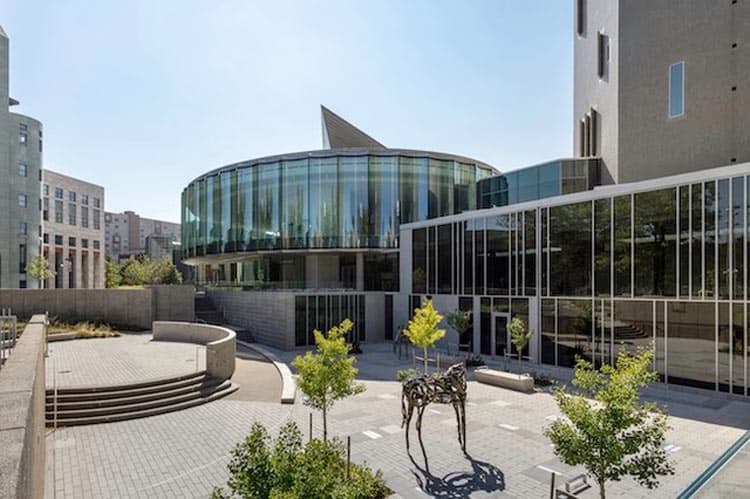 Denver Art Museum Additions
In addition to the interior redo that includes two new elevators, a new public staircase, and the new Bartilt Learning and Engagement Center, there have been exterior upgrades too, such as new skylights, lighting and revitalization of the glass tile façade, outdoor terraces, and updating environmental and other systems with the latest technology to earn a LEED Silver certification.
Thanks to a generous donation by DAM Board Chairman Lanny Martin and Sharon Martin, the Ponti building will now be called the Martin Building.
"The events of the past year have reaffirmed the importance of art as a source of inspiration, healing and hope, and we look forward to showcasing the museum's global collections through a new lens and providing new spaces for learning and engagement," Heinrich said.
The arts and culture scene in Denver has grown up, benefiting locals and tourists alike.
"I'm absolutely jazzed by this facility," said Denver's Mayor Michael Hancock. "It's a huge benefit and new asset for citizens of Denver. We see the true power of arts and culture in this building."
New Welcome Center at Denver Art Museum
Attached to the iconic building is the brand new 50,000-square-foot Sie Welcome Center, named for benefactors Anna and John J. Sie. Unique 38-foot-tall concave windows distinguish the circular building that has become the museum's new entrance.
Designed by Machado Silvetti and Fentress Architects, it serves as a bright space in Denver for events and two dining options, as well as ticketing and guest services. The lower level houses an art conservation and technical studies lab.
The sharp edges of the neighboring Hamilton Building designed by Daniel Libeskind and opened in 2006 soar above the Sie Center, making the campus unification complete.
"I was impressed by the stitching together of the various buildings into a dazzling and cohesive new whole," said Claire Walter, a resident of Boulder who is a DAM member.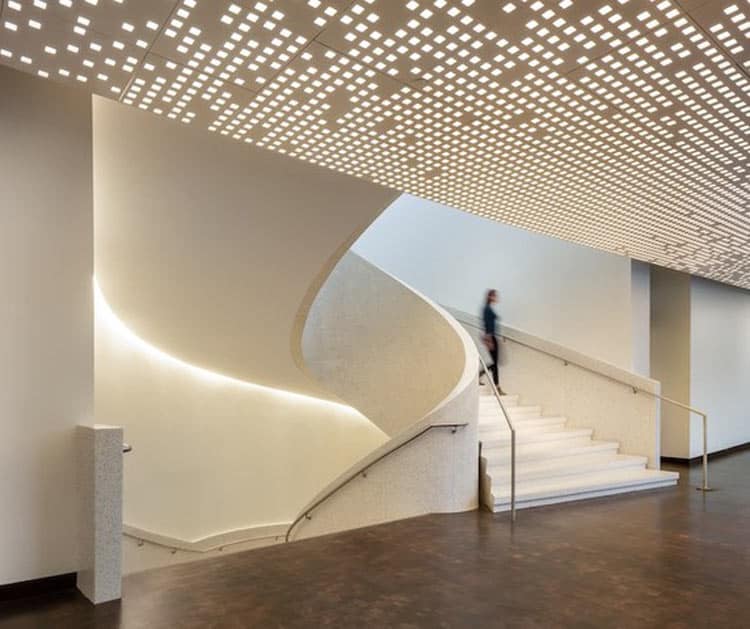 Galleries of Denver Art Museum
A total of 33,328 square feet has been added for galleries and public spaces, and many artifacts that were previously stored are now on display. All art labels are written in English and Spanish. The Denver galleries are:
Northwest Coast and Alaska Native: works by Indigenous artists from the western coastal region of North America.
Design: the most preeminent selection of design practices—architecture, furniture, industrial and graphic design—in the country.
Latin American Art and Art of the Ancient Americas: more than 1,000 rare works and artifacts spanning 3,500 years of art and culture in Latin America, plus a new exhibition dedicated to modern and contemporary Latin American works.
Asian Art: many treasures from the past and contemporary additions are on view for the first time.
Indigenous Arts of North America: this world-renowned collection presents works from more than 250 Indigenous nations both regionally and thematically.
European Art Before 1800: a chronological history of European art through major themes.
Textile Art and Fashion: features temporary textile and fashion presentations like the current exhibition tracing ways in which high fashion kept up with the changing role of women and feminism, as well as a behind-the-scenes look at how the curator's prep for an exhibition.
Photography: expanded space features regular rotations of work from the permanent collection and beyond.
Western American Art: gives a western perspective of American art history from a fitting locale in the heart of the Mountain West.
Dining at the Denver Art Museum
In the past, if museum goers wanted to catch a bite before or after their visit, they had to go outside and across the plaza to Mad Greens, a salad bar eatery. Now they have not one but two choices in the building.
The DAM called upon Denver chef Jennifer Jasinski to develop menus and concepts for The Ponti, the sleek upscale restaurant named for the original architect, and the fast-casual Cafe Gio, also named for the Italian designer.
The James Beard Award winning chef has created menus with lots of veggies, ancient grains, heirloom legumes, handmade pastas, and fish and meat. Chef Jasinski, who heads up kitchens of several popular downtown restaurants, is known for her sourcing and sustainability excellence.
The Ponti includes an outdoor terrace and is open for lunch every day and dinner Tuesdays only. It's also open for private dining and events (720-913-0148). Cafe Gio across the main hall from The Ponti on level one of the welcome center is open every day during museum hours and also has outdoor seating.
Golden Triangle Creative District
Since the opening of the Hamilton Building in 2006, the museum has paved the way for the development of the Golden Triangle Creative District. It consists of the Clifford Still Museum, the History Colorado Center and the Kirkland Museum of Fine and Decorative Arts.
In addition, a plethora of art galleries, restaurants and retail have emerged, making the area an easily walkable neighborhood for arts and culture.
The Denver Art Museum is at 100 W. 14th Avenue Parkway, Denver, CO 80204-2788; 720-865-5000.
Book This Trip
Ready to plan your trip to soak in the culture and arts of Denver? Start preparing with hotel and VRBO options, local restaurant reviews, tips on how to get around and more through TripAdvisor and Travelocity.
Make the most of your trip by booking some unique activities in Denver through GetYourGuide. Find outdoor excursions, expert-led tours, skip-the-line tickets and more here.
Author Bio: Claudia Carbone is an award-winning travel writer based in Denver and regular contributor to GoWorldTravel. Read more on her travel blog.