Arizona: The Grand Canyon State. A great nickname for a state to have, not least from an advertising point of view. I can't help thinking, though, that even that sells Arizona a bit short. The Grand Canyon may be the state's most iconic feature but there is so much more.
Covering approximately 295,000 sq km, Arizona is the 6th biggest state by area. Its capital, Phoenix, is the country's 5th largest city by population. It has the biggest percentage of land designated to Native Americans of all the 50 states, and roughly 85% of the state's land is taken by national forests, parks and wilderness.
Arizona is the only state that contains at least part of all four North American deserts – the Mojave, the Sonoran, the Chihuahuan and the Great Basin.
About the Arizona Petrified Forest National Park
One of the must-see attractions for any visitor is the Arizona Petrified Forest National Park and Painted Desert (you can't really see one without the to, her).
Located right on Interstate 40, which cuts through the parkland, it is just stunning. Named due to a large amount of petrified wood and fallen trees, the Petrified Forest has an area of about 345 square miles and straddles the border between Apache County and Navajo County.
It was established as a national park in 1962 with 146 square miles of land but additional land parcels have been acquired over time. The northern part of the park lays within the Painted Desert, a region in the 'four corners' area of Arizona, New Mexico, Colorado and Utah.
If you look at a map of the USA, those four states are slotted together, their corners touching.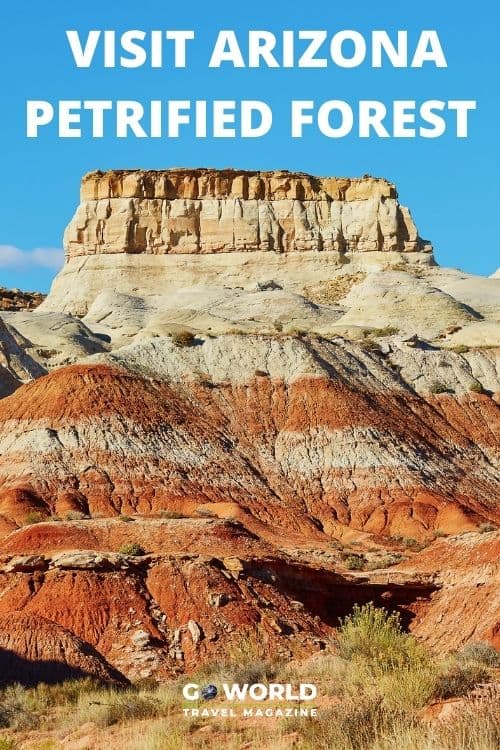 The Unbelievably Colorful Painted Desert
The phrase 'it has to be seen to be believed' is overused these days. Television adverts tell us the local furniture shop's sale has to be seen to be believed.
Your friend's new hairstyle has to be seen to be believed (you can take that either way.) But, whoever it was that first uttered those immortal words, I wouldn't be surprised if they were here when they said it.
The varying colours in the sand and rocks can be described in many ways. A depiction of each season, perhaps. The dusty reds of a scorching summer sun.
The greens of newly regenerated spring trees by well-watered streams. Or the yellows and browns of fallen Autumn leaves and the ghostly silvers of a frosty winter day.
Some may call it God's paintbox; or what about an award-winning layer cake? None of these, however, do it justice. It just must be seen to be believed. It is stunningly beautiful.
Navigating the Arizona Park
Entering the Arizona Petrified Forest NP via the I-40, the Painted Desert Visitor Centre offers a 20-minute film on how to navigate yourself around the park as well as the obligatory restaurant and gift shop.
Once you have signed in and taken your map (make sure you do – you really don't want to get lost out there!), you are free to explore.
Driving through the forest and up to the desert, there are lots of places to stop and take a walk. Prepare to be amazed at the scenery. It's like the landscape of an uninhabited alien planet. In fact, imagine what it must be like to walk around the surface of Mars and then come here instead.
Miles and miles of rocky terrain and parched grass, with every so often what was presumably a fallen tree looking so old that it would crumble as soon as you touch it.
Unexpected Sights
Now and then, you will come across something that breaks up the landscape providing an alternate scene to photograph. Just to give one example, there is the rusty wreck of an old Studebaker.
It's just sitting there for no apparent reason, aside from, perhaps, the original owner ran out of gas and decided to walk the rest of his journey. Or, maybe, he waited for help that didn't come and met his slow demise in the hot desert sun. Let's hope it was the first option.
The real reason it is there, of course, is just to provide a bit of a tourist attraction. Normally, an object just stuck somewhere for a photo opportunity and looking kitschy really detracts from the ambiance of a place, but not so here. It really works and looks like it belongs.
The Painted Desert Inn is also worth stopping at. Again, due to its pueblo-style, it looks like it belongs rather than being a building stuck there to make a few dollars from the tourists. No longer functioning as an actual inn, it's now a museum.
One word of warning, aside from the Visitor Centre where you first enter there are no toilet stops or places to buy snacks and drinks throughout the park. But even this, I find, is a good thing.
It adds to the fact that you are out in a desert. I mean, if you were lost in the middle of the Sahara, you wouldn't expect to come across a 7-Eleven to get a bottle of Coke, would you?
If you are passing through Arizona, please do stop at the Arizona Petrified Forest and Painted Desert. You will not regret it. It is just beautiful and is one of those places you will be talking about forever.
If You Go:
The Petrified Forest National Park is situated along the I-40, 25 miles east of Holbrook.
The US National Park Services website can be found at : www.nps.gov/pefo
Do not forget to take a bottle of water!
Book This Trip
See the colors of the majestic painted desert for yourself. Start planning your trip with insider knowledge on the best sights to stop at, local restaurant reviews, booking hotel and VRBO reservations for your desert getaway and more through TripAdvisor and Travelocity. If your flying or planning to road trip, check out Kiwi, for the best car rental options and flight deals.
Author Bio: Nick Brown is a writer from England who visited the Painted Desert as part of his trip along the famous Route 66. His book about the journey and history of the route, 'From London To LA – Route 66 : The Ultimate Road Trip', is available on Amazon.