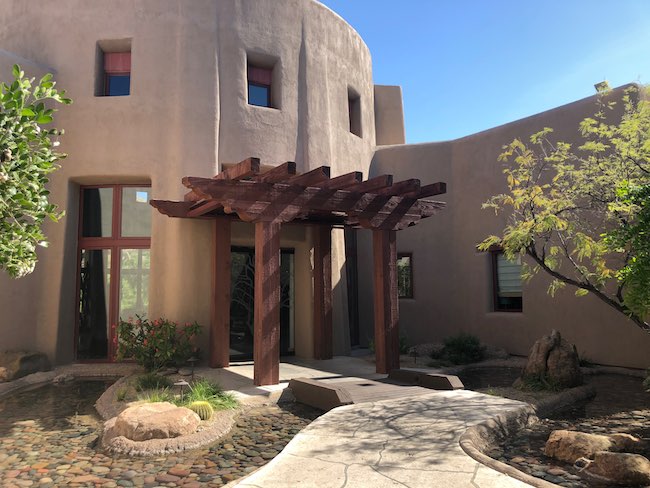 About 12 million years ago, huge granite rocks formed in the Sonoran Desert of Arizona. Here, in this stunning desert-forest environment once inhabited by Native Americans, Arizona developer Rusty Lyon and Laurence Rockefeller mindfully built the Boulders Resort & Spa in 1985, pledging to "never compromise the integrity of the desert."
Tucked in and around the ancient boulders, low-lying adobe-style buildings are sisters of the stones whose color they mimic. Hence, the destination is so in tune with its surroundings that its sense of place is unmistakable. Environmental design awards have consistently honored the property.
Grounds Around Boulders Resort & Spa
In keeping with Lyon's promise, the 1300-acres grounds are lush with untouched indigenous plants like saguaro cactus, mesquite and Palo Verde trees, and ocotillo bush. Wildlife includes quail, jackrabbits, coyotes, javelina (a desert pig-like animal), deer and bobcats as well as little crawling critters. Green carpets of two golf courses add color between the rocks, and hiking paths wind around the property.
You can even spot ancient petroglyphs and other archeological finds among the rocks. At night, low outdoor lighting respects nature's natural light from the heavens.
We are there in late April and the blooming cacti are gorgeous!
Rooms at Boulders Resort & Spa
The Boulders offers a variety of Southwestern-designed accommodations—from 160 individual casitas to 61 one- two- three- and four-bedroom villas and one five-bedroom house. We stay in a lovely casita with a private deck that looks over a large mass of rocks on one side and golf greens on the other. The casita is spacious with a wood-burning fireplace, wet bar with coffee maker, and large closet with a safe.
Above the bed hangs an impressive Native American design.
The bathroom is luxurious featuring native stone and rock, two sinks, a soaking tub and separate shower and loo. 
Dining at Boulders Resort & Spa
Of the six restaurants, we enjoy a scrumptious dinner at Palo Verde, the resort's signature restaurant in-the-round. Its seasonal menu features creative contemporary Southwestern dishes made with locally sourced foods. We eat indoors, but there's a lovely patio overlooking the duck pond and greens. We have to try their signature dessert, the Chocolate Sphere, a tennis-ball size chocolate shell filled with chocolate mousse that breaks open when hot chocolate sauce is dribbled on it.
We enjoy a delightful brunch the next day on the patio at the Spa Cafe, a very private enclave with a pool at the Spa. Other dining options are The Grill Kitchen & Bar serving American classics overlooking the fairways, Spotted Donkey Cantina for Mexican cuisine, and The Discovery Lounge, an intimate spot for shared dishes. You can also order food at the Pool Pavilion.
The Discovery Lounge is an intimate spot for cocktails and conversation.
There's nothing quite like an Arizona sunset. We see this one from a golf cart as we are being shuttled to dinner.
The Spa at The Boulders
Honestly, you could spend a day here. Housed in a separate building about a seven-minute walk from the lodge, the 33,000-square-foot spa offers every type of massage therapy, body treatment and facial (many incorporating indigenous herbs). They also offer reviving therapies like Reiki and Chakra Balancing. There are yoga classes, nutritional counseling, fitness assessment and personal training in the fitness center. Technicians tend to hair, nails and makeup in the full-service salon. After a soak in the hydrotherapy tub, I receive the Turquoise Wrap, a salt exfoliation followed by a warm turquoise clay wrap, purifying and refining my skin. The spa maintains a Desert Zen lifestyle, and I feel it the minute I enter the door and later walk around the labyrinth. 
What To Do at The Boulders
Besides two award-winning golf courses, there are four swimming pools, eight tennis courts, and plenty of rocks to climb. The resort offers hot-air ballooning, mountain biking, nature walks, horseback riding, desert jeep tours, desert fly fishing, stargazing, photo tours and Grand Canyon tours. The Boulders accommodates large and small groups with indoor and outdoor meeting spaces.
There's a $30 resort fee; valet parking is $25 or you can self park. There doesn't seem to be much for children at this outdoor adventure resort, so I do not recommend it for families. And the only pets allowed are service animals. Due to its higher elevation, temps here range 5-7 degrees cooler than in central Phoenix.
What To Do Near Boulders
For a day of shopping and/or western activities, drive 8 miles to Cave Creek, the old frontier town that seems frozen in time. Then, a little more than half hour away are the shops (with unparalleled Native American art and jewelry), art galleries, museums and restaurants of downtown and Old Town Scottsdale. Also in Old Town are The Museum of the West and Museum of Contemporary Art. The 5th Avenue arts district and Scottsdale Fashion Square are worth visiting as are Scottsdale Waterfront where many fun events are held. In nearby Phoenix, don't miss the Heard Museum featuring Native American culture and the Musical Instruments Museum with instruments and their history from all over the world. Both are unparalleled. More than 200 golf courses are spread throughout the Phoenix and Scottsdale area. For more information on what to do in the Valley of the Sun, visit www.experiencescottsdale.com
The Boulders Resort & Spa, 34631 North Tom Darlington Drive, Carefree, Arizona 85377; 480-488-9009; www.theboulders.com
Claudia Carbone is an award-winning travel writer based in Denver. Read about other hotels she's visited in Sleepin' Around.