Most visitors to Las Vegas are there for the vibrant shows, plentiful casinos, nightlife and pools.
But just 100 miles north of Las Vegas is a town that offers adventure of a different kind. Rachel, Nevada lies on the outskirts of the high security base called Area 51.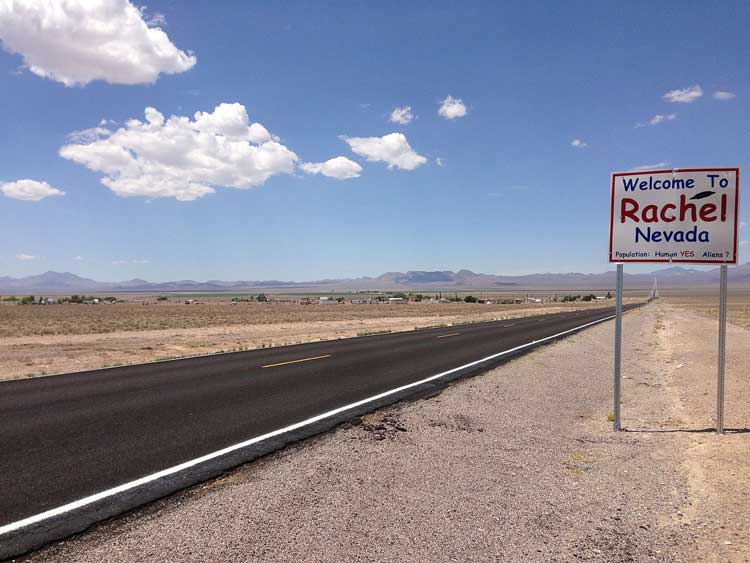 Rachel, Nevada
Because of its proximity to the secretive base, Area 51, Rachel, Nevada, and its tiny population of approximately 54 residents is known to aviation enthusiasts and UFO hunters.
The only way to reach Rachel is via the deserted and barren state route 375, otherwise known as the Extraterrestrial Highway.
Here's why a road trip to the land of aliens should be on your bucket list.
Because Alien Folklore is Fun
Even if you aren't an alien enthusiast, it's hard not to catch alien fever on this day trip. Use the occasion to tap into your creativity: wear some alien gear, construct yourself a tinfoil hat, paint yourself green.
If you haven't got any alien get-up, make a stop along the highway at one of the few tourist shops, which will satisfy all of your alien paraphernalia needs. There are three stops that offer alien goods.
The first stop is ET Fresh Jerk, at the Intersection of U.S. 93 and the Extraterrestrial Highway. This unusual shop specializes in beef jerky, but also sells an array of souvenirs. Shortly after you turn onto the Extraterrestrial Highway, you will encounter the Alien Research Center Gift Shop.
It is only open a couple days a week but is worth a stop regardless for its giant alien statue. The last stop will be in Rachel, Nevada. More on that later.
Because the Desert Views Are Incredible
Throughout the drive up to Rachel from Las Vegas, the desert views range from rocky, to mountainous, and flat. Most of the terrain is barren and unoccupied. A lack of population and tourism means that these highways, specifically Route 375, are eerily quiet.
On any given drive, you may encounter only three other vehicles. Accessing such a remote desert area will give you sense of freedom and independence. Blast your favourite tunes, imagine your favourite road movie, and enjoy watching the tumbleweeds bounce along. Just make sure you've filled up on fuel, because gas stations are scarce.
Because You'll Meet Quirky Locals and Travelers
You will encounter curious tourists, serious UFO believers, hilarious costumes and quirky shop owners on your adventure down the Extraterrestrial Highway. Make sure to strike up conversations with those whom you encounter, because you might hear about an alien encounter or two.
Because of this region's proximity to Area 51, you may also ask locals about this mysterious military base. Stories of black SUVs zooming out of the desert to arrest those who have ventured to close to Area 51 are plentiful, as are the explanations of UFO enthusiasts who camp out all night with their binoculars, keeping watch.
These stories never run out and add to the bizarre lore of this Nevada region. Rest assured most of those you encounter on your road trip will be friendly and helpful.
Because You'll Enjoy Many Photo Ops
You will find yourself pulling over often to snap pictures of the various photo ops along the Extraterrestrial Highway. The first stop, ET Fresh Jerky, boasts a hilarious alien mural and giant sign, kicking off your photoshoot. Not much further down the route, you will encounter the first of the famous Extraterrestrial Highway signs.
Covered in tags and stickers, these signs are the most popular tourist photo stop. You can't miss a photo with the giant tin alien out in front of the Alien Research Center, and should you see Area 51 signs, you'll want to take a photo of those as well (just don't get too close!) Once you reach Rachel, Nevada you will be inundated with opportunities for alien-centric photos. The abandoned gas station just outside of the town makes for a fun picture as well.
Because You Can Have an Alien Burger in the Little A'Le'Inn
This small bar, restaurant and motel is the grand finale of your extraterrestrial road trip, and well worth the drive. The town of Rachel is impossible to miss given it being the only civilization for miles.
The A'Le'Inn is right off the highway, easily identifiable with its expressive signage. You will be warmly welcomed by the bartender, and there might be some local Rachel dwellers enjoying a beer.
After all the driving you are bound to be hungry, so make sure to get yourself the famous Alien Burger. You'll easily spend an hour here, looking at all the decor and chatting with fellow patrons. If you really fall in love, you can check into the motel for the night.
A road trip from Las Vegas to Rachel along the Extraterrestrial Highway is a great opportunity to get out of the city, enjoy the desert landscape, meet some great people, and pick up unique alien paraphernalia. But most of all, the trip is guaranteed to spur lots of laughs and memorable photos.
If You Go:
This itinerary took a full day. Budget 5 hours for driving, and a couple hours for stops. If you don't fancy a long day of driving, you can opt to stay in the Little A'Le'Inn (Rachel, Nevada) for a night.
If you'd like to add more stops to your itinerary, you can factor in a stop at the Death Valley National Park. This park offers a scenic drive, and many hiking trails for the more adventurous.
The summer months (June to August) are incredibly hot, but manageable if you don't do any hiking. The rest of the year ranges from pleasantly warm to a tad cool.
Be mindful of gas stations because there aren't many. It is wise to fill up on gas before starting the highway drive, because gas stations are sparse.
Bring lots of water and snacks.
Author Bio: When Erin Hynes was 19 years old, she moved on a whim to Venice, Italy, where she spent several months working in a hostel and running a pub crawl. It was there that she earned the nickname Pina… because "Erin" is hard to pronounce if you speak Italian. The name stuck, and it is now her travel alias. Erin Hynes is a writer (pinatravels.org) and humanitarian worker based in Toronto, Canada. To see where she is today, follow @pinatravels on Instagram.