If you're looking for a picturesque mountain town worthy of a Hallmark movie this holiday season, you should consider taking a trip to Glenwood Springs. Located in the Rocky Mountains in Colorado, this family-friendly small town is a mere 2.5-hour drive from Denver and a favorite weekend getaway for Coloradans.
Planning a last-minute trip to Colorado?
Top Experiences and Tours in Colorado:
Where to stay and transportation in Colorado:
Although Hanging Lake Trail, Grizzly Creek Trail and Glenwood Canyon Bike Path are closed due to the Grizzly Creek Fire, Glenwood Springs still has many outdoor activities that you can enjoy through the winter season.
Things to Do in Glenwood Springs: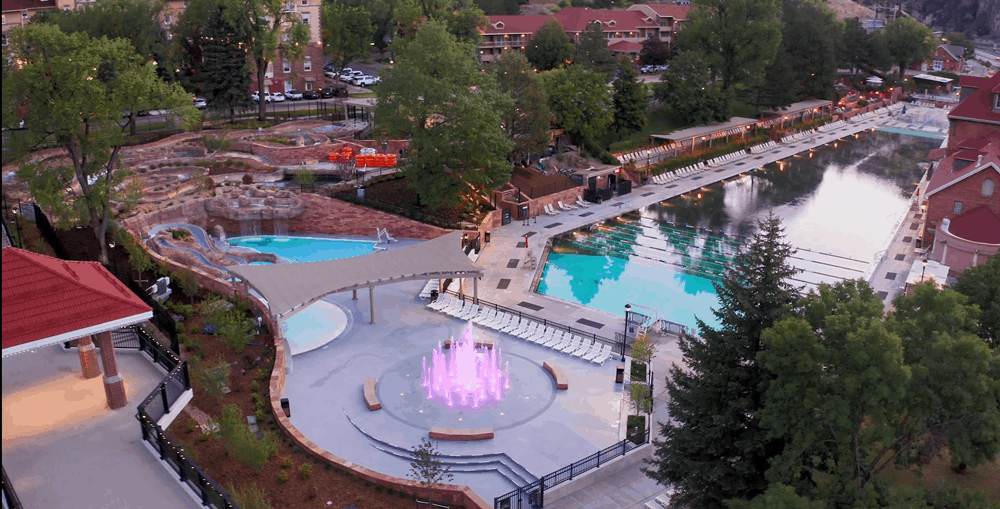 Many Coloradans go to Glenwood Springs to soak in the mineral waters of the three hot springs locations. There is nothing like sitting back in a pool of hot mineral water, letting it wash all your worries away. The spring water is also hailed for its physically therapeutic and detoxifying benefits.
The Glenwood Hot Springs Pool is the world's largest hot springs pool and is open year-round at the Glenwood Hot Springs Resort. The water comes from the Yampah Spring. The water is known to relieve aches, among other health benefits.
You can go swimming with your family or relax in the waters without making a reservation. You are required to wear a mask in all public spaces at the Glenwood Hot Springs Pool unless you are swimming.
The next hot springs location on your list should be Iron Mountain Hot Springs. It is located next to the Colorado River in Glenwood Springs. There are 16 soaking pools for you to sample with water that flows from three separate springs, the Gamba, Hobo and CDOT.
You can enjoy the hot spring mineral water while your kids take a swim in the family pool which is filled with chlorinated, heated freshwater.
Due to COVID restrictions, it is crucial that you plan your visit to Iron Mountain in advance, as reservations are required.
Best Tips & Tools to Plan Your Trip
Finally, you can visit the Yampah Spa and Vapor Caves. Hot mineral waters run below the ground of the caves, reaching 125 degrees Fahrenheit. If you enjoy a steam room, you will definitely find the caves relaxing and rejuvenating, with the steam reaching 110-112 degrees.
You can also book an appointment for a relaxing spa treatment. They have various facials, hair and nail services, massages and more to help you relax during your Glenwood Springs vacation.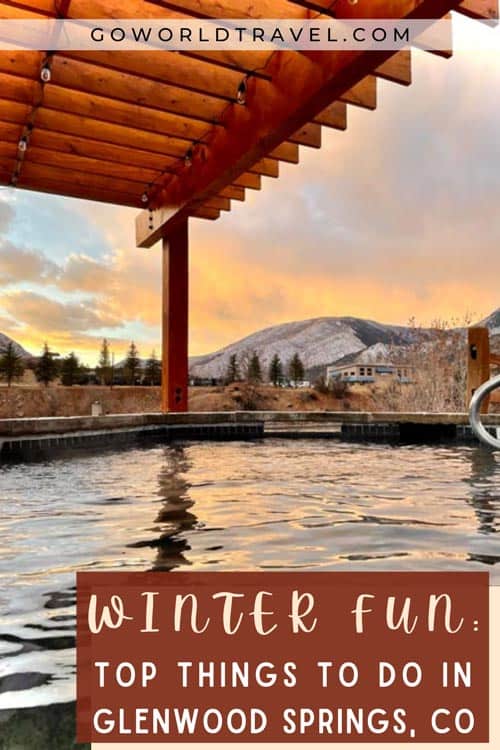 Affordable Colorado Skiing:
Next, you can go skiing at the Sunlight Mountain Resort, which is 12 miles outside of Glenwood Springs. The lift tickets are more affordable than in big ski towns like Aspen and Vail. There are instructors ready to teach you to ski or snowboard. Once you've taken your lesson, there are 67 trails for you to practice your new skills on.
Family-Friendly Public Art Downtown:
If you're a fan of public art, this next event is for you. Find Your Wings is the brainchild of a local business owner, Chrissy Lee-Manes.
Four sets of human-sized wings have been strategically placed around downtown Glenwood Springs. See if you can find them all.
The Downtown Development Authority plans to build an additional three to four sets of wings to encourage you to keep exploring.
Whether you are visiting Glenwood Springs with your friends or your family, the Glenwood Caverns Adventure Park is an attraction that everyone in your group will enjoy.
During the holidays, Jolly Ol' St. Nick will appear at Glenwood Caverns Adventure Park, but there will be no lap sitting or ear whispering this year. Fear not though, your children will still be able to sit next to Santa in a separate chair and tell him what they want for Christmas.
Even though COVID has hit businesses and theme parks pretty hard, this mountain-top theme park is still going strong and taking visitors. The amusement park requests that you arrive at the park during the one-hour-window of your choice and wear a mask; there is no limit on how long you stay in the park.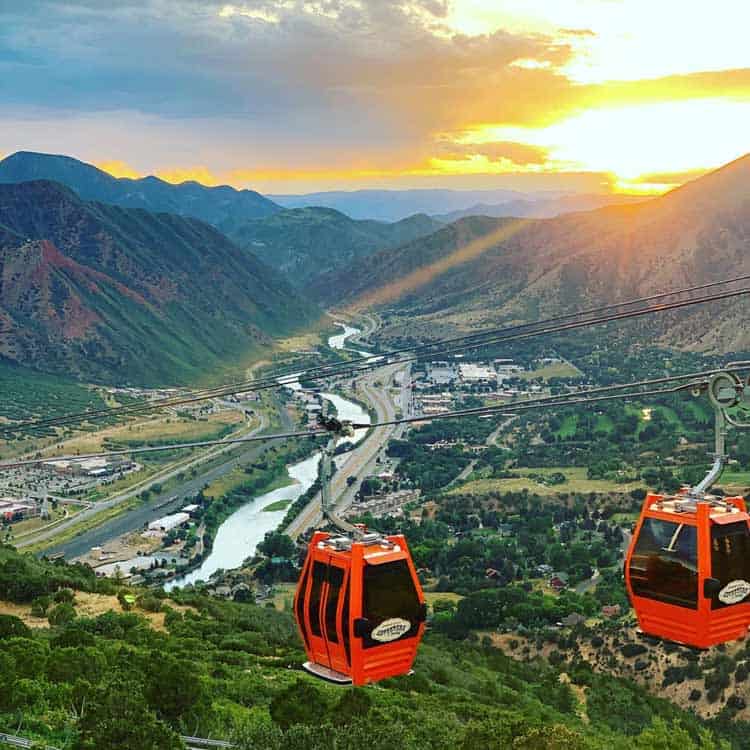 Gondola Rides and Cave Tours:
Your Glenwood Caverns Adventure Park journey begins with a gondola ride. To get to the park, you have to ride the gondola up the mountain.
If you have ever wanted to see what the inside of a cave is like, Glenwood Caverns has you covered. Currently, there are two different tours to choose from.
According to the Glenwood Caverns' website, "Kings Row (is) the most decorated cave room in Colorado." The Fairy Caves tour is a 40-minute guided tour of the caves. Make sure you bring your camera because the caves are stunning. It's hard to believe they occurred naturally.
The best camera to bring for a trip like this is one that is durable, has video recording capability, takes pristine photos and can fit in your pocket, such as the Canon PowerShot G7 from Canon. Check out the other digital camera options from Canon here.
Be sure to bring a jacket because the caves are chilly inside. Some of the caves get narrow in spots, so they don't allow strollers or wheelchairs. They don't recommend participation in the tour if you are pregnant or have a heart or respiratory problem.
Thrill Rides:
For the thrill-seekers in your family, Glenwood Caverns has several rides and attractions. You can check out the Haunted Mine Drop, which takes you down a track where miners tell their stories about a mining accident, leading you to your fateful drop of 110 feet. It doesn't matter how many times you ride it, you will still get a pump of adrenaline when the cart plummets to the ground.
Another top ride is the Alpine Coaster. This is a ride you don't want to miss during the winter. What makes the Alpine Coaster unique is that you get to decide how fast you go. You can choose to fly down the track or go slower to take in the breath-taking scenery of the Colorado mountainside.
One more fun attraction is the 4D Motion Theater, which has moving seats and special effects. The theater does have seats that don't move, so smaller children can participate, too. They have to sit in an adult's lap, but they can still enjoy the show safely.
History on the Mountain
Another legendary sight that should not be missed while you're in Glenwood Springs is the historic gravesite of Doc Holliday in Linwood Cemetery. Even though the exact location of his grave is unknown, it is fun to gather up the family and go for a short hike to the cemetery grounds.
Dining and Beer in Glenwood Springs:
Note: Be sure to check local dining guidelines before you go. Openings may be affected by COVID mandates.
Grab dinner and a show at the Glenwood Vaudeville Revue in Roaring Fork Valley. The Glenwood Vaudeville Revue is a dinner theater that is fun for your entire family. Performers make the show fun by telling jokes, dancing and being silly.
For a more intimate meal, Glenwood Springs has so many restaurants to choose from that it can be hard to decide. The two noteworthy options are the Glenwood Canyon Brewpub, conveniently located in the Hotel Denver, and Sweet Coloradough.
Glenwood Canyon Brewpub
If you're a beer connoisseur, you will love the Glenwood Canyon Brewpub. They have a broad selection of beers on tap year-round. According to their beer menu, many of the brews on their year-round menu have been around since they opened in 1996.
Their year-round on-tap menu includes Hanging Lake Honey Ale, Grizzly Creek Raspberry Wheat, the "generously dry-hopped" Vapor Cave India Pale Ale and St. James Irish Red Ale. The newly added experimental brew called the αβ Project Beer is a must-try.
You may want to drop by this restaurant several times since there is such a broad selection. In addition to the year-round brews, you can choose your favorite seasonal selection, including Barrel Rolls Oktoberfest, Spelt Pale Ale, Diamond Jack Pilsner, Green Ghost Juicy IPA and many others depending on the season.
You may want to save the best for last and have this next beer with your dessert. Currently, on Barrel #21, the Barrel Project is another series of brews. This series has been aged for 12 to 18 months in spirit barrels and pair well with chocolate.
Sweet Coloradough
You may not think of a doughnut shop as a place to grab a beer, but that is precisely what you can do if you visit Sweet Coloradough! The charming restaurant sells doughnuts, sandwiches, coffee, craft beer, wine and a variety of other beverages.
Coloradans love to support local establishments. All but one of Sweet Coloradough's craft brews are brought in from Colorado-based breweries. Their beer selection is currently from Epic Brewing, Bonfire Brewing, Telluride Brewing Company, Palisade Brewing Company, Grimm Brothers Brewhouse, Odyssey Beerkwerks, Dry Dock Brewing Co. and Trinity Brewing Company.
Their list of wines from Colorado includes Colterris Wine, Plum Creek Wine and Two Rivers Wine.
If you are looking for something a little stronger, Sweet Coloradough also serves spirits made in Colorado distilleries such as Woody Creek Distillers, Breckenridge Distillery, Caprock Spirits, Montanya Distillers, Suerte Tequila, Dancing Pines and Leopold Bros.
Where to Stay in Glenwood Springs:
When planning a trip to Glenwood Springs, there are so many fun things to do that you may want stay a couple of days. Whether it is for a quick couple's getaway or a trip for the whole family, including Fido, there is a place to suit your needs.
You can take a step back in time at the Hotel Denver. It was established in 1915. When you walk into the hotel's lobby and look up into the expanse of space, you will notice what appears to be colorful apartment windows. As you explore further, you will find the antique rosewood piano made in 1885 and acquired by Hotel Denver in 1977.
The hotel has an excellent location in the heart of town. It's just a quick walk to a wide array of restaurants and shops. The rooms are spacious and very comfortable. The decor gives a nod to the hotel's historic past, yet offers all the luxury touches you want in a hotel.
The Glenwood Canyon Brewpub and the River Blend Coffee House are right onsite, so you can grab breakfast in the morning or an evening meal.
If you require a new do or want to get your nails done, the 7th Street Salon is conveniently located within the hotel. Men and women can find apparel in the Mona Lisa Boutique and Fourth Dimension. The beds are covered in patchwork quilts and antique furniture that makes it feel cozy.
Whether you are traveling light or packing for the whole family, in today's changing world it's nice to have luggage and personal bags that can do it all. eBags has a nice range of travel accessories like the Travel Totes for just the essentials or the Expandable Spinners for a longer vacation. Check out the eBags selection here and look out for daily deals.
If you don't feel like driving to Glenwood Springs, the Hotel Denver is located right across the street from the train, so all you have to do is hop on and ride back to Denver.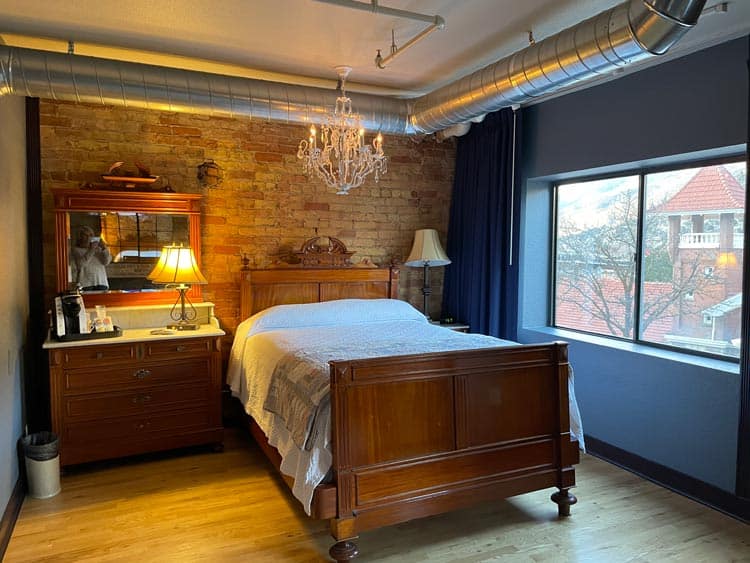 The Glenwood Hot Springs Resort:
The Glenwood Hot Springs Resort has been open since 1888. Here, you can get a room in the lodge and visit the world's largest hot springs pool.
If you're looking to take in some skiing at the Sunlight Mountain Resort, the Glenwood Hot Springs Resort has a package that includes lodging, breakfast, hot springs pool access, an adult lift ticket and a free lift ticket for a child.
Hotel Colorado:
Open since 1893, Hotel Colorado is located in the heart of Glenwood Springs, downtown. The hotel has had guests like Teddy Roosevelt, William Taft and Molly Brown.
Canyon Bikes, located at 152 W. 6th Street, can help you rent a bike for a couple of hours or the whole day. During the spring, summer and fall, Hotel Colorado can assist in booking whitewater rafting adventures through Blue Sky Adventures.
This dog-friendly hotel has a variety of rooms to choose from, including one that was decorated with one of its most well-known guests in mind. The Molly Brown suite is a room with one bedroom, two balconies, a jacuzzi, a living room and other amenities. You can even stay in a room where you can walk up a spiral staircase to visit the bell tower of Hotel Colorado. The view is breathtaking from the two private balconies in the Bell Tower Suite.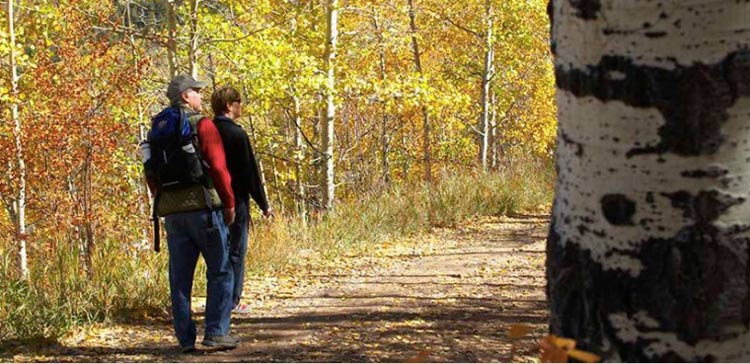 If You Go:
Since Glenwood Springs is situated in the White River National Forest, all you have to do is walk outside to find hiking trails, biking trails, horseback riding, kayaking, paragliding and white-water rafting. You'll find beautiful scenery and endless opportunities for outdoor adventure.
Check out: Visit Glenwood
Inspire your next adventure with our articles below:
Author's Bio: Heather A. Davis is a Colorado native. Her passions include her daughter, her pets, writing and traveling.