Dating back to 1909, the Hotel Boulderado is an elegant Victorian property in the heart of downtown Boulder, Colorado. It's on the National Register of Historic Places, and was the perfect place for a weekend family getaway. I visited recently with my husband, TJ, and our 2-year-old son Everett.
A Stay at the Hotel Boulderado
The landmark hotel is a member of Historic Hotels of America, and the interior remains true to the original styling when it was built. Hotel Boulderado was actually one of the first hotels in Boulder and you can see the first guest register on display in the main lobby. The hotel's name is equally storied and comes from an amalgamation of "Boulder" and "Colorado." The Hotel Boulderado is also reported to be haunted, but that is a tale for another day.
Despite the turn of the century core ambiance, the Hotel Boulderado doesn't feel stuffy and has a lot of one of a kind touches as well. For instance, the 5-story boutique hotel still operates its original elevator, which is the only of its kind in the U.S. still in working condition. An attendant operates the elevator, which impressed our son.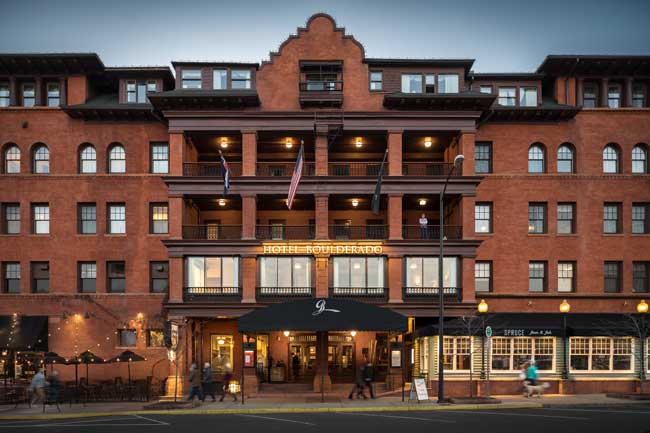 Another hotel highlight is the glacial water fountain in the hotels lobby. Drinking fountains like this one used to be found all over Boulder. In the early 20th century, the city of Boulder purchased a watershed of dammed-up lakes fed by the Arapahoe Glacier. A $200,000 pipeline was installed to bring the "99.996% pure" water into town. The Boulderado's drinking fountain is the only one left today.
Rooms at The Hotel Boulderado
After wandering around the public spaces we headed up to our Historic King Suite. We loved the traditional Victorian antique decor and even more loved the extra space the suite gave us when traveling with a toddler. The views of Boulder's famous Flatirons are also quite nice and come in many of the rooms and suites.
Restaurants at Hotel Boulderado
Although Boulder has no shortage of good dining around the city, the three restaurants at the Hotel Boulderado also really stand out and we enjoyed being able to dine onsite.
The signature restaurant is Spruce Farm & Fish, which serves a lot locally sourced cuisine from ranches and farms in Colorado. We began with the tuna tartare and then I moved on to the yellowfin tuna (seared yellowfin, hazel dell mushrooms, grape tomatoes, baby bok choy, miso broth and shitake mushroom slaw), which was delicious. Not surprisingly, TJ went with the Steak and Fries, which was French-style with truffle fries, borderlaise and an arugula salad paired with a 7oz sirloin). Everett tried the fish and chips from the kids menu. It was his first time eating it and he loved every single bite.
License No. 1
After dinner we checked out License No. 1, which is named for the liquor license it acquired before almost any other business in Boulder after a city-wide prohibition ended in 1967. Today it attracts a mix of guests and locals for its craft cocktails, film noir vibe and events from live music to open mic nights.
Also onsite is the Corner Bar, which serves small plates, burgers and sandwiches plus craft beer and cocktails and the Boxcar Coffee Bar to get your morning caffeine fix.
What to Do Around Boulder
There is so much to see and do in Boulder that you will not get bored in 48 hours. First we checked out the iconic Pearl Street Mall, where you will find street performers as well as shops, restaurants and bars. Just two blocks from the Hotel Boulderado it is a good spot to start your morning.
We grabbed breakfast at Wood Grain Bagels — egg and cheese breakfast sandwiches for TJ and me and a bagel and cream cheese for Everett, which provided us with the fuel we needed for our hike. The bagels here are Montreal-style and are hand pulled and wood fired.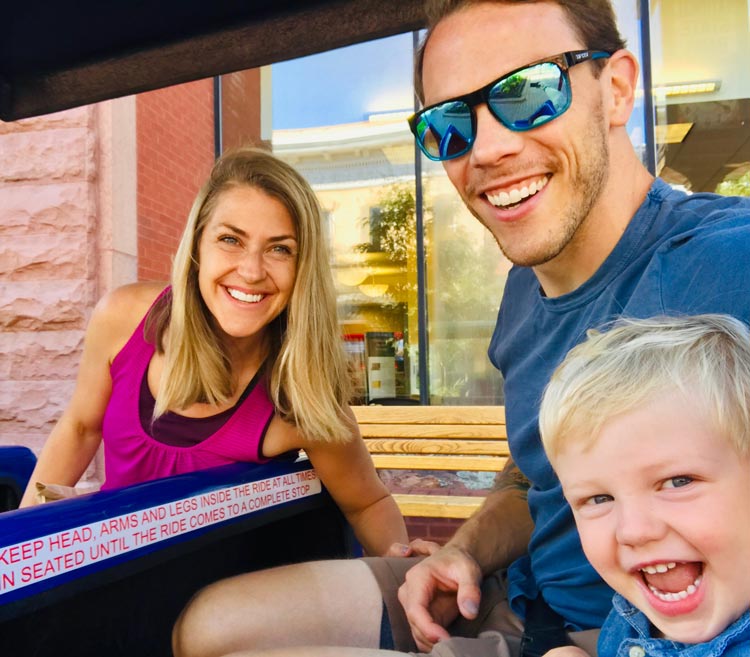 Hiking in Boulder
Next we headed out to Betasso Preserve off of Highway 119. We parked at the trailhead and decided to walk the 3.3 mile Canyon Loop trail in a counter-clockwise direction. The trails here are single track and can also be ridden on a mountain bike. Our hike was spectacular, offering stunning views of Boulder below and the Eastern Plains beyond. We also passed towering pines, wild flowers and geological formations.
Everett's reward for the hike was a trip aboard Tebo the Train, which chugs along the Pearl Street Mall in summer and during the winter holiday season. The 100% electric train is a one-of-a-kind free experience for kids 10 and under along with accompanying adults).
Onscreen host and author: Carri Wilbanks is a freelance travel writer for USA Today, Gannett Newspapers, AAA Encompass and several regional magazines with a focus on adventure and active travel. Wilbanks is also a TV host & video producer for USA Today and Xfinity Comcast. When she's not living out of a suitcase, Carri resides in colorful Colorado where she publishes a multi-media magazine at catchcarri.com.