Croatia is the perfect place for yacht lovers, sailing enthusiasts and anyone who wants to enjoy the beautiful Croatian coast and islands with a boat.
How to Charter a Yacht in Croatia
Crewed yacht charter is the most personalized form of yacht charter and one of the most comfortable and pleasant types of holiday in the Adriatic. Yacht charter vacations can be fully organized according to your wishes. However, due to the increasing popularity of this type of holiday, the choice of yachts can be overwhelming. Here are several tips to help you find the perfect charter boat in Croatia.
What Type of Yacht Do You Want to Charter? 
The first step that will bring you closer to your dream holiday is to define the number of people that will accompany you on the cruise adventurer. Based on the size of your group you will see which yachts are best suited for you. Besides just a number of people, the structure of the group is equally important.
If you are traveling with young kids, some boats will be better suited, or if you are a group of active seniors, some other boats will be a better choice. And after you have an idea of what you would want, you can look into various yachts, check for different budget spans, compare and see which one could be excellent for you.
What is Your Budget?
So the thing to consider in advance is the maximum budget you are willing to spend. Once you determine your budget at least approximately it will be easier to choose the yacht and destination.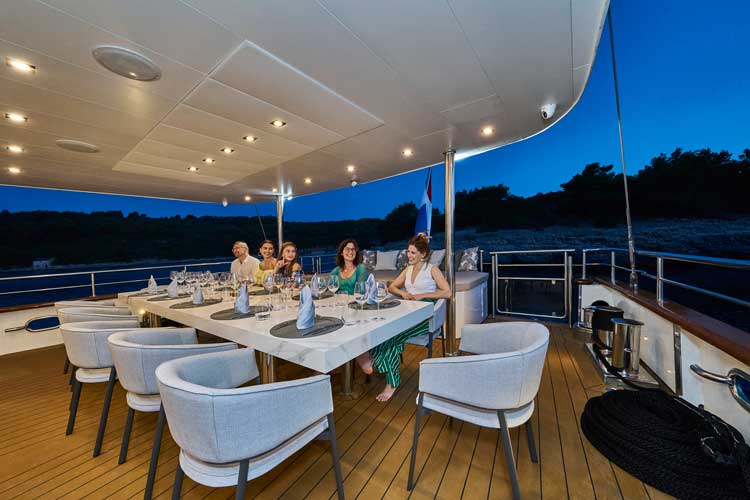 You can choose yachts from standard, luxury, and deluxe category and see which one you like the most. Some people might prefer more traditional wooden charming gulets, while others will be interested in luxury motor sailors with various luxury amenities.
The choice is absolutely personal and based on your wishes. The more luxurious vessels have more space overall, on deck and in the interior and comes with a higher number of amenities and watersports. Make smart decisions and don't go for the first cheapest gulet that is offered, first consider your needs and expectations.
However, no matter what you end up choosing yachts do come with the complete crew that will accompany you during the whole cruise with a full service. You do not have any license since experienced captain on board will lead your cruise so you can just kick back and relax.
When it comes to food you choose between half-board or all-inclusive service, depending on if you want to eat on board or in restaurants inland. Like in every other aspect according to your food preferences or any allergies you might have.
Choose the Best Time to Charter a Yacht in Croatia
Off-season in May and October is great for those who love to be active, explore towns, go hiking, biking and enjoy other land activities. Also if you are looking for privacy, and what to avoid a big mass of people then this is the best time for cruising.
Usually, during these months prices of boats are generally lower so if you are not so interested in swimming and hot summer temperatures this is a great time to consider chartering a yacht. However, if you prefer hot summer holidays with lots of swimming and relaxing on the beach choose the month of July or August.
High season in July and August are the best for sun and sea worshipers, who don't mind the heat of the midday sun. It is best to choose boats that have lots of water sports and possibilities for outdoor activities. During this time the chance of bad weather is also very low so you will surely have a nice summer holiday. The only downside is some towns can get crowded with other tourists so you should keep this in mind, and charter prices are highest during this period.
Midseason of June and September is probably the most ideal time for renting a yacht for most people.
What makes this time of the year so good is the fact that it combines everything for everyone. You can get a perfect mix of sun and slightly cooler nights. Also, the prices are lower during this period so you can still get good deals and very nice gulets.
Choose the Best Itinerary
When your cruise is nothing less important than everything stated before. Gulet experts, we will gladly give you advice and suggestions.
But at first, sharing all your preferences, places you wish to see, and experiences you want to have is extremely important to prepare a good itinerary accordingly.
Gulet experts will help you plan the best possible route plan according to your requests. They will work hard until they find something that fits your holiday schedule, wishes, and budget. Once they gather all preferences they will come back to you with suggestions on what might be ideal for you.