If you've ever seen the TV show Below Deck, you've had an eye into the world of luxury superyachts. They are sleek and glamorous, with all the creature comforts you could want. Best of all, they sail in some of the world's most beautiful locations.
But I can tell you firsthand, it's even better to experience a superyacht in person. I got a chance to do just that on a recent chartered yacht cruise in Croatia.
Several friends and I sailed on the Ohana superyacht, a 160-foot-long beauty that can hold 30 guests. It was staffed by a talented small crew that took care of everything. All we had to do was sit back and enjoy the comfortable ship, big cabins, excellent cuisine and yummy drinks.
The charter price for Ohana by Goolets is 80,000 €/week. If you divide that between a group of 30 of your family and friends, that's about the same cost per person as a luxury commercial cruise.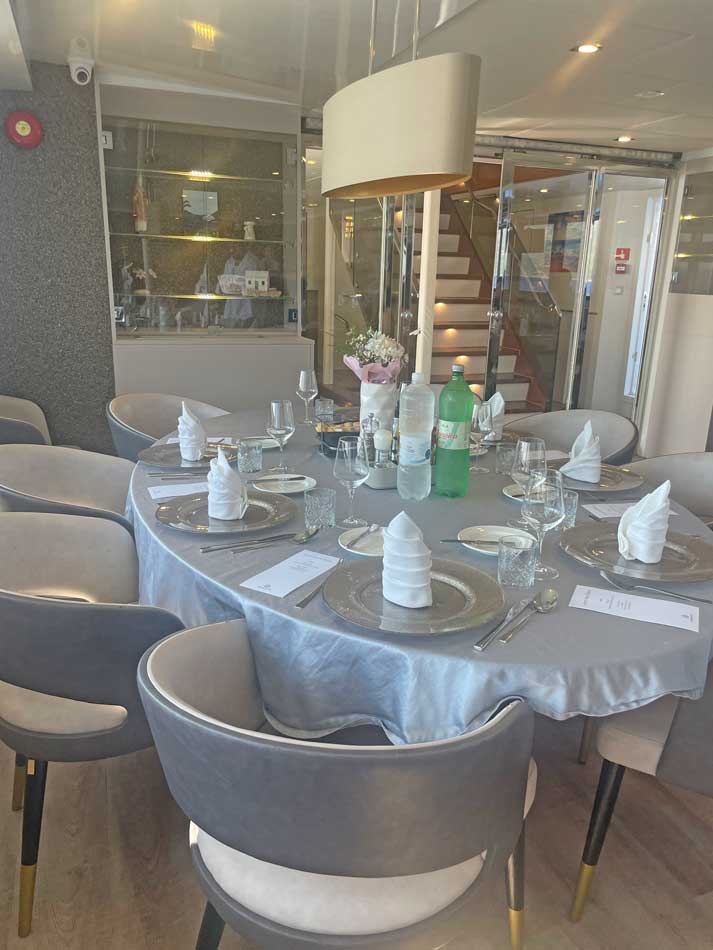 Onboard Ohana Yacht Charter in Croatia
While exploring Croatia was our main goal, being onboard Ohana was half the fun. The ship is equipped for fun on the water and has water sports toys like a jet ski, paddleboards, kayaks, snorkeling gear and more.
We spent a lot of time in the clear seas and bays that line the Dalmatian Coast. Even in October, the water was warm enough to get in.
My cabin was large and very comfortable, but I didn't spend much time there. I wanted to spend my time on deck, watching the scenic landscape as we sailed.

The cuisine onboard was a highlight. I was impressed by the excellent dishes that Ohana's chefs turned out, all served by the friendly staff. Croatia's Dalmatian Coast is famous for its fresh seafood, traditional dishes, olive oil and local wines – and we got to enjoy all that onboard.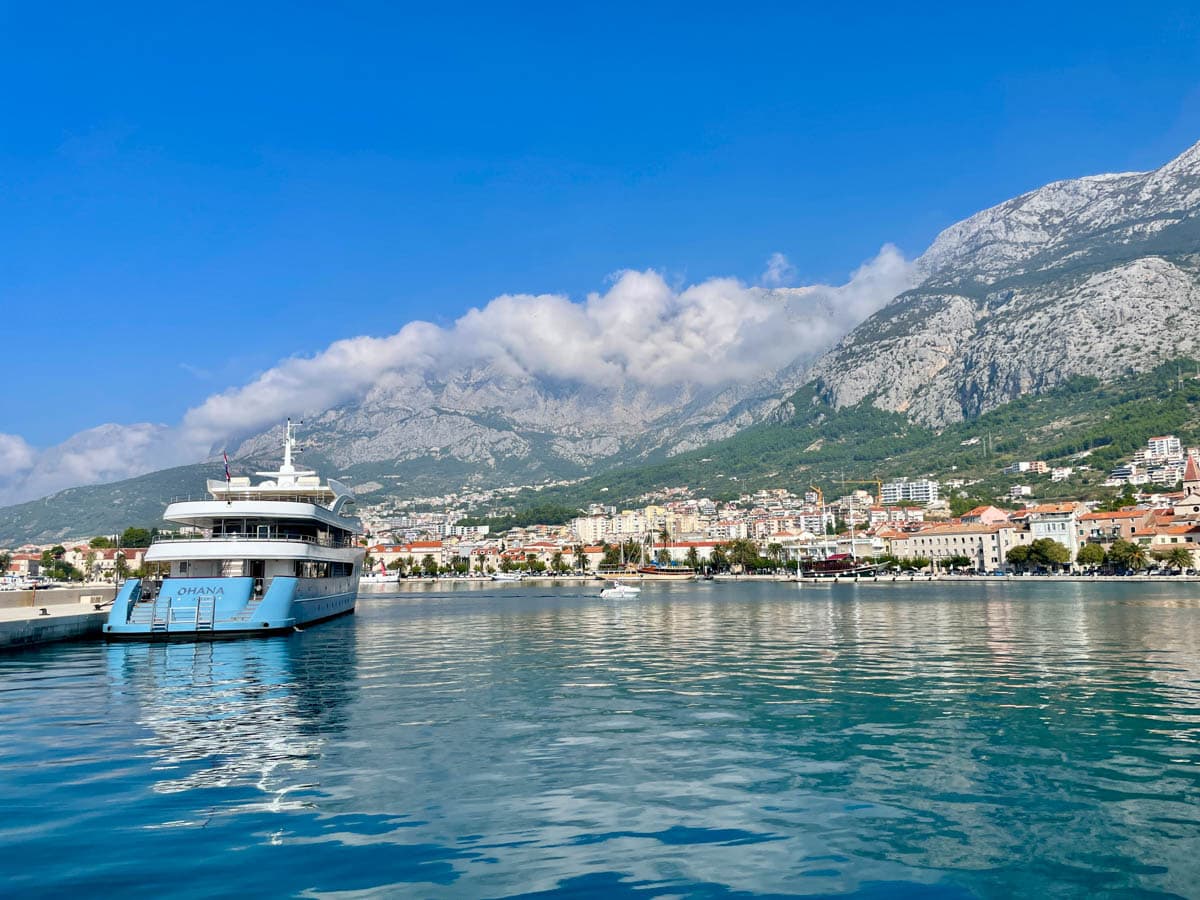 Ohana in 2023
While I thought Ohana was already an amazing yacht, it is currently undergoing an extensive upgrade that will make it even more luxurious.
Its original 18 cabins will be reduced to 14. Two cabins will have pullout sofas for little ones, embracing the family-friendly focus on the ship. There will be a children's playroom, including video games and a climbing wall.
A new open-air outdoor gym, an outdoor fireplace with a seating area and a new cocktail bar are other improvements to be added. All will be ready for the 2023 season.
Top Places to Visit on a Cruise in Croatia
Croatia is home to over 1,200 islands, each with its own unique charm and attractions. It's a destination best explored from the water. Some of the top islands to visit in Croatia include: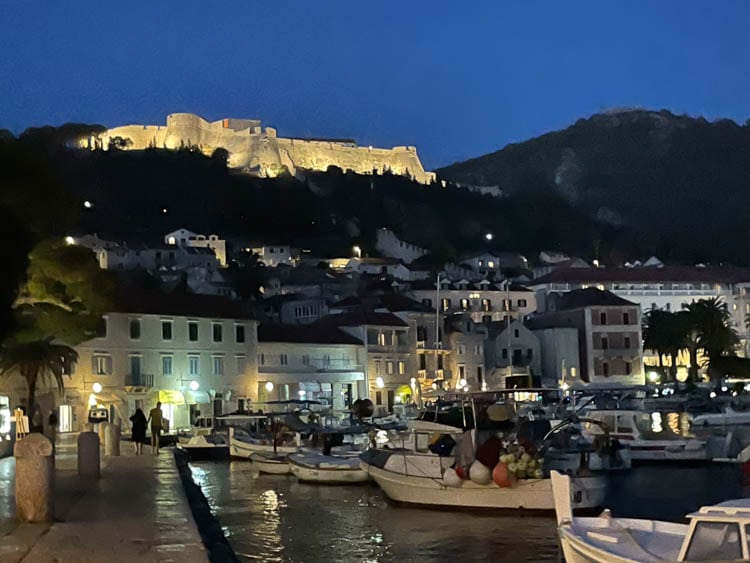 Hvar
Known for its picturesque old town, beautiful beaches and lively nightlife, Hvar is a popular destination for tourists. The island is home to the oldest public theater in Europe, the Hvar Fortress and the beautiful Franciscan Monastery.
Brač
This island is known for its beautiful beaches, crystal clear waters, and the famous Zlatni Rat beach. Brač is also home to the Vidova Gora, the highest peak on the Adriatic islands, which offers panoramic views of the island and the surrounding area.
Korčula
A highlight of this island is its medieval Old Town, which is surrounded by walls and towers. Korčula is also home to the birthplace of Marco Polo and the island is known for its rich cultural and historical heritage.
Dubrovnik
Dubrovnik is not an island, but it's a top coastal destination in Croatia. You might have seen it in the TV show Games of Thrones. Dubrovnik is known for its well-preserved Old Town, which is a UNESCO World Heritage Site. Tips: Take the Game of Thrones tour and then spend an afternoon walking the city walls.
Read More: Top 10 Things to Do in Dubrovnik, Croatia
Vis
The island of Vis is known for its beautiful beaches, charming villages and crystal-clear waters. Vis was closed to tourists for a long time during the war. As a result, the island has managed to preserve its natural and cultural heritage, making it a unique destination to visit.
What Are the Benefits of a Crewed Charter Yacht in Croatia?
If you're looking to charter a crewed yacht in Croatia, here are a few things to consider:
Flexibility: One of the main advantages of a chartered yacht trip in Croatia is the flexibility it offers. You can choose the duration of your trip, the route you want to take and the activities you want to do. This allows you to tailor your trip to your own interests and preferences.
Privacy: Chartered yachts offer a level of privacy and exclusivity that is hard to find on larger cruise ships or in hotels. You can enjoy your own private space, without the crowds and the noise.
Scenery: Croatia's coastline is home to over 1,200 islands. You can see this beautiful coastline and find the Croatian islands' hidden gems with a chartered yacht trip.
Activities: You'll enjoy a wide range of activities, including swimming, snorkeling, diving, fishing, and water sports. You can also explore the islands on foot or by bike, or simply relax on the deck of your yacht and soak up the sun.
Food and Wine: Croatia is known for its delicious seafood and traditional dishes. On a chartered yacht trip, you can try some of the best food and wine in the area while taking in the beautiful views of the Croatian coast.
Comfort and Convenience: The yachts are modern and well-equipped. They have large cabins, comfortable places to hang out, and everything else you need for a pleasant sailing trip. With a dedicated skipper and crew to take care of navigation and safety, you can relax and enjoy the trip without any worries.
Booking a Crewed Yacht with Goolets
There are more than 700 luxury crewed charter yachts to choose from in Croatia, so it's important to go with a company you trust. I cruised with Goolets, a well-respected company in the yachting industry.
Goolets has been operating in Croatia for over a decade. They know the best routes, the best islands to visit and the best local experiences to offer.
Their fleet of modern and well-maintained yachts are equipped with all the amenities you need for a comfortable sailing experience. They offer a variety of options to suit different budgets and preferences.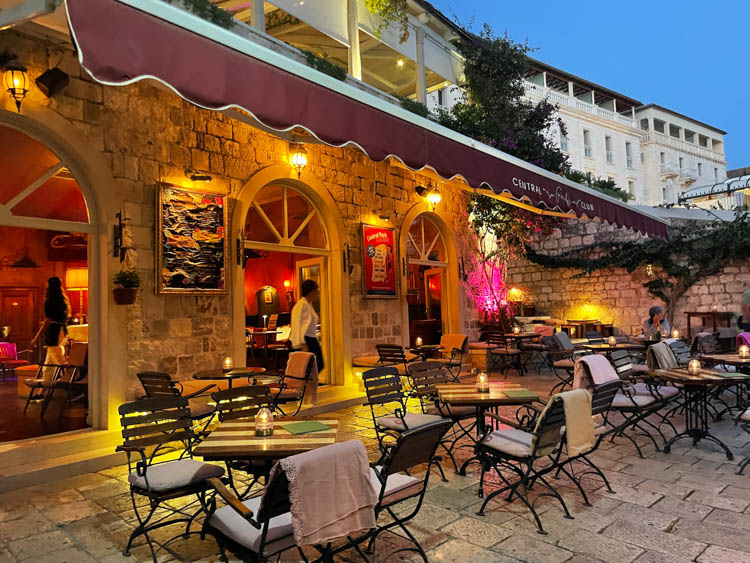 The best part of booking a crewed luxury yacht with Goolets is that they will personalize a cruise for you and your group that tailors to your own interests and preferences. They can help you plan your itinerary, recommend activities, and even make restaurant reservations.
Croatia has quickly become one of my favorite destinations, especially along the Dalmatian Coast. Exploring it on a crewed charter yacht is a bucket-list experience.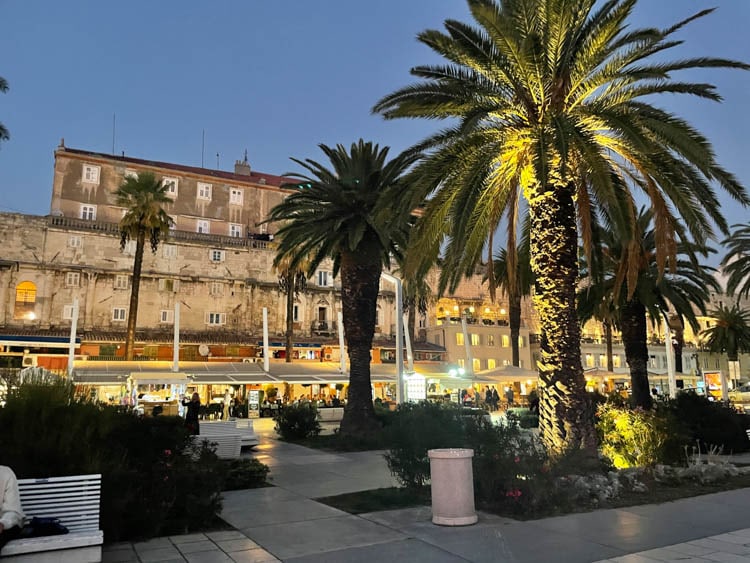 If You Go
To reach Croatia's Dalmatian Coast and the Ohana, I flew into Split. Split, Croatia is a lovely town with a pleasant Mediterranean climate and ancient sites such as Diocletian's Palace. I recommend spending a few days in Split too.
For more information on Goolets, see Goolets.net
Read More: Exploring the Croatian Islands by Charter Yacht
Planning a last-minute trip to Croatia?
Top Experiences and Tours in Croatia:
Where to stay in Croatia:
Find accommodation with Booking.com
Get a rail pass through Rail Europe
Find Bus, Train, and Flight tickets with one search through Omio