When you're deciding on an island in Croatia to visit, you can almost close your eyes and choose without looking—that's how much you can't go wrong. You'll always get preserved nature, excellent gastronomy, and a crystal-clear sea. Depending on whether you want to add wild beaches, diving, luxury parties, or beautiful Instagram scenes, find out which of these eight islands would suit you best. If you can't decide, Croatia is a small country, so why visit just one?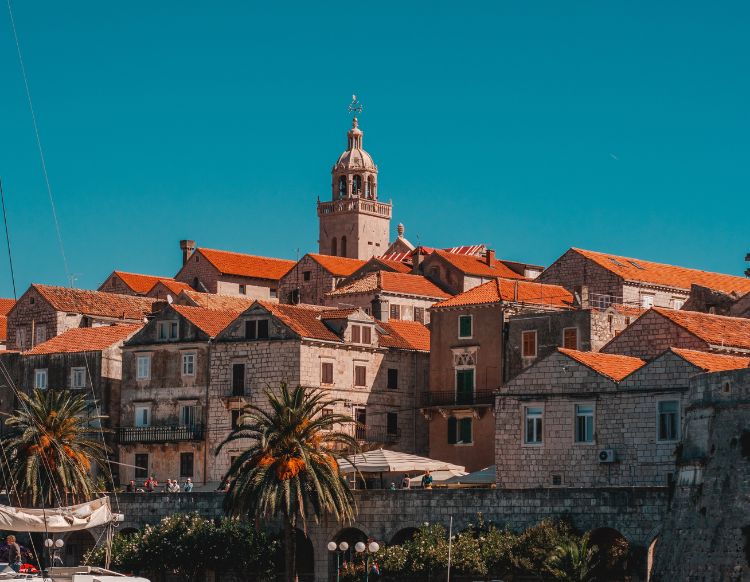 1. Korčula
Forget about the Seychelles, the Maldives, and Hawaii. It's time for Korčula! That's how Big 7 Travel ranked islands, putting Korčula in fifth place among the most beautiful islands in the world. Hörzu magazine disagrees with that, claiming that Korčula is not the fifth, but the first! Pretty impressive, right?
This "Little Dubrovnik" has amazing architecture: its stone streets are built in the shape of a herringbone due to protection and more comfortable airflow. It abounds in picturesque scenes, vibrant colors, medieval buildings, and wild beaches, so you can discover one for yourself, like Marco Polo, who was supposedly born here. When you get tired of swimming, enjoy the colorful Račišće, sneak into the ancient secrets of Vela Spila, or have fun watching traditional knight games.
Best Tips & Tools to Plan Your Trip
Also, if you're coming on June 30, bring something sparkly! On that day, here and nowhere else in the world, the locals celebrate half of the New Year. If you miss it, don't worry; there are many more ways to have fun. For example, rent a bike to ride through the wine roads and taste spectacular local wines. If you just thought that bikes and wine are not a good match, congratulations for being responsible. But don't worry, you will be returned by car.
Book accommodations on the island of Korčula here
2. Hvar
If you're looking for an island that never sleeps, you've just found it! But Hvar is not only hot and fun; it is also, according to Condé Nast Traveler, the most beautiful island in Europe. It mesmerized tourists all over the world, as well as the elite, who love to anchor their luxury yachts in Croatian Monte Carlo.
Hvar has lush greenery, hot nightlife, Venetian architecture, and a crystal-clear sea. When you add phenomenal gastronomy and good company, you have everything. Wherever you go, the smell of lavender will follow you, which is not surprising because Hvar used to be the eighth-largest producer of lavender in the world. This plant reduces stress, but there is one thing you won't have to stress about, and that's the rain. Namely, this is the island with the highest number of sunny hours in Croatia! As many as 936 monuments "sunbathe" there, and six of them are protected by UNESCO. But if you are going to visit only one, I recommend Tvrdalj, the summer house of the poet Petar Hektorović, who spent his whole life building this microcosm where many living creatures found a home. The result is, according to many, the most beautiful part of Hvar.
Of course, good news spreads quickly, so Hvar made it to the Daily Mail, which named it the fourth most popular island in the world. Therefore, it is not surprising that Jon Bon Jovi, Prince Albert II of Monaco, Neil Patrick Harris, Tommy Hilfiger, the Stallone family, and others have enjoyed its beauty so far. Maybe it's your turn now?
View resorts and hotels on the island of Hvar here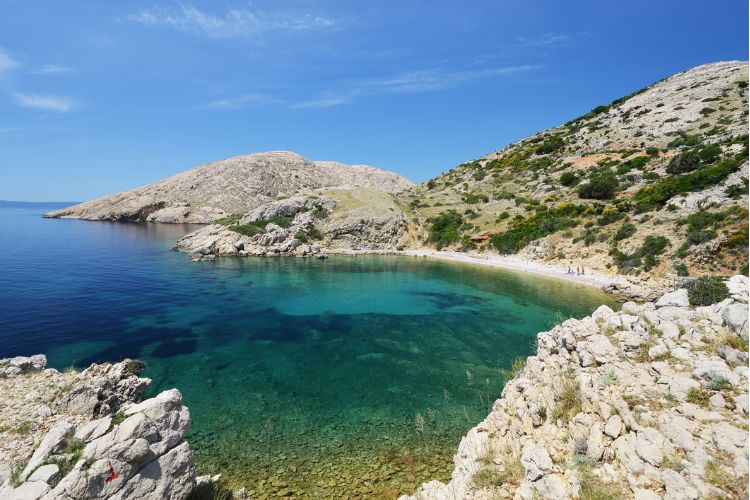 3. Proizd
Whichever Croatian island you choose, set aside one day for a trip to the Proizd. If you don't believe me, believe The New York Times, which named it the twelfth-best trip ever. The only way to get there is by boat. You will start from Vela Luka, and half an hour later you will sail into the turquoise paradise.
If something seems unusual upon your arrival, it's probably a silence you haven't heard in a long time. Namely, there are no hotels, cars, or facilities; the island is uninhabited, and there is only one bar. Everything else is untouched, so it's no wonder that Proizd is known as an island with healing energy. All you need to do is choose one of the four beaches. But it's good to know in advance that one of them is a nudist. Just saying…
4. Brač
If you decided to visit Brač, you probably did it because of Zlatni Rat, a beautiful 530-meter-long beach. This scene of white sand, green forest, and crystal-clear sea won hearts and Instagram feeds around the world. It is interesting that the top of the beach, depending on the sea currents and the wind, constantly changes shape. Fortunately, the beach only gets longer.
But Brač, apart from this Instagram hit, has a lot more to offer. Visit the cove of a thousand boats in Milna; enjoy a stunning view of Croatia and Italy from the top of Vidova Gora; buy some fresh catch in the fishing village of Sumartin; sunbathe on the sandy beach in Lovrečina Cove; and enjoy the sounds of Mozart's A Little Night Music while watching a traditional regatta. Also, here is a fun fact: the beauty of Brač has spread all the way to Texas! Namely, there is Adriatic Village, a resort completely inspired by Brač's place Supetar… Who knows?!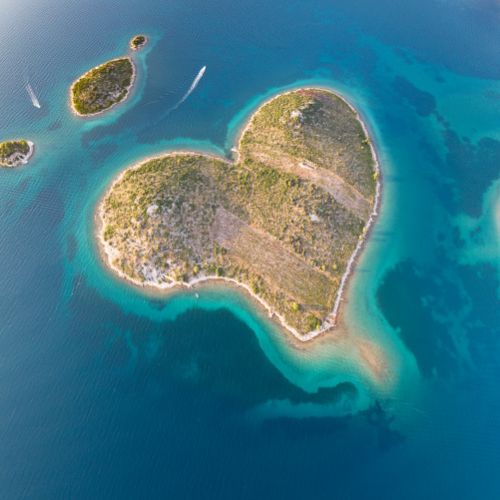 5. Galešnjak
If Paris is the City of Love, Galešnjak is certainly the Island of Love. It is world-known for its natural heart shape. This Croatian island is uninhabited, so it is the perfect location to create some new romantic memories. Or, for example, to celebrate your birthday there, as Beyonce did!
You can visit it by boat, or you can spend the night there, but in that case, you will have to camp. Also, if you choose to do it, don't forget to ask for permission since the island is privately owned. Don't worry; I am quite sure that the owners will not say no. After all, who would dare say
no to love? I certainly wouldn't. Oh, yes! Forbes included Galešnjak on the list of the most romantic trips you can choose for Valentine's Day.
6. Mljet
If you're looking for a beautiful island that hasn't been hyped yet, and you've already given up hope that it even exists these days, consider Mljet. About 70 percent of this island is untouched greenery, and it's mostly because of the National Park Mljet, which also contains two lakes. I bet you and your camera will be amazed by the fairytale island of St. Mary.
Also, visit the remains of a Roman palace, enjoy the stories about pirates whispered by the Kaštio Fortress, and stop by Odysseus' Cave. According to legend, this Greek hero came to Mljet (Ogygia) during a shipwreck, and the beauty of the island helped him endure seven years without home and Penelope. You will realize why, especially when you see the incredible spectrum of the blue shades in this cave. Also, if you're a fan of diving, you'll enjoy the crystal-clear depths that enchanted Jacques Cousteau. This famous oceanographer declared Mljet one of the most beautiful diving spots ever. Well, it's no wonder that Odysseus stayed for seven years.
7. Pag
Maybe you can't set foot on the moon right now, but you can set foot on Pag. Don't worry, you will understand it better when you look at the photos. Namely, the surfaces of this mystical island remind many of the moon.
If you're going to take something with you back home as a souvenir, I suggest what Pag is famous for: traditional Pag lace that adorned the court of Maria Theresa; salt that represents the combination of a perfect climate and clean sea; and cheese that seduced many tourists with its specific taste and smell. Although the Croatian island is proud of its rich cultural and historical heritage, it's most famous for its beach called Zrće. This Croatian Ibiza is home to wild parties for thousands of tourists around the world.
Empty and desolate to some, special and magical to others, Pag is definitely not for everyone. You decide which group you belong to.
Book your accommodation on the island of Pag here
8. Vis
If you lack romance in your life, go to Vis. Harper's Bazaar, which declared this island one of the three most romantic destinations in the world, would surely agree with me! The beauty of Vis also amazed Hollywood; it was the backdrop for the film spectacle Mamma Mia 2.
Read More: From Game of Thrones to Mamma Mia: Discover Croatia's Top Film & TV Locations
You probably would never tell, but this romantic island used to be a naval base. You can visit the underground tunnels, the atomic missile command, the amazing Tito's cave, etc. Of course, if you only came for romance, feel free to focus on what Vis is best known for: vibrant colors, stone houses, untouched nature, and a crystal-clear sea.
If during your vacation you want time to pass as slowly as possible, and who wouldn't, learn the most important word on the island: pomalo. That means 'take it easy.' So if you're only going to one city, I suggest colorful Komiža, and if you're only going to one beach, I suggest Stiniva. If your pomalo can handle more, visit the incredible Blue Cave, which delighted Greta Garbo, who repeated only three words: 'Oh my God!'
Although I could recommend at least eight more Croatian islands, I will stop now because Vis reminded me of an important life concept: pomalo.
Read More: