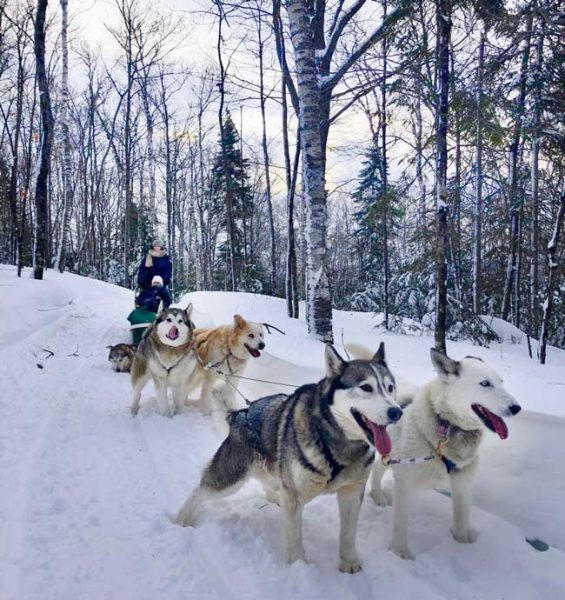 I'm standing at the helm of a dogsled in the middle of a forest in Quebec. The six huskies and malamutes pulling the sled bark with excitement, eager to bound down the snow-covered trail. Dog sleds have been used for transportation in the far north for generations, and here in Quebec, it's one way to enjoy winter.
Dogsledding in Quebec
It's my first time driving a dogsled, and I'm a little nervous. Our skilled musher-guide from Hôtel Sacacomie in Saint-Alexis-des-Monts patiently explains the basic skills needed to drive a dogsled. Then it's time to go.
"Ready?" I ask my friend, Paula, who is tucked away under a warm blanket on the sled. She nods and then we're off! The dogs know the way, but it's still exciting to lean and brake as we were taught. Thick snow covers the trees and the scene is almost magical as we cruise along the trail.
Paula and I take turns driving, and the dogs pull us easily around each bend. By the time we head back to Hôtel Sacacomie, I realize that I've had a smile on my face the whole time.
Hôtel Sacacomie is an excellent base for adventure in Quebec, and local families come here year after year. With a welcoming large pine structure on the shores of Lake Sacacomie, the hotel draws those who want to escape into nature. In summer, guests come to fish, boat, hike and view wildlife. During winter, the hotel offers a different kind of fun, including ice fishing, cross-country skiing, dogsledding and more.
Travel in Mauricie and Lanaudière
Lake Sacacomie is in the Maurice region of Quebec between Montreal and Quebec City. Though it's just an hour or two from the city, Mauricie and the neighboring region of Lanaudière are a world apart. Known for quiet country roads, farms, lakes and forests, this part of Quebec is popular with locals and visitors who want to experience Mother Nature up close – even in the winter.
Winter in Quebec is something special. Each time I visit, I'm surprised at how much time I spend outside. At home, I try to avoid the cold. But here, I've learned that winter isn't something to fear, but something to embrace.
A wise Swede once told me, "There's no such thing as bad weather, only bad clothes." That's what locals here tell me too. All you need are warm boots, snow pants and a good coat, hat and gloves and you're all set for winter fun.
Our dog sledding adventure is just the beginning. Over the week, my friends and I find six other ways to play in the snow in Quebec.
Snowmobiling in Quebec
Mauricie and Lanaudière are snow mobile country. With more than 2,900 miles of trails and superb winter conditions, the area attracts snowmobilers from all over North America. Many snowmobilers travel from hotel to hotel for a week-long adventure
To prepare for our snowmobiling adventure with Pourvoirie du Lac Blanc, a popular lakeside resort that offers snowmobiling, ice fishing and snow shoeing, they outfit us with special coats, bibs, mittens, helmet and boots.
Our patient guide gives us a driving lesson and leads us onto the forest trail. Driving through the snow-covered trees is exhilarating, and a great way to explore the region.
Snow Tubing in Quebec
We're standing at the top of a snow-covered hill. Below us, 27 snow tubing runs spread out like fingers, and we watch as happy riders go shrieking down the mountain in rubber tubes and rafts.
Snow tubing is a big part of winter fun in Quebec, especially at Super Glissades de Saint-Jean-de-Martha. This family-friendly snow tubing destination just 1.5 hours from Montreal has some 30 different runs.
Tubing lifts pull riders and their tubes up the mountain. Safety is a top priority, and the runs are formed to keep everyone in their own lane with safety gates that open for the next rider when the run is clear.
You can ride down on inner tubes or large rafts that hold eight to 12 passengers. My friends and I hop into a raft, and I feel like a kid as we whip down the slope, shrieking with delight.
Winter Hiking in Quebec
Even when there is a lot of snow on the ground, you can still hit the trail in Quebec. One popular hiking location is the Ouareau Forest in Lanaudière (Parc Régional de la Forêt Ouareau). The trail is so well used that the snow is often packed down.
We strap on some crampons (traction devices that are attached to footwear), and we have enough traction to climb as the trail gets steeps. A quiet snow is falling, and all is silent except for the crunch of our footsteps. At the top of the mountain, we are rewarded with a wide view of the valley.
Many families and hikers stay in the cozy cabins at Kabania, an environmentally-friendly cabin resort in the middle of the forest. The simple, but comfortable cabins – which are on stilts – are heated by wood stove. You can cook your meals in the communal kitchen and stay warm in a cozy cabin at night.
Nordic Spas in Quebec
Quebec has a love affair with Nordic Spas – and once you've tried them in the winter, you'll know why. There's something magical about sitting in hot pools of water under a light falling snow. A traditional Nordic spa offers a series of treatments that follow a hot-cold-rest cycle. First, you warm your body in a hot water pool, steam room or sauna.
This is followed by a cold plunge into an icy river or cold-water pool, followed by a period of rest in a warm, serene environment. It may sound crazy to jump into an icy cold pool, but it brings a relaxing tingling sensation when you get out. After following this cycle several times, you feel relaxed and rested.
We spend the day doing just that at Natur'eau Spa & Chalets, a lovely Nordic spa in Mandeville. They have tiny vacation homes and glamping lodges, as well as a bistro, so many visitors stay for a few days. We wish we could stay too.
Cross-Country Skiing in Quebec
Cross-country skiing can be done all over Quebec, but one popular place is Ski Montagne Coupée in Saint-Jean-de-Matha. Ski Montagne Coupée is located on the land of the Cistercian monks at Abbaye Val Notre-Dame. (The monks live exclusively from the work of their own hand, and they have developed many locally-sourced food products which can be purchased at their store onsite.)
With more than 112 km of mechanically worked trails, the area has scenic views of the mountains. Experienced cross-country skiers can hone their skills on the trail's steep drops, and there are gentle valleys for those who are just beginning. Ski Montagne Coupee has a ski school, equipment rental, waxing room, boutique and restaurant onsite.
After time playing in the snow, we head back to our comfortable rooms at nearby Auberge de la Montagne Coupe. The family-run hotel has some 47 rooms and suites, as well as a popular restaurant known for innovative twists on local dishes. With nearby access to cross-country skiing, snowmobiling and tubing, it's the perfect base for our winter adventure.
If You Go to Quebec
Authentic Quebec
Lanaudière Tourism and Mauricie Tourism
Latest posts by Janna Graber
(see all)