Editor's Note: While you may not be able to travel to Quebec just yet, here's some inspiration for a future adventure. We share places, products and activities we recommend. If you make a purchase using a link on our site, we may earn a commission.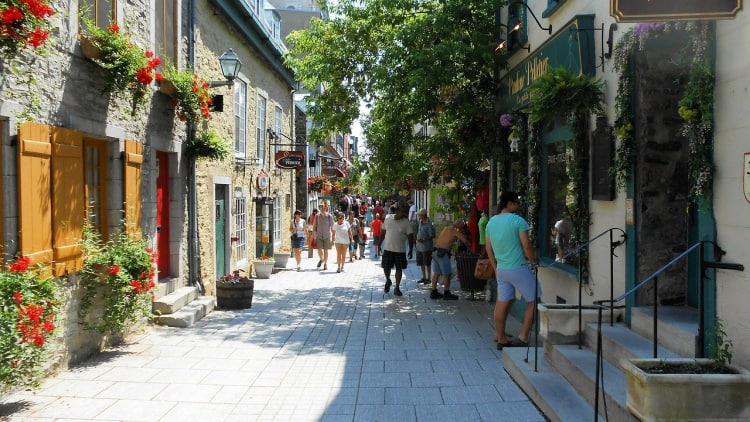 Québec City is unique among North American cities. Founded by French settlers in 1608, the city has clung tenaciously to its cherished roots. With its cobblestone streets, 17th- and 18th-century architecture, and outdoor cafes, Old Québec has a European-style charm that is all of its own.
French is the language in Québec, a province located in east-central Canada, and it is spoken with an accent and vocabulary that is distinctly Québécoise. Even if you don't speak French, though, Québec is a must-see destination.
If you are looking to have some deeper conversations with Quebec locals, then learn some French before you go with Babbel. Enjoy learning a language with fun interactive lessons from the basics to any level you'd like to reach. Check out options here.
This is Canada, after all, and the locals are warm and welcoming to non-French speaking visitors. Many are bilingual, switching easily between French and English, sometimes even in the same sentence.
Travel in Québec often includes a stop in Québec City, the capital of the province. It is one of the most popular destinations in the region and draws visitors from around the world.
Here are our picks for the top 10 things to do in Québec City.
10. Citadel (La Citadelle de Québec)
One of the most popular summer attractions in Québec City is the changing of the guard at La Citadelle de Québec. The Citadel is home to the Royal 22 Regiment, the largest British military fortification in North America.
During the summer, visitors can watch the 35-minute ceremony that is held at 10 am daily on the parade ground. Click here for a schedule of admission fees.
The most popular participant is the regimental mascot, Batisse the goat.
Find a hotel or Airbnb in Québec City here:
9. Montmorency Falls Park
The area's natural beauty can be seen at Montmorency Falls Park. The waterfall is nearly 83 m high, which is 30 m higher than Niagara Falls. To get the best view, take the gondola up the mountain and walk across the suspended bridge.
From there, you can walk down a seamlessly endless collection of stairways. Don't worry though. The walk down doesn't take too long, and you'll be able to feel the spray of the falls at the bottom.
In the winter, the spray freezes at the base of the waterfall, forming a "sugar loaf" that becomes a popular attraction.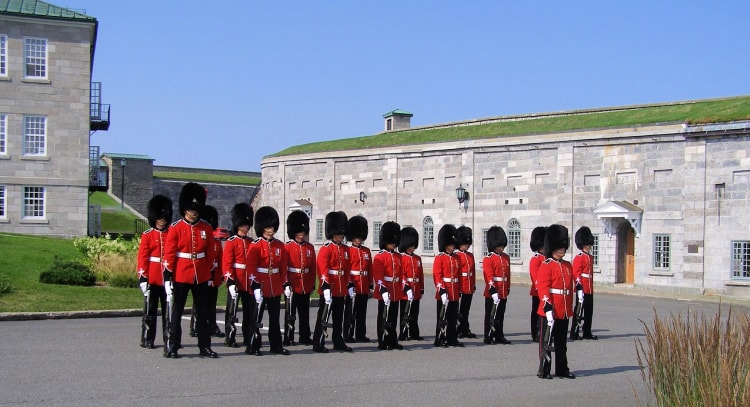 8. Musee de la Civilisation
The Musee de la Civilisation (Museum of Civilization) may have a fairly bland name, but it is certainly not boring. Using the latest media and technology, the museum tells its stories in interactive and fun ways.
In Paris on Stage, 1889-1914, visitors are given headsets that play an entertaining soundtrack automatically as they move from room to room. This provides a "you-are-there" experience that adds to the story.
Video game lovers of all ages grin giddily when they visit Game Story, an interactive exhibit dedicated to the story of video games. The exhibit details major developments in gaming. The best part is that visitors get to play video games from each era. Atari, Sega, Xbox…they're all there to play and learn about.
7. Dining in Québec City
Dining in Québec City is often a trip highlight. Many restaurants and cafes line the cobble streets of Old Québec, so you won't have to go far to eat.
Dining establishments run the gamut from sophisticated upscale restaurants to laid-back affordable dining.
There's an emphasis on locally-sourced dishes, and many locales also offer "prix fixe" menus, which provide an appetizer, main dish, and dessert for one set price.
Local favorites include Savini Resto-Bar, a hip establishment with a fantastic patio location on Grand Allee, the ever-popular (and busy!) Café du Monde and Les Voûtes du Cavour, a restaurant located in an 18th century home at Place Royale.
//z-na.amazon-adsystem.com/widgets/onejs?MarketPlace=US&adInstanceId=cf40de84-1f8e-4d88-981b-312d0ce882a6
6. Québec City Winter Carnival
Each January and February, Québec City puts out the welcome mat and throws a winter party like none other. The Québec Winter Carnival is one of the largest winter carnivals in the world.
This family-friendly festival is filled with activities, including parades, concerts, dog sledding, sleigh rides, races, and more.
It is home to the unique Ice Hotel and Village Vacances Valcartier, a water theme park that becomes a winter playground with 35 slides and skating paths.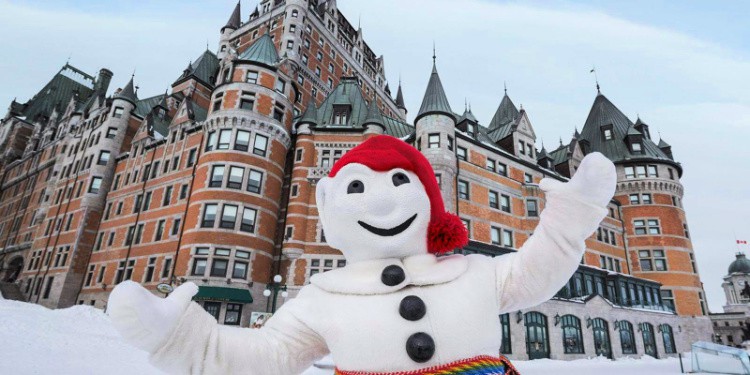 5. Cross the St. Lawrence River by Ferry
Take in the city skyline from the river.
A ferryboat shuttles passengers across the St. Lawrence River between Québec and Levis, leaving from Old Québec every half hour.
This short trip will provide some great photos of Québec City. The best views are at night.
4. Île d'Orléans – The Island Experience
To experience the traditional Québec countryside, drive just a few miles outside of Québec City to Île d'Orléans, an island located in the middle of the St. Lawrence River.
With its fertile soil and ideal climate, the island has been the center of the region's agricultural efforts for hundreds of years. Vineyards, groves, and farms dot the landscape, along with picturesque cottages, farmhouses, and homes.
Travelers can visit local farms and vineyards to sample the island's famous strawberries, wines, and more.
Don't miss Cassis Monna & Filles, a black currant farm and wine cellar run by sisters Catherine and Anne Monna. The Monna family produces jellies, liqueurs, wine, and more from black currents grown in their fields.
For lunch or dinner on the island, stop at Le Moulin de St-Laurent, a family-run restaurant located in an old flour mill dating back to 1720. The Premont Family serves locally-produced and seasonal dishes such as Quebec Stew or Relais Tourtiere that alone are worth the trip.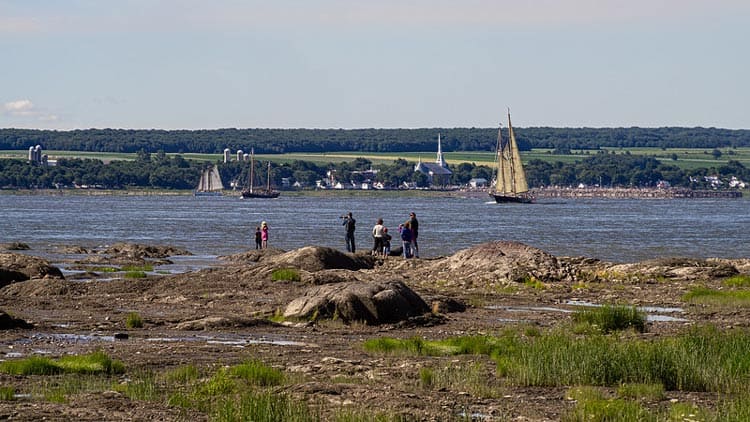 3. Les Chemins Invisibles by Cirque du Soleil
The world-famous Cirque du Soleil has its origins in Québec, and the group puts on shows around the world.
Visitors to Québec City, though, can get a taste of the Cirque du Soleil spirit at a free outdoor show called Les Chemins Invisibles. The show runs nightly from the middle of June to September 1st at Agora, Old Port of Québec. (The show is canceled in extreme weather.)
Standing room entrance is free; reserved seating is $20.
Though shorter than full Cirque du Soleil® productions, Les Chemins Invisibles offers mind-blowing acts and true entertainment that will keep you on the edge of your seat.
2. New France Festival
Each August, Québec City returns to its roots with the entertaining New France Festival.
During the 5-day festival, locals and visitors alike don their best 17th- and 18th-century clothing to take part in numerous parades, activities, and events celebrating the region's colonial French history.
With thousands of festival-goers dressed in period wear or simply watching the events, it makes for a festive atmosphere. Concerts, food booths, artisans, and period re-enactors keep everyone entertained. The result is an unforgettable way to experience Québec City.
The upcoming New France Festival will be held August 5 thru 8, 2021.
If you don't happen to have an 18-century costume in your closet, the festival organizers offer tips to make your own or you can rent your outfit at the festival.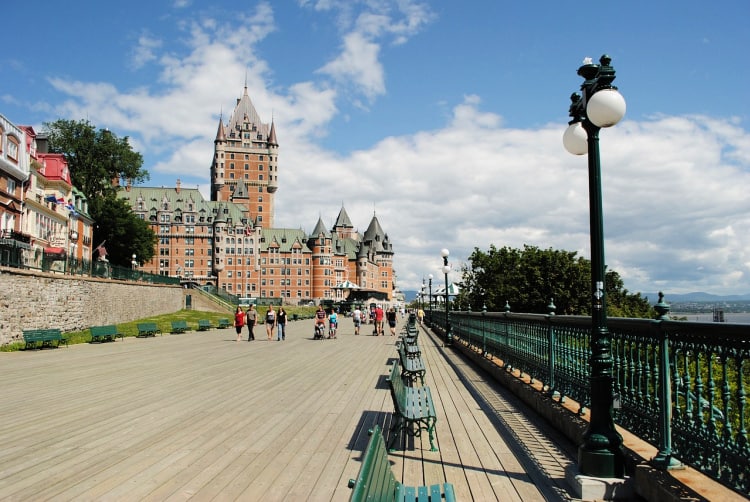 1. Old Québec City
No matter what time of year you go, chances are, you'll be drawn to Old Québec.
This historical district is the heart of the city. A UNESCO World Heritage Treasure, Old Québec retains the feel of times gone by. Well-preserved 17th and 18th-century buildings line the cobblestone streets, providing an authentic feel of yesteryear. Many come to shop among the hundreds of shops and galleries in Old Québec, while others simply people watch.
Street entertainers, singers, and artists, particularly at Old Québec's own open-air art gallery, Rue du Trésor, make the stroll through town entertaining.
One of the most popular walks is along the Dufferin Terrace overlooking the St. Lawrence River alongside the impressive Château Frontenac, which is among the most photographed hotels in the world.
Old Québec is very walkable and just minutes from the St. Lawrence River (if you're coming in by cruise ship).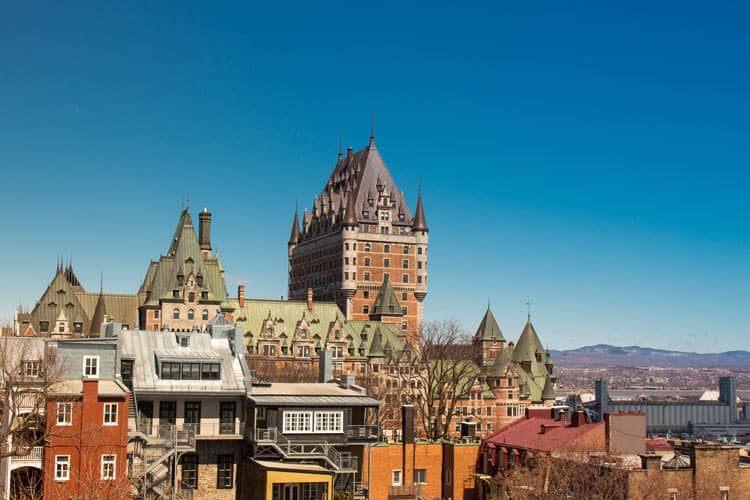 If You Go to Quebec City
For more travel information, festival details and opening details during COVID – Quebec Region Tourism Office
We recommend staying near Old Québec, allowing you to walk to many major attractions.
Hôtel Château Laurier Québec is a family-owned hotel offering comfortable accommodations in an excellent location just a few minutes' walk from all the action in Old Québec. The hotel has an excellent onsite restaurant and a full breakfast buffet.
There are plenty of other unique hotels to stay at in Old Québec. Find options for everything you're looking for in a hotel in the city here.