Every time I've visited Quebec, it has been to spend time outdoors. Quebec has amazing cities – Montreal is vibrant, and Quebec City is among my favorite cities – but most of Quebec is a vast wilderness filled with lakes, forests, and rivers.
In fact, Quebec has more than one million lakes, so it's perfect for a lakeside vacation.
For some, Quebec's northern lands might seem intimidating. Before I visited this Canadian province, I thought so, too. I had visions of piles of snow and blowing wind, and that vast wilderness seemed just a little too far off the map.
But now, of course, I know better.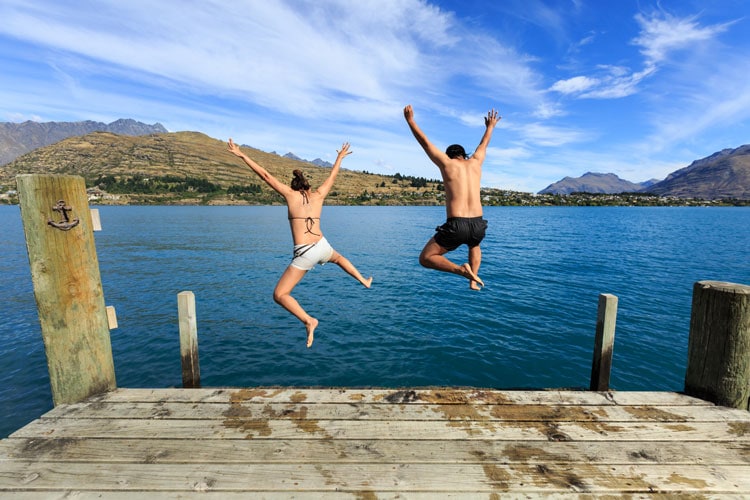 When is the Best Time to Visit Quebec?
Quebec is a year-round destination and I've found that Mother Nature can be fully experienced and enjoyed here in all its forms.
Summers in Quebec are amazing. There are long days of sunshine and warm pleasant weather. You can be outdoors from dawn to dark. In the fall, Quebec's forests burst with autumn color, making for an incredible visual experience.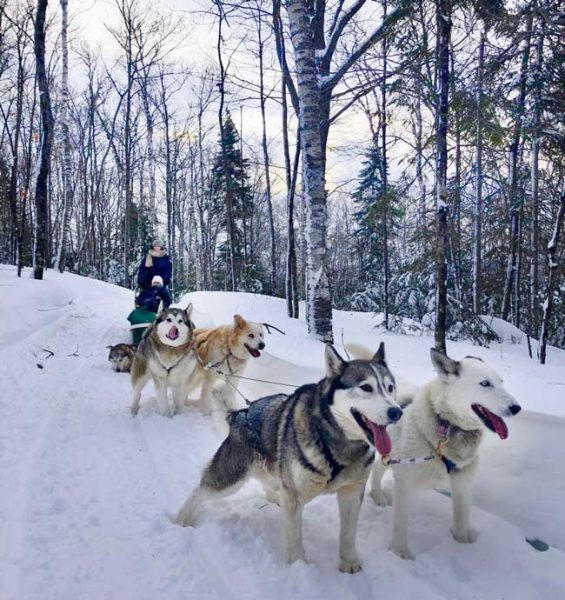 Winter is fun, too. Yes, there are piles of snow, but you just need to dress warmly and head outside. "There's no wrong weather," locals have told me. "There's only wrong clothing."
Read How to Play in the Snow in Quebec if you'd like to hear about my winter experiences.
And that beautiful open wilderness? Well, that is one of the many things that makes Quebec so extraordinary. I got to experience it firsthand on a recent road trip in Quebec.
What is the Explorer's Route?
Four friends and I took an epic road trip on the 975-mile Explorer's Route in Quebec, an aptly named itinerary that was curated by Bonjour Quebec. It's a route for those who want to step off the beaten path to explore the western part of La Belle Province.
The loop takes you through some very well-known places, like the Laurentian Mountains and some of Quebec's top national parks, but it also guides you to lovely small towns where you instantly feel at home, to lakeside resorts where you might just have the whole lake to yourself and to scenic landscapes that haven't changed in thousands of years.
They are the kind of places where you can walk silently through the woods or sit next to a waterfall and listen to the quiet rush of the wind or be dazzled by a starry-filled night sky.
This is Quebec at a whole deeper level.
Most of the trip is on excellent roads and highways; occasionally you head down a bumpy gravel road or through the woods.
Our goal was to spend as much time enjoying Mother Nature as we could – and we did. We biked through the forests and soared down the hills, we kayaked and canoed and hiked every trail we found.
We ate wild blueberries that we picked under the trees and climbed mountains listening to the birds. It left me refreshed, invigorated and loving Quebec even more.
Where to Begin the Explorer's Route in Quebec
Our journey began by flying into Montreal. From there, all you need to do is rent a car and hit the road.
Bonjour Quebec suggests you do the trip in nine days. We did it in seven and ended up driving around 1,400 miles total, beginning and ending in Montreal.
That's a lot of miles, mind you, but the trip flew by. As we cruised down the highway, one of my friends introduced us to Québécois music – songs by Émile Bilodeau, Fred Pellerin and Jean Leloup – and they were the perfect soundtrack for the great scenery.
Seven days are a lot to cram into one article, but at least I can give you the highlights. Read on if you'd like to follow the Explorer's Route for yourself.
Day 1: The Laurentides Region, From Apple Orchards to Mont Tremblant
We didn't have to go far to begin our adventures. Just north of Montreal, we entered the Laurentides Region. It's known for the Laurentian Mountains, some of the oldest mountains in the world.
Although we were there in the early fall, I could see why the Laurentian Mountains are a popular ski destination. The region is also known for hiking, camping, mountain biking and river routes.
We stopped at Cidrerie Lacroix, a family-run cidery. The Lacroix family has been growing and processing apples here since 1879, and their ciders are very popular. Many of the ciders are named after the Lacroix sisters.
Treetop Walk Laurentides
Quebec is a land of forests, and that's abundantly clear on the Treetop Walk Laurentides experience. A one-km path suspended 40 meters in the air puts you right at the tips of the trees. We liked the walk but spent even more time lounging on the net strung across the top of the observation tower. Talk about a birds-eye view.
Mont-Tremblant National Park
In Mont-Tremblant, we stopped at the first national park on our itinerary – Mont-Tremblant National Park. It's the oldest in Quebec and has more than 400 lakes that draw canoers from Canada and beyond.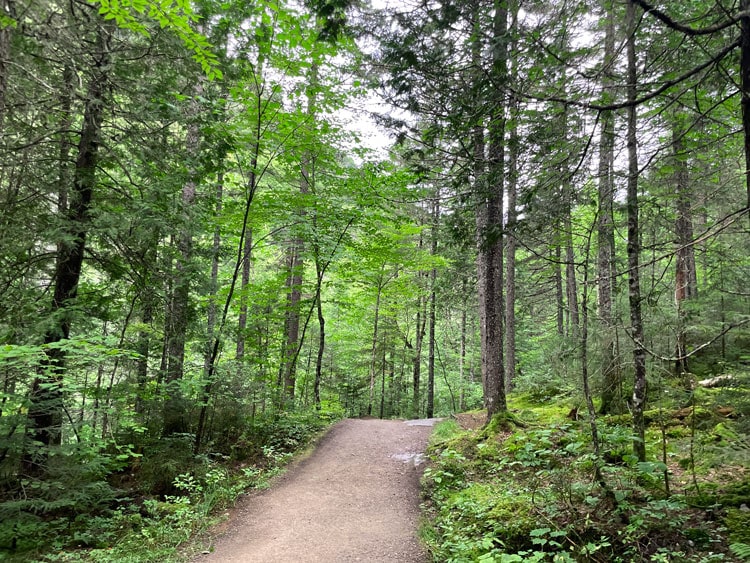 We hiked one of the park's many well-kept trails, chatting and listening to the thud of our footsteps. Forests in Quebec are lush and green, with towering trees and lots of wildlife. At the trail's end, we were rewarded with a stunning waterfall.
The main draw to the Mont-Tremblant region is the Mont-Tremblant Ski Resort, with its picturesque alpine village and excellent skiing in the Laurentian Mountains.
Fairmont Tremblant
We stayed at the elegant Fairmont Tremblant, a luxurious ski-in ski-out hotel in a stunning alpine setting. From my room, I had a wonderful view of the village. Dinner at the hotel's Choux Gras was a huge hit, with its warm décor and innovative dishes.
We walked off dinner on the Tonga Lumina Tremblant, an illuminated 1.5-km nocturnal walk that was just a few minutes walk from the resort. It tells a story through light and sensory experience. Being in the forest at night, soaking in this visual storytelling, was a nice way to end the day.
Day 2: E-bike Tour in Mont-Tremblant and Seaplane Over the Upper Laurentians
Breakfast was at the Hôtel Quintessence, a world-renowned hotel located on the shores of Lake Tremblant. We enjoyed the lakeside location and the food was excellent.
Fat Tire E-Bikes with DTour
We started the day with a guided e-bike tour with DTour. I'd never ridden a fat tire e-bike, but I can tell you that it's the most comfortable bike I've ever ridden – great shocks, wide seat and able to handle the bumps and rocks of a mountain bike trail with ease.
We rode from downtown Mont-Tremblant and then into the forest. Soaring along the mountain trails of Mount Tremblant on a fat tire e-bike was a pure thrill. We followed part of the Le P'tit Train du Nord — a 145-mile former railway turned bike path.
Seaplane Tour with Air Mont-Laurier
Another thrill was taking a seaplane tour with Air Mont-Laurier. Taking off from the water was exciting but soaring high above the lakes and forests in the scenic Hautes-Laurentides area was even better. I wish I had taken more videos, but you can see what I mean.
That afternoon, we stopped at Montagne du Diable Regional Park for a hike. The trail wound through the trees and ended at the beautiful Windigo Falls.
Mekoos Lodge (Pourvoirie Mekoos)
It was a few hours' drive until our next stop, and the last 23 km were on a bumpy gravel road, but the destination – Mekoos Lodge (Pourvoirie Mekoos) – was worth it.
The remote lodge has more than 135 lakes and 500 km of trails, which are enough to satisfy any nature lover.
In the winter, this is a haven for snowmobilers, who have miles of open trails and forests to explore. Others come to cross-country ski or ride with the sled dogs. In the summer and fall, the lakes are the main attraction.
Day 3: Abitibi-Témiscamingue Region – Mountain Biking and Small-Town Charm in Val-d'Or
After an early start and a 4.5-hour drive, we arrived in the Abitibi-Témiscamingue Region. In the small town of Val-d'Or, we stopped for lunch at the local hotspot, Baltazar Café, for an excellent meal, then topped it off with ice cream from Choco Mango, which was just a few doors down.
Forêt Récréative
Adequately fueled, it was time for some mountain biking with Forêt récréative. A community recreational forest near downtown Val-d'Or, it is used for biking, hiking, cross-country skiing, skating, and more.
After renting some bikes from Forêt Recreative, some of our crew hit the more advanced mountain biking trails. My friend, Camille, and I took to the tamer trails, but it was still an adrenaline rush.
That night, we stayed at Hotel Forestel, a modern and very comfortable hotel in Val-d'Or, and had an excellent dinner at Le Prospecteur Microbrewery. The food in Quebec never disappoints.
Day 4: Wildlife Visit at Refuge Pageau and Aiguebelle National Park
At Refuge Pageau in Amos, Quebec, I got to meet some unusual and even quirky animals.
This very special wildlife refuge takes in animals that have been injured and need rehabilitation. Those who can't be released to the wild, such as a blind black bear, find a permanent home at Refuge Pageau.
My favorite animal was Chewbacca, a friendly black porcupine. He seemed just as entertained by us as we did him.
We also saw a piebald moose, owls, grey wolves, otters and many other animals. At the end, we watched the refuge's very engaging digital experience which stresses the importance of conservation.
Aiguebelle National Park
We got to see conservation in action at Aiguebelle National Park (Parc national d'Aiguebelle), a remote national park that puts a high priority on conservation. While there are many trails, we only had time to hike the quiet La Traverse Trail which had wide views of lakes and beautiful valleys.
Lakes are everywhere in Quebec, and our next hotel was a popular lakeside resort. La Bannik is the perfect spot for a family vacation. They have a large variety of accommodations, from larger lodges to small cabins. You can also camp or rent a stationary RV.
Day 5: Fort Témiscamingue-Obajiwan and Opémican National Park
Quebec has a rich past and we learned more about it at Obadjiwan–Fort Témiscamingue National Historic Site. The cultural center details the region's fur trading history with excellent storytelling and interactive exhibits.
Parc National d'Opémican
From there, we followed the Ottawa River to Parc national d'Opémican. Its mission is to protect natural forests and lands in the Southern Laurentians. Many visitors come to camp, and it's a popular destination for families. The lakes are good for fishing, canoeing, kayaking and standup paddle boarding.
Outaouais Region
We drove 3.5 hours that afternoon to reach the Outaouais Region in southwestern Quebec, which is just outside of the Canadian capital of Ottawa, Ontario. (Outaouais in French and Ottawa in English are both from the same Indian word.)
After dropping our things at the Lofts du Village, a set of luxury lofts in Old Chelsea Square, we headed out to explore. My loft was big and very comfortable, with a large kitchen, living room and a luxury bed.

Best of all, its location was close to many attractive restaurants, coffee shops and more. In fact, Ottawa is just 10 minutes away, but Chelsea has a small-town feel. It's popular with tourists, including Ottawans who come on weekend getaways.
Natura Park Eco-Odyssée Twilight Experience at Éco-Odyssée Nature Park
As the sun sunk slowly into the sky, we arrived at Éco-Odyssée for their unique twilight paddling adventure.
Éco-Odyssée Nature Park is located in the small town of Wakefield and it's a one-of-a-kind wildlife experience. Visitors can canoe, kayak or take boats through 5 km of water canals.
The park has created several large water mazes, which makes it even more entertaining. We took out kayaks right as the sky was turning pink.
Each maze is different, and you may get lost (we did), but happily, there are little maps to guide you back. The best part was seeing the rich bird and wildlife in the marsh – especially all the beaver.
The Eco-Odysee Experience was created by Michel Leclair, whose passion for animal conservation and knowledge of wildlife and plant life led to this unique nature park.
Chatting with Michel and his son, Olivier, who runs operations in this family-run affair, it was obvious to see their passion for wildlife and preserving nature.
One of Michel's main goals was to manage the beaver population and conserve the habitat and marsh. Through his expertise, more than 300 colonies of beaver are thriving in Éco-Odyssée's marshes and acres.
Nikosi Bistro-Pub
Dinner that evening was at Nikosi Bistro-Pub, a must-visit if you are in this area. Ms. Wakopuni Riel is the Chef-Owner, and her innovative cuisine includes a traditional menu infused with indigenous flare. The excellent dishes and unique cocktails made the evening a memorable experience.
Day 6: Chelsea and Nature in the Outaouais Region
If I lived in Quebec, I would want to live in a town like Chelsea. This upbeat village has a picturesque location, and it oozes small-town charm with flower-filled window boxes, outdoor patio dining at welcoming, hip restaurants and lots of unique shops.
Nomades du Parc
We ate breakfast at Biscotti & Cie and then met with Vicent Bergeron, Co-Owner of Nomades du Parc. His bike shop offers rental bikes and bike services, but it's also the hub of the region's active cycling community.
Gatineau Park
He took us on a guided e-bike tour that turned out to be another trip highlight. We cycled from his shop into nearby Gatineau Park. This is where Ottowans and other locals come to play. As the largest green space in the region (361 square kilometers), it has a lot to offer.
The best thing about it? In the summer, several roads in Gatineau Park are closed completely to cars. Zooming down these wide streets on an e-bike was amazing.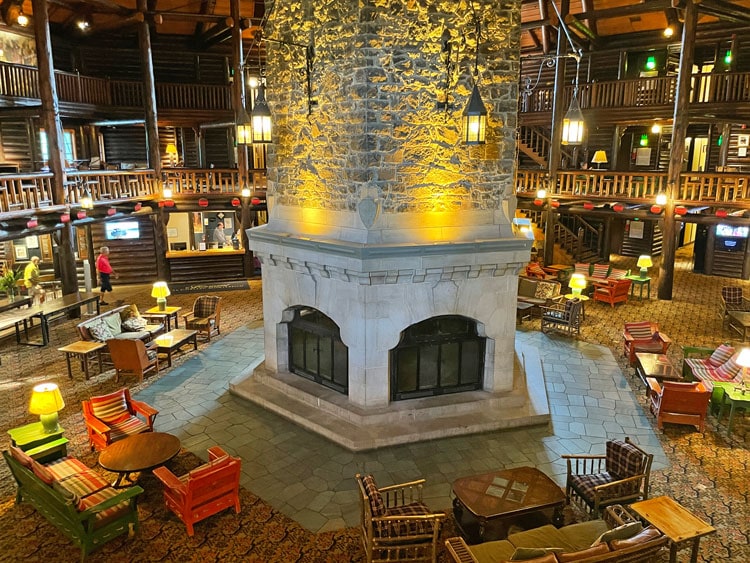 Fairmont Le Château Montebello
That night, we stayed at the gorgeous Fairmont Le Château Montebello, a historic log castle in Montebello. The hotel grounds are beautiful, and it was easy to see why it is such a Canadian icon. I wish we could have stayed longer.

For our last dinner in Quebec, we celebrated with an excellent meal at Fairmont Le Chateau Montebello restaurant Aux Chantignoles. The food was great, the atmosphere lovely and the company was even better.
We had time for one more adventure before we left – a few hours of kayaking at Kenauk Nature, the largest private nature reserve in North America. The private reserve offers chalets to rent, each with their very own lake.

Paddling through the lily pads on one of the lakes was quiet and peaceful, which is just the kind of feeling you want at the end of a journey — especially one as memorable as this one.
If You Go

French is the official language of Quebec, but English is widely spoken. People are welcoming and kind and always happy to teach you a few French words.
For more information, see bonjourquebec.com
Latest posts by Janna Graber
(see all)