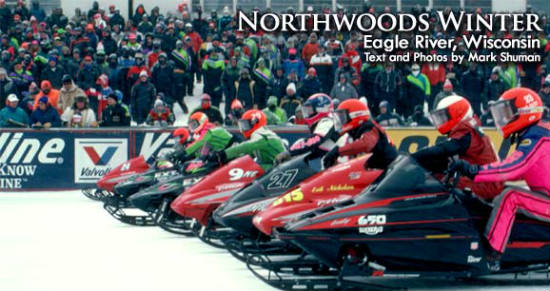 In recent years, winter thunderstorms have been about as prevalent as snowstorms in the lower Midwest and, while that's good news for some, the season isn't the same for those who prefer an annual dose of snow, solitude and contentment in northern Wisconsin.
"We had a ton of snow last season," says Holly Tomlanovich, the self-proclaimed "snowmobiling grandma" of Vilas County, Wisconsin, who runs a snow-conditions Website. With 40 years of snowmobiling behind her, Tomlanovich still delights in introducing newcomers to the area's 500-mile (805 km) system of groomed public trails, which last winter boasted a 20-inch (51 cm) snow base.
"Most people think snowmobiling will be bumpy, but it's comfortable," says Tomlanovich. "The machines have good suspension and hand-warmers, and the ride is more fun than they think and certainly not as cold," she says.
For 41 years, Eagle River has been host to the World Championship Snowmobile Derby in mid-January, sort of an Indy 500 of the sport, which attracts thousands of spectators and a multitude of top national racers. The 2007 race will be held January 12 through 21.
Helping cement Eagle River's "cradle of snowmobiling" reputation was area resident Carl Eliason, who built a sort of motorized toboggan in the 1920s.
Modern snowmobiles evolved from his contraption, which is still on display at the Vilas County Historical Museum in Sayner, near Eagle River. The museum's Old Curiosity Shop ambiance makes it fun to poke around in. (The museum is closed in winter.)
Eagle River's Klondike Days, which draws more than 20,000 people each year, is set for February 17 through 18, 2007. The family-oriented weekend event has dog sled races, dog pulling competitions, lumberjack competitions, a wildlife art show, Bluegrass music and a re-created fur-trader and trapper's camp, where re-enactors brave the elements and camp outdoors with period equipment, fur hats and buckskins.
Native American Nick Hockings, of the Lac du Flambeau Band of the Lake Superior Ojibwe, brings his Waswagoning Dance Theatre to Klondike Days, with terrific performances of traditional and modern Native American dance. Members of the national touring group explain the dances' meanings during performances, and help relay the local history and culture to visitors.
Solitude and time together is what many families and couples enjoy most about a weekend up north. For our family, a network of cross-country ski trails in the Nicolet National Forest, east of Eagle River, is a favorite haunt.
Snowmobiles aren't allowed on the trails, and the hilly woods are home to twittering chickadees and the rarified smell of balsam fir mixed with a hint of wood smoke.
Our boys, ages 3 and 5, don't ski yet, so we pulled them along on sleds during a visit to the trails this year. The Anvil Lake Trail System has a small log cabin warming hut, usually empty, with a glowing fire tended by skiers as they come and go.
Inside, there is a bag of sunflower seeds, and if you stand like a statue outside the hut, the chickadees will swoop down from the evergreens, landing on hats and gloves to eat the seeds you offer.
That close up, the thrumming cheerfulness of the chickadees is a treat for adults, but our kids found the birds almost as thrilling as pterodactyls. It was good clean fun of the highest order.
There are more than a half-million acres (2,023 km²) of public forest land in Vilas County, so the 12 miles (19 km) of groomed ski trails at Anvil Lake provide a mere introduction to cross-country skiing in the area. Miles of trails are maintained in the county by private clubs, as well as county, state and federal agencies. Some visitors prefer to bushwhack through the Nicolet on snowshoes, with nothing between them and the woods.
A few years ago, my wife Ann splurged on a plane ticket to Eagle River from Palwaukee Municipal Airport in Chicago's suburbs, to join me for a summer weekend.
"There are so many lakes!" she said, after getting off the plane. "It's half water." She was right. Vilas County has more than 1,300 lakes. While locked in winter ice, the lakes may seem out of reach, but our family recently tried ice fishing on the lake outside a cabin my parents bought east of Eagle River in the 1980s.
No relative or guide showed me the ropes, but it doesn't take long to figure out that ice fishing at its most basic means little more than drilling a hole, baiting a hook, and setting out a "tip-up" or two. The tip-ups have hooked lines that release a red flag when a passing fish takes the bait. This winter, temperatures in the 20s F (-2 to 7 C) have meant ice shelters haven't been needed too often.
Last month, while playing around, sledding and building a snow fort on the ice with my 5-year-old son, we hooked a 17-inch northern pike without much effort.
"Daddy, you're the best fisherman," my son said, and for once, I didn't correct the lad.
Newcomers to several winter sports don't need much experience to get started. Local communities in northern Wisconsin have many fishing guides, for example, and rental equipment, from snowmobiles to cross-country or downhill skis, are available by the day.
After a day spent outside, you can feel you've earned a night at a restaurant. Eating out is the unofficial sport of the Northwoods. At the start of an Eagle River visit, pick up the local weekly, the Vilas County News-Review. It's a good resource for local activities, and the restaurant ads let you know who's touting the Friday-night fish fries.
Not in the mood to clean a fish, we released our northern pike back into the lake and headed for Bent's Camp, a favorite restaurant in Land O' Lakes, which was built in 1906 when northern Wisconsin was wilderness. With a great setting on a large lake, the resort and its restaurant is a great place to watch snowmobilers.
The Guide's Inn, in Boulder Junction, is also recommended by locals, and Little Bohemia, on Little Star Lake, was frequented by John Dillinger and his gang in the 1930s.
Restaurant owners since then have preserved luggage and other items left behind by the gang when FBI agents stormed the place, killing a couple of local residents, but not Dillinger. Bullet holes in the windows have even been glazed over and preserved.
During summer visits to the Eagle River area, boating, hiking and fishing make a different kind of adventure, when long summer days are ushered out by the calling of loons. Wintertime, however, is when the region gets quieter and even more relaxed; this is a time for outdoor sports and Christmas card landscapes.
It's only 327 miles (526 km) north of Chicago, but in attitude and appearance, Eagle River is a world away from Chicago suburbs.
If You Go
Eagle River Visitors Center
Eagle River Snow Conditions
www.snowtracks.com
Wisconsin State Tourism
Klondike Days
www.klondikedays.org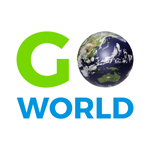 Latest posts by Go World Travel Magazine
(see all)