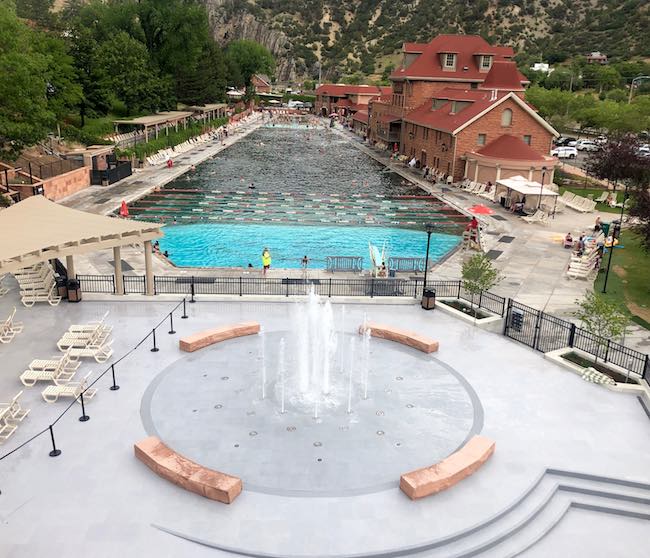 When I was a little girl, my father loved taking us to the Glenwood Hot Springs in Glenwood Springs, CO. This was before ski areas sprouted along I-70, so Glenwood Springs was a fashionable destination at the time, having been built in 1888 as a health retreat for wealthy patrons. Indeed, any place that welcomed Teddy Roosevelt, Doc Holiday and Unsinkable Molly Brown was good enough for me! We always stayed at the Hotel Colorado, built in 1893 soon after the pool.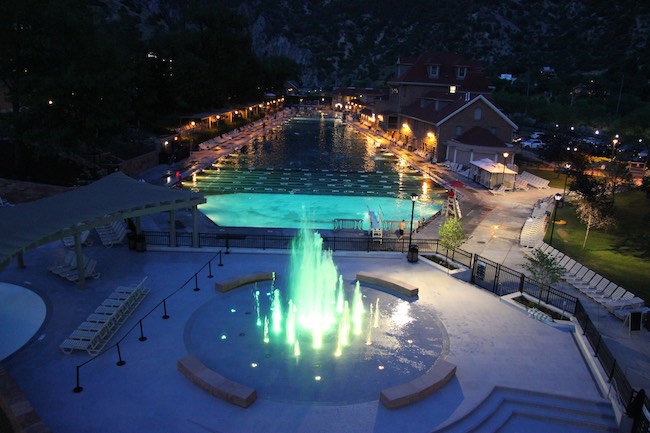 Largest Hot Springs Pool
At the time, the pool the size of a football field was the largest hot springs pool in the world. . and it still is! As a kid, it seemed enormous to me, and I didn't like it much due to its rotten-egg smell. However, somewhere in the 1990s they installed an ozone filtration system that seemed to take the nasty smell away as well as their reliance on chlorine. As a result, now it's very pleasant to soak away aches and pains in the 15 rich minerals that bubble up from the ground. I prefer the 104-degree smaller soaking pool to the larger 90-ish-degree pool.
The Ute Indians discovered the geo-thermal water source many years ago. They called it "Yampah," which means "big medicine." To this day, you can take a sip from the original drinking spring if you want; it's harmless but tastes very salty.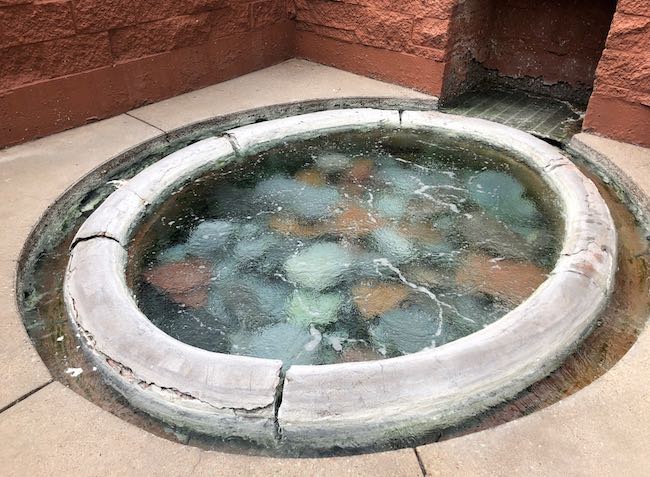 Latest Addition to Hot Springs Pool
To make the resort more family-centric, the owners recently (July, 2019) added the grand fountain (above) that doubles as a splash pad for kids to run though by day and is a thing of beauty by night.
Hanging Lake has waterfalls, three kiddie slides and interactive water play features for little kiddos.
The centerpiece of the new Sopris Splash Zone is Shoshone Chutes, a 700-foot-long fast river ride on an inner tube for anyone 3 feet tall and taller. Tubes are available for single rides or double. It's a blast for adults and kids!
Glenwood Hot Springs Resort
In 1986, the Glenwood Hot Springs Lodge opened. So today the resort ownership encompasses the lodge, the pool, a restaurant, a sport shop, and the historic stone bathhouse that is as old as the pool. The multi-story bathhouse is home to the full-service athletic club and Spa of the Rockies, a fantastic wellness center offering creative treatments you won't find anywhere else. Among them are rituals inspired by our Native American ancestors.
The 107-room lodge is quite comfortable. Modern decor, pleasant service and free onsite parking make our stay truly enjoyable. We have unlimited use of the pool even before check-in, and breakfast at The Grill is free to hotel guests who also receive discounted rates to the spa and athletic club. The pool and bathhouse complex sit across the street and down some stairs. It's a great package deal!
Our room is elegant with mahogany furnishings. Besides a table and chairs, there's a large bureau housing a fridge, safe and microwave, and a TV and coffee maker sit atop. The closet is good-size. The bathroom is a tad small but nicely appointed with granite and tile. The bed is super comfy!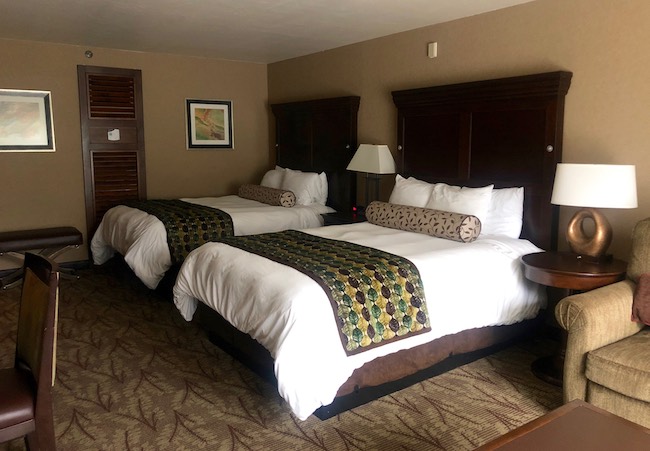 I like this seating area looking out onto the mountainside beyond the parking lot.
A 21st-century salute to a 19th-century icon!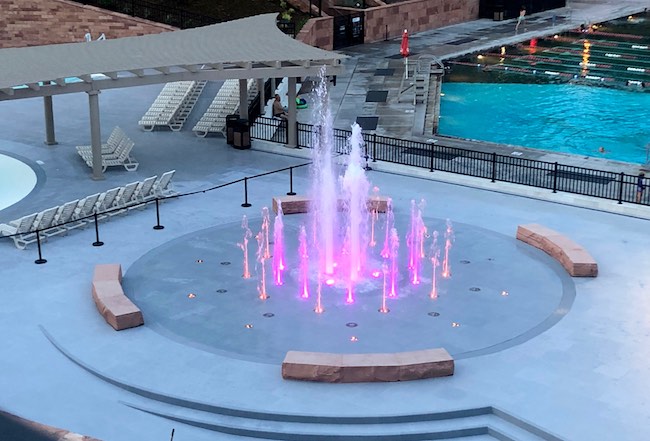 What To Do in Glenwood Springs
In the heart of the Rocky Mountains, Glenwood Springs is homebase for outdoor adventure. The Colorado and Roaring Fork Rivers are ideal for rafting, kayaking, canoeing, stand-up paddle boarding and fishing. Hiking, biking and horseback trails surround the town, and a lovely paved bike path follows the river the length of Glenwood Canyon. The canyon, by the way, is a popular spot for climbers and home to Hanging Lake, a national landmark.
In town, you'll spot a gondola. Take it! It leads to Glenwood Caverns Adventure Park, a theme park atop the mountain with daring rides and spectacular adventures.
There's also golf and guided tours; museums and entertainment; restaurants and shops. There's even Glenwood Canyon Brewpub in a hip walkable downtown area.
In winter, Sunlight Mountain Resort, a fine ski area, is a short drive away. They offer a Ski, Swim, Stay package with Glenwood Hot Springs Resort and other hotels in town.
Glenwood Springs is 160 miles west of Denver and 90 miles east of Grand Junction. Amtrak runs trains to a train station close to hotels with complimentary shuttles.
Glenwood Hot Springs Resort, 415 E. 6th St., Glenwood Springs, CO 81601; 800-537-7946
Claudia Carbone is an award-winning travel writer based in Denver. Read about other hotels she's visited in Sleepin' Around.