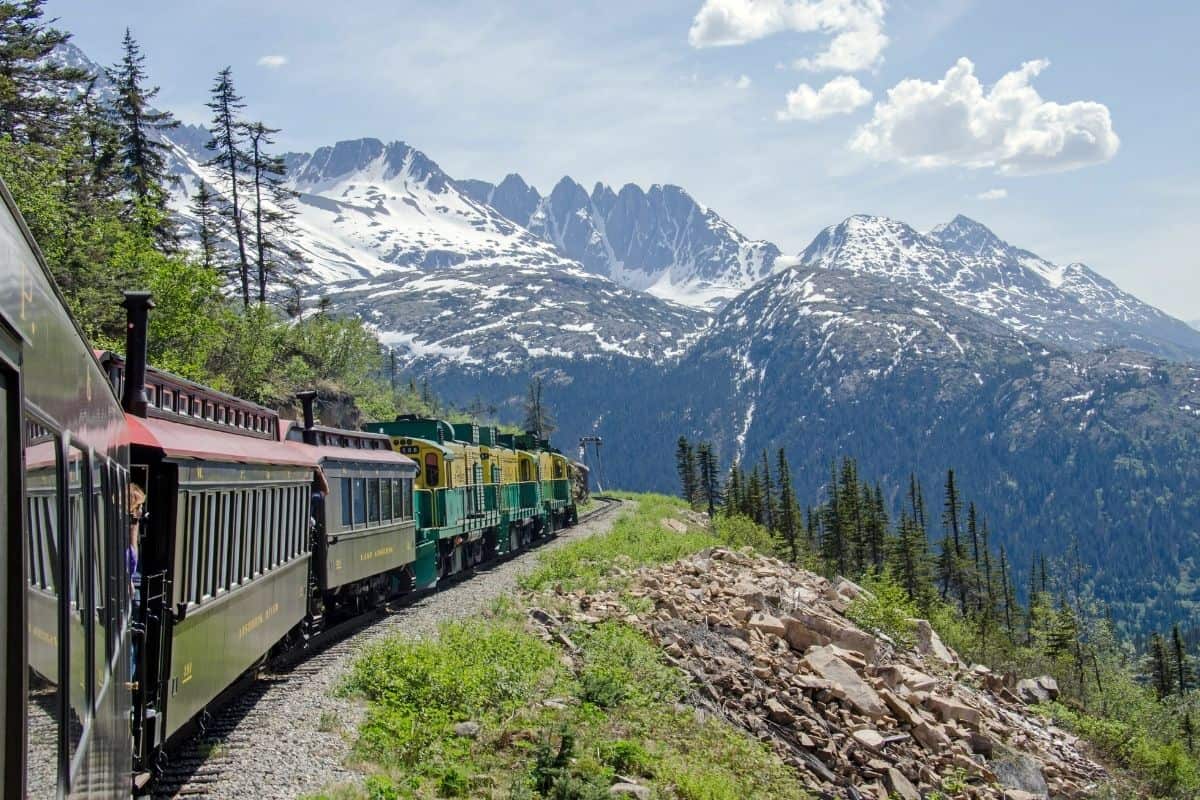 The White Pass and Yukon Route, sometimes referred to as "The Scenic Railway of the World", was built during the Klondike Gold Rush. In less than two years, the entire route from Skagway, Alaska to Whitehorse, in the Yukon was completed.
This awesome civil engineering landmark carved an almost unbelievable passageway through the rugged White Pass. The narrow-gauge railroad overcame such incredible obstacles as its cliff-hanging curves, steep grades, towering waterfalls, and treacherous tunnel-building.
Indeed, much of the route was built during the winter, too, with its bone-chilling temperatures and its heavy snowfall. The fact that it was completed at all is a true symbol of triumph over adversity.
The Gold Rush Ends but the White Pass Railroad Remains
After the Gold Rush, the railroad remained open for many years, primarily for transporting the mineral freight. However, when metal prices plunged in the early 1980s, and several of the mines closed, the White Pass & Yukon Route was inevitably shut down as a commercial railroad.
But, like the myth of the ancient phoenix that rises again from the ashes, the Skagway railroad found a new life as a tourist attraction. With the influx of cruise ships traveling along Alaska's Inside Passage and arriving at Skagway, the decision was made to re-open the line as a heritage scenic railroad – and this has become a very successful endeavor, indeed.
The old train station at Skagway has re-emerged as a museum and as home to the Klondike Gold Rush National Historical Park. Some of the old engines are on display in the rail yard.
Alaskan Cruise to Skagway
Many cruise ships dock at Skagway for a summer's day, and a lot of these Alaskan visitors choose to ride the train to the summit of the White Pass. After all, this is a great way to experience the rail's awesome climb of almost 3,000 feet in 20 miles.
What a ride!
They then exit the train, board a bus, and return to the Skagway dock. The whole excursion takes about 3.5 hours.
Since I was ending the cruise portion of my trip at Skagway, this train trip was included as part of my Holland America land tour into Alaska and the Yukon. But I simply stayed on this train at the summit, and I descended into Fraser.
Here I left the White Pass railway train and boarded a bus and continued on the land tour portion of my adventure trek.
Traveling the White Pass and Yukon Route
In this article, however, I want to tell you about this spectacular White Pass and Yukon Route train trip itself, for it's definitely a worthwhile experience.
It began with a ride past Skagway's Gold Rush Cemetery, the final resting place of many early residents (including some rather notorious characters, such as con artist "Soapy" Smith).
The train then began to climb, and my first great photo op was at Rocky Point, where I was able to look back down into the valley. Here I gazed back at Skagway while having Mount Harding and Harding Glacier form a dramatic backdrop.
Later on, I checked out such points of interest as Buchanan Rock, Black Cross Rock, and Bridal Veil Falls (where a magnificent waterfall cascades about 6,000 feet).
It was then on to Glacier Station, which used to be a designated stop for the thirsty steam engines on this rigorous uphill ascension. I learned that some railroad section crew even lived up here and maintained the railbed from this vantage point.
As I travelled even higher up the mountain pass on this train, I was able to step out onto a platform, between cars, and get some great photos of the front of the train as it rounded a sharp curve, high above the valley floor.
One of my favourite shots was capturing our entry into a long tunnel that had been blasted out of the rock, and then I saw nothing until we once again emerged from the blackness.
I next found myself at Inspiration Point, with its spectacular view of the Chilkat Range.
Then I was travelling through Dead Horse Gulch, so named for the many pack animals that met their demise on this very dangerous and gruelling hiking trail during the Gold Rush Stampede of '98. Many of these pack animals had died because of overloading, neglect, and inexperience by the gold-seekers.
The next major point of interest along the White Pass and Yukon Route was the tallest cantilever bridge in the world (at the time) that was built here in 1901. This steel bridge is no longer used, but it's now often referred to as the Ghost Bridge, and it can still be viewed from the track. It's an especially eerie, almost creepy experience on an overcast, foggy day (as I had)!
In 1969, a new 675-foot tunnel was blasted through the rock, and a new tunnel was built to replace the aforementioned steel bridge. As I emerged from this newer tunnel, I could look down at a part of that famous footpath that had been used so long ago by those gold-seekers of '98.
It was still very visible at this particular point, and I was pleased that I was sitting in a vintage car on a comfortable train instead of enduring that treacherous terrain on foot.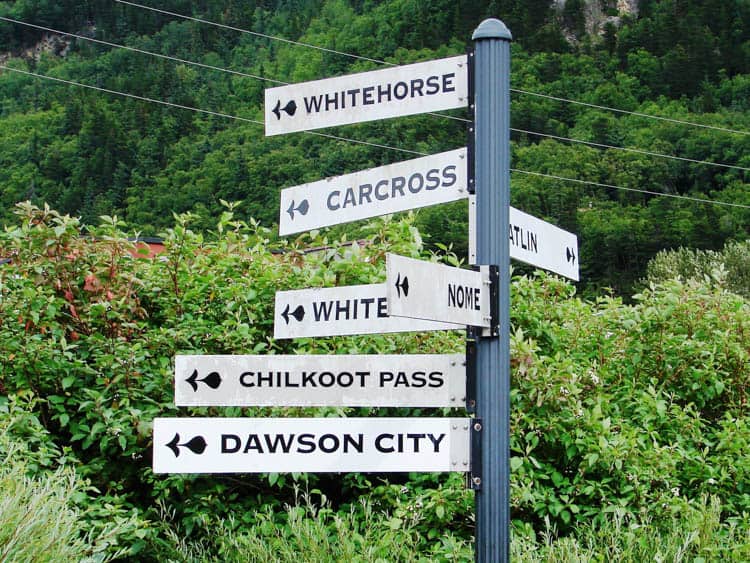 Reaching the Canadian Border
We eventually arrived at the White Pass Summit, at the U.S./Canadian border, where Mounted Police once waved on the gold-seekers who were carrying sufficient supplies (a ton). They'd begin their descent into Canadian territory, and we did the same, soon arriving at Fraser, BC.
After exiting the train, we took out our passports and were soon formerly welcomed into Canada by going through Canada Customs. Then we began exploring this part of Canada via the Klondike Highway.
This White Pass Railway train trip is almost like returning to that Gold Rush era, in a way, but without enduring those hardships. It's a stunning ride through history.
If You Go
Check out more fun things to do before you embark from Skagway through GetYourGuide. From bike trails to historical tours, you can find plenty of activities to book here.
When you're ready to go, be sure to check out Kayak to find the best deals on rental cars, flights, travel bundles and more.
For More Information: www.wpyr.com
Author's Bio: John is a freelance travel writer and photographer who enjoys travelling the world and writing about his adventures. He has written weekly travel features for a group of community newspapers, presented several travelogues, and is the author of two major cycling books: "Cycling Canada" and "Cycling the USA"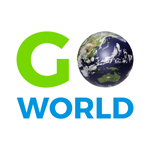 Latest posts by Go World Travel Magazine
(see all)