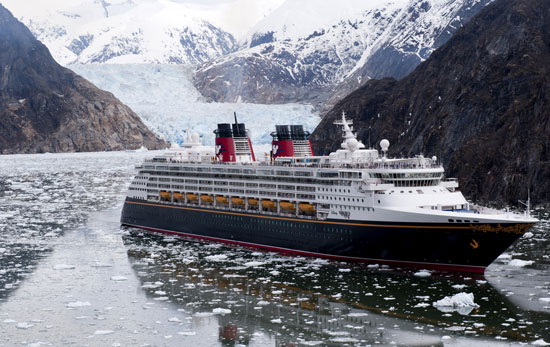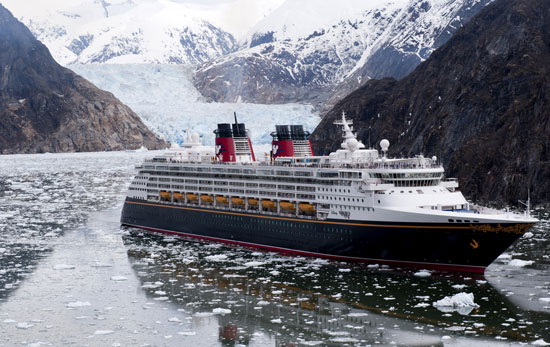 It's not every day that you visit an Alaskan glacier, and the sight is surreal. The massive blue walls of Sawyer Glacier rise up before us like a giant stepping up from the sea, and I suddenly feel very small.
We're standing on the desk of the Disney Wonder, which is near enough to get a good view, but far enough away to be safe from the active glacier. Sawyer Glacier "calves" at least once an hour, dropping massive pieces of ice from the size of a small car to as big as a cruise ship.
Small chunks of ice surround our ship, giving the appearance of precious gems floating past at a leisurely pace. The ship's staff brings up a piece about six feet long, and sets it on the deck. We can't help but ooh and ah over its gorgeous blue color, which is caused by microscopic sediment.
The ice is just one part of the visual eye candy here. The Tracy Arm Fjord, a 35-mile inlet through the Tongass National Forest, is lined with waterfalls and rugged mountaintops. Bears and mountain goats can be spotted along the shoreline, and eagles and other birds soar up above. The waters, which reach up to 1,200 feet deep, are home to whales, seals and dolphins.
In Alaska, the weather can turn on a dime, but in summer, average temperatures range in the mid-60s along the Inside Passage. Today, it's a little bit chilly, but along with our jackets, there are plenty of warm blankets and cups of hot cocoa on deck to keep us warm. It's certainly a comfortable way to enjoy this amazing view.
Aboard the Disney Wonder
Alaska has long been a popular destination with cruisers, but we chose to cruise with Disney Cruise Line to add a kid-friendly angle to our Alaskan experience.
Aboard a Disney Cruise, kids and families are priority. There are no casinos on board, but there IS an entire deck dedicated to children's activities. Kids of all ages have their own space, from Flounder's Nursery (infants and toddlers) to the Oceaneer's Club and Lab (ages 3 – 10) and The Edge (ages 11-13).
On this trip, we have two teenage boys, my 15-year-old son and his best friend. They spend the week hanging out at The Vibe, a cool club area reserved only for teenagers (no parents!). Staff counselors run a full schedule of teen's activities, and there are game rooms and spaces just for "chilling out."
While boys relax at The Vibe, my sweetheart, Ben, and I savor our own time. Each stateroom has two mobile phones which we use to keep in touch with the boys until we meet up for meals, which are a highlight of cruising with Disney.
There are three themed dining rooms onboard, each offering excellent cuisine and a classic Disney experience. Lumiere's has a fun French theme, while Triton's has an "under the sea" motif. At "Animator's Palate," the animated walls actually change throughout the meal, and Parrot Cay has the feel of the Caribbean.
Disney offers rotational dining, which means we experience a different restaurant each night. Our wait staff, whom we get to know well, come with us to each restaurant.
The boys, however, are even more thrilled with the endless supply of good food at the deckside pizzerias, grill and buffet. It's a dream come true for teenage boys with endless appetites.
The Disney Wonder holds 2,800 passengers and 1,000 crew members, offering less than a 3 to 1 ratio. The ship was designed with families in mind. Our room easily fits our two adults and two teens.
We choose a room with a verandah, so we'll have plenty of opportunity to see the beauty of Alaska. One of my favorite activities is having morning coffee on the verandah while soaking in the Alaskan scenery.
Cruising the Inside Passage
Our cruise started off in Seattle, and then we sailed along the Inside Passage, a 1,100-mile-long waterway that goes from northwestern Washington through western British Columbia and into southeastern Alaska. The waterway serves as a "highway" here in Alaska, transporting goods and people from one town to another. We pass ferries, freight boats and even a high school sports team on their way to a game.
Nature's grandeur is so large and up close here along the Inside Passage that it's hard to catch it all – but I try. Though I attempt to capture it with my camera, the images just doesn't do it justice, so I give up and soak it all in with my eyes.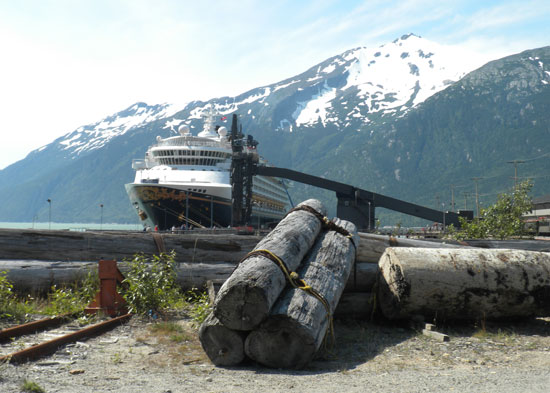 Skagway, Alaska
Though being onboard is a pleasure, we're here to experience Alaska. Our first stop is Skagway, a frontier town that has its roots in the Klondike Gold Rush of 1896. We spend some time perusing the unhurried streets of the town, and then head over to the Yukon Jeep Klondike Adventure.
Our teenage boys can hardly wait to begin. We hop into a four-wheel drive and follow our group along the Trail of '98 across the Canadian border and into the rugged lands of the Yukon. The sun is shining brightly, and the alpine scenery is starkly beautiful. The best part, according to the boys, is when we go off-roading. Even I get a kick out of this up-and-down rugged adventure.
Juneau, Alaska
After watching one of the excellent theatrical shows onboard that night, we wake to find ourselves in Juneau. Alaska is home to more than half of the world's humpback population, and seeing some of these amazing creatures up close is on my bucket list. We choose a shore excursion that will allow us to do that.
The Whale Quest & Orca Point Lodge experience, run by Allen Marine Tours in Juneau, has a "whale sighting" guarantee. Sure enough, within minutes of boarding their comfortable big catamaran, we catch sight of the graceful creatures. They swim alone, in mother and baby pairs and even in groups of 10-15.
Allen Marine Tours provides guests with binoculars, but we are often so close to the whales that we can see without them. Watching the humpbacks, I'm amazed at their grace. The highlight comes when almost 20 whales unexpectedly burst through the surface in a circle, blowing a ring of bubbles that surprises their prey and delights us all.
After watching the whales, we sail to the quaint Orca Point Lodge for a delicious salmon bake feast. Eating salmon back home in Colorado will never be the same.
Ketchikan, Alaska
The boys decide to stay on the ship when we pull into Ketchikan the next day. The teen's club is having a fun event, so Ben and I have the day to explore on our own.
Known as the salmon capital of the world, Ketchikan is the picture of Alaskan frontier life. Its quaint streets look like it is right out of an Old West movie set, and the town has long been home to loggers and miners.
Yet it is the wild salmon industry that has really put the town on the map. Huge runs of trophy salmon pour into area streams and rivers, even the waters that flow right through the middle of town. Fishing competitions are popular local pastimes.
Ketchikan is also known for its eagle population and rich tradition of multi-colored totems. Ben and I get to view both at the Rainforest Wildlife Sanctuary and Raptor Center. It's both an enjoyable and educational experience.
Ketchikan is our last Alaskan stop. After a fun-half day in the charming city of Victoria, British Columbia, the ships heads back to Seattle.
Our cruise has been a huge success. After all, who doesn't enjoy exploring new places — especially when those places are in Alaska?
If You Go
Disney Cruise Line
www.disneycruise.com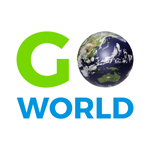 Latest posts by Go World Travel Magazine
(see all)