Golan Heights, although known to many, remains an elusive destination for most. Its absence of renowned historical and religious attractions, which typically entice travelers to Israel, coupled with its secluded terrain and untamed wilderness, contribute to this prevailing trend.
For travelers who want to go beyond the beaten path, I recommend adding a visit to the Golan Heights to your Israel travel itinerary.
Best Tips & Tools to Plan Your Trip
Why You Should Visit the Golan Heights
The Golan Heights holds a wealth of sights to see and things to do, all amidst mountainous volcanic landscapes filled with captivating raw nature – stark and scrubby in the dry months, alive and verdant in the spring.
Its rolling scenery is dotted with wartime relics and ruins of bygone eras, offering striking visual insight into both modern and ancient history.
Farmland decorated with windmills lie along meandering roads which lead the way to enchanting Druze towns and villages.
Well-hidden down narrow paths are nature reserves holding hiking trails and natural springs, waterfalls and wildlife. You'll even find wineries amidst the wilds of the Golan Heights, offering some of the best wines – and the best views – in Israel.
What is Golan Heights?
The Golan Heights, called the Golan for short, lies on the northeastern tip of Israel, bordering the countries of Jordan, Syria and Lebanon. At 50,000 people, its population is sparse and consists primarily of Jews as well as Druze, a religious and ethnic minority found in many Middle Eastern countries.
The Golan Heights is probably best known for being captured by Israel from Syria on the fifth day of the Six-Day War in 1967. It is disputed territory, much like the West Bank is disputed territory.
Internationally, the Golan is not considered to be a part of Israel; rather it is annexed and occupied by Israel as a result of the war. However, there are no checkpoints or any types of barriers to entering the Golan Heights.
You can travel there from anywhere in Israel as freely as you can travel from Tel Aviv to Jerusalem.
How to Get to the Golan Heights
Public transportation in the Golan Heights is very scarce. You'll need to rent a car elsewhere in Israel and drive it north to the Golan. Alternatively, you can take a private or group day tour.
Where to Stay in the Golan Heights
The Golan Heights makes a great day trip if your accommodation is nearby, in the Galilee. A day trip will only allow you enough time, though, to get a taste of the Golan. If you're a nature lover, or if you just really want to get to know the Golan, spend at least one night.
A large variety of accommodations are there, from hostel dorm beds to boutique villas, from privately-owned hotels to rooms on kibbutzim. You can even stay at a yurt bed and breakfast.
What to See and Do in the Golan Heights
I've traveled to the Golan Heights many times and feel I still have barely scratched the surface. Here I'll tell you about three of my personal favorite spots in the Golan as well as two types of places that are very popular with both Israelis and tourists.
Mount Bental
Mount Bental, beautiful and fascinating, offers powerful insight into the incongruity of the Golan. Make the drive to the top of this inactive volcano (one of many in the Golan Heights) and you'll be rewarded with arguably the most gorgeous views in this part of the country.
From the summit, look into the distance and you'll see Syria. Look below, and you'll see the Valley of Tears. Peaceful farmland today, this valley so named because it was the scene of a massive tank battle that lasted for four days during the Yom Kippur War in 1973.
Nimrod Fortress
Nimrod Fortress, also known as Nimrod Castle, is the largest castle from the Middle Ages still remaining in Israel.
This ancient fortress is now sprawling ruins consisting of towers, a moat, a cistern, a passageway and a stone engraving praising the Sultan Baybars – the largest inscription ever discovered in Israel.
I never made it to Nimrod Fortress until my most recent visit to the Golan and don't know what took me so long. If you're a fan of ancient history and ruins, Nimrod is a Golan Heights must-see.
The ruins aren't all Nimrod has to offer, though. Its position high on a hilltop will also give you sweeping views of the Golan's dramatic beauty.
Majdal Shams
One spot I really enjoy visiting in the Golan is the Druze town of Majdal Shams, right on the Syrian border. Before Israel won the Golan Heights in the 6-Day War, the residents of Majdal Shams lived in Syria. Today, you may even spot the Syrian flag flying in Majdal Shams.
There usually seems to be something interesting going on in Majdal Shams.
I've run across an outdoor market selling clothing and home goods; Druze men slowly driving their farm equipment down the road and, twice, I've seen honking cars mounted with video cameras and festooned with cheerful decorations blocking the streets, celebrating a wedding.
A visit to this town will always give you a bit of insight into the Druze way of life. This is also one of the few places in the Golan where you'll find a variety of restaurants where you can take a break and eat.
Golan Heights Nature Reserves
One activity in the Golan very popular with Israelis is immersing in nature at the area's many reserves. Here are a few of the nature reserves where you can enjoy the outdoors and explore the Golan by foot.
Gamla Nature Reserve
Gamla is not just a nature reserve but also a part of Israel's ancient history.
Its story is lesser known than, but very similar to, the story of Masada near the Dead Sea. In 66 A.D., the Jewish population of Gamla revolted against the Roman Empire.
After many weeks of attacks and casualties, realizing they were now fighting a losing battle, half of Gamla's 10,000 inhabitants threw themselves off the top of the mountain.
Gamla's grim history, however, is tempered by its natural beauty. Here you can hike nature trails, spot ten-foot-long vultures soaring through the air and see Israel's tallest flowing waterfall, at 170 feet high.
Banias Nature Reserve
Banias Nature Reserve is also quite historic, the home to ruins of an ancient city and an old temple complex in addition to hiking trails, a cave and a large waterfall.
Near the entrance, you can find Druze women baking their special pita bread on taboons. Ask for a slice, and they'll spread it with a thick yogurt cheese called labneh and sprinkle it with the region's za'atar spice.
Nahal El Al Nature Reserve
Nahal El Al is pure, untouched nature. Here you can join the local people who enjoy hiking, jogging and birding amidst the reserve's scenic hills.
Nahal El Al boasts two waterfalls – the Black Waterfall, made of dried lava, and the White Waterfall, made of chalk. These falls lie at opposing ends of a refreshing stream, a welcome place to cool off after a long hike.
Golan Heights Wineries
You don't need to be an outdoorsy person to have a great time in the Golan. While there are not a ton of indoor activities, there are some. These come primarily in the form of wineries.
The Golan Heights, in fact, is home to 20 wineries. Here are three where you can relax and take a break from all the nature loving.
Golan Heights Winery
One of the largest and probably the best known of the area's wineries is called simply Golan Heights Winery. It's located in Katzrin, the unofficial capital of the Golan. Katzrin is also home to a brewery and a distillery.
So if you're someone who enjoys wine, beer or spirits, head to Katzrin and you'll be able to visit a producer of your favorite alcoholic beverage.
Assaf Wine Village
Family-owned Assaf Wine Village, located in the middle of the Golan, is home to 15 acres of vineyards which produce 55,000 bottles of wine a year. This winery offers tastings as well as culinary experiences.
They even have five quaint cabins so guests can stay for longer than just a glass of wine.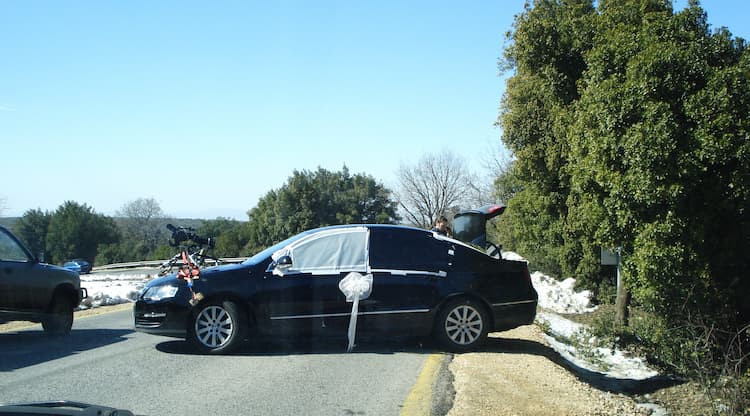 Tel Shifon Winery
Tel Shifon Winery, formerly known as Ortal Winery, is located in Kibbutz Ortal in the northern Golan. High in the hills at a half a mile above sea level, at this charming winery you can enjoy not only signature wines but also signature views.
There are not a lot of places in the world where you can hang out on volcanoes, take photos of Syria, visit waterfalls and ruins, do wine tastings and maybe even spot a Druze wedding celebration all in one day.
Traveling to the Golan Heights offers you all of that. This lesser-explored region also complements the time you spend at the country's popular tourist sights, giving you a more well-rounded Israel experience.
If you go
Many of the sites in the Golan Heights are national parks or nature reserves that may have limited parking. Before heading to the Golan, it's best to make a reservation to all the sites you're interested in here → https://en.parks.org.il/. 
You don't need to reserve a specific time; only a specific day. If you don't show up at any of the sites, no problem. If you do, you'll pay a small entry fee.
Author Bio: Sabina Lohr is a freelance writer who focuses primarily on the Middle East. She shines new light onto the region's well-known and lesser-known places and shares unique insight into the lives of the people who call this region home. She's been widely published in numerous print and online magazines including National Geographic's Intelligent Travel Blog, Afar, Destinations of the World News and PortHole Cruise Magazine.