The valley stretched out before us is covered in green vineyards, and there's a glass of Pinot Noir in my hand. As I watch fluffy white clouds float above the bucolic scene, I feel my body start to unwind. Two hours ago, I arrived at the busy Portland airport. Now here I am, wine in hand, exactly where I want to be.

The winding backroads of Oregon lead to wineries, farms and delightful small towns. My husband, Benjamin, and I knew the best way to explore was by car.

We have a weeklong journey planned, and are eager to get started. But not until we sit for a while, savoring this view and enjoying another glass of wine.
A Road Trip in Oregon Wine Country
Oregon is known for its wine. Though its wine history is young compared to European wine regions, in the last five decades Oregon has grown into one of the world's top wine-producing regions.
If you love Pinot Noir, you've most likely had wine from Oregon. The state also produces other cool-climate varieties, such as Pinot Blanc, Chardonnay and Pinot Gris.
The Willamette Valley
Though we're no wine connoisseurs, Benjamin and I love wine. Eager to explore, we started our road trip in the Willamette Valley, the heart of Oregon wine country. It's a 150-mile-long valley that runs from the Columbia River in Portland to the Calapooya Mountains outside Eugene.
It became an official AVA (American Viticultural Area) in 1983 and has seven different appellations within its borders: Dundee Hills, Eola-Amity Hills, Ribbon Ridge, McMinnville, Chehalem Mountains, Van Duzer Corridor and Yamhill-Carlton. Each one has its own unique climate, soil content and other characteristics which impart different flavors on the grapes.
Durant at Red Ridge Farms
One of the most unique wineries in the Willamette Valley is Durant at Red Ridge Farms, where I found I had a lot to learn about this unique part of the world.
At Durant, we were surprised to find rows and rows of olive trees. Tiny green fruit dotted the branches as we walked along the groves at Durant at Red Ridge Farms.
Unexpected as olive trees in Oregon might be, they are part of a small, but growing industry. According to the American Olive Producers Association, the US produces only five percent of the olive oil it consumes. Part of that olive oil is produced in Oregon.
"Durant was one of the earliest olive growers in the state and is the Northwest's only olive mill," said Susan Teague as she poured samples of four different extra virgin olive oils into blue tasting glasses. She explained each olive oil's subtleties and then paired them with fresh salad and charcuterie.
The tasting was part of the Durant Estate Experience, a two-hour opportunity to taste Durant wines and olive oils and to tour the groves and vineyards. Durant is a family-run farm and winery in the Dundee Hills of the Willamette Valley.
The family planted their first Pinot Noir in 1973 and eventually added olive groves, lavender fields and even a plant nursery to become a top destination estate.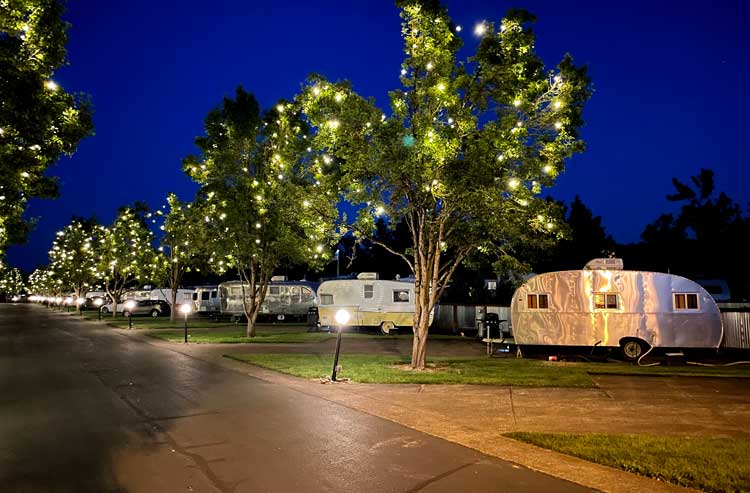 The Vintages Trailer Resort
While visiting wineries in the Willamette Valley, we needed a place to stay. We found the whimsical Vintages Trailer Resort, a unique resort near Historic Downtown McMinnville. It has 35 fully restored and new custom fabricated trailers, some dating back to as early as 1947. Stepping into our 1972 Airstream felt like stepping back in time, but with luxury touches like comfortable beds and plentiful AC.
Just 10 minutes from the resort, we had a delicious meal at Bistro Maison in historic downtown McMinnville, where owners Deborah and Jean-Jacques Chatelard offer French American dishes, paired with Oregon wine, of course.
Adelsheim Vineyard
We spent one morning at Adelsheim, a Live Certified Sustainable Winery in the Chehalem Mountains in the northern Willamette Valley. We could have spent all afternoon in their lovely outdoor tasting gardens.
As Elizabeth Clark, the director of education and experience at Adelsheim, poured tasting samples for us, she explained the unique soils and elevation of the Chehalem Mountains which help to create Adelsheim's complex wines, including Chardonnay, Pinot Noirs and other varietals.
It was difficult to choose a favorite from the excellent wines we tasted. Adelsheim must be doing something right, as they've just celebrated their 50th anniversary.
Et Fille Wines
Our next stop was Et Fille (pronounced, e-fi), a small, family-owned vineyard and winery in Newberg, Oregon. Winemaker Jessica Mozeico is one of those people who immediately draws you in. Within minutes of meeting her, we were sitting at her family vineyard, glasses of Rosé in hand, swapping life stories.
Jessica's story revolves around family. She and her father, Howard, co-founded the winery in 2003. Howard, a software engineer, had started making wine in his garage in 1984, while Jessica pursued her education and then a career in biotechnology.
She had always shared her dad's passion for wine, though, and learned everything she could from him. Eventually, they both left their corporate roles behind to start a winery. They ran the winery together until Howard unexpectedly passed away in 2017. Yet Jessica was determined to carry on.
"If you're doing it right, wine should honor the past, present and future," Jessica told me. It's obvious how much she loved her dad, and how much she enjoys carrying on his vision. She continues to honor her dad, keeping a piece of his dream and passion alive in her work, she said, both for him and her small daughter.
Jessica's passion comes through in what she bottles, I thought, as we finished our Rosé while looking over the vineyard.
More Wineries in the Willamette Valley

You could spend an entire week visiting vineyards in the Willamette Valley, but we only had time for a few more.
After driving on to the small town of Independence, we booked a room at the Independence Hotel, a modern boutique property with an enviable location right along the river.
Independence is one of those classic Americana towns, with small shops and restaurants lining the tidy streets.
From there it was a quick drive to visit Bethel Heights Vineyard in the Eola-Amity Hills AVA of the Willamette Valley and then Eola Hills Legacy Estate Vineyard, one of Oregon's largest wineries, farming over 325 acres of vineyard.
By now, our suitcases were filled with carefully wrapped bottles of wine, but there was still Southern Oregon to explore.
Into Southern Oregon
As we drove into Southern Oregon, the landscape changed, and the pace slowed down even more. The region is known for its mild climate and is dotted with farms and orchards.
We stopped at one unexpected, but delightful attraction along the way. Wild Animal Safari in Winston, Oregon offers guests that chance to take their own "wildlife safari". The 600-acre animal park is home to hundreds of animals from Africa, Asia and the Americas.
Most are in large, natural habitats, and guests can book an experience with a safari guide or drive through on their own. We met a curious giraffe up close and learned about the park's well-respected cheetah breeding program. If you have little ones, this is a must-do in Southern Oregon.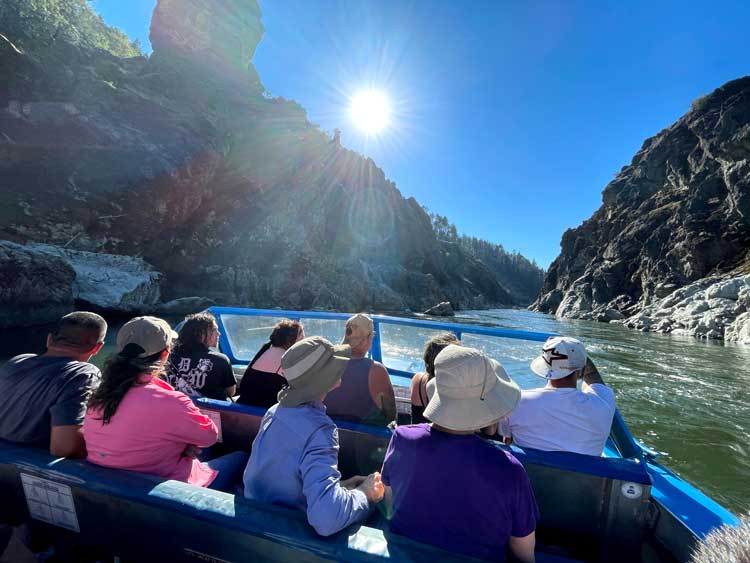 Grants Pass, Oregon
In Grants Pass, we stayed at the historic Weasku Inn Lodge. Built in 1924 along the bank of the Rogue River, it has been a vacation retreat for many celebrities from Walt Disney to Clark Gable. The historic cabins have been lovingly restored.
The main attraction in Grants Pass is undoubtedly Hellgate Jetboat Excursions on the Rogue River. While waiting to board our 4.5-hour river excursion, we talked with several Oregonians who had been coming every summer since childhood. It seems a local rite of passage to cruise the Rogue River at high speed.
As soon as we boarded our jetboat, we learned why. The ride was part scenic, part thrill. The boat was fast, but smooth, and our driver got our adrenaline pumping with 360s and bow dunks. A word to the wise: you will probably get wet. And if you sit near the front, you'll get soaked.
It was all in good fun. Our excursion included a stop for dinner at Hellgate Lodge, where we enjoyed dinner and talking with locals about life in Southern Oregon.
Ashland Springs Hotel
By now we were in the last leg of our Oregon wine tour and had moved on to the small town of Ashland. Picture a Hallmark-style American small town, and you have a good idea of Ashland.
It has been named among the top 10 in "The 100 Best Small Art Towns in America," and is home to the Oregon Shakespeare Festival. We attended an evening performance at the Oregon Shakespeare Festival and enjoyed their outdoor theater experience.
It is also home to the stately Ashland Springs Hotel, a gorgeous historic property built in 1925 that oozes gentility and elegance. Our favorite experience at the hotel was dining at Larks Home Kitchen, a farm-to-table concept featuring seasonal bounty sourced from local farms.
Another evening we dined at Hearsay Restaurant, where we had an excellent meal in their outdoor garden.
Wineries in the Rogue Valley
Southern Oregon is home to many award-winning wineries. The Rogue Valley is the warmest and driest AVA in Oregon.
Its Mediterranean-like climate has warm days and cool nights, enabling a diverse range of varietals to thrive, from Pinot Noir to big reds like Cabernet Sauvignon and Malbec to rarer varieties like Tempranillo.
There are 22 wineries in Rogue Valley Wine Country. Some, like Schmidt Family Vineyard, are family-run. Three generations are involved in winemaking and running their gardens and tasting room.
At Wooldridge Creek Winery, located in the rolling hills of the Applegate River Valley, a sub-AVA in the Rogue Valley, we met winemaker Steve Grande, who introduced us to some amazing wines and shared his passion for winemaking.
"I love Southern Oregon," he said. "It's a winemaker's playground. We have so many styles and different grapes to work with."
Southern Oregon has a warmer season than the Willamette Valley, and Wooldridge Creek produces 23 varieties including Cabernet Sauvignon, Merlot, Cabernet Franc, Syrah, Chardonnay, Pinot Noir, Viognier, Sangiovese, Zinfandel, Malbec, Petit Verdot and Tempranillo.
"You want to reveal the grapes' true nature," Steve continued. "It's like raising kids. You don't want to tell them what to be, but you want to help them be the best they can be."
Kayaking at Upper Klamath National Wildlife Refuge

You can't visit Southern Oregon without taking time to explore some of its natural beauty. Early one morning, we met up with ROE Outfitters to go kayaking in Malone Springs on the Upper Klamath Canoe Trail. The 15,000-acre freshwater marsh is part of the Upper Klamath National Wildlife Refuge, which was established in 1928.
It was quiet and peaceful as we slipped our kayaks into the water. We only saw one other kayaker, but we did see plenty of birds, beaver lodges and even a pair of playful otters.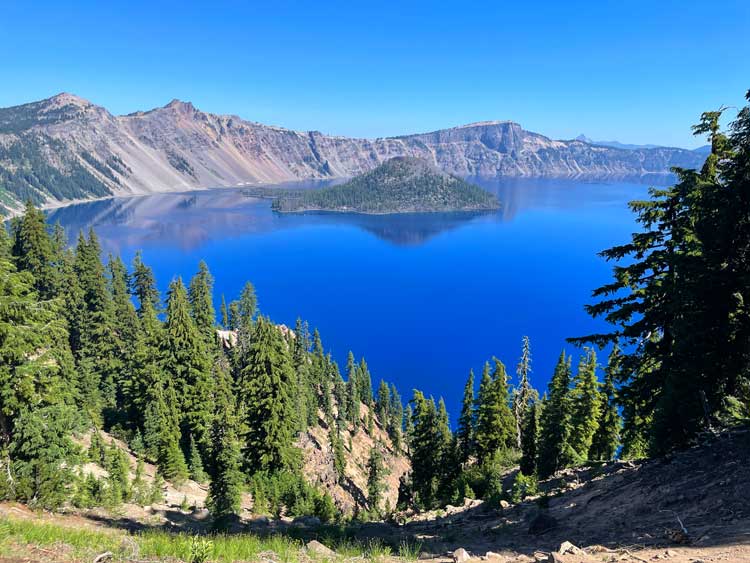 Crater Lake National Park
We saved the most popular natural attraction in Southern Oregon for our last day. Crater Lake National Park is a must-visit. The azure blue lake and caldera were formed some 7,700 years ago when Mt. Mazama erupted. The mountain collapsed, creating a 2,000-foot-deep caldera, which is now filled with snowmelt. In parts, the lake is more than 120-feet deep.
You can drive the 33-mile Rim Drive, stopping at vista points along the way to view Crater Lake. Some visitors take a one-mile hike down a switchback trail to the water's edge, where they swim, fish, or have a picnic along the shore.
Plaikni Falls Trail
Crater Lake National Park has hiking trails for all skill levels. We packed a lunch and hiked up the winding Plaikni Falls Trail. True to its name, we found a roaring waterfall at the trail's end.
Selecting a flat rock along the river as our table, we ate lunch and watched the water flow by. A bright blue sky flanked the waterfall, adding to our zen-like atmosphere.
It's moments like these that we savor in travel. A beautiful place and good company. Isn't that all we really need?
Read More: World's Best Road Trips