I could almost hear the cowbells and picture Maria traipsing down the mountains, singing, "The Hills are Alive," as I looked out upon the pastoral scene. Though it was Vermont and not Austria, the movie's images were omnipresent everywhere I looked at the Trapp Family Lodge.
The Famed von Trapp Family and "The Sound of Music" History
Perched atop a mountain in Stowe, Vermont, the lodge is famed for its von Trapp family heritage. Many visitors who come to the Green Mountain State make a pilgrimage to the property, with a keen interest in learning more about its owners, past and present.
Best Tips & Tools to Plan Your Trip
I have had many fond memories of watching "The Sound of Music" over the years, never tiring of the music, the story, the scenery and that very photogenic clan. So, it was a no-brainer for me to include a stay at the lodge during my trip to Vermont.
The property looked as I had imagined it, with its rustic, Austrian chalet design, amid a bucolic setting. Inside, the décor is European with an old-world feel. And there are dozens and dozens of photos, playbills and movie posters bedecking the walls, serving as an informative and colorful foray into the von Trapp story.
Opt to Take a Tour of the Property
The best way to learn about the family, though, is to take a history tour. You'll walk through various sections of the property, along a few of its many trails, while hearing invaluable details from a well-versed guide.
Chris Pocher, our guide, was not only extremely knowledgeable about all things von Trapp but could wax poetic about the land.
The Story of Maria and Georg
Born in 1905, Maria Kutschera was orphaned at two and raised by an elderly, strict cousin. A chance encounter with a Jesuit priest led her to dedicate her life to the convent. However, she always sought reasons to escape to her beloved mountains, as the great outdoors gave her much joy.
This errant behavior and her difficulty in being able to solely commit herself to convent life spurred the Abbess to send her to the home of decorated, retired captain and Baron Georg von Trapp. There she served as a governess to one of the captain's daughters, who suffered from rheumatic fever.
The rest, as they say, is history. Maria married Georg and became stepmother to his seven children. The couple subsequently added two more daughters and later, one son to their clan.
Stars in the Spotlight
A priest, who happened to hear the children sing and thought they had true talent, convinced Maria to start the Trapp Family Singers. This was the start of the family's singing career and they began performing at area music festivals.
Then came the Nazi annexation of Austria. The von Trapps saw the writing on the wall and they fled the country in 1938. They did not, as the movie depicted, dramatically exit a concert hall, hide at a convent and hike over the Alps. Rather, they left via train to do a concert in Italy and never returned.
The family eventually emigrated to the U.S., arriving in New York with just a few dollars to their name, and settled in Pennsylvania. A few years later, they purchased part of a farm in Stowe, VT, as the scenery was reminiscent of Austria.
They began hosting skiers in the winter and the family home became a lodge. Sadly, Georg passed away in 1947, leaving Maria with ten children to support.
First Came the Book, Then the Movie
The story of the von Trapps first came to light via a book that Maria wrote in 1949. The Story of the Trapp Family Singers became a bestseller. It also spurred films in Germany, as well as a Broadway play, featuring Mary Martin in the lead role.
Hollywood got in on the action, and the movie premiered in 1965, starring Julie Andrews and Christopher Plummer. It's interesting to note that Maria only learned Hollywood was making the movie when she read about it in the newspaper.
"The Sound of Music" received an Academy Award for "Best Picture of the Year," and was a worldwide phenom. Due to its success and the increase in tourism to Salzburg, the Austrian government awarded Maria and the family medals of honor for their contributions.
Truth Versus Fiction
If you read Maria's book, it's clear the movie is not a documentary of the family's life. Unfortunately, because the von Trapps sold the rights to their story to the German film company, they had no control over the content of the resulting productions, which obviously took an artistic license for the sake of upping the entertainment value.
In the movie, for example, Baron von Trapp is portrayed as a distant and domineering patriarch. In real life, the captain was a very kind and gentle man. It's no secret that Christopher Plummer disapproved of the one-dimensional manner in which his character was represented.
Many people also don't know that the von Trapps were instrumental in aiding thousands of Austrians during WWII, via their philanthropic nonprofit, the Trapp Family Austrian Relief, Inc. There is a stone chapel on the property that they built in honor of WWII soldiers.
The Von Trapp Family Lodge Opens
The family did their last concert in the U.S. in 1956, after which they began focusing more on their lodge. Their youngest son, Johannes von Trapp, created a cross-country ski center on site, the first of its kind in the country.
Over the years, the place has been used by Olympic athletes in training and has continued to be the location of many races and events.
Tragically, however, the lodge burnt to the ground in 1980. Fortunately, though, the family was able to rebuild and the resort opened three years later. Over time, it has experienced several additions and enhancements.
Maria passed away in 1987 and today, only one of her children, Johannes, is still alive. Family members are buried in a small cemetery on the property, which guests can visit. Johannes, together with his son Sam and daughter Kristina, operate the resort.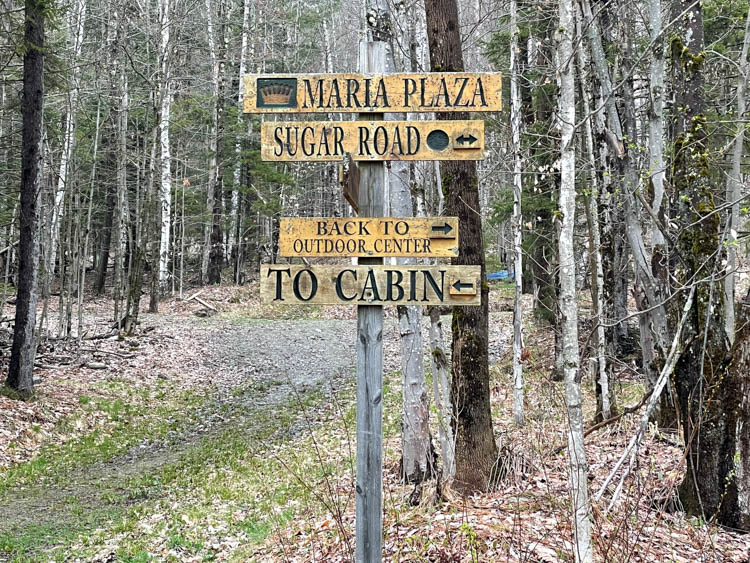 Activities Abound at the Lodge
Though the "Sound of Music" connection is often the first thing that draws visitors to this iconic property, most are surprised to learn that there is so much more to the lodge than its history. It's an all-ages playground of recreational activities.
Here you can go cross-country skiing, mountain biking, hiking, swimming, take yoga classes and play disc golf. You can also work out to your heart's desire at the well-equipped fitness center. Then soak your sore muscles in the soothing hot tub or arrange for a massage.
A variety of tours are offered at the resort, including the history tour, a wildflower walk, hike to the stone chapel and the ever-popular Sugar Maple Tour. The latter gives a behind-the-scenes look at the lodge's maple syrup process.
You can even get up close and personal with the cows if you want, and learn all about the Scottish Highlander herd. In addition to cows, there are pigs, chickens, turkeys and sheep, as the place is a working farm.
As you stroll the paths on this picturesque 2,500-acre property, you'll find beehives, along with orchards and gardens that supply the resort with fruit, veggies and flowers. It's a veritable Eden.
Food, Austrian Food (and Beer)
When hunger strikes, the main dining room, which specializes in European-style, farm-to-table cuisine, is the perfect spot for an intimate, candlelit dinner. Feast on Wiener Schnitzel, Maple Glazed Chicken, Stuffed Rainbow Trout and more. Prime Rib Night is on Fridays.
Another great option is the Trapp Brewing Bierhall Restaurant. It's a lively, casual place with a menu of Bavarian pretzels, brats, schnitzel, sauerkraut and mashed potatoes. Plus, of course, there's beer – craft lagers like those in Austria – brewed right on site.
The resort also has its own Kaffehaus. This Austrian bakery has specialty coffee drinks, to-die-for freshly-baked pastries, quiche, sandwiches and soup.
As for accommodation take your pick from cozy, one-room studio suites, spacious two-bedroom family suites or expansive villas and guest houses. They are all charmingly appointed with old-world furnishings and décor.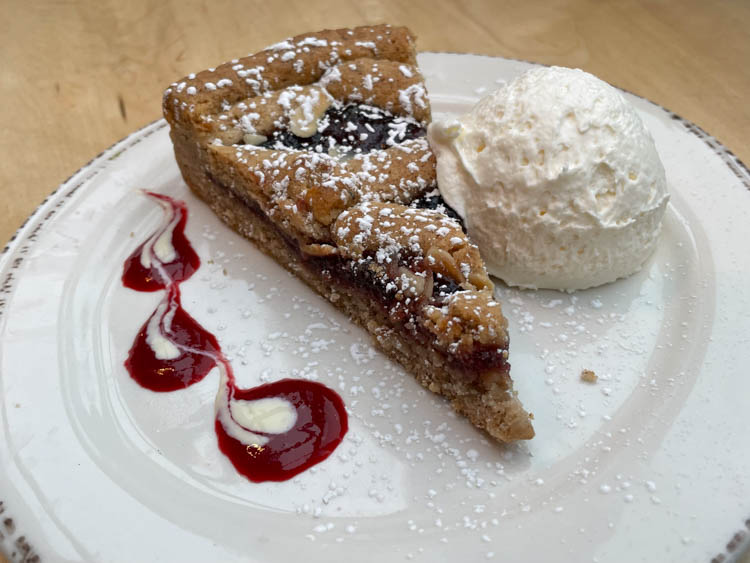 Make a Beeline for Ben & Jerry's
Though you never need to leave this full-service plus resort, I recommend getting out to explore the charming town of Stowe and its surrounds. You'll discover cute shops, quaint, covered bridges, dramatic waterfalls, lush forests and a ski and snowboard museum. Plus, one of my favorite destinations – Ben & Jerry's Ice Cream, in nearby Waterbury.
Though the factory was closed for tours when I visited, I was happy to settle for a trip to the Scoop Shop to get a cone. However, I never expected there to be so many flavors. It was difficult deciding, but my server assured me that the staff is trained to be very patient with customers.
I eventually settled on a scoop of Coconut Seven Layer Bar and one of Peanut Butter Half Baked. And of course, I had to sample my husband's Coffee Coffee Buzz Buzz Buzz and Chocolate Therapy, too.
Pay Your Respects at the Flavor Graveyard
As we tried to make our cones last as long as we could, we went to pay our respects at the Flavor Graveyard. Here's where flavors go when they die, and where you can pay tribute to the "dearly de-pinted."
Erected in 1997, with just four flavors – Dastardly Mash, Economic Crunch, Ethan Almon and Tuskegee Chunk – the graveyard is now home to 35 departees.
This unique resting place is complete with granite headstones listing the late flavor's year of "birth" and "death," along with a witty epitaph explaining why it ended up six-feet under.
Ben & Jerry's receives several thousand requests each year from fans beseeching it to "rein-cone-ate" their favorite fallen flavor. They hold out hope because once in a great while, discontinued flavors do come back from the grave.
If You Go
Find more information for travel and booking: www.trappfamily.com
Author Bio: Debbie Stone is an established travel writer and columnist, who crosses the globe in search of unique destinations and experiences to share with her readers and listeners. She's an avid explorer who welcomes new opportunities to increase awareness and enthusiasm for places, culture, food, history, nature, outdoor adventure, wellness and more. Her travels have taken her to nearly 100 countries spanning all seven continents, and her stories appear in numerous print and digital publications.