The state of Connecticut in southern New England is an ideal blend of lovely beaches, glorious woodlands and picture-perfect towns. Interestingly enough, the Nutmeg State has also been a fertile ground for American literary greats and Hartford, the state capital, easily takes center stage as an erudite hub.
Better known as the "Insurance Capital of the World" as many insurance companies set up their headquarters here in the 19th century, Hartford is certainly a tourist destination as the numerous literary and historic landmarks can make for an ideal day trip or weekend getaway.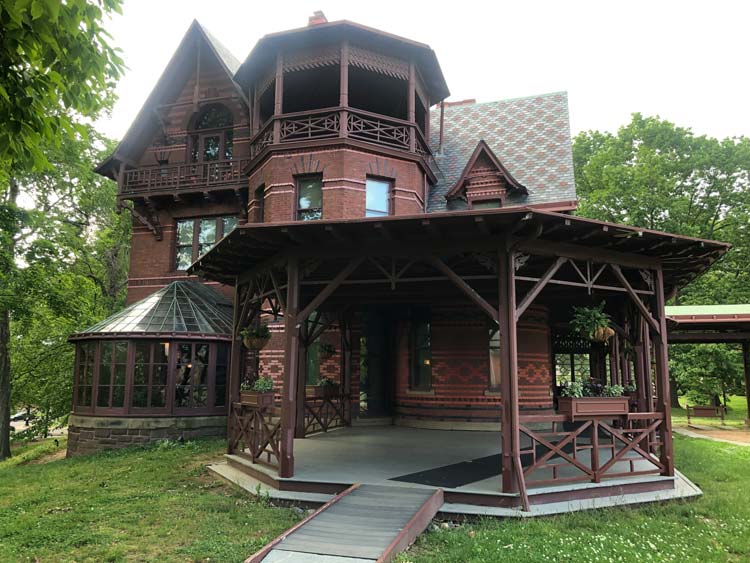 The Mark Twain House and Museum
We began with Samuel Langhorne Clemens, famously known as Mark Twain, surely one of the most influential writers in the American literary pantheon. His house located on Farmington Avenue is where he spent the longest time and penned many of his masterpieces including Adventures of Huckleberry Finn and The Adventures of Tom Sawyer.
Surprisingly, we were the only visitors at The Mark Twain House and Museum on the day of our visit and we thoroughly enjoyed the calm and serene surroundings. The beauty of the 19th-century Victorian Gothic-style house was simply breathtaking.
Best Tips & Tools to Plan Your Trip
It was achieved through painstaking restoration that brought in an award from the National Trust of Historic Preservation. Built by New York architect Edward Tuckerman Potter and decorated and styled by Tiffany's Associated Artists, the house has 25 rooms through three floors.
My daughter observed throughout the house was expensively decorated with superbly crafted detailings and the living and the dining room exuded a warm, lived-in feeling evoking a creative dialogue between visitor and house.
The ornamental details and motifs are hugely inspired by Indian, Chinese and Middle Eastern patterns, the perfect representation for Twain who first tasted success as a travel writer. The conservatory filled with lush greenery and pretty little gurgling fountain in the center was also lovely to encounter.
Read More: Saving for a House? 7 Free Things to Do in New Haven, CT | Redfin
Harriet Beecher Stowe House and Center
Located next door to the Mark Twain House, is the home of Harriet Beecher Stowe, the author of the famous anti-slavery novel, Uncle Tom's Cabin.
This neighborhood known as Nook Farm was the abode of many writers, activists and politicians, and Twain and Stowe were definitely the two most famous residents.
The Harriet Beecher Stowe House and Center calls itself "a non-traditional museum" and highlights the work and thoughts of a writer whose work inspires ideas of social justice and positive impact. Exhibits even in the gracious Stowe Visitor Center featured Stowe's thoughts and quotes on social issues.
The house, a National Historic Landmark, was built in 1871, and it underwent a major restoration in 2017. Its interiors manifest the Victorian-era design choices of Harriet Beecher Stowe herself. While the house is surely an attraction, it was the charming garden that caught my eye.
The beautifully landscaped garden was created in 1968 when the Stowe Center opened its doors to the public. The lovely trellis covered with climbers, the vibrant wildflower beds, curved paths, clumps of jutting rocks and soaring trees are all inspired by Harriet Beecher Stowe's own gardening interests.
Stowe believed in the healing powers of gardens and my family and I who are consummate city dwellers relished every moment spent there.
Katherine Seymour Day House
In between the Twain House and the Stowe House was another marvelous house built in 1884 and a creation of the New York architect Francis H. Kimball, known for building many early skyscrapers in Manhattan.
Originally built for a local lawyer who owned most of the land upon which the three houses stand, it was bought by Katherine Seymour Day, the grand niece of Harriet Beecher Stowe in 1940.
I loved the Queen Anne style architecture of the Katherine Seymour Day House with its varied colors and materials, the dark trims contrasting with the red terracotta tiles and the heavily carved details.
Today the Day House, listed in the National Register of Historic Places, is a part of the Harriet Beecher Stowe Center, all thanks to the efforts of Katherine Day who not only bought her great aunt's home next door for preservation but also did pioneering work to preserve the Mark Twain House.
Noah Webster House in Hartford
If you've ever opened an American dictionary, you must thank Noah Webster, an educator, and writer of the American Dictionary of the English Language in 1828, now known famously as the Webster's Dictionary, which introduced American words and spellings to schoolchildren who were using British textbooks up until then.
The 1750s-era Noah Webster House and West Hartford Historical Society on South Main Street in West Hartford is open for self-guided or docent-guided tours. In the house, which is also the birthplace of Webster, there are four rooms decked with period furnishings spread over two floors.
A point of interest is the large weaving loom in one of the rooms, signifying the family trade, as Webster actually means female weaver.
Wallace Stevens Walk in Hartford
The Pulitzer Prize winning poet Wallace Stevens, another literary giant from Hartford, composed his poems as he walked 2.5 miles from his home to his work as an insurance executive.
The Wallace Stevens Walk covers the route, starting from his home at Westerly Terrace to the Hartford insurance company building on Asylum Avenue, where he worked.
"Thirteen Ways of Looking at a Blackbird", is a mesmerizing poem, whose thirteen stanzas are carved into stones that are placed along the path he took, beckoning you to retrace his footsteps, the idea having been beautifully visualized by The Friends & Enemies of Wallace Stevens.
One of the Oldest US Museums
The Wadsworth Atheneum located on Main Street was founded in 1842 and with its opening in 1844 it has become one of the oldest public art museums in the country.
The museum, or athenaeum center for art, history and literature, comprises five connected buildings built in varied architectural styles. The main building in Gothic Revival design with its turrets and castle-like exterior immediately grabbed my attention.
The museum offers an excellent collection of Baroque art, Impressionist paintings, classical bronzes and decorative arts, textiles, costumes and furniture spanning 5000 years of world history.
It also boasts an incomparable collection of Hudson River School landscapes and American Impressionist paintings. A visit to this museum, which is listed on the U. S. National Register of Historic Places, is a must for art lovers.
Old State House in Hartford
Hartford's Old State House is the nation's oldest state house having been built in 1796. It was an early design of Charles Bullfinch who later on went on to become the architect of the Capitol in Washington D. C. It was the seat of the state government until 1878 after which the offices moved to the present Capitol building.
Historically, it is famous as the site of the opening sessions of the Amistad trials of 1839 which was about Africans who revolted after being illegally captured and sold into Spanish slavery and placed aboard Amistad, a cargo ship.
Today, the impeccably restored Federal-style stately building, a National Historic Landmark, houses lavish historic rooms, eye-catching artifacts, and interesting oddities such as a two-headed calf located in the Museum of Natural and Other Curiosities.
Connecticut State Capitol
Facing Bushnell Memorial Park is the Connecticut State Capitol. An ornate piece of architecture designed by Richard M. Upjohn, it was built by James G. Batterson and completed in 1878.
Upjohn was a well-known New England architect whose many buildings grace the National Register of Historic Places or are national historic landmarks.
The gold dome of the marble and granite building glittered in the evening sun as we took a moment to click a memento photo. Take a tour if you have the time to see the stencils and stained glass, a replica of the Liberty bell and the many statues and relics that decorate the interiors.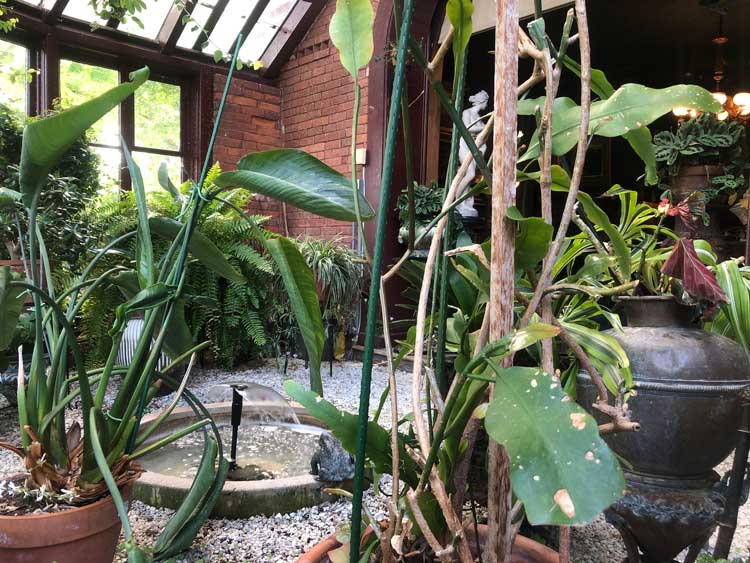 Where to Stay in Hartford
In keeping with our travel theme of visiting historic landmarks in Hartford, our stay happened to be at the Residence Inn on Main Street in downtown Hartford.
The hotel is placed inside the Brown Thompson Building, a National Historic Landmark and included on the National Register of Historic Places.
The building began its life as R. and F. Cheney Building and was designed by noted architect H. H. Richardson who brought about a style known as Richardsonian Romanesque.
Constructed in 1875-1876, the massive building dominates the street with its imposing three-tiered facade that has a series of arches that start out with a row of arches in the highest tier and ends with five huge arches at the street level.
Places to Eat in Hartford
There is no shortage of excellent eateries in Hartford. You can take your pick from budget-friendly to fine dining options.
Trumbull Kitchen at 150 Trumbull Street, near Main Street, is a chic eatery offering a variety of foods ranging from Mexican to Chinese, American, Japanese, Italian and also vegetarian options. The restaurant is closed on Sundays.
For upscale Italian food, you can head to Salute at 100 Trumbull Street to taste delicious pasta, salads and meat or fish entrees. The lunch options are eclectic with a variety of sandwiches and salads.
Feng Chophouse at 93 Asylum Street was our choice for a dinner takeout. The restaurant serves delectable Asian dishes from Japan, China and Thailand.
Though it is a steakhouse offering uniquely fancy steaks, there is also a broad selection of tasty entrees, salads, noodles, sushi and sashimi. But beware this eatery is closed on both Sunday and Monday.
Author Bio: Susmita Sengupta, an architect by background, from New York City, loves to travel with her family. Her articles have been published in many online travel magazines such as Go World Travel, Matador Network, GoNomad, Travel thru History, In the Know Traveler and others.