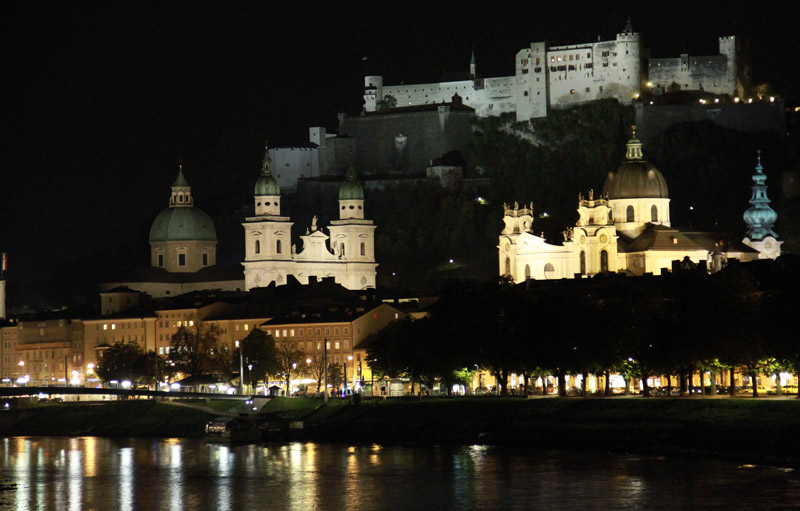 When my college friend and I brainstormed places to travel this summer, we thought, "Let's go to Salzburg, Austria and sing!" Both Sound of Music fans, we could already hear the songs as we planned our trip.
Vienna and Salzburg looked beautiful in the pictures: the elegant Baroque architecture and the medieval fortress looming over the evening skyline. Yet once we finally arrived in Salzburg for our long-awaited historical and Hollywood pilgrimage to "The Sound of Music" locations, I was surprised to hear the sound of silence. The neighborhood and area surrounding the hotel where we stayed, in the New Town north of the Danube, seemed oddly quiet, almost uninhabited. The streets were fairly empty in the daytime, save the occasional local passersby.
This is a place where past histories, present realities and timeless fantasies collide. Multiple-layered perspectives emerge: the lived realities of the von Trapp family prior to the Anschluss; the literary lens of Maria von Trapp's memoir "The Story of the Trapp Family Singers," the fictional characters and scenes from the film; the international travelers, like us, seeking enlightenment and nostalgia in some combination of reality and art.
Tourists and locals traverse Old Town and New Town encountering eras and ideologies worlds apart. Medieval, baroque and contemporary architecture exist simultaneously alongside international stores and cuisines, Mozart concerts and "The Sound of Music" tours, while Fortress Hohensalzburg towers above and the salt mines beckon from below.
History and narrative exist as authentically located performances and displays to share with those who seek to experience the culture. Yet beyond the façade and the tourism, the divide between Old and New seems ever widening as cultural heritage becomes a distant relic of the past.
Continued on next page