The vendor twisted it up into a cloth and put it right into my friend's face.
"Inhale. Not drugs," he said.
My friend was hesitant but her curiosity won her over. She winced and backed up, startled. I'm up next. I inhale deeply and feel a sharp twinge through my sinuses. Having just recovered from COVID and dealing with perpetual nose blockage, the cleanse I felt from these black seeds was a game changer. Suddenly, for the first time in weeks, I could breathe again. These seeds were magic and Moroccans knew it. Agadir, Morocco welcomed us with such warmth and generosity.
Read More: Frequently Asked Questions About Travel in Morocco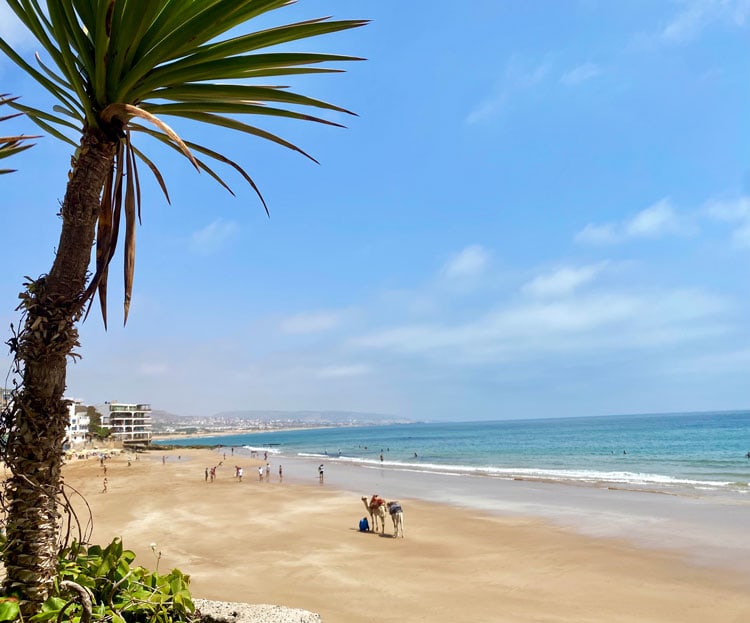 A Little History of Agadir, the Modernized Beach Town in Morocco
Agadir is located on Morocco's west coast and is home to beautiful beaches, vibrant culture, and traditional markets. The bulk of the city was destroyed by an earthquake in 1960, so the infrastructure is more modernized and catered to tourism. The visual history that you might find in a more traditional city like Marrakech is less prevalent.
Morocco is steeped in French influence, having previously been colonized by France. This results in an interesting melding of cultures that is highlighted in the cuisine and language. Morocco also tends to be a popular tourist destination for the French, which were the bulk of the tourists we met. My friends and I were all studying abroad in France when we visited, so we were excited to have an opportunity to practice French.
Best Tips & Tools to Plan Your Trip
We were fortunate enough to have an Agadir native as a friend. When we visited, he happily gave us the most authentic tour you could get and provided cultural tidbits we would've never learned otherwise.
Read More: The Mystical Allure of Marrakesh
What Language is Spoken in Morocco?
To put it simply, Arabic and Berber are the most spoken languages in Morocco. I was surprised to learn about the many nuances of the Arabic language. There is a Moroccan Arabic dialect called Darjia which is the most commonly spoken.
Classic Arabic is more common for official government purposes and formal occasions whereas Darjia is common for interactions between locals and day-to-day affairs. Berber is not a written language and is mostly spoken in rural settings. Due to the French influence, many Moroccans speak French as a second or third language.
Pandemonium at Souk El Had
A huge component of Moroccan culture is the souks, which are sprawling colorful markets filled with every kind of good you could think of. We visited the biggest souk in Agadir, known as Souk El Had. It was expansive and rambling with dozens of entrances.
I've never experienced anything close to a Moroccan souk. Vendors can spot tourists from a mile away and they waste no time trying to lure you in. They shout hello in whatever language they think you speak based on what you look like. Although overwhelming, the vendors never invade your personal space or coerce you into visiting their stands. If you're not interested in visiting a stand, a simple "no thank you" will suffice. To learn more about the best way to navigate a souk, find out here: Morocco FAQs
What is Sold at a Moroccan Souk?
Fragrant spices, textile dyes, and freshly butchered meat twirled through the dry hot air. Although it was hard to detect any rhyme or reason for the way the market was organized, our local friend knew exactly where he was going.
There were stands with colorful hand-tailored dresses, wide varieties of jewelry, and every food and iteration of spice imaginable. The spices were presented like a colorful range of mountains: saffron, golden turmeric, cumin, ruby red paprika, cayenne, and so many I've never heard of before. Spices were also sold as blends; traditional couscous spices and spices for tajines, most packed with over 20 different spices.
One vendor pulled us aside and proudly presented his wide array of goods. Moroccans have mastered the art of homeopathic treatments. As mentioned above, I was most amazed by the miraculous black seeds, formally known as nigella sativa or black cumin. They have anti-inflammatory, antibacterial, and antiviral properties and are commonly used for digestive issues, respiratory problems, and skin conditions.
Morocco is also home to the highly coveted Argan oil which has grown in popularity all over the world as a multipurpose miracle oil. It is most commonly used to better hair, skin, and nail health. The oil comes from the kernels grown on argan trees, which are native to southwestern Morocco and grow better there than anywhere else. Usually, the oil is extracted by local Berber communities who have a tried and true methodology.
Breathtaking View at Kasbah Agadir Oufella
Agadir has a beautiful terrain with dynamic hills overlooking the Atlantic Ocean. There are views everywhere, but one of the best is on the hill known as Kasbah Agadir Oufella. This means "the attic from above." The Kasbah is one of the last historic sections in Agadir hosting the ruins of the tragic 1960s earthquake. It used to be a bustling citadel with various dwellings, markets, mosques, and a hospital. There are shuttles that go up the hill, an Agadir cable car, or you could walk along a paved road to get there.
Camels, the Quirky Desert-Proof Creatures
Camels are an essential part of the Moroccan experience. You will see them in all kinds of contexts. We saw them at the top of Kasbah Agadir Oufella, near souks and on the beaches. They are nicknamed "Ships of the Desert" not only because they're able to transport people and large loads of supplies, but they do so in some of the harshest conditions in the world. Camels are low-maintenance creatures that don't need a constant food or water supply due to the fat stored in their humps. Camel rides are a popular activity for tourists to enjoy but they serve a much greater role to the locals in Morocco's workforce.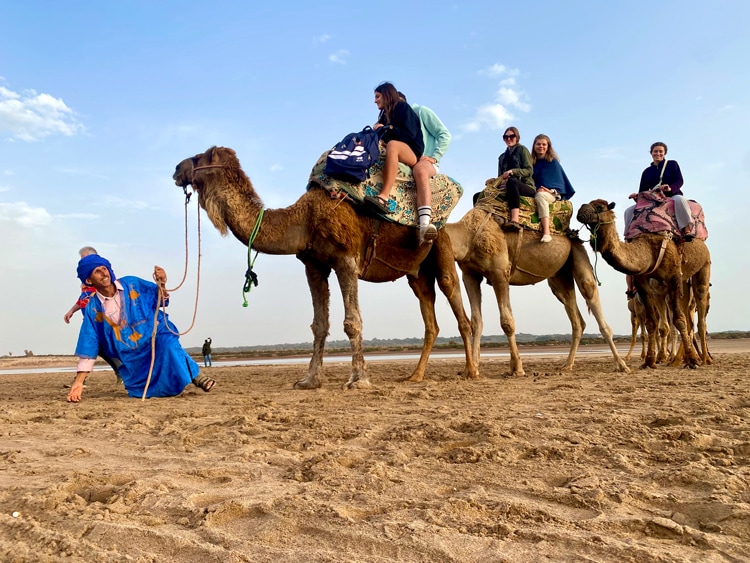 Sunset Desert Camel Ride, an Experience Like No Other
Riding a camel is a bucket list item for many visiting tourists. My friends and I were no different. If you visit, there will be many opportunities to take a camel ride but I recommend booking one in advance for the best experience. We booked a sunset ride that included a meal at the end. The whole excursion took 2-3 hours. We went with a group of around 20-25 other people which was a very manageable size.
If you've ever ridden a horse, expect a camel ride to be much different. Not only are the animals far more enormous than you'd ever presume but they have humps that require an entirely unique saddle system that some might not deem the most comfortable. The height of a camel provides an amazing vantage point, so the views are amazing. It will not be a smooth ride. For the first hour, it was a fun bouncy experience more than anything. On the way back, your legs start to feel a little sore, which worsens the next day. To me, it was all worth it, but you might consider a shorter ride if you're sensitive to sitting in an awkward position for long periods of time.
This was all punctuated with a big homemade batch of couscous shared among fellow travelers. There are plenty of tours available, but this is closest to the one we booked.
Surf Lesson in Agadir
Agadir is also known for having some great surfing opportunities. My friends and I had never surfed before so we were excited (and nervous) to give it a try. Our friend took us to Taghazout Surf Morocco, where we changed into wetsuits and got the boards all ready. We had to carry the boards to the beach (a 20-minute walk), which my arms definitely felt the next day.
Then, our amazing teacher gave us the surf basics to get us started. Since we were all so new, they did a fabulous job accommodating our experience level and providing doable tips to help us stand up (the hardest part). The waves weren't great on the day that we went, but I'm proud to say that all four of us were able to catch a wave and stand at least once.
Although surfing season in Agadir is year-round, the months with the best waves are from October to April. If you're new to surfing, I recommend building up core strength beforehand so that it is easier to stand up and balance. Also, be prepared to be tossed off your board and totally demolished by a wave you didn't expect. Surfing is very challenging but very rewarding.
Experience the Cuisine of Morocco
Moroccan food is rich in spices and flavor, utilizing staples like chickpeas, couscous, steamed vegetables, and a variety of meats. It is traditional to have couscous on Fridays because it is considered a holy day in Islam. Locals usually pray, gather with friends and family, and eat a large couscous meal to celebrate the holy day as well as the end of the work week. Because making couscous is a long laborious process, it is saved for occasions and celebrations.
What is a Tagine?
Aside from couscous, another essential to try is tagine. It is served in a cone-shaped ceramic dish that it's named after. A tagine is a slow-cooked stew that often consists of meat, vegetables, spices, and nuts. The lid of the tagine traps the steam to infuse the dish with maximum flavor. We had our tajine at Restaurant Albaraka Awrir, one that our friend took us to. It was an incredibly authentic experience with some of the best food I've ever had. The tagine that we had was served with khobz, circular-shaped bread that is used to eat the contents. Eating this way took some getting used to, and you're bound to experience mild embarrassment when everything falls out of the bread and lands on your white shirt. Be sure to also try some mint tea, which is served almost everywhere.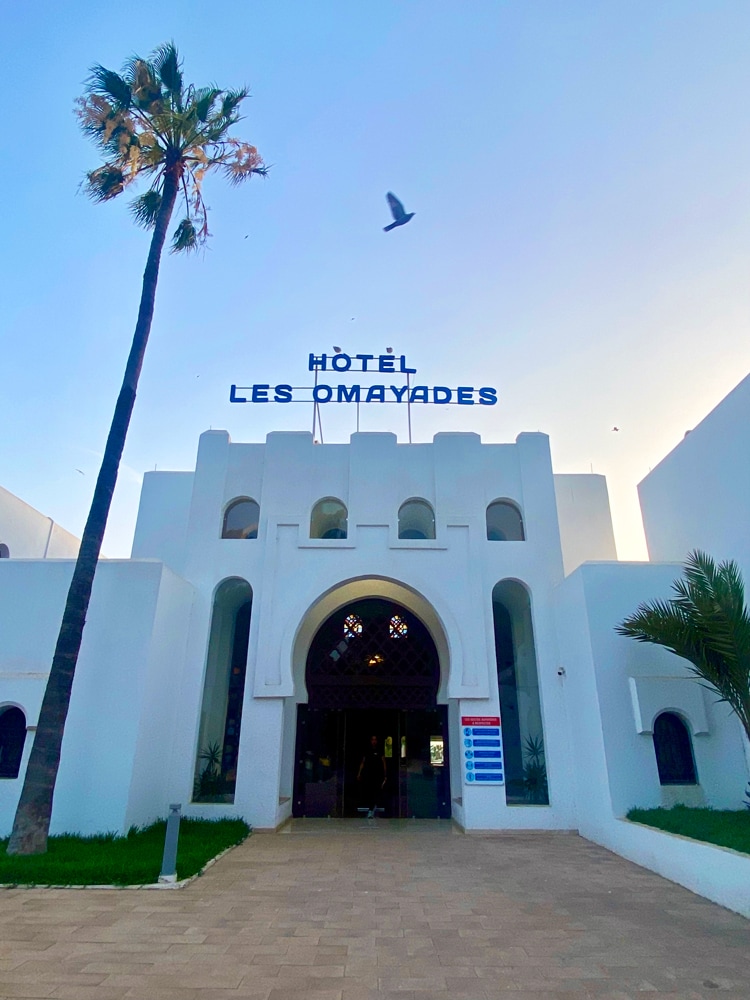 Agadir Travel Tips
Book tours ahead of time but allow the opportunity for spontaneous adventures. I recommend learning a few basic words in Arabic or French and familiarizing yourself with the Moroccan currency, the Moroccan Dirham. Currently, it is a 1 USD to 9.81 Moroccan Dirham ratio but be sure to check for it does change. In comparison to the states, Morocco is very affordable. For reference, we were able to get lunch for the USD equivalent of $5. The people are generally kind and accepting.
It is important to be aware of the Islamic influence in Morocco. We dressed on the more conservative side out of respect, meaning covering our shoulders and knees. Some Mosques are open to non-Muslims, while others are not. Be respectful of these restrictions. It is also important to keep swimwear to the beach and the pools and cover up well when you leave.
Morocco is a magical, enchanting destination with so much to offer and it was an honor to be able to explore such a beautiful place. The people in Morocco are so welcoming to tourists and quick to share their culture and knowledge. The fruit is fresh, the landscapes are breathtaking, and the laid-back demeanor of locals is contagious.
Read More About Morocco