Gulet private charter cruises are an ideal way to explore the Mediterranean. You'll enjoy the privacy of your own charter boat while you explore beaches, clear sea, islands, small villages and historic towns.
Aboard your private gulet, you'll sleep and eat well. It's the type of holiday where anything can be adapted to your wishes and preferences. The goal of a gulet cruise holiday is to have a relaxed experience that you'll cherish for the rest of your life.
What is a gulet cruise and what are gulet boats?
A gulet is a wooden classic boat most often built in Turkish towns called Bodrum and Marmaris, which are top destinations on the southwestern coast.
Over the years, gulet boats have evolved into luxurious and comfortable vessels, with an average size of 20 to 30 meters in length, with four to eight cabins.

How to charter a gulet

To find and book a perfect gulet for private charter, you'll want to understand the different categories of gulet boats. You'll want expert help with planning and preparation before and during the cruise.
The first step is determining your wishes, budget and group structure in advance. Once you've determined that, work with an expert to find the best possible deal. Besides finding the best deal for you, you'll get advice regarding routes, gulet crew and all the activities you might be interested in.
Your gulet expert will deal with all the paperwork and make final arrangements five weeks before you depart on your holiday. Your trip will be organized according to your wishes and expectations. You'll have support during the gulet cruise 24/7, in case you need any additional assistance.

What are the top gulet cruise destinations?

There are four top gulet cruise destinations are Croatia, Turkey, Greece, and Italy.
Gulet Cruise in Croatia
If you go on a gulet Adriatic cruise in Croatia, you'll discover more than 12,000 islands, with a stunning coastline, old towns, clear sea, secluded shores, Mediterranean cuisine and much more. This destination is good for families with small children, with a special itinerary that is modified especially for families.
Gulet Holiday in Turkey
Cruising in Turkey with a gulet can be a wonderful way to spend a week, too. You can expect great Ottoman food, turquoise sea, endless hospitality, many historical sites, lively markets, and small picturesque villages, to name just a few.
Whether you are traveling as a couple or as a large group, with children or not, there is a large variety of various tours and activities to choose from.
Gulet Cruise in Greece
For some, gulet cruising in Greece might be the best option. It's a well-known tourist spot with thousands of islands filled with ancient history, beautiful nature and clear water. Greece is the perfect mixture of natural beauty, fascinating history, picturesque bays and rich culture.
Gulet Holiday in Italy
Last, but not least, if you choose to cruise in Italy, you will find rich culture, see towns dating from the Roman Republic, and dine on famous Italian cuisine. A gulet voyage allows you to get a different perspective on this country.
Are gulet boats accompanied by the crew members?

Gulet charters come with an English-speaking crew onboard that makes your experience that much more pleasant. Communication on board should never be a problem because the crew is fluent in English, and sometimes individual crew members can speak more languages.
If you'd like a crew that can speak a language besides English, be sure to request that in advance. The number of crew members will be determined by the size of the gulet. For smaller gulets, there will be fewer crew members on board and vice-versa.
Every vessel has a captain that regulates sailing and navigation, and he is usually the best person to show you the most amazing hidden spots on your voyage.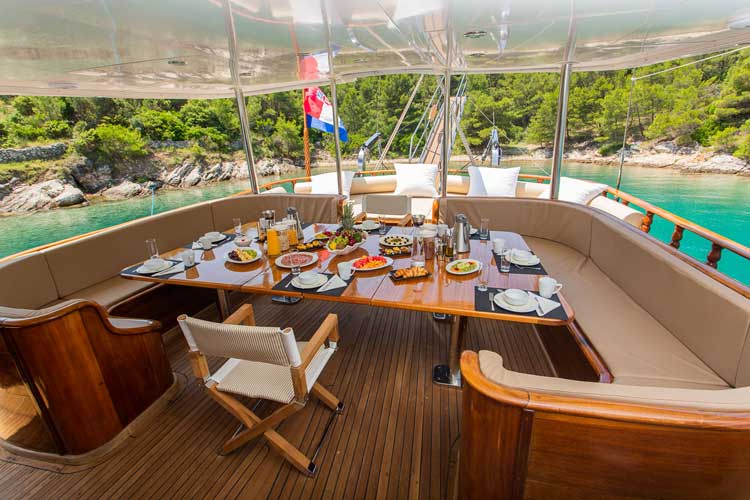 Dining on a gulet
Special attention is given to your taste buds too. Gulet charters have a private chef on board. The chef is responsible for all the meals prepared and shared onboard, while a waiter works alongside the chef to assure that meals are served properly.
Another important person on the boat is the sailor. The sailor is the right hand of the captain who can help with navigation and other work around the boat.
A hostess is common only on luxury gulets, and is usually responsible for cleaning your cabins, serving your drinks and snacks and managing the salon.
Can a gulet sail?

The answer is not as simple as it seems. Sailing on gulets is possible, but gulets are not comparable to sailing yachts because they are wooden and much heavier.
In addition, not every gulet is equipped for sailing, and those that are might not sail as well as a traditional sailboat.
There are, of course, some exceptions to this rule. If you are passionate about sailing, then it is important to mention that fact in advance, so you aren't disappointed.
Once you're determined what you're looking for, you'll be matched with the perfect gulet, and an itinerary that fits your vacation schedule, tastes and budget.
Is a gulet cruise suitable for kids?

A gulet cruise is suitable for almost all ages, which is why knowing your group structure is such an important factor.
If you are traveling with children, especially small children, you'll be offered gulets that are suitable for your kids. On these family-friendly gulet charters, crew welcome children onboard and safety is at the highest level.
However, it's never the crew's responsibility to babysit children, and parents need to care for their children on board.
If you'd like to hire a babysitter, ask your gulets cruise experts about adding a babysitter as an additional part of the crew. The babysitter can keep a close eye on little ones when you want to participate in activities your kids can't join.

How much does a gulet cruise cost?

When it comes to the cost of a gulet cruise, it's important to know that there are three categories of gulets; standard, luxury, and deluxe. In addition to categories, other factors influence the price of the gulet – things such as the season you cruise in, the age of the gulet and the services and amenities you want.
For example, gulets that offer a variety of watersport equipment, jacuzzi, fully furnished bar, the possibility of having a babysitter on board, etc. will be more expensive. But generally, prices are around 799 – 1486 € per person per week.
When is the best time to charter a gulet?
There is no "best time" to charter a gulet because it all depends on what you're looking for.
Many believe the best cruise period is late spring (April through June) or the end of September when there are fewer crowds. The sea is calm and warm, but still nice and refreshing for swimming. Those looking for a livelier atmosphere and days without one cloud in the sky may prefer August instead. Whatever your budget or group needs, with a private gulet charter, you can design the vacation you've always wanted.
For more information, visit GuletExpert.com
Latest posts by Janna Graber
(see all)