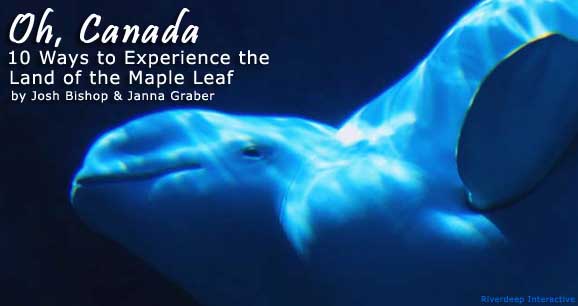 Canada is a diverse land. You can swim with belugas in Manitoba, watch cowboys in Calgary, kiss a fish (no joke!) in Newfoundland or eat more lobster than you've ever dreamed in Prince Edward Island .
So pack your bags and get going. There are 10 provinces to choose from. Here are just a few ideas to get you started:
Watch bucking broncos in ALBERTA
Put on your boots and ten-gallon (39 l) hat and hit the trail to Calgary for the world's largest outdoor rodeo. The annual 10-day Calgary Stampede draws an audience of more than 1 million to watch a Western-themed parade wind through the city's downtown, cheer at the chuck wagon races and attend a world-class rodeo.
The 2007 event (July 6-15) features performances by renowned musicians, including Nelly Furtado, Our Lady Peace, and country greats Alan Jackson and Kenny Chesney. If you can't make it to the festival, the Stampede grounds host horse races seven months a year.
Tour the wineries in BRITISH COLUMBIA
The arid climate and naturally terraced landscape of the Okanagan Valley in British Columbia make for perfect wine-growing conditions. Visit some of the valley's approximately 60 wineries to sample the region's award-winning wines for yourself. All wineries offer wine tasting, and many feature tours that explain the art of winemaking. Reservations are not required.
Swim with belugas in MANITOBA
Though best known for polar bear viewing in the winter, the tiny town of Churchill, Manitoba on the shore of Hudson Bay, is also one of the top places to experience beluga whales. Each year, some 3,000 belugas congregate at the mouth of the Churchill River to molt, arriving in mid-June and leaving at the end of August. Don a dry suit and snorkel to view the whales up close. Known for their curious nature, the whales will often swim near to check you out.
Skate ONTARIO's Rideau Canal
Rent some skates, bundle up the kids and go skating on the Rideau Canal in Ottawa, the world's largest skating rink. When Ottawa's Rideau Canal freezes in the winter, a 5-mile (8 km) section is transformed into an icy surface the size of 90 Olympic hockey rinks.
It's best to go during Winterlude, Ottawa's annual winter festival (usually the first three weekends in February), when thousands of locals and tourists brave the cold to celebrate the snowy season. Skate and sleigh rentals, heated changing facilities, souvenir kiosks and food vendors (try "Beaver Tails," oval-shaped fried-dough pieces) are located along the Skateway.
Enjoy culture and nature in NEW BRUNSWICK
Saint John, the largest city in New Brunswick, has wonderful urban amenities and nature close-by. Hike, camp and swim in the 2,200 acres (8.9 km²) of beautiful Rockwood Park, located just minutes from the city center. Visit Carleton Martello Tower, built during the war of 1812 between British North America and the United States, or put on your evening best for a show in the historic Imperial Theatre, restored to its 1913 glory. Shop at Saint John's upscale shopping centers or visit the indoor Saint John City Market.
Kiss a Fish in NEWFOUNDLAND and LABRADOR
This province in eastern Canada eastern province consists of the island of Newfoundland and the mainland, Labrador. Sprawling coastlines, pristine wilderness and stunning wildlife draw visitors from around the world. Newfoundland Island is beautiful enough to make you wish you were born there. You can feel like a local, though, with a Screech-In ceremony at a local pub. After you kiss a fish on the lips (cod is preferable, but any fish will do), toss back a shot of Newfoundland's bitter rum, known as Screech, and repeat a phrase along the lines of "Long may your big jib draw," in the local dialect. From that point on, you're regarded as an Honorary Newfoundlander.
Raft a tidal bore in NOVA SCOTIA
Raft on a river that changes direction! The tides in the Bay of Fundy in Nova Scotia are the highest in the world; they can rise and fall as much as 50 feet (15 m) in a few hours, pushing water into the mouth of the Shubenacadie River. The front edge of the tidal flow is a wave (called a tidal bore) that ranges from a ripple to several feet (1 m). Jump on a raft and take a wild ride on a true tidal wave. Wear a swimsuit or shorts, and bring a change of clothes; you're gonna get wet.
Eat Like a King in PRINCE EDWARD ISLAND
Lobster fishing is such a huge part of life on Prince Edward Island that even McDonald's offers the McLobster sandwich. But you'll probably be better off trying one of the dozens of seafood restaurants scattered across the small island. Crack open a fresh crustacean at Charlottetown's Lobster on the Wharf seafood restaurant and market or, if you want a more posh dining experience, try The Inn at Bay Fortune. Need to work off all that great food? Hike idyllic Confederation Trail, a 173-mile-long (279 km) trail stretching from one tip of the pastoral island to the other.
Kayak QUÉBEC's rendezvous of waters
The Saguenay-St. Lawrence Marine Park in Quebec was created in 1998 where the Saguenay River mingles with the estuary waters of the Saint Lawrence River.
Cold water welling up to the surface here fosters biological diversity, and the best way to experience this national treasure is in a kayak. The protected confluence area is host to numerous varieties of fish, mammals and birds, including razorbills and blue herons. Guided kayak tours range from two-hour family outings to five-day excursions.
Go Fishing In SASKATCHEWAN
More than 100,000 lakes and rivers make Saskatchewan a dream destination for world-class freshwater fishing. And the fish are something to write home about: 18-pound (8 kg) walleye, 70-pound (31.7 kg) lake trout and 54-inch (137 cm) northern pike have been landed here in the Canadian heartland.
If You Go
Canada Tourism
www.canada.travel
Read more articles on travel in Canada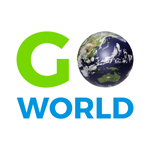 Latest posts by Go World Travel Magazine
(see all)