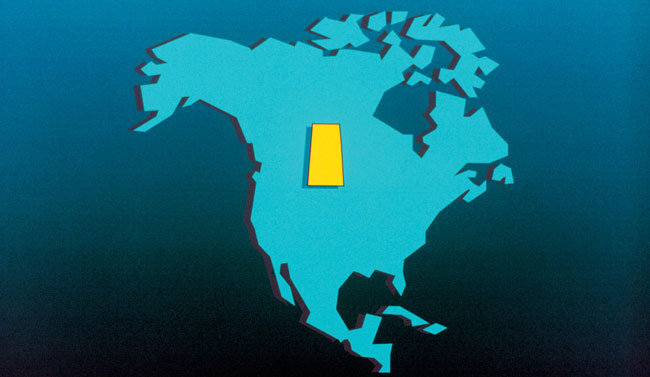 There's an old local joke that describes Saskatchewan as a place that is "hard to spell, but easy to draw."
That saying rings true. This rectangle-shaped Canadian province with the long name is located north of Montana and North Dakota, and sandwiched on either side by Alberta and Manitoba.
Travel in Saskatchewan
Home to 1.3 million people, Saskatchewan has been called the "bread basket" of Canada. Rich rolling farmland covers its southern plains, with rivers, lakes and thick forests in the north. If you live in North America and eat chickpeas and lentils, chances are that it came from Saskatchewan.
Like many outside of Canada, I didn't know much about this Canadian province. But small towns and rural life appeal to me, so when I got the opportunity, I jumped at the chance to visit.
Travel in Canada
Even though we're so close, many Americans are unfamiliar with all Canada has to offer. I learned early on in my travel life, though, that Canada is a diverse land with a wealth of natural beauty, world-class cities and a wide variety of adventure opportunities. I've snorkeled with belugas near the Arctic, walked across the tops of ancient trees in British Columbia and paraded through the streets of Quebec in an 18-century gown. Best of all, Canada is close to the US and the people are just so darn nice.
I know, I know. That's a stereotype, and there are evil people in every location, but for the most part, I've found Canadians to be incredibly kind. Case in point on this trip: When he learned that I was a writer, the Canadian customs official in Calgary suggested several writing retreats I might like, and when I was about to miss my connection to Saskatoon due to a long security line, a fellow passenger walked me up the line, asking every person if they wouldn't mind me skipping ahead so I wouldn't miss my plane.
This, my friends, is where that reputation for "niceness" comes from. By the time my plane touched down in Saskatoon, I was sure it was going to be a good week.
Visit Saskatoon

The first thing most visitors to Saskatoon notice is the wide South Saskatchewan River that winds its way through the heart of the city. A series of bridges connects the east and west sides of town, and a kilometers-long trail runs along the river.
Perched along the trail overlooking the river stands the grand chateau-style Delta Bessborough. Just walking into the historic hotel feels like a step back in time, only this step back in time includes luxury rooms and fine details that show off its 4-diamond elegance. This would be the perfect base for the next few days.
But relaxing at "the Bess" as locals call it, would have to wait to wait, because I was eager to explore the city. With 222,000 residents, Saskatoon is the largest city in Saskatchewan. Those numbers will soon change, because Saskatoon is among the fastest growing cities in Canada. Younger Canadians and start-up companies have found an affordable and welcoming home here, and that youth and vibrancy is obvious.
Former run-down neighborhoods, like Riversdale and Broadway District, have experienced an impressive renaissance. The streets are lined with unique boutiques, busy coffee shops and bustling restaurants. As I browsed, I noticed a proud focus on local products, from Saskatoon Berry jam to the latest local designers.
That local focus came into better into view when my friends and I dined at The Hollows. Owned by former model Christie Peters and her husband, Kyle Michael, the cuisine uses the best ingredients in the region, from vegetables grown in the restaurant's garden to local fish and wild-harvested mushrooms. While a farm-to-table focus is common these days, it's the preparation of the dishes that takes this cuisine to the next level. It's fresh, flavorful and well-presented, and I have to admit – I was impressed.
The Hollows isn't the only restaurant making a splash in Saskatchewan. Later, we dined at Ayden Kitchen & Bar, run by Canada's original top chef Dale Mackay, and partners Nathan Guggenheimer and Christopher Cho. Their scrumptious dishes are just what you'd expect from such a star-studded team.
Even the tiny, but bustling Calories, a long-time local favorite, hit it out of the park with their tasty cuisine and bakery items. With dining options like this, I was going to have to loosen my belt during my time here.
Local products have taken on new demand, including from the Lucky Bastard Distillery. When we stopped by for a tasting and tour, I found a wide variety of fine liqueurs and spirits. Saskatchewan's premium micro distillery has a passion for their work, and that shows in their products.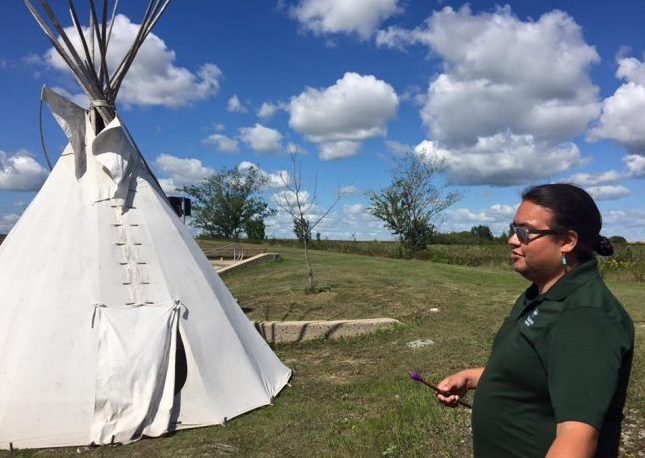 First Nations Heritage in Saskatchewan
European were not the first to settle this land; for thousands of years, many indigenous cultures called it home. That rich heritage is honored at Wanuskewin Heritage Park, just a few minutes from the city. This National Historic Site shares the story of the land and its first people with visitors. It's also an important archaeological dig site, with artifacts dating back more than 6,000 years.
"When you come to Saskatchewan, you should experience First Nations culture," our guide, Chris Standing, told us. "It's our story, our heritage. For more than 6,000 years, the Indigenous peoples of the Northern Plains have come to this region, following the bison."
Visiting Wanuskewin is not only educational, it's fun. We watched a teepee being built, and learned about its special meaning. Later, we got to try our hand at throwing an atl atl, a type of wooden spear that was used for hunting more than 3,000 years ago. In case you were wondering, it definitely takes some practice to master.
Urban Adventure in Saskatoon
After exploring the province's First Nations heritage, we wanted to see the city's adventurous side. The Wyant Group Raceway is a local NASCAR raceway that holds stock car races and other events. On select days throughout the season, they also offer visitors the chance to drive a stock car themselves. For a reasonable fee of $30, you can take eight laps around the track. You get to drive the car with an expert guide alongside you.
After getting suited up, I climbed into a bright purple stock car and got strapped into all the safety gear. Then I was ready to go. As first, I was timid as I pulled out onto the track.
"Go high in the straightaway and tight in the corners," the instructor told. And so I did, edging faster and faster. The car's tires were wide and fat, and they squealed as we went around the corners.
"Now you're doing it!" my instructor exclaimed. I gave the car more gas.
There was a huge grin on my face when we finally pulled back in. I'd never imagined driving a stock car in the middle of the Canadian prairie, but it was an experience I won't forget.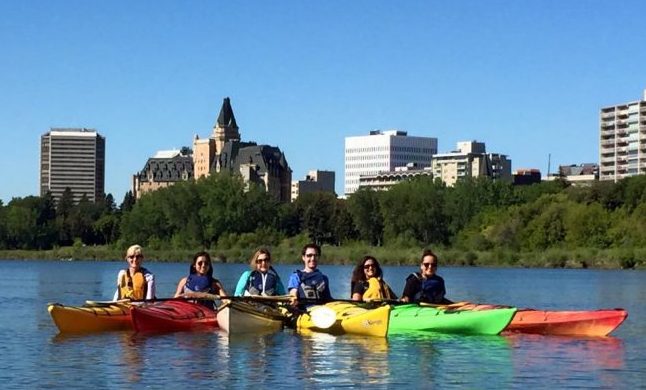 Kayaking on the South Saskatchewan River
The sky was bright blue on our last morning in Saskatoon, which meant it was the perfect time for kayaking. The South Saskatchewan River is wide, and local outfitters rent kayaks, paddleboards and prairie-river canoes.
We each selected a kayak, and within minutes were on the water. The river provided a different view of the city, as we paddled under bridge after bridge, viewing the urban activity of Saskatoon.
Though Saskatchewan may be known for its farmlands, water is a central part of life here. The province has more than 100,000 lakes.
"We have to tease the Minnesotans when they brag about their 10,000 lakes," one local from Saskatchewan told me. "We have 10 times that many."
And indeed they do.
Prince Albert National Park
One of the most popular lake regions is found in Prince Albert National Park, just a few hours north of Saskatoon.
The national park draws Canadians and Americans who come for the world-class fishing, but it's also a favorite lakeside destination for families. Cottages, campgrounds and small hotels are plentiful. We chose to stay at the Elk Ridge Lodge, which is set in the heart of a boreal forest. There's a golf course onsite, and in the winter, many come for cross-country skiing and ice-fishing.
Prince Albert National Park has 3,875 square kilometers of protected land, which includes everything from grassland to aspen parkland to boreal forest. We saw this first-hand on our day hike to Grey Owl's cabin with a guide from Waskesiu Marina.
As the only American in our group, I had no idea who Grey Owl was, but as we set out, my Canadian friends told me stories of this British immigrant who became one of the country's first conservationists. He did a great deal to protect the land, but it was not without controversy because he took on a fraudulent First Nations identity as he did it.
With an earful of stories, we continued our journey across Kingsmere Lake and then through a narrow river channel. When you're boating in the back country, sometimes it requires portage to go around an impassable section of river. This usually means pulling the boat from the water and carrying it until it can go back in.
When that happened to us, happily there was a solution. The park had rigged up a rail line to help carry the boat. With the help of a winch, we pulled the boat out of the water and onto a small cart on rails. Then we pushed the cart/boat 800 meters until it reached an area when it could go back in the water. It was a simple, but brilliant design.
When we reached land, we continued our hike to a tiny cabin set on the edge of a lake. Grey Owl and his wife had pet beavers (yes, beavers). The cabin had a "beaver door," so to speak. The animals could swim up from the outside into a beaver den which was located in the cabin, then they would exit the den into the home. It sounds kind of fun, except that evidently beavers are smelly.
For dinner that evening, we went into the small lakeside village of Waskesiu. The townsite has a wide sandy beach, which is popular with families. Kids splashed in the water, while teens threw Frisbees on the beach. It was a scene right out of a postcard.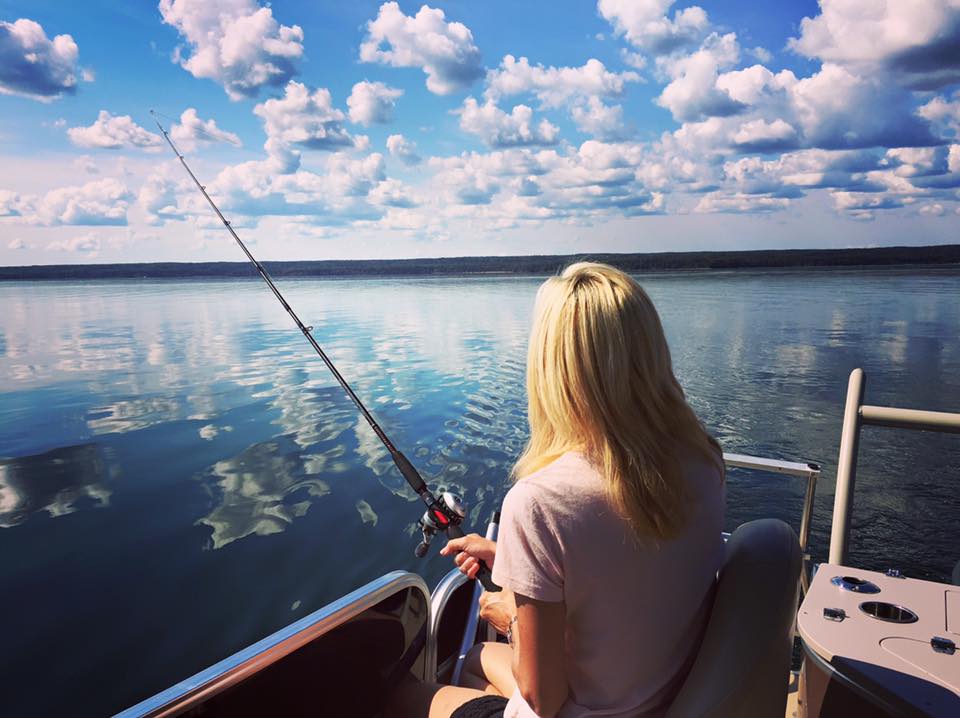 Fishing at Prince Albert National Park
On our last day in Saskatchewan, we decided to spend it on the lake. Fishing is a huge draw for this area, so it only seemed natural to try our hand at it. The expert fishing guides at Waskesiu Marina offer a "Learn to Fish" program, so we took them up on it. Our guide directed the wide pontoon boat to a favorite fishing spot on the lake. Then with a little instruction, we cast our lines.
Soon enough, the fish were biting, even for me. You should have seen the HUGE pike fish that got away from my net. (Really!)
It couldn't have been a prettier day. There was no one else around us, and I heard only the wind as we passed a nest of eagles high in the tree tops. There's something so relaxing about drifting slowly on the water under a deep blue sky.
"This is pretty sweet," one of my friends said, looking across the lake.
I could only nod in agreement. Yes, indeed.
If You Go to Saskatchewan
Tourism Saskatchewan
https://www.tourismsaskatchewan.com/
Tourism Saskatoon
https://www.tourismsaskatoon.com/
Author Bio: Janna Graber has covered travel in more than 40 countries. She is the managing editor at Go World Travel Magazine and the editor of three travel anthologies, including A Pink Suitcase: 22 Tales of Women's Travel.