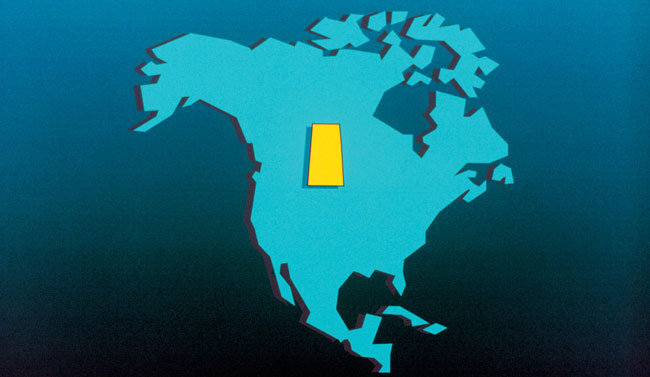 There's an old local joke that describes Saskatchewan as a place that is "hard to spell, but easy to draw."
That saying rings true. This rectangle-shaped Canadian province with the long name is located north of Montana and North Dakota, and sandwiched on either side by Alberta and Manitoba. Home to 1.3 million people, Saskatchewan has been called the "bread basket" of Canada. Rich rolling farmland covers its southern plains, with rivers, lakes and thick forests in the north. If you live in North America and eat chickpeas and lentils, chances are that it came from Saskatchewan.
Like many outside of Canada, I didn't know much about this Canadian province. But small towns and rural life appeal to me, so when I got the opportunity, I jumped at the chance to visit.
Travel in Canada
Even though we're so close, many Americans are unfamiliar with all Canada has to offer. I learned early on in my travel life, though, that Canada is a diverse land with a wealth of natural beauty, world-class cities and a wide variety of adventure opportunities. I've snorkeled with belugas near the Arctic, walked across the tops of ancient trees in British Columbia and paraded through the streets of Quebec in an 18-century gown. Best of all, Canada is close to the US and the people are just so darn nice.
I know, I know. That's a stereotype, and there are evil people in every location, but for the most part, I've found Canadians to be incredibly kind. Case in point on this trip: When he learned that I was a writer, the Canadian customs official in Calgary suggested several writing retreats I might like, and when I was about to miss my connection to Saskatoon due to a long security line, a fellow passenger walked me up the line, asking every person if they wouldn't mind me skipping ahead so I wouldn't miss my plane.
This, my friends, is where that reputation for "niceness" comes from. By the time my plane touched down in Saskatoon, I was sure it was going to be a good week.
Travel in Saskatoon

The first thing most visitors to Saskatoon notice is the wide South Saskatchewan River that winds its way through the heart of the city. A series of bridges connects the east and west sides of town, and a kilometers-long trail runs along the river.
Perched along the trail overlooking the river stands the grand chateau-style Delta Bessborough. Just walking into the historic hotel feels like a step back in time, only this step back in time includes luxury rooms and fine details that show off its 4-diamond elegance. This would be the perfect base for the next few days.
But relaxing at "the Bess" as locals call it, would have to wait to wait, because I was eager to explore the city. With 222,000 residents, Saskatoon is the largest city in Saskatchewan. Those numbers will soon change, because Saskatoon is among the fastest growing cities in Canada. Younger Canadians and start-up companies have found an affordable and welcoming home here, and that youth and vibrancy is obvious.
Continued on next page