The city of Lubbock is not as well-known as Dallas, Houston, or Austin Texas. But, it is the 11th largest city in the Lone Star State. About 255,500 Lubbockites live in the "Hub City" which is known for its art, education, healthcare, agriculture, technology and manufacturing in the West Texas region.
Furthermore, it was the birthplace of rock 'n' roll legend Buddy Holly and home to Texas Tech University, the sixth-largest enrollment university in the state.
Flying into Lubbock Preston Smith International Airport, I drove about 15 minutes from there to the historic city. After spending four days exploring the vibrant art scene and tasting some award-winning wine, beer and food, I discovered 15 reasons to visit Lubbock.
Top Things to Do in Lubbock, Texas
Stay, Bike and Swim
Cotton Court Hotel is a newer, independent boutique hotel by Valencia Hotel Group. It offers a heated swimming pool, outdoor bar, fire pits, outdoor games, grassy lawn and The Midnight Shift restaurant.
The spacious and trendy guest rooms offer a 1960s vibe with retro ceiling fans, Smeg refrigerators, patterned carpets and beautifully tiled bathrooms.
The hotel in-room information booklet is made with old 45-inch vinyl records as a nod to the music industry. Lubbock has more music venues per capita than any other city in Texas. There are also a few complimentary bicycles to take out for a spin while exploring Lubbock.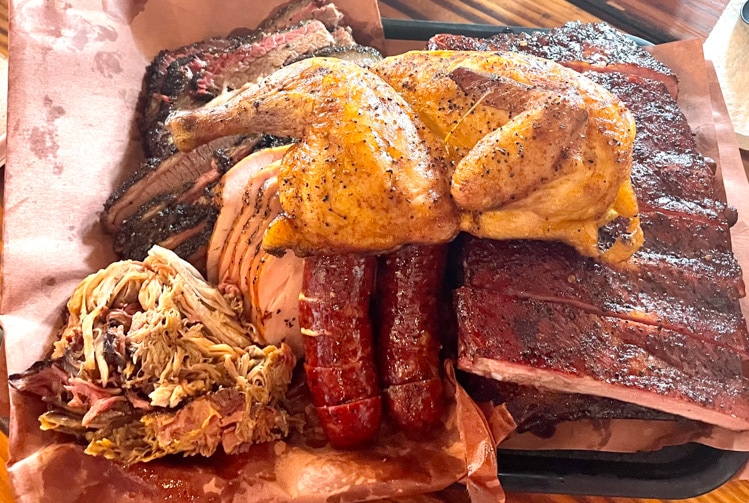 Best BBQ
Evie Mae's, in nearby Wolfforth, offers the best slow-cooked, tender and flavorful brisket, pulled pork, beef and pork ribs, turkey, sausage and chicken. Sides include pinto beans, potato salad, cole slaw, cornbread, and green chile cheese grits.
Planning a last-minute trip to Texas?
Top Experiences and Tours in Texas:
Where to stay and transportation in Texas:
Owners Arnis and Mallory Robbins began their BBQ journey in 2014 when they built their first smoker called 'The Black Pearl'. Later they moved to Lubbock to be closer to family and pursue their dreams of opening a brick-and-mortar restaurant.
Named after their daughter Evie Mae', they get serious here smoking meat behind the restaurant. Most of the menu items and desserts are gluten-free.
Best Independent Bookstore in Town
Brianne Van Reenen is the founder and curator of the quaint and charming Wild Lark Books store. She saw a need in town and in 2021 opened a well-appointed store and back room for storytellers and story-lovers discussions.
The store also offers accessible publication supporting writers from historically underserved communities and minority voices. They are providing with the funds, partnerships and expertise of brand-building, audience engagement and digital marketing.
James Beard Nominated Chef
Next to Wild Lake Books is the best al fresco dining venue. The Nicolett is the restaurant by native son and James Beard semi-finalist, Chef Finn Walter. This talented chef worked kitchens in Paris, Napa Valley, Santa Fe and Austin before coming home.
His innovative menu focuses on High Plains ingredients grown and raised in the region. Named after the first hotel in the area, The Nicolett indoor and outdoor space celebrates the revitalization of the area.
Dine in the stained-glass house or under a canopy of trees. Be sure to try Chef Finn's puffy fry bread, tender elk tartare, warm pozole and dry-aged Magret duck breast.
Coffee, Tea and Toast
Monomyth Coffee on Broadway between Cotton Court Hotel and Texas Tech University is a bright and happy spot to start the day. The owners Trenton and Randall Jackson named the coffee house Monomyth, which means "One Story."
They roast their own beans at this family-run cafe. Locals enjoy ordering the avocado toast and the ricotta and jam toast with a Champions Blend latte. The homemade strawberry pop-tart goes nicely with a matcha latte or loose-leaf hot tea.
Touring Texas Tech University
Continue on Broadway a few blocks to Texas Tech University. It is named one of the Top 10 Universities in the U.S. and offers a spectacular public art collection. The indoor and outdoor collections received this honor from the Public Art Review, a leading journal in the field of public art.
"The collection features more than 100 items created by some of today's leading artists," said Emily Wilkinson, Public Art Director at Texas Tech University. "1% of the total budget cost for each new capital improvement is dedicated to high-quality local and international art."
Make an appointment to take a Texas Tech Art Cart Tour. Or, take one of the complimentary bicycles at the Cotton Court Hotel and ride up Broadway to the University. Download The ArTTrek app to follow a map of art installations.
Museums and Galleries
Lubbock is home to the first cultural arts district recognized by the state of Texas. Visit the privately owned Charles Adams Studio Project, a non-profit with a mission to showcase artists in an inclusive environment.
This space is beneficial for working artists, curators, galleries and students. They collaborate with live-work studios, restaurants and shops to remain open during the monthly First Friday Art Trail. Visitors can connect with artists while enjoying beverages and food during this lively evening event.
Other visual and performing art centers include outdoor art on walls and buildings and the Louise Hopkins Underwood Center for the Arts (LHUCA). This driving force behind the downtown revitalization plan uses the arts to stimulate economic development.
In addition, the Helen DeVitt Jones Clay Studio offers the most well-equipped working ceramic studio of its kind on the High Plains of Texas. It's open for locals to take classes, attend workshops and join others with a studio membership.
Wine Tasting Tour
Texas wine tasting is becoming a leading tourist attraction in Lubbock. This area is home to award-winning wineries and has more than 80% of Texas wine grape production growing in the fertile Lubbock soil.
English Newsom Cellars is a family-owned winery and one of the only wineries that focuses on producing high-quality wines from their own estate-grown grapes. Set among rows of vineyards, step inside the tasting room to learn about their award-winning wines that include Picardan, Moscato Giallo and Roussane wines.
The largest, best-selling premium winery, Llano Estacado, was established in 1976. Winemaker Jason Centanni makes different varietals at the facility behind the tasting room. Both Presidents George H. W. Bush and his son George W. Bush. served these local wines at White House dinners.
Within walking distance from the Cotton Court is McPherson Cellars. Located in a former 1930s Coca-Cola bottling building, the McPherson family has been a part of Texas viticulture and winemaking for over 40 years.
Winemaker Kim McPherson honors his late father, Dr. Clinton "Doc" McPherson at this winery making award-winning handcrafted wines. The tasting room offers a relaxed atmosphere to sample a selection of wines, including varietals like Rose', Tempranillo and Viognier.
Across the street is Kim's wife's La Diosa Cellars preparing classic Spanish Mediterranean tapas paired with an eclectic rotating wine list. The winery hosts live music every Friday and Saturday night.
Visit hundreds of entertaining and adorable Prairie Dogs at Prairie Dog Town at Mackenzie Park. It's the first protected prairie dog colony in Texas and one of the most famous free attractions in the city. There is a pavilion and viewing area, interpretive signage, sidewalks and parking area that is open from dawn to dusk year-round.
Best Chicken in Town
Dirk's is where Chef Cameron West makes crispy fried chicken, rotisserie chicken, chicken tenders, Nashville hot chicken, Korean fried chicken and chicken fried steak. Side dishes include collard greens, fried okra, Cheddar grits, Cajun creamed corn, green beans and mashed potatoes with jalapeño bacon gravy. On Sundays, they serve a brunch special that includes chicken tenders with fries and a glazed donut.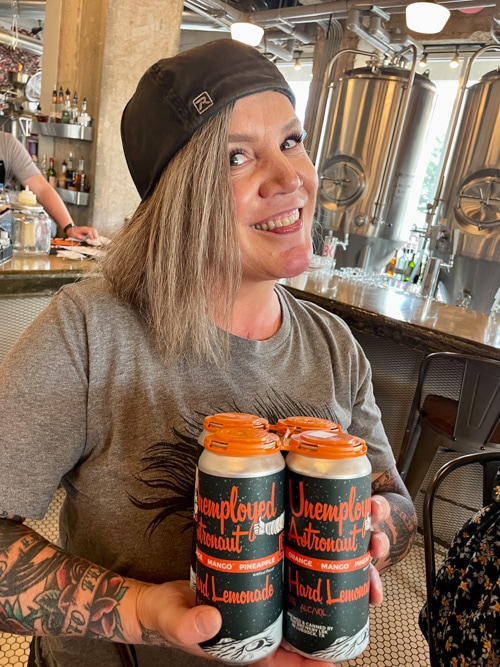 Chef-Driven Beer Tastings
USA Today gave The Brewery LBK the 'Number 1 Brewpub in the Nation' award. The reason is female brewer Sally Taylor makes chef-driven beers right in the tasting room.
Her Sea Dog is an oyster Stout, and her Unemployed Astronaut offers a touch of orange Tang. The "C Word" is a Hazy IPA made with organic calendula flowers.
Across the way, The West Table Kitchen & Bar serves upscale meals and runs pub food over to the brewery. Owners Cameron and Rachel West use Lubbock's fresh local ingredients in many of the dishes on the menu. They also support the thriving art and music scene in Lubbock by featuring artists and musical talent in the lobby and during the First Friday Art Trail.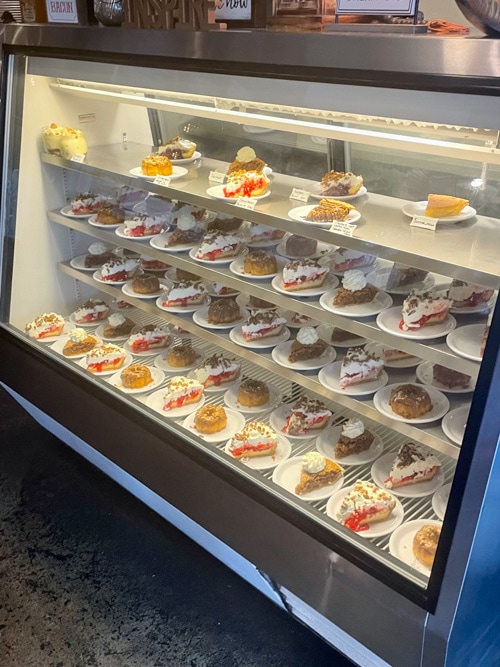 Best Pies in Lubbock
Best Pies in Lubbock can be found at Cast Iron Grill. Owner Teresa Stephens takes pride in creating a comfortable diner for locals and tourists. Many come in to enjoy a slice of pie for breakfast with a cup of coffee. Locals discuss local and world issues while enjoying home-cooked Southern classics.
A brother and sister duo make all the creative pies up at the front of the restaurant. Pies are named Blueberry Banana Split, Billionaire (Strawberry), Jack Daniels Pecan, and Strawberry Fudge Cheesecake Pie. The restaurant is open Monday through Friday from 7 a.m. to 2 p.m.
The Buddy Holly Center
Within walking distance from Cast Iron Grill, in the heart of the Depot Entertainment District, you can learn about the life of music legend Buddy Holly. He grew up in Lubbock, and in early 1955, Charles Hardin "Buddy" Holly was a senior year in high school when Elvis Presley performed in town.
After watching the show, he decided he wanted to become a rock and roll star too. By October of 1955, Holly's band, The Crickets, was selected as the opening band to perform when Elvis returned to Lubbock for another show. Holly changed his name to 'Buddy' and a star was born.
Be sure to watch the documentary film that plays inside the center. It chronicles his life until he died in a plane crash at the age of 22 years old. His blazing musical career influenced not only the Beatles and the Rolling Stones but also the worldwide music scene.
The West Texas arts scene has created a "West Texas Walk of Fame" within the Buddy and Marie Elena Holly Plaza. There is a life-size statue of Buddy Holly by sculptor Grant Speed paying homage to Holly's brief life.
Another musician born in Lubbock was Mac Davis. He also worked with Elvis Presley shortly after graduating from Lubbock High School. This award-winning country music singer and songwriter wrote songs for Presley early in his career.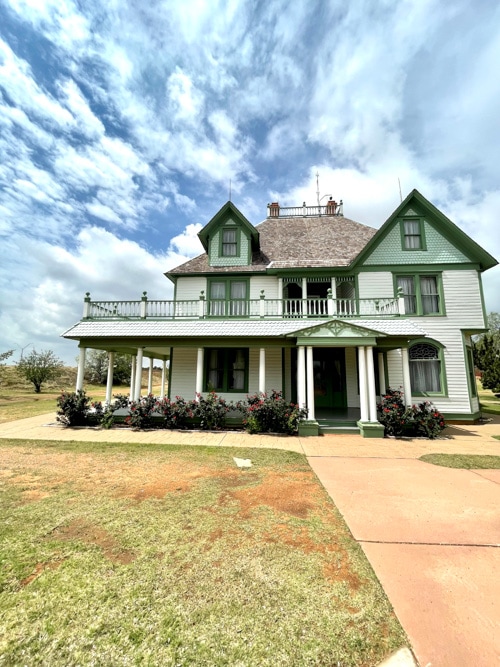 Learn About Ranch Life in Texas
The National Ranching Heritage Center is a 27-acre museum and outdoor historical park established to preserve ranching history. It's part of Texas Tech University and the Ranching Heritage Association, a non-profit member organization that supports the efforts of the center.
Take a walking tour around the grounds or ride in a cart to tour almost 50 historic structures that range between 100 and 200 years old. They have been moved to this area to honor the frontier settlers who lived in those structures, creating legends and making history in the process.
In the fall of 2023, the brand-new Cash Family Ranch Life Learning Center will open. It will be a comprehensive indoor and outdoor interactive educational experience with friendly character, Hank the Cowdog leading the way.
Pinball and Gourmet Hot Dogs
The best gourmet hot dogs are served at Flippers Tavern. It is also a pinball player's dream where pinball tables are everywhere, including the tables you dine on. This whimsical bar and grill is within walking distance from the Cotton Court Hotel.
They serve Bavarian pretzels with Shiner Bock queso and grill some of the best grass-fed beef hot dogs, bratwurst, jalapeño cheese sausage and even a salt and pepper duroc pork sausage. Top them with grilled sauerkraut, avocado, beef chili and other enhancements. They even offer vegan dogs topped with an array of delicious ingredients. Plus, they make great margaritas and offer a stellar beer selection.
To get to Lubbock, Texas, fly into Dallas and then take a one-hour flight to the small city with a friendly Texas vibe offering so much to see and do.
Author Bio: Based in Los Angeles, Jill Weinlein writes a restaurant review column for the Beverly Press. She enjoys traveling the world writing about new destinations, food and wine. Follow her on IG @Jillsfoodtravels.
Latest posts by Go World Travel Magazine
(see all)