If you've never traveled through Europe by train before, the idea might seem a bit challenging. But train travel in Europe is easy and very efficient. It's one of the best ways to travel in Europe – and that's especially true in France. (Read More: Traveling by Train in Europe)

Your can explore some of the top locations in France by train. If this is your first time exploring France on a railway, here's our itinerary for beginners!
Let's choose the average option of 7 days in France, which is usually how long travelers take to explore!
Days 1-3: Bordeaux and Paris
Start with one of the most charming cities in France. Bordeaux is famous for its staggering surroundings of castles and vineyards, so you will start your trip on the right foot!
Make sure you visit Cathedrale Saint-Andre for the intricate architecture and interesting historical background, then move on to Place de la Bourse, a magnificent square perfectly conveying the elegance of 18th-century neoclassical art and architecture.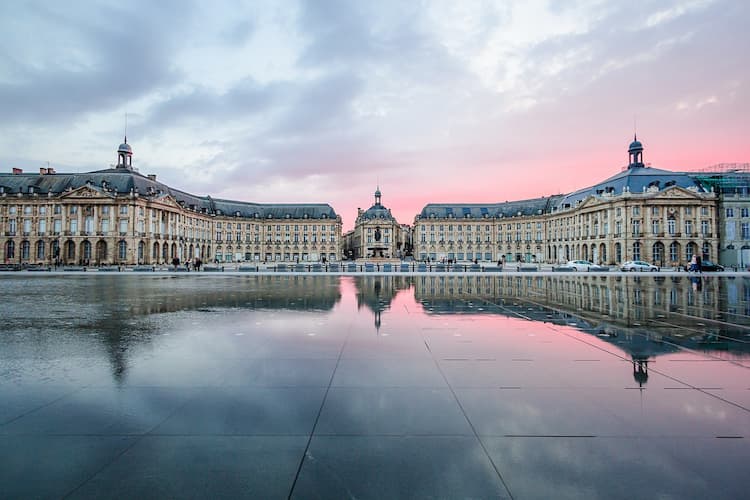 If you wish to see the French Gothic, there is no way you can miss out on touring Basilique Saint-Michel, a UNESCO World Heritage Site of the 14th century and a significant part of the Camino de Santiago pilgrimage trail.
Overall, we suggest spending a day and a half exploring Bordeaux, or at least a full day!
After an inspiring trip here, take the Bordeaux to Paris train to spend an entire day and a half in the capital city of France. 
With the bit of time you have here, we suggest visiting the signature trademarks of Paris to get the city's essence!
Start with a visit to the Louvre, which has one of the most impressive collections of art in the world. It's one of the top attractions in Paris. Remember, though, that it takes time to get inside, so plan your time accordingly!
You should also make time to see the Eiffel Tower, and if you prefer staying on the ground rather than going to the top, at least have a picnic nearby! This architectural piece is probably the country's most recognizable site, so escaping it would be sinful.
In addition, there are other essential attractions here, like the Notre Dame Cathedral and Arc de Triomphe. However, do not go through everything frantically – take time to enjoy the magic and richness of the city, have some lunch at a lovely cafe near the city's center, or take a walk through Champs-Elysees.
Days 4-5: Montpellier and Marseille
After three and a half hours on the train, you will reach the lovely city in southern France near the Meditteranean sea.
Montpellier is famous for being one of the oldest universities in the world and its oldest medical school, which is still intact. The city also was highly significant in the Middle Ages and the Crown of Aragon. To this day, Montpellier is dripping in history and apparent marks of dramatic events throughout the years.
Make your way to Place de la Comedie and L'Ecusson, the grand public square in the city's center. The plaza is one of the most extensive pedestrian spaces in Europe, and here you will find a theater, Opera House, multiple restaurants and cafes, and plenty of local Frenchmen enjoying their leisure.
Also, we suggest visiting Musee Fabre for fine arts and Cathedrale Saint-Pierre for impressive Gothic architecture!
After a day here, it is time to board the train to Marseille.
After two short hours, open up your eyes to intake the splendor of Provence, Marseille.
The historical and second-most-populous city in France, Marseille is an area of great character and quite colorful with its dynamics.
Walk to the Old Port to see the most important trading places active for over two thousand years, quays with broad promenades and old warehouses. Afterward, spend some time exploring Basilique Notre Dame de la Garde and the Museum of History of Marseille.
If the timing works out, we urge you to see Calanques National Park for a peek at the natural side of the city and the southern and eastern suburbs.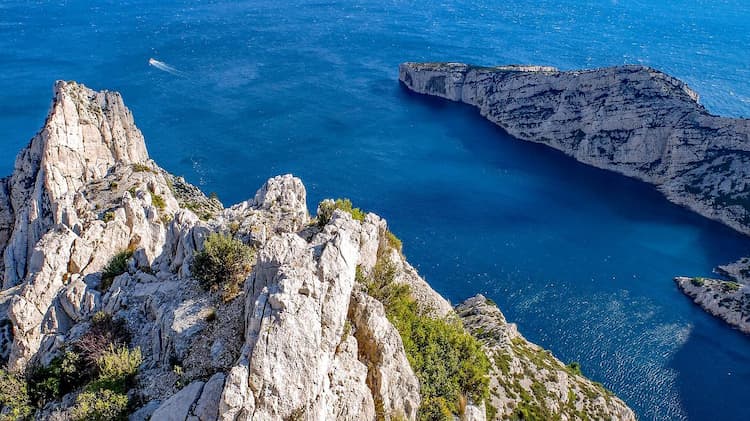 Days 6-7: Lyon and Nice
Even though your trip is ending, there are still some fantastic landscapes. The road is incredibly scenic, knowing how well France's railway system is developed.
After leaving Marseille, it is time for a train to Lyon!
Generally perceived as a student-city, Lyon is actually a lot more than that. First, you must see Vieux Lyon, one of Europe's largest renaissance old quarters, where you will see lavish houses of French and Italian designs! Then, make your way to the iconic Fourviere Basilica, Lyon's Roman and pilgrimage site.
You also cannot leave without enjoying some time in Presqu'ile, a district of luxurious 19th-century buildings, plazas, shops, cultural institutions, and nightclubs. Be at the center of the action!
Finish strong with a train to Nice!
A prosperous city located on the French Riviera, Nice is a top choice for everyone wishing to experience the opulence of France.
We strongly recommend taking a stroll through the famous Promenade des Anglais, and if 7 kilometers is a bit extreme, choose any part of the trail – the sights are equally enticing. Discover the Old Town and most definitely stop by at a local cafe to enjoy lunch or a cup of coffee!
Nice is also famous for the military fortress of Nice Castle Hill, with various stunning viewpoints of the city.
So there you go. A visit to France stopping in six gorgeous cities in seven days. Quite a good deal, right? This will be quite the trip for a first-time traveler to France, and all done on a train. Au revoir, and the best of holiday to you!
Inspire your next adventure with our articles below:
Author Bio: Tatyana Karpova